PDX Priority Pass Awesomeness
---
The first stop on our Portland Airport Priority Pass "crawl" was House Spirits Distillery, which has the distinction of being the first ever airport tasting room. While their main location is in town (and I've heard it's pretty cool), it's the airport location that's part of Priority Pass.
House Spirits Distillery PDX is open daily from 5AM until 10PM, so those are some extensive hours. Now, 5AM might be a bit early to do a tasting, so I suspect their primary motivation for opening so early is to sell retail products to anyone who might be leaving Portland but wants to pick up some local liquor without checking a bag. However, I believe they do tastings all day, if you're so inclined.
House Spirits Distillery is located near gate C6. If you're originating in Portland for the day, turn right after going through security, and walk for a few minutes, and then you'll see it on the right. It's near one of the airport food courts. Keep in mind that all terminals at PDX are connected airside, so you can visit this no matter where your flight departs from.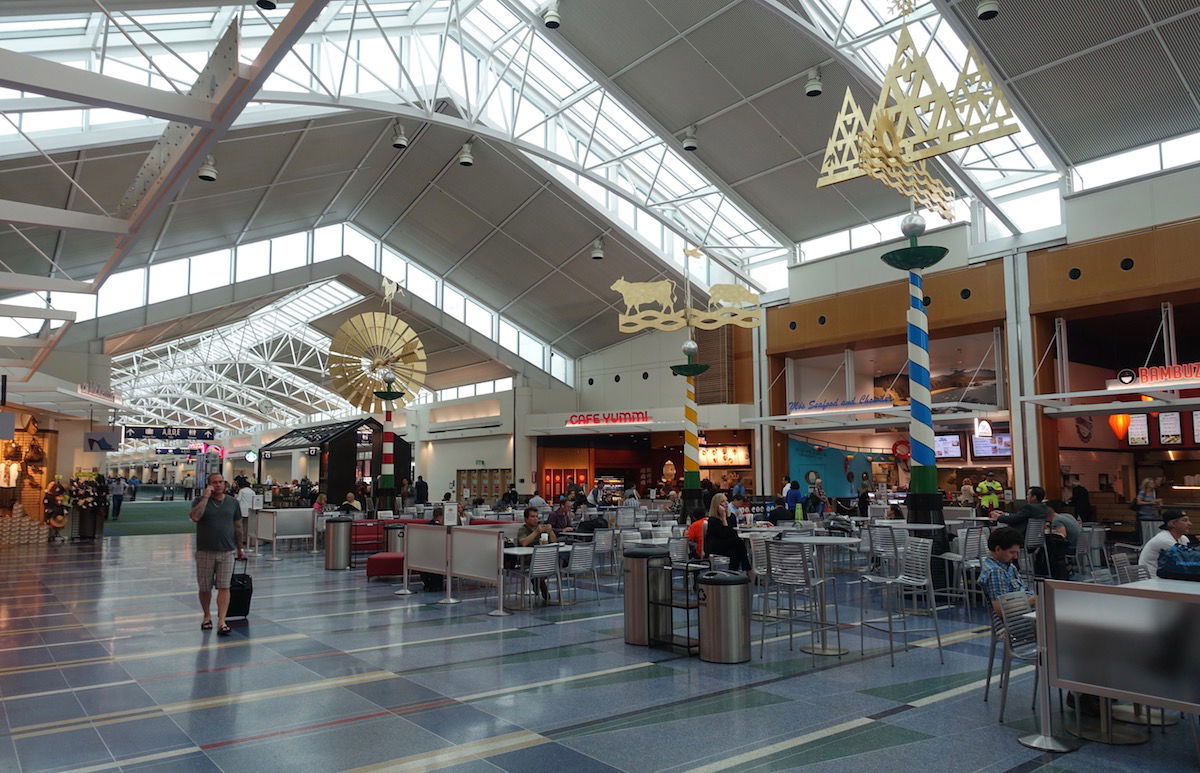 Terminal view from House Spirits Distillery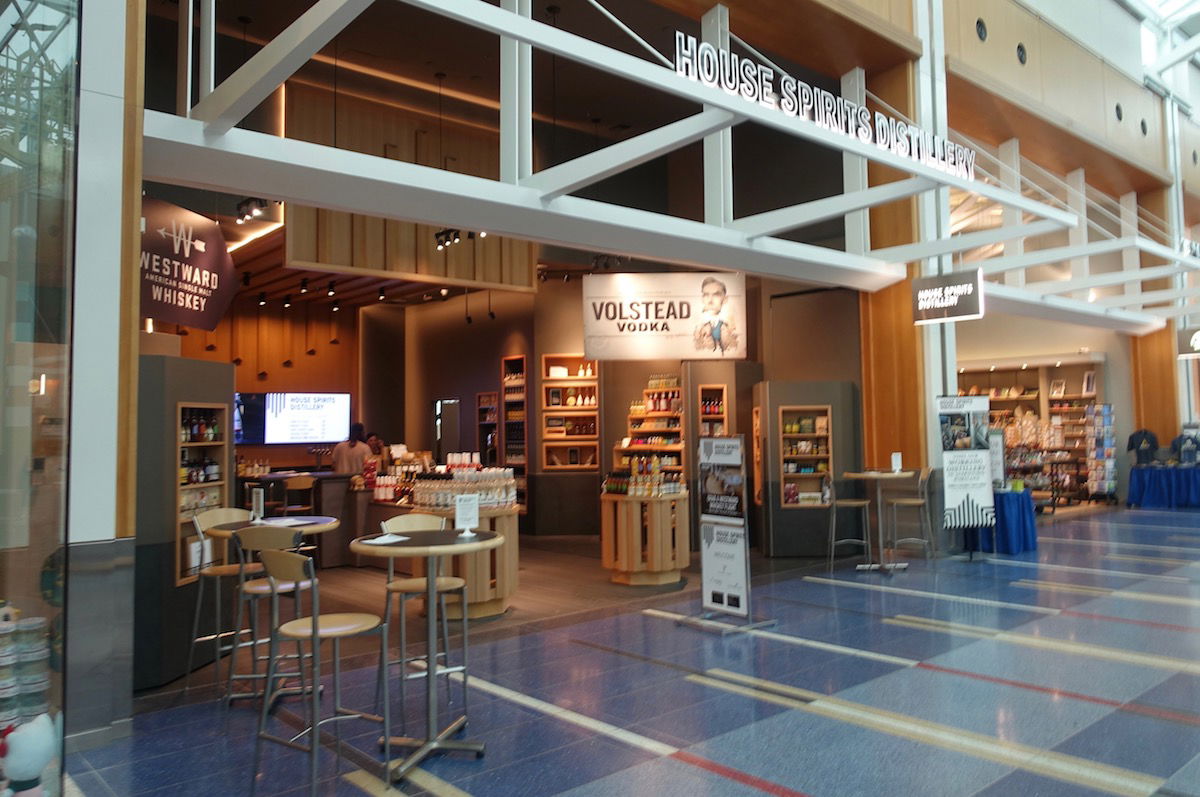 House Spirits Distillery Portland Airport exterior
There's even a sign outside welcoming Priority Pass members.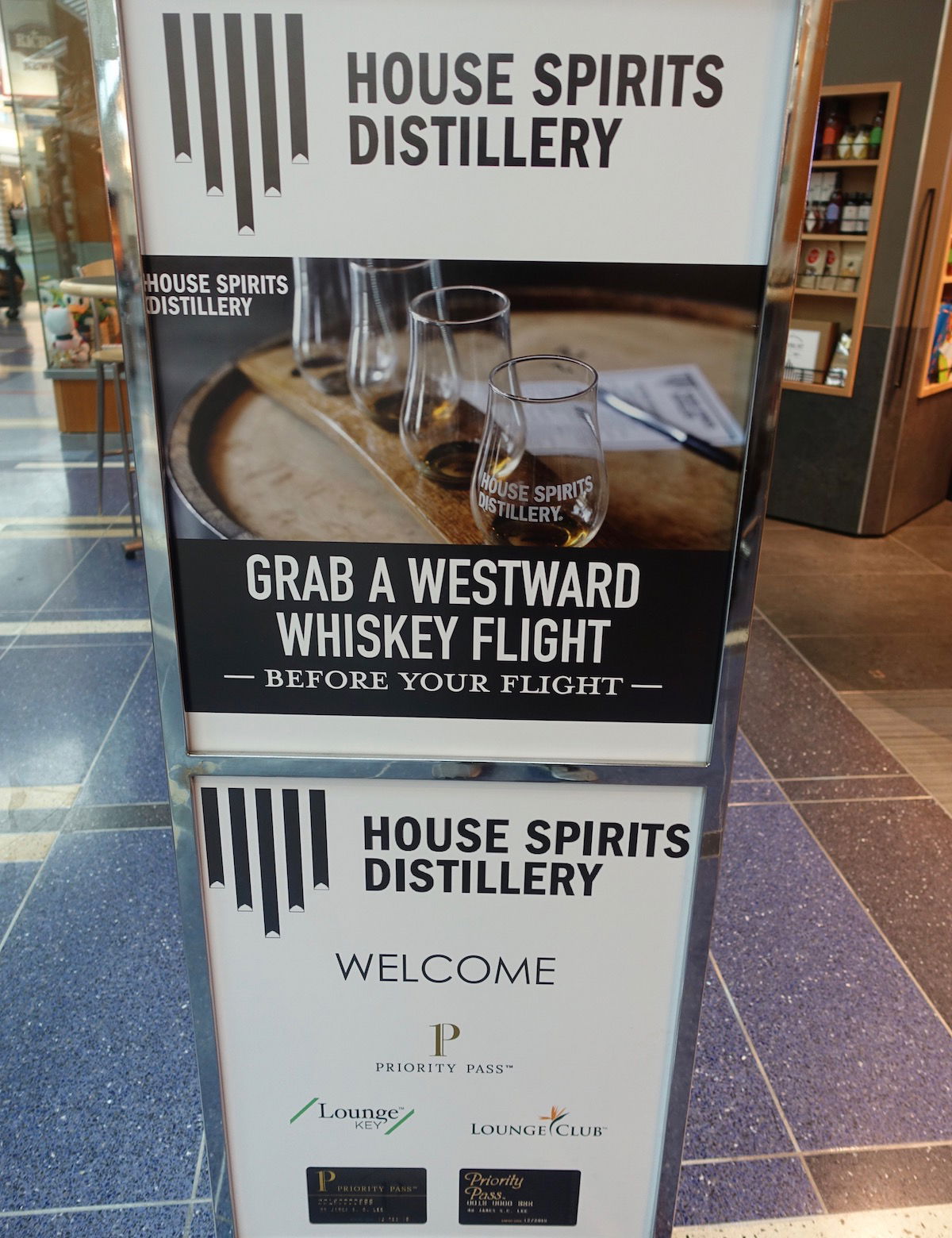 House Spirits Distillery Priority Pass signage
The store itself is really cute, and while I enjoyed the drinks themselves, I also enjoyed browsing through their selection, as they have some pretty cool packaging. It almost looks a bit like a pharmacy.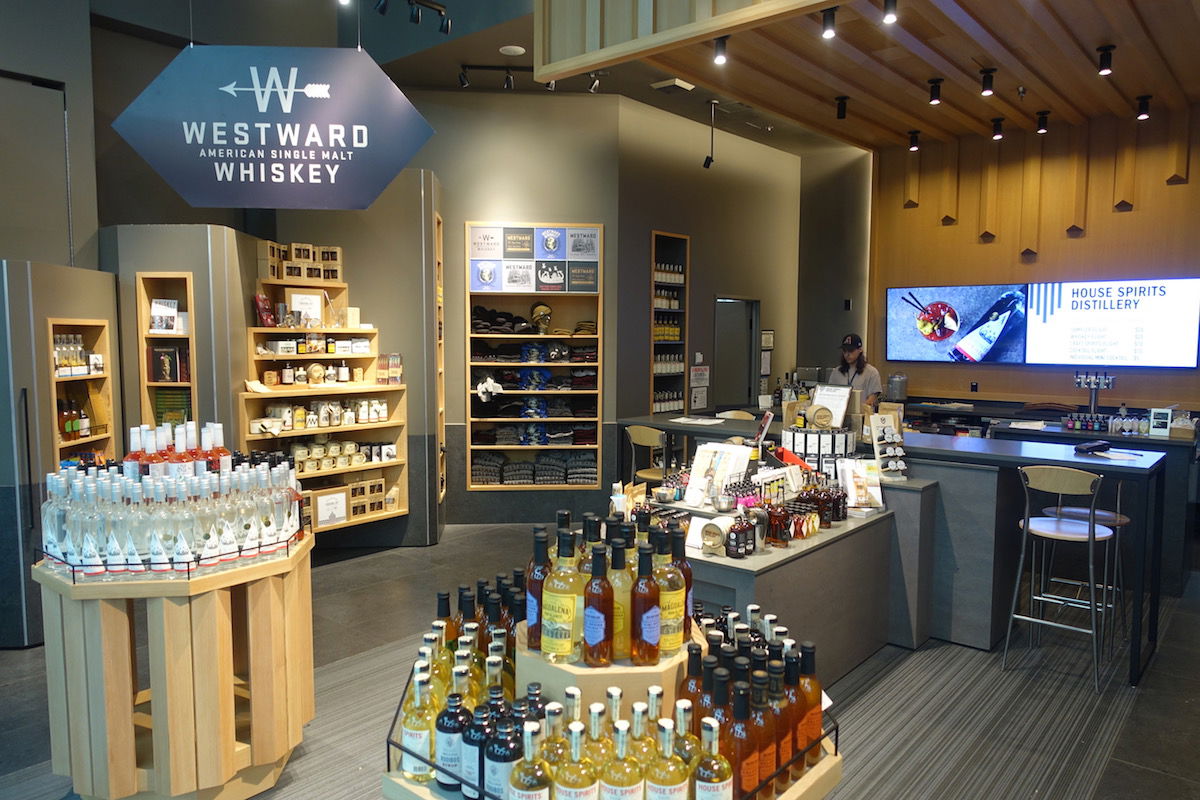 House Spirits Distillery PDX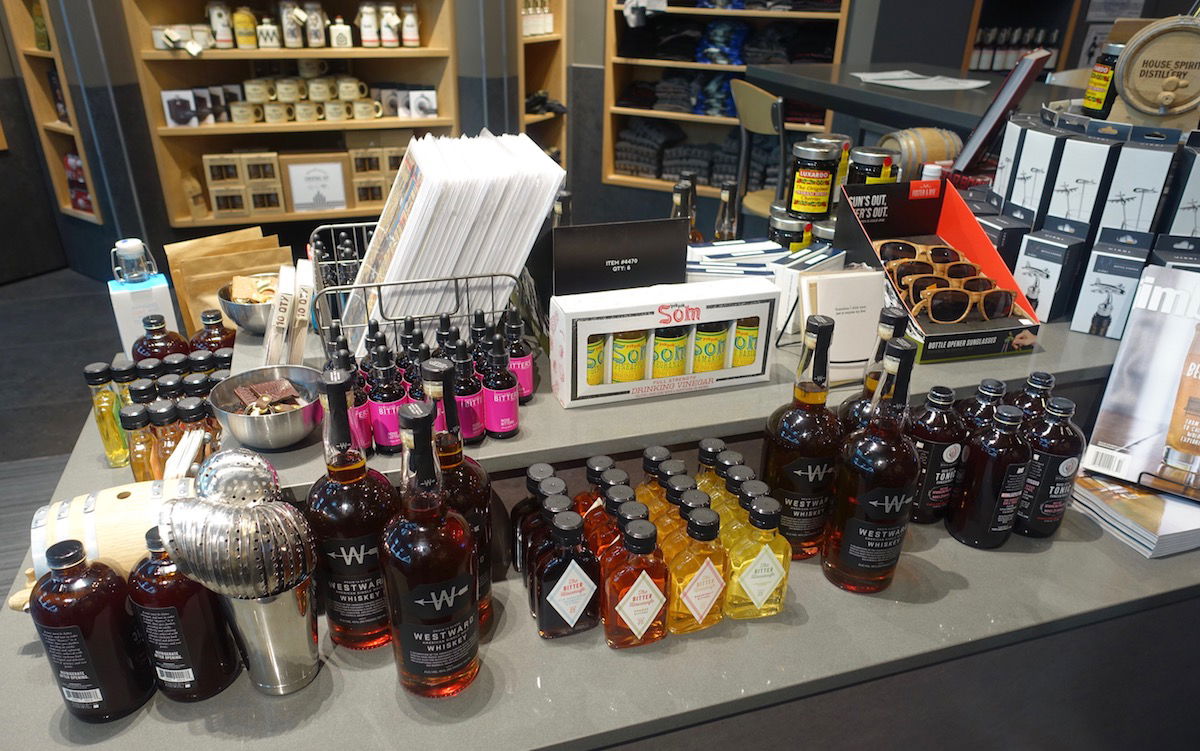 House Spirits Distillery PDX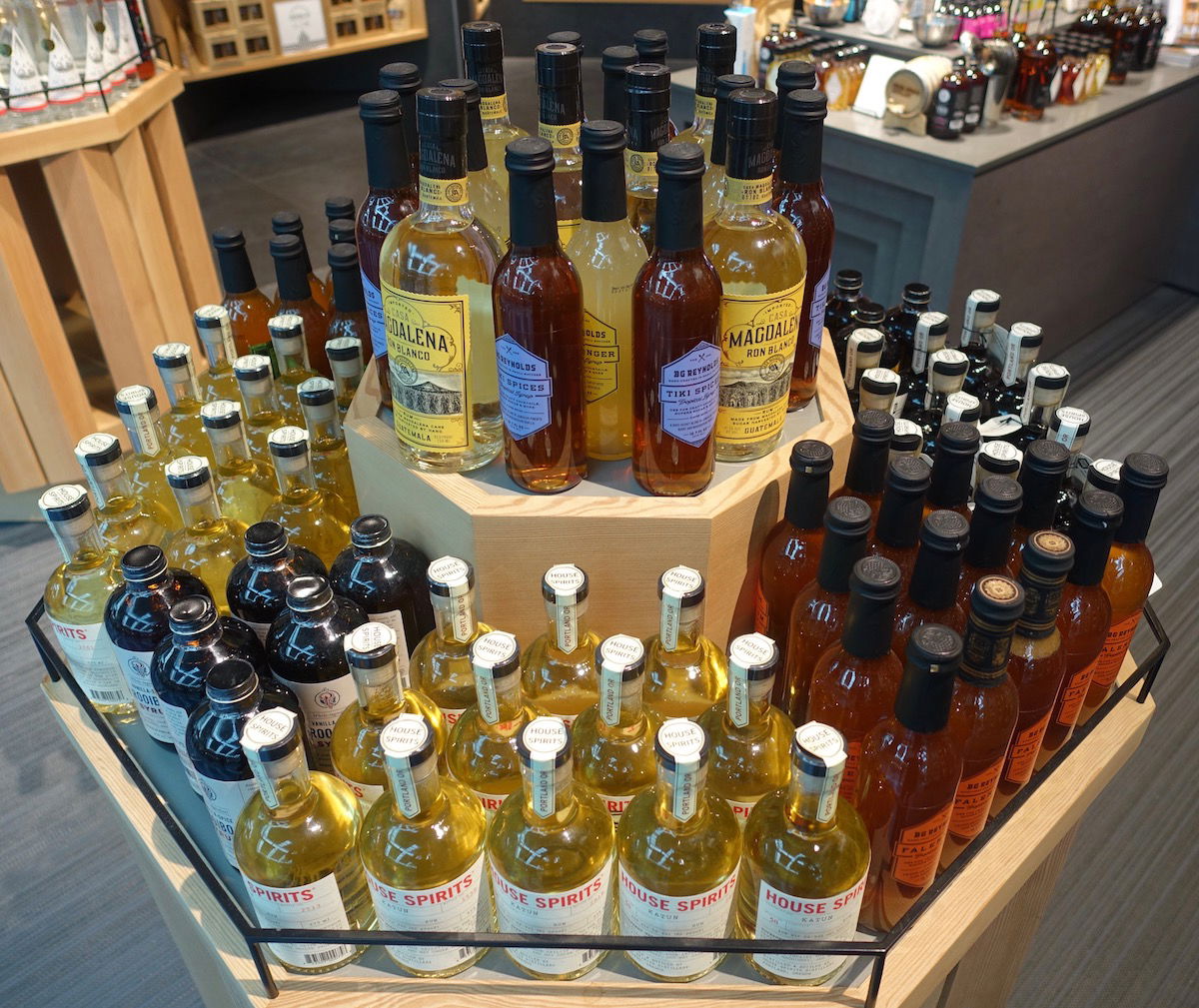 House Spirits Distillery PDX
I especially liked the coffee liqueur, which was part of my tasting.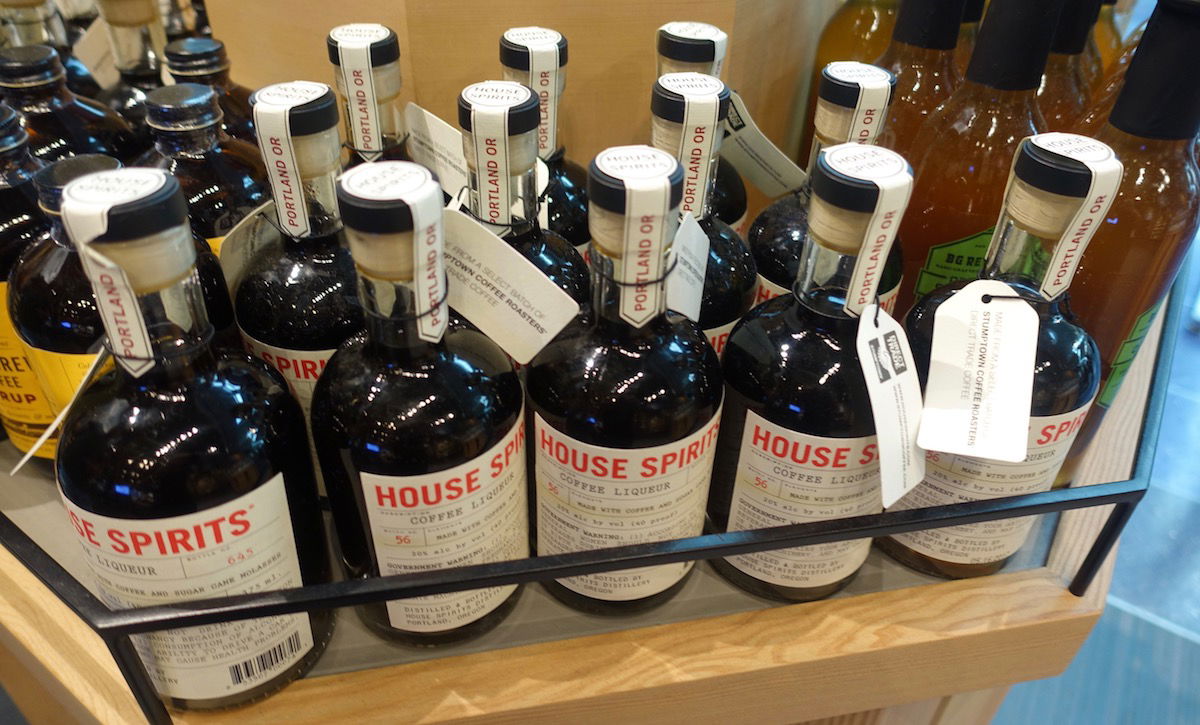 House Spirits Distillery PDX
We headed to the back of the store, where the main bar was located. We explained we were there with Priority Pass, and they gave us a rundown of how it works. They explained what the distillery does in general, and then said that we had $28 per person credit towards any tasting we wanted. They swiped my Priority Pass card upfront, and then I signed on their device, as you would when entering a lounge. Note that you can't use that credit towards retail products, but rather only towards tastings.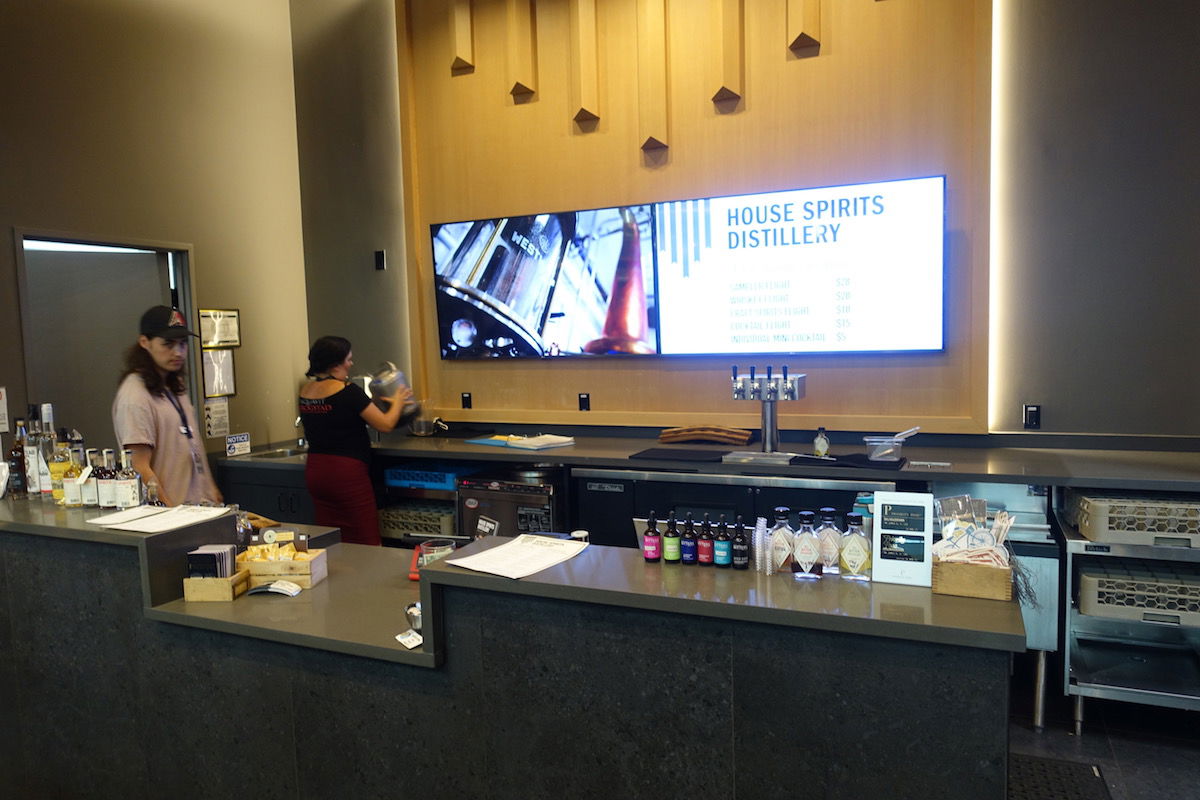 House Spirits Distillery PDX
The tasting menu read as follows: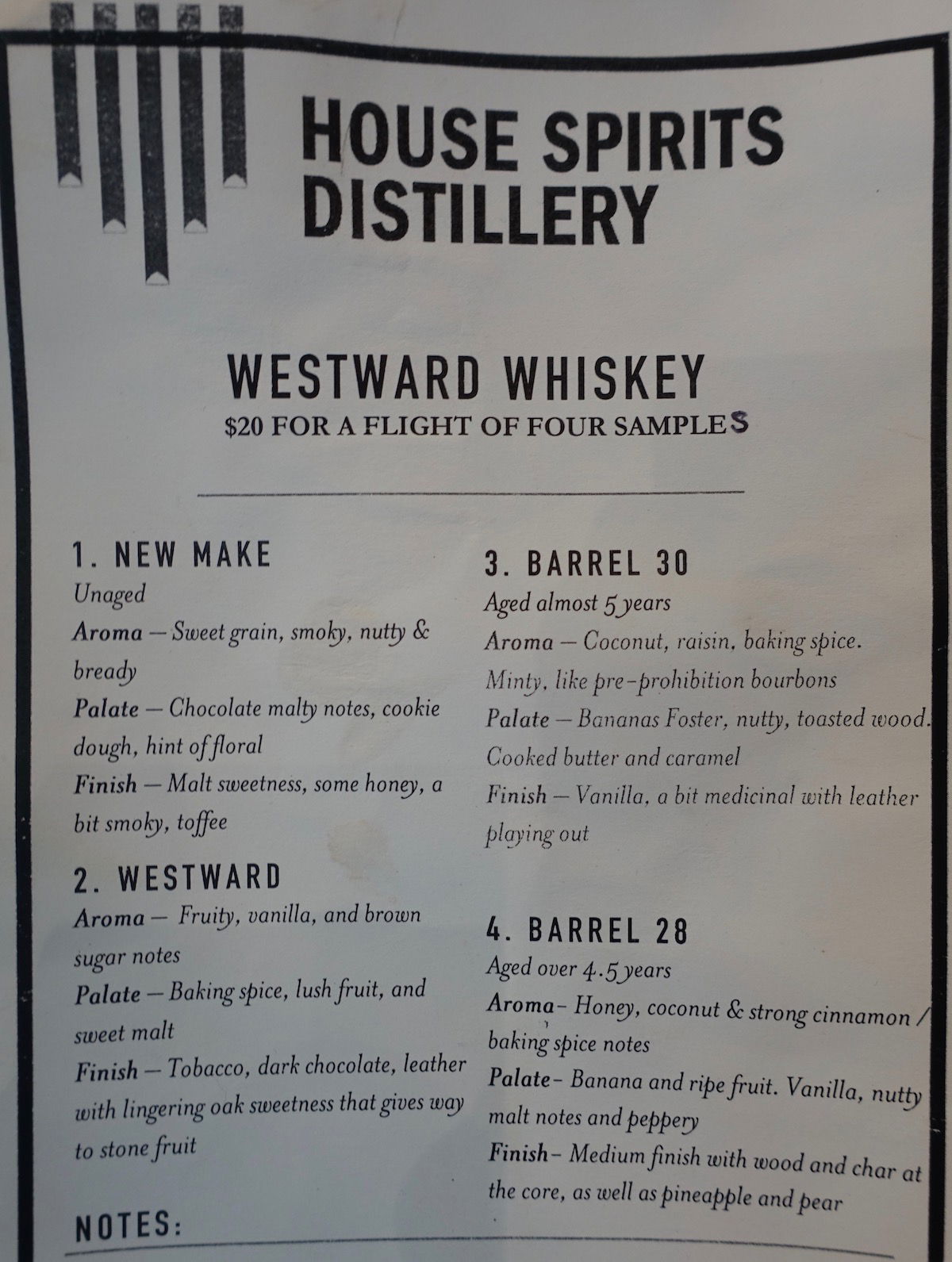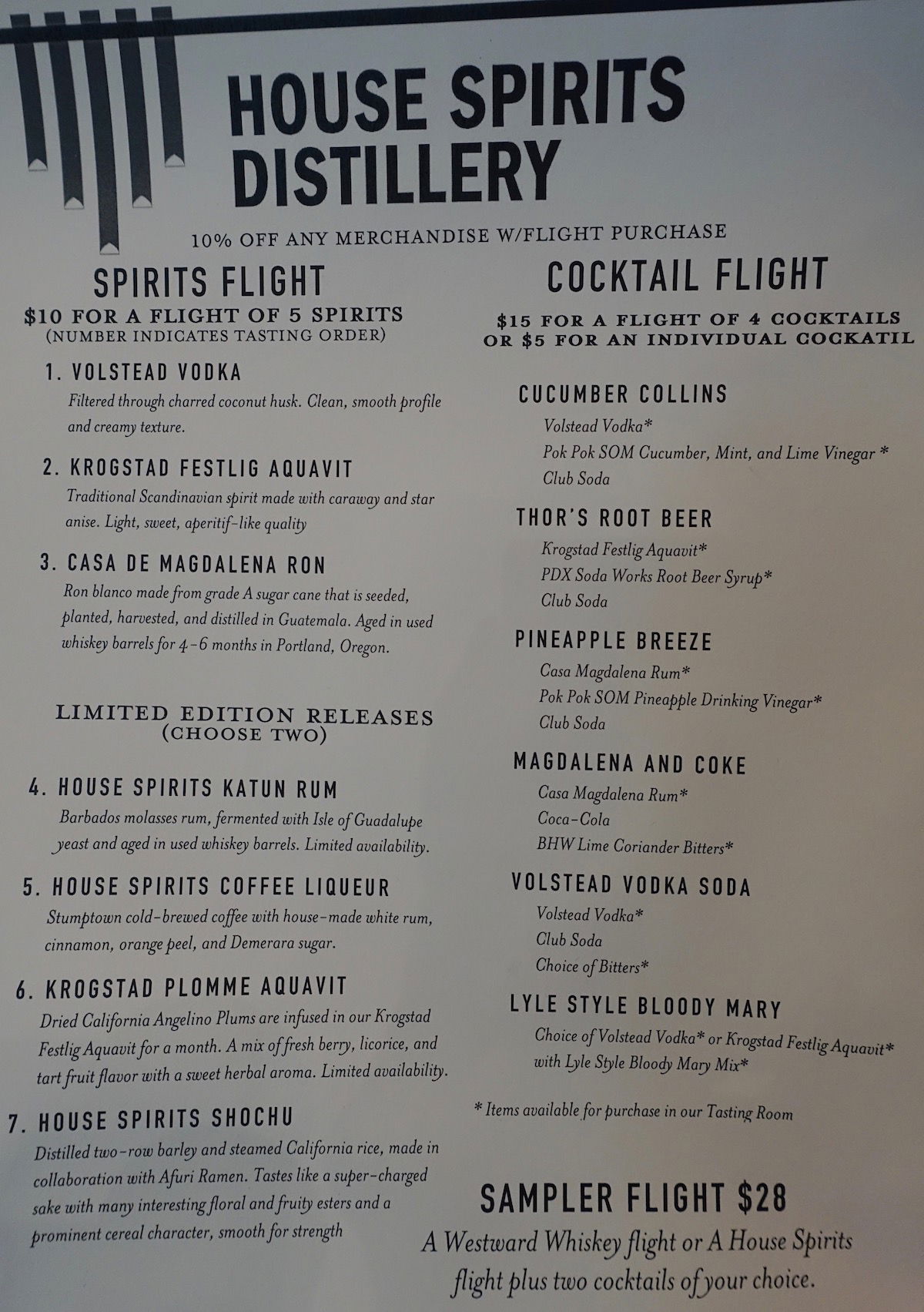 As you can see, there are a few directions you can go:
You can have an individual mini-cocktail for $5
You can have a flight of four mini-cocktails for $15
You can have a flight of five spirits for $10
You can have a flight of four whiskeys for $20
Or, not surprisingly, they set up a special sampler flight for $28, which perfectly covers the Priority Pass credit. When you order this you get a whiskey flight or a house spirits flight plus two cocktails of your choice.
That represents a $2 savings for the whiskey flight, but it's actually $8 more expensive for the spirits flight, since you'd otherwise pay $10 for the spirits flight plus $10 for the two cocktails. Then again, the total doesn't really matter, as long as you stay at $28 per person or under.
During our first visit, we both did the $28 sampler flight — I had the spirits flight, while Ford had the whiskey flight. We also each had two different cocktails. As we were served the flight, the employee explained to us what each drink was, and also what we should expect in terms of taste, which was appreciated.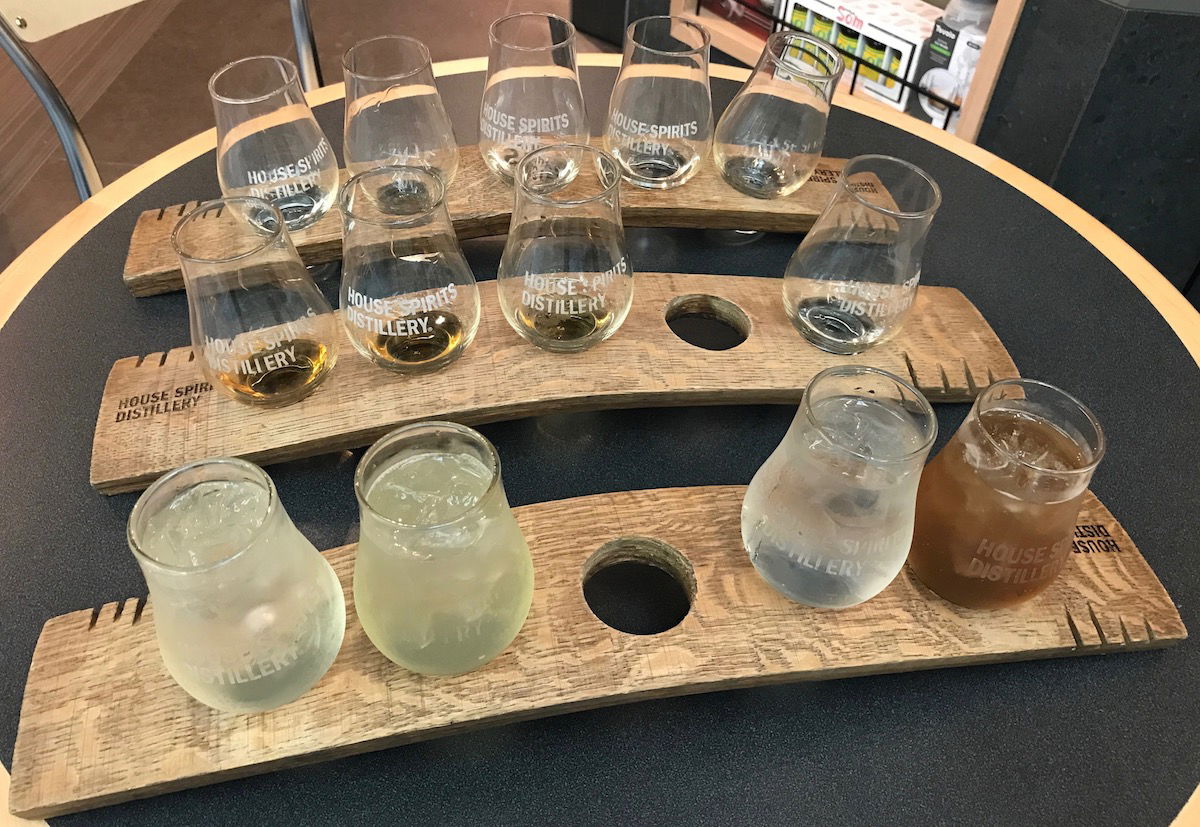 House Spirits Distillery PDX tasting
For cocktails, I chose the Cucumber Collins and Pineapple Breeze, both of which I loved.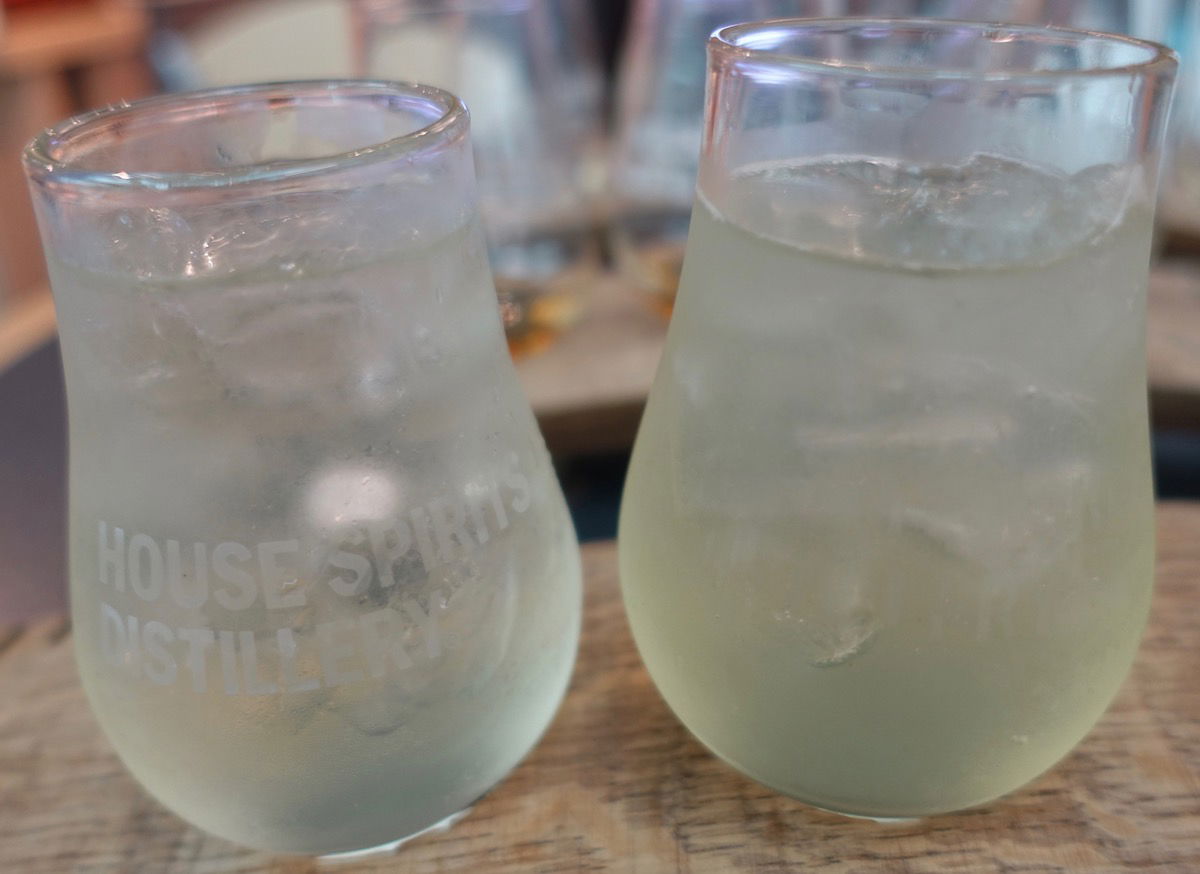 House Spirits Distillery PDX tasting
Ford chose the Thor's Root Beer and Volstead Vodka Soda.

House Spirits Distillery PDX tasting
The whiskey and liquor tasting was great, but I especially loved the cocktails. I'm a lightweight when it comes to liquor, so I was feeling pretty tipsy by the time we were done with our tasting.
We returned a couple of days later with Tiffany, and this time around we decided to just to a flight of four cocktails each, which would retail for $15. This time around we chose the Cucumber Collins, Thor's Root Beer, Pineapple Breeze, and Magdalena and Coke (which are shown in that order below). For me this was the perfect selection. I loved the cocktails, and it was just all so fun. Even if I didn't have Priority Pass, I'd say four mini-cocktails for $15 is a steal.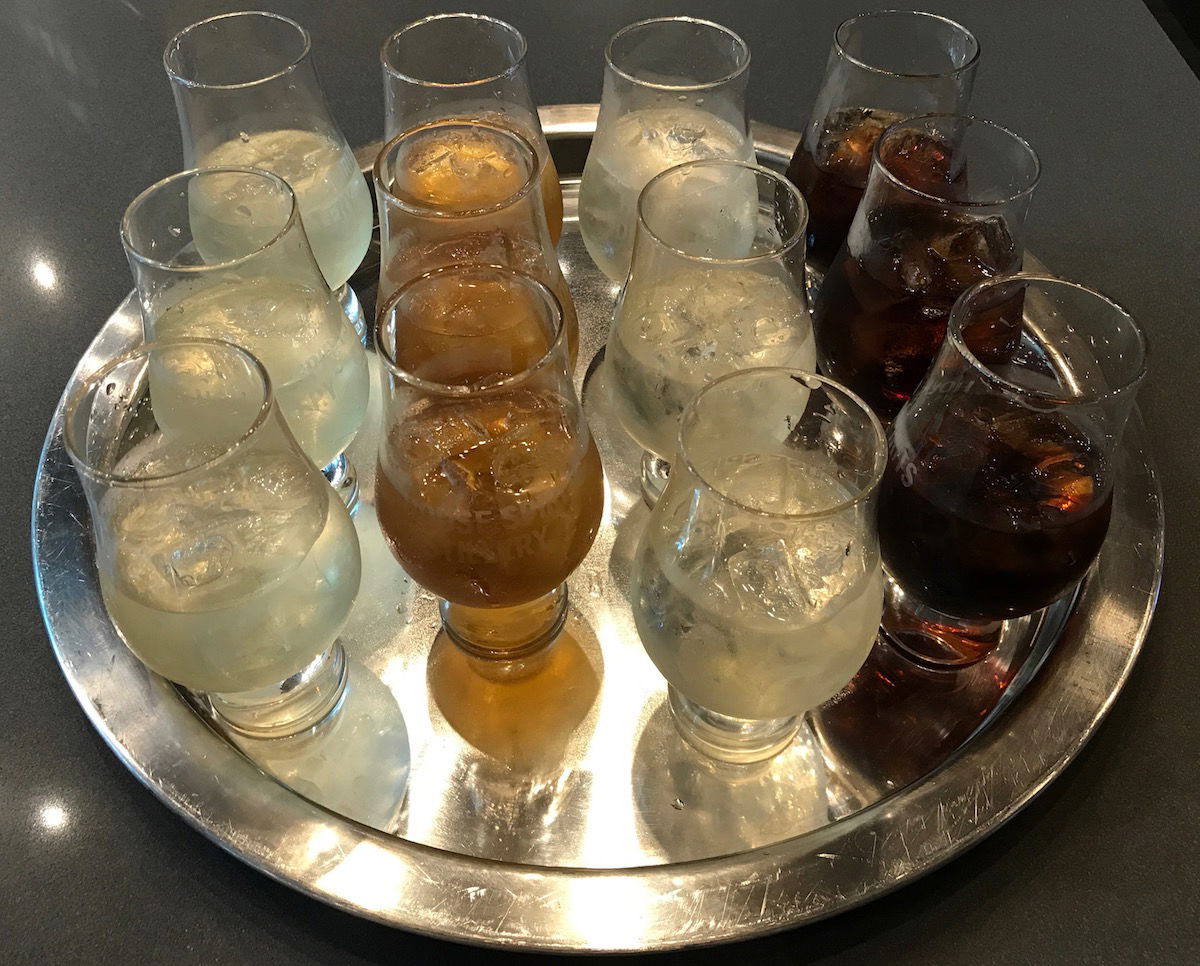 House Spirits Distillery PDX tasting
House Spirits Distillery has five tables you can sit at — there are three right in front of the store, and then two inside, near the bar. Or you can just stand as well. We were the only ones there when we visited on Wednesday, while it was pretty full on Friday afternoon.
The number of Priority Pass members has increased greatly the past couple of years, since now there are quite a few credit cards with lounge access. If you want to have this experience and aren't a Priority Pass member, the following cards come with Priority Pass memberships (along with the corresponding guesting privileges):
House Spirits Distillery Portland Airport bottom line
I can't emphasize enough how much fun we had at House Spirits Distillery. While I generally shy away from drinking (just because I travel constantly, and if I didn't I'd be drinking every day), this was really fun. If you've had a long day and want to unwind, this is such a great option, and was hands down the most fun Priority Pass option at Portland Airport.
While the whiskey and spirits tasting is great if you're into that, personally I loved the cocktail tasting the most. Make sure you drink plenty of water with your tasting, because these drinks are surprisingly strong.
The following links will direct you to the rates and fees for mentioned American Express Cards. These include: The Business Platinum® Card from American Express (Rates & Fees), and The Platinum Card® from American Express (Rates & Fees).