I have a bit of a love/hate relationship with Etihad. All things considered they're a good airline, though in terms of the first class experience there are a couple of things they could change to make the product truly fantastic.
Up until now my beef with Etihad has revolved around two issues:
On Tuesday I flew from Seoul Incheon to Abu Dhabi on Etihad Airways, and I was curious what was awaiting me aboard. This was actually my first time flying Etihad on a route that wasn't to/from the US. It wasn't off to a good start, given the 14 hour delay.

Etihad airshow between Incheon and Abu Dhabi
The flight was operated by an Airbus A340-600 — what a gorgeous plane. Too bad they're gas guzzlers, so we don't see many of them flying anymore.

Etihad Airways A340-600
Etihad Airways First Class Suite
Etihad's hard product is fantastic. The suites are fully enclosed, the finishes aren't too over the top (I'm looking at you, Bling-master Emirates), the entertainment system is extensive, the bedding is top notch, etc. Purely for sleeping or staying entertained, products don't get much better than Etihad first class.

Etihad Airways A340 first class seat


Etihad Airways A340 first class seat
Furthermore, Etihad has Wi-Fi on most of their longhaul planes, and at $21.95 for the entire flight with no data limits, that's quite a good value!
Etihad's A340-600s feature a total of 12 first class suites spread across three rows in a 1-2-1 configuration.
I assigned myself seat 2K, and I was one of only four passengers in the cabin. There was a lady in seat 2A, and then a couple in 1D & 1G.

Etihad Airways A340 first class cabin

Etihad Airways A340 first class bed

So you can't beat Etihad when it comes to the hard product, though that's not something I've ever criticized them on.
Etihad Airways First Class Service
This was really the big difference on this segment. Middle Eastern airlines have a reputation for good service, though I don't think they deserve it… well, unless we're just comparing them to US airlines.
I find the service is often forced and insincere, and the crew sometimes lacks cohesion, given how international they are (there are cliques among crew members, so they often don't work as well together as a crew that has more cultural values in common).
Typically in first class on Middle Eastern airlines they greet you with the most over the top welcome ("It will be my absolute privilege to look after you, and if you ever need anything — anything at all — please don't hesitate to contact any of us. We're here for you."). And then sometimes as soon as the door closes I'm left wondering what happened to that enthusiasm. It's not always the case, but many times is, in my experience.
Fortunately that wasn't the case on this sector. This crew — or more specifically the flight attendant and chef taking care of me — were S-P-E-C-T-A-C-U-L-A-R.
After a 14 hour delay, the senior first officer was at the door and chatted with the four people in first class for at least 10 minutes to apologize for the delay and say how embarrassing it was. The guy was awesome — clearly an aviation geek based on how he spoke.
Then there was one Romanian flight attendant taking care of me (I forgot her name, unfortunately), and then the onboard chef, Alejandro.
They were both fantastic. I'm not sure if it was in part because the cabin was just a third full or what, but they were top notch.
The flight attendant was constantly smiling and extremely attentive, and the onboard chef was the first onboard chef I've had that actually added value to the experience, in my opinion. I'll cover that more in the section below, though.
Etihad Airways First Class Food
The flight was delayed 14 hours — initially it was supposed to take off at midnight and land at 5AM, while instead it took off at 2PM and landed at 7PM. The issue, as you might expect, is that the flight was catered as it was originally intended to be.
They had a "kitchen anytime" menu (aka a snack menu), given the late night departure, figuring most people want to go straight to sleep: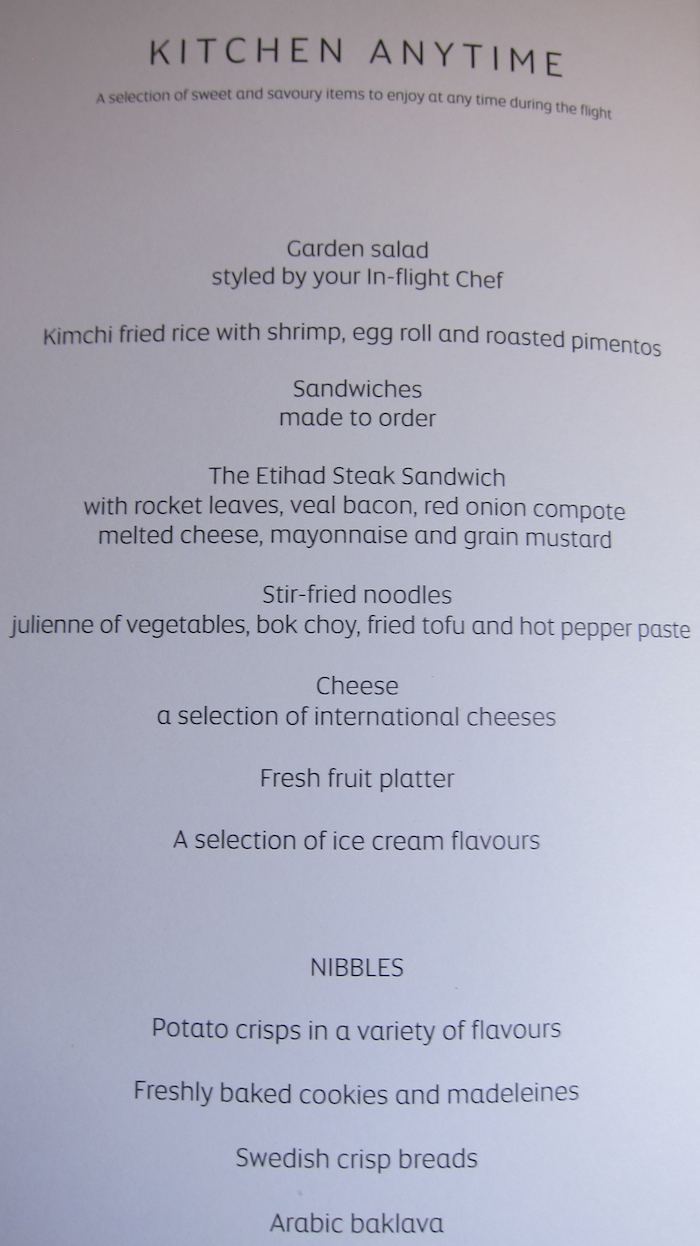 And then they had a more extensive breakfast menu, including options "from the grill:"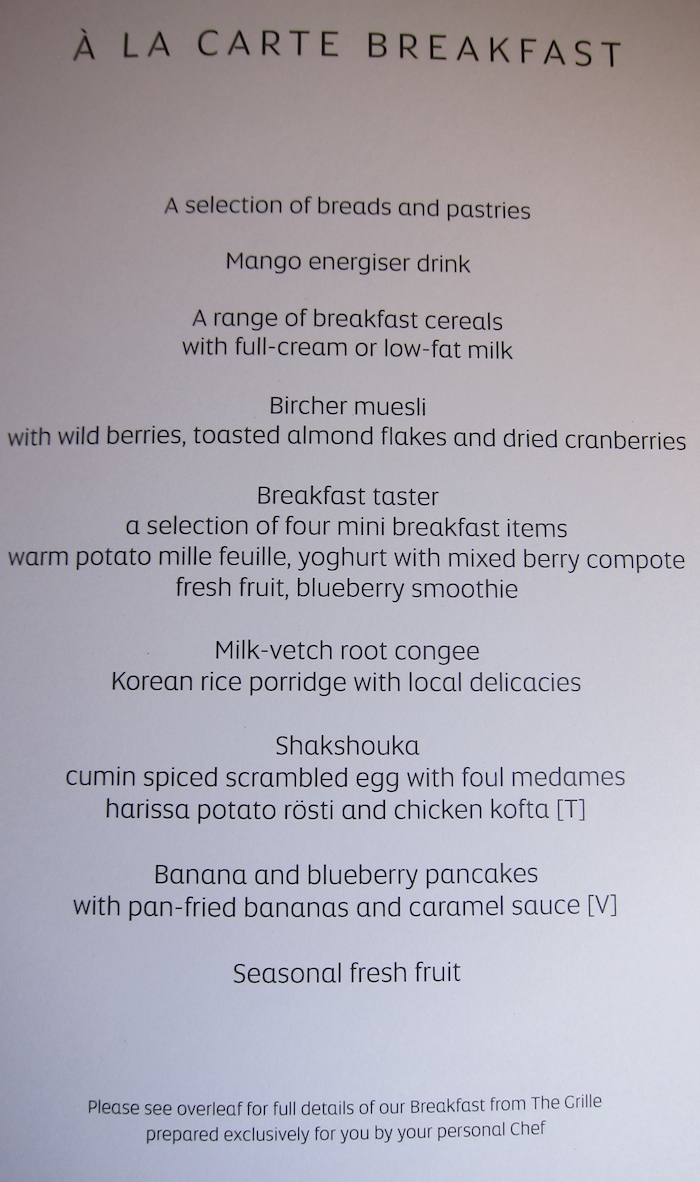 During boarding Chef Alejandro came by to apologize profusely for the situation and say that he tried to get catering to change up the menu, but there was nothing they could do.
But that didn't stop him from being awesome. He said "forgot the menu, why don't you tell me what kind of food you like, and I'll prepare something just for you." I explained I love everything except veal, pork, and lamb.
And he created one heck of a meal based on that. To start he made me a nice Asian noodle dish — it was surprisingly flavorful and spicy.

Etihad first class appetizer
Then he made me a lovely salad with some salmon.

Etihad first class salad
And then most impressive was the main course he made me. A surf & turf and mixed grill, as he called it. Seriously, it was un-freaking-believably good, and that's despite the fact that this wasn't even something on the menu. It would seem he got the shrimp from the kimchi, the steak from the steak sandwich and breakfast menu, and then the chicken and potatoes from the breakfast menu as well.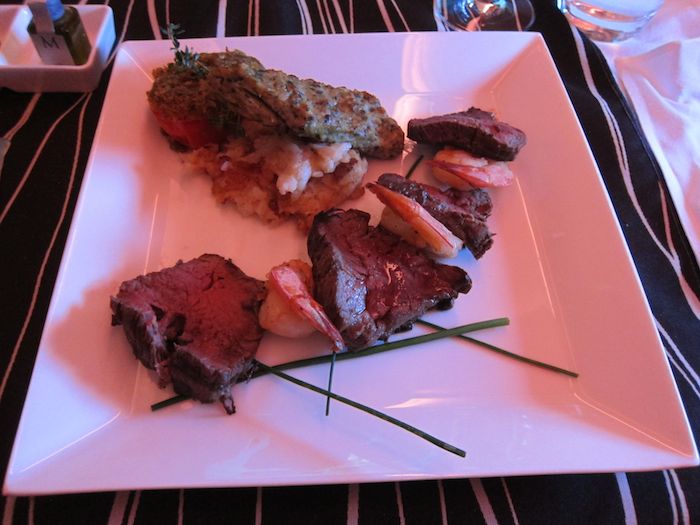 Etihad first class main course

The craziest part? He apologized to me that he couldn't do better. It was hands down the best main course I've had on an Etihad flight, even though he pieced it together using ingredients from various parts of the menu.
Then they forgot to cater ice cream, though I was perfectly happy with baklava and cappuccino. Mmm…

Etihad first class cappuccino and baklava

Then before landing he said "we don't have much left, but I'll get creative and make you something good. What do you feel like?" Oddly I actually felt like having breakfast since my body clock was in some weird, imaginary timezone. Alejandro was such a pro that I didn't even order anything, I just told him to bring me whatever.
He made me an amazing fruit appetizer with blueberry yogurt drizzled on the top.

Etihad first class breakfast appetizer

Then for the main course I had the breakfast taster.

Etihad first class breakfast sampler
I just can't say enough good things about Alejandro. Even with a fully stocked kitchen I've found Etihad's chefs to really lack creativity, and wondered what the point of having them onboard was if they can't manage the food supply and do anything truly creative.
Alejandro really changed my perception of onboard chefs. And I'm not sure if that's a good thing or not, because thanks to him I have higher expectations going forward.
Etihad First Class Tarmac Transfer
I've never arrived at a remote in Abu Dhabi stand after a longhaul Etihad flight in first class, so I was thrilled when there were three 7-Series BMWs waiting to take first class passengers to immigration — awesome!

Etihad first class tarmac chauffeur service
Etihad First Class Bottom Line
It's amazing how a few exceptional employees can turn what would otherwise be a disappointing flight into a great one. Chef Alejandro, the flight attendant, and the first officer were all top notch, and definitely made for my best Etihad flight yet.