Avianca Brasil has been around for over 15 years, though only fairly recently expanded internationally. The airline is currently Brasil's fourth largest airline. They used to just operate domestic flights, with a fleet of about 50 narrowbody Airbus aircraft.
However, a couple of years back the airline had lofty international expansion goals, and had plans for 10 A330-200s as well as 10 A350-900s to join their fleet over the coming years, so that they could become a global carrier.
Among their international routes were new flights from Sao Paulo to the US, operated using A330-200s: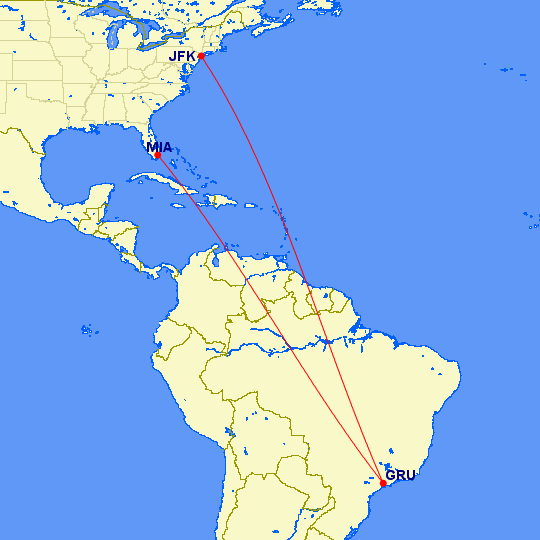 Unfortunately the airline hasn't been doing well financially, and in December 2018 filed for bankruptcy. They blamed high fuel prices (at the time) and a strong USD for their issues.
Several of their leasing companies wanted their planes back due to Avianca Brasil's financial situation, with the potential for 30% of their planes to immediately be repossessed.
On top of that, the airline owed tens of millions of dollars to airports due to lack of payment, and their debt has continued to grow.
So unfortunately Avianca Brasil is getting rid of their A330s (and many other planes), and as part of that, they're also ending international flying.
Avianca Brasil will be ending flights to Miami and New York as of March 31, 2019. So that means neither route even lasted two years.
Lastly, for anyone who is worried about the value of their Avianca LifeMiles, you shouldn't be worried (at least for now). While Avianca Brasil is owned by Synergy Group, which also controls Avianca Holdings (which Avianca Colombia is part of), the airlines are run separately, and are in very different financial positions.
Bottom line
It's unfortunate that Avianca Brasil has been doing so poorly, and in particular that they couldn't make their international flying profitable.
They were going up against the powerhouse of American and LATAM in both of these markets, so it's tough to compete with that with a single flight to each city.
Did anyone have a chance to fly Avianca Brasil between Sao Paulo and the US?