I'm going to get more in the habit of sharing and addressing reader questions on the blog. It seems to be something people enjoy reading about, and I always like hearing the perspectives of others. Please let me know if you do or don't enjoy these kinds of posts, and I'll adjust content accordingly.
Along those lines, here's a reader email I received today…
Passenger served moldy food in Avianca business class
A reader sent me an email about an awful experience he had flying in Avianca's Boeing 787 business class from Bogota to Madrid last week, and he's frustrated by Avianca's lack of responsiveness. Here's part of his email, along with the pictures:
I flew Business Class from Bogota to Madrid last week and since the crew served our breakfast in a completely dark cabin, I unfortunately didn't see that the fruit was moldy until I had only one strawberry left (of which I attached a photo). I didn't bother speaking to the stewardess at the time since she did not speak English. I did however get pretty sick the next day (I'll spare you the details), which hindered me from working. I am quite annoyed that Avianca hasn't responded to my email yet.

It really annoys me how much the quality has gone down across the board even though prices continue to explode.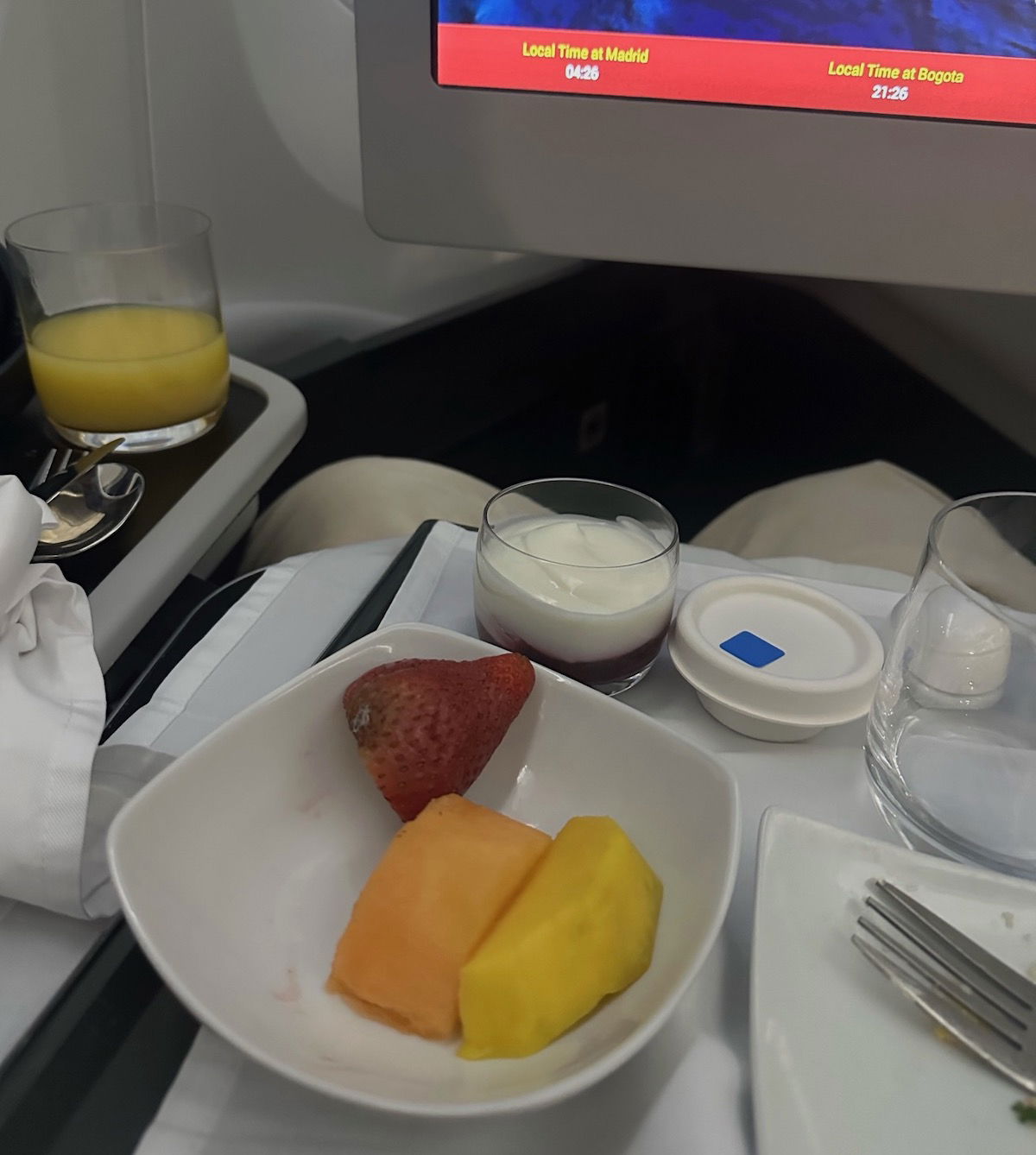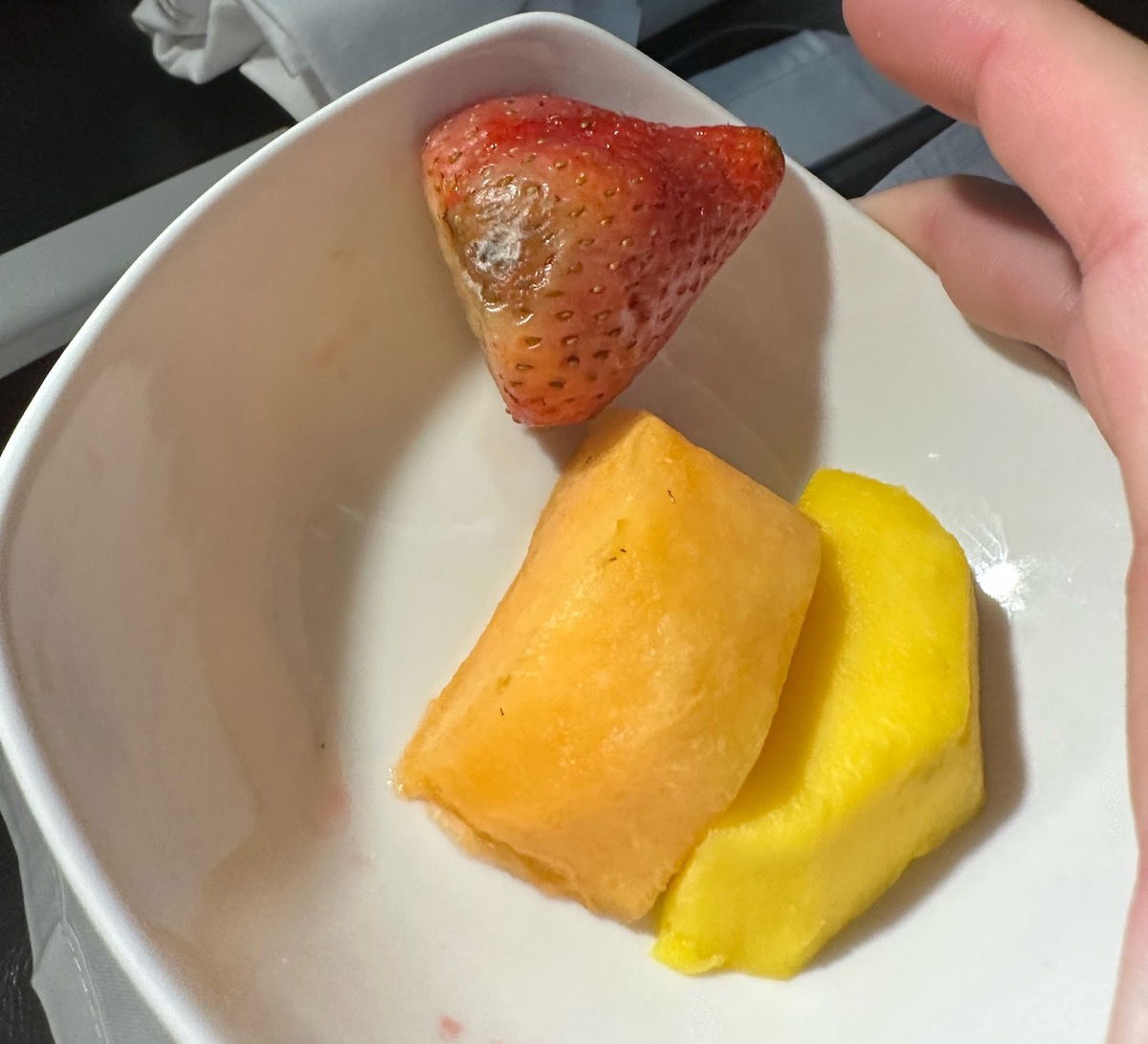 My take on this moldy meal situation
Let me start by saying that I'm no expert on mold, so I obviously can't personally vouch for whether the food was actually moldy, or what exactly was going on..
Would I be extremely annoyed if I got sick because of the food I was served on a plane? Absolutely. Would I expect a whole lot from Avianca, and that the airline would make me whole? Just being realistic, probably not.
Let me start by sharing how I'd approach this situation:
I've seen way too many stories of airplane food being moldy, having pieces of glass in it, or otherwise being inedible; I am cautious with all airplane food, and always make sure I inspect it to some extent by turning on a light, looking through each dish, etc.
Even if there's a language barrier, I'd always recommend immediately letting the crew know of what you see, so that it can be documented, as that maximizes your odds of the airline taking the situation seriously (admittedly the passenger probably didn't know he'd get sick the next day, so might not have initially viewed it as a huge deal)
In fairness to airlines, they typically contract out catering to third parties and use the same facilities as other airlines, so that fruit could have just as easily ended up on an American or Lufthansa flight (and while airlines have different budgets, hopefully no airlines are intentionally purchasing expired food)
While I'd absolutely want to make sure that airline customer relations documents this and passes on the feedback to the catering facility to ensure it doesn't happen again, I wouldn't expect to be compensated beyond some "gesture of goodwill" (some bonus miles or a voucher), and wouldn't expect to be made whole for lost productivity, etc.
The crux of the reader's frustration is totally warranted. Airlines are charging much higher prices, but are largely delivering a much lower quality product. And that doesn't just apply to catering, but also applies to the responsiveness of airline customer relations.
It's frustrating to not only feel like you got sick because of what you were served on a plane, but to also feel like an airline isn't even acknowledging what happened.
Bottom line
An OMAAT reader was served moldy fruit in Avianca business class, which he believes made him sick. That's a really unfortunate situation, and a good reminder to always inspect your airplane food for everything from mold, to any other object that shouldn't be in there. If you do have a food safety issue, immediately alert the crew.
Avianca owes this passenger a timely response with some sort of a tangible apology. However, to be realistic, I wouldn't expect more than a small voucher or some bonus miles.
What's your take on this moldy business class meal situation? How would you have handled it, and what would you expect from the airline?