While the impacts of the current global pandemic have been catastrophic for the airline industry, there are some cool flights that have emerged as a result of this, at least from the perspective of an aviation geek.
That includes the furthest ever scheduled passenger flight (from Tahiti to Paris), the first nonstop A380 flight from Australia to London, a rather adventurous transatlantic turboprop flight, and a multi-stop 737-200 transatlantic repatriation flight.
Well, we can now add another flight to the list. At the moment Austrian Airlines is operating a nonstop flight from Vienna to Sydney, as the plane is positioning in order to operate a repatriation flight on the return.
As most of you probably know, Austrian Airlines has shut down scheduled operations completely, and at this point is just operating a small fleet for repatriation flights. This is one of those.
https://twitter.com/_austrian/status/1244199787978805249
The nonstop journey from Vienna to Sydney covers a direct air distance of 9,918 miles. This is beyond the plane's ordinary range, but:
There are significant tailwinds the entire way, so the plane can fly much further than it could in the other direction
Presumably the plane is almost empty, probably carrying no passengers and a very limited amount of cargo
These factors can have huge impacts on the range of a plane, which is why something like this is possible.
The flight time is expected to be over 17 hours, so it's going to be quite a haul. The plane can't operate the return nonstop, so the flight is expected to return on March 31, making a stop in Penang, Malaysia, to pick up more passengers there.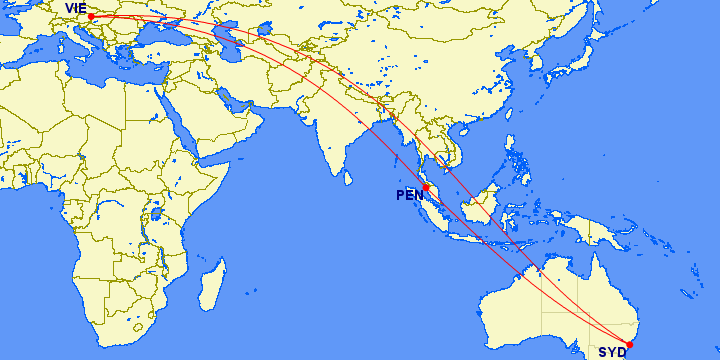 If you want to track this flight, it's being operated by OE-LPD, a 13 year old Boeing 777-200ER. Austrian is using the flight number OS1 for this very special journey.
This is also longer than the world's longest regularly scheduled flight from Singapore to Newark, operated by an A350-900ULR, and covering a distance of over 9,500 miles.