Countries around the world are operating repatriation flights at the moment, though Canada's flight to evacuate citizens from Morocco is probably the most interesting as an airline geek.
What are repatriation flights?
We're increasingly seeing governments add new immigration restrictions. In some cases the restrictions are mild, while in other cases they're extreme. For those outside their home country, this can be a challenging time, especially with many airlines drastically cutting their schedules.
As a result, we've seen some flights operated with the intention of bringing home people who are "stuck" abroad. I'm not really sure about the back-end economics of these. My assumption would be that the government is essentially paying to lease a plane, whether that plane comes from a commercial airline, or is coming from a wet leasing aircraft company.
Nolinor 737-200 used for transatlantic flights
The Boeing 737-200 is one of the original versions of the 737, and that's exactly what Canada is using for at least one flight intended to evacuate Canadians from Morocco.
The 737-200 in question is being operated by Nolinor, which is a charter airline based in Montreal. The carrier operates a variety of aircraft types, the largest of which is the 737 (they have both a -200 and a -300).
Well, Nolinor's 737-200, with the registration code C-GNLN, was used to operate one of the Morocco evacuation flights. The plane in question is nearly 37 years old, and funny enough used to fly for Royal Air Maroc (from 1983 until 2007), until it was transferred to Nolinor.
How did a 737-200 fly from Canada to Morocco?
Tracking the flight data for C-GNLN the past few days is absolutely fascinating.
How did the plane get from Montreal to Casablanca?
On Thursday morning the plane flew from Montreal to Goose Bay
On Thursday afternoon the plane flew from Goose Bay to Reykjavik
On Thursday evening the plane flew from Reykjavik to Shannon
On Friday morning the plane flew from Shannon to Casablanca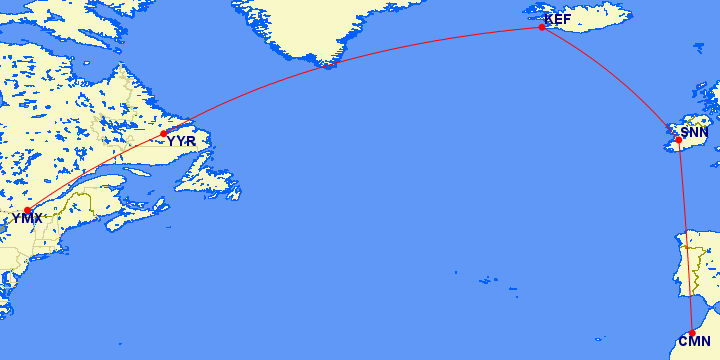 The direct air distance would have been ~3,500 miles, but instead the plane operated a total of four segments to get there, covering a distance of over 4,500 miles, with a total flight time (in the air) of just over 10 hours.
The plane took exactly the same routing on the way back — it must have been a long day for the crew, because they turned around from Casablanca the same morning they flew in from Shannon (they had spent the night in Shannon).
I would imagine the reason for all the stops came down to a few factors:
The plane doesn't have the range to fly nonstop
The 737-200 has limited ETOPS capabilities, so needed to stay fairly close to suitable diversion points, meaning flying over Iceland, etc., was necessary
While three stops may seem unnecessary, the range of the plane would have really been pushed if they cut out any of those stops
Bottom line
There are dozens of repatriation flights going on right now, though this one is pretty unique. The mighty 737-200 flew eight segments over a couple of days to get people out of Morocco. It's not every day you see a 737-200 operating a transatlantic flight.
Bonus points to them for using a former Royal Air Maroc 737-200 — I'm sure the plane was happy to visit its former home. 😉
I'm sure we'll never know, but I'd be curious about the economics of this. I would assume there weren't that many people who needed to be on this particular flight, and therefore this was the most cost effective option. But still, you wouldn't assume they'd use a 737-200 that requires four segments in each direction.
Now can we see an airline use a turboprop for a transatlantic repatriation flight? That would make for an even more interesting flight path…
(Tip of the hat to Flightradar24, featured image courtesy of Jean-Philippe Richard)