In the interest of full disclosure, OMAAT earns a referral bonus for anyone that's approved through some of the below links. The information and associated card details on this page for the Hilton Honors American Express Aspire Card has been collected independently by OMAAT and has not been reviewed or provided by the card issuer. These are the best publicly available offers (terms apply) that we have found for each product or service. Opinions expressed here are the author's alone, not those of the bank, credit card issuer, airline, hotel chain, or product manufacturer/service provider, and have not been reviewed, approved or otherwise endorsed by any of these entities. Please check out
our advertiser policy
for further details about our partners, and thanks for your support!
Happy 2021! There's a lot to be excited about with the new year. For one, 2021 isn't 2020, so it has that going for it.
On the credit card front, one of the things that I ordinarily like about the new year is that certain annual benefits reset. One of those is the airline fee credits that are offered by several American Express cards. Based on the cards that I have, this is an opportunity to get hundreds of dollars of value per year.
In this post I wanted to talk a bit about the current state of Amex airline fee credits, given that it's a new year, meaning that a lot of peoples' credits have just reset.
What Are Amex Airline Fee Credits?
Cards offer a variety of benefits, and in the case of several American Express cards, one of those is an annual airline fee credit. The credit is intended to be used towards airline fees (as the name suggests), and for many of us, benefits like this help offset the annual fees on cards.
When Are Amex Airline Fee Credits Valid?
In the case of all American Express cards offering airline fee credits, the validity is based on the calendar year. This is a strict calendar year definition, so it's not like some other cards, where it's based on your cardmember year.
With Amex, airline fee credits are valid January 1 through December 31, and it's a "use it or lose it" situation.
Which Airlines Are Eligible For Amex Airline Fee Credits?
You can designate one of the following airlines as your airline of choice for this benefit:
Alaska Airlines
American Airlines
Delta Air Lines
Frontier Airlines
Hawaiian Airlines
JetBlue Airways
Spirit Airlines
Southwest Airlines
United Airlines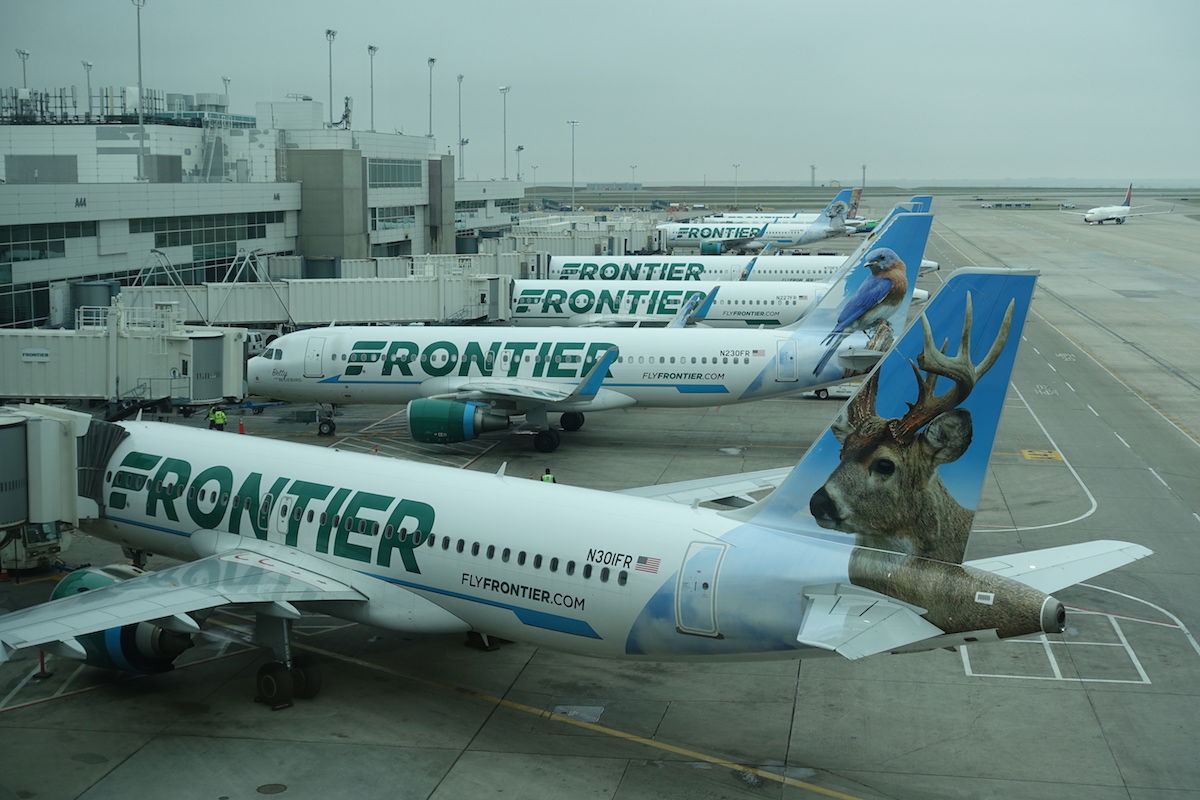 You could designate Frontier as your airline for the Amex fee credit
Which Amex Cards Come With Airline Fee Credits?
The following cards offer airline fee credits, in the following increments:

What Can Amex Airline Fee Credits Be Used For?
Per the terms, the annual airline credit can be used for purchases made directly with airlines, excluding the following:
Airline tickets, upgrades, mileage points purchases, mileage points transfer fees, gift cards, duty free purchases, and award tickets are not deemed to be incidental fees.
As you can see, this excludes quite a bit of stuff. In the past purchasing airline gift cards would often automatically be reimbursed, though as of 2019 that's no longer the case, so you won't want to buy gift cards hoping that they're reimbursed. For that matter, there are many things that used to be reimbursed, but that no longer are.
The American Express forum on FlyerTalk has individual threads dedicated to reimbursement reports for each airline, including Alaska, American, Delta, Frontier, Hawaiian, JetBlue, Southwest, Spirit, and United. It can be worth looking there for inspiration on some of the best uses.
While it varies by airline and situation, often baggage fees, award ticket fees, change and cancelation fees, seat assignment fees, lounge passes, inflight food and beverage purchases, etc., qualify for reimbursement.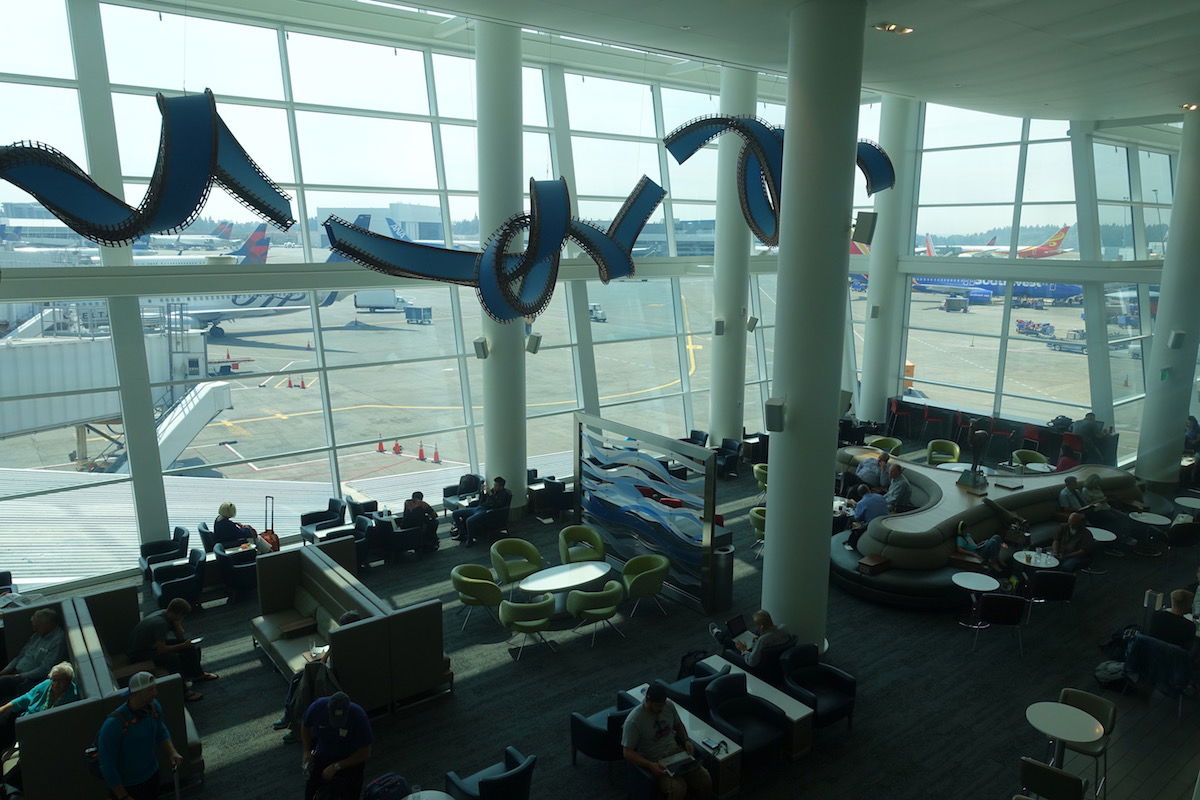 Lounge passes could be reimbursed with airline fee credits
How Do You Register For Amex Airline Fee Credits?
Your eligible airline purchase should be automatically reimbursed when charged to a qualifying card, assuming you've designated an airline for this benefit.
Each year you have to designate an airline for your airline fee credit. You can change your designated airline once per year, in January, so you can now change your designated airline, if you'd like.
To verify or select your airline of choice, log into your Amex account, and then click on the "Benefits" tab along the top. Then scroll to the section that talks about the airline fee credit, and you'll see the link to "select an airline."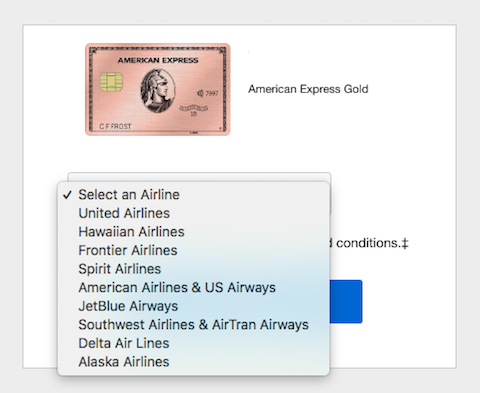 They could really update their descriptions, eh? AirTran and US Airways are still being mentioned.
If you already designated an airline last year, that will be the default one this year, so if you want to keep it you don't have to do anything. But if you haven't designated an airline in the past or want to change your selection, you'll want to edit it.
Keep in mind that for The Business Platinum Card® from American Express, the airline you choose is the same one for which you'll get 35% off when redeeming points with the "Pay With Points" feature. You'll want to choose your airline carefully.
It's Time For Amex To Rethink This Benefit
Let me start by acknowledging that a lot of credit card perks are designed to have breakage, or else the economics wouldn't work. That's perfectly justifiable and understandable.
But I also think this perk is getting to the point where it's so restrictive that it's almost a gimmick.
Back in the day this perk was easy enough to maximize, as there were all kinds of things that coded as airline fees. However, over the years there were fewer and fewer ways to use these credits. At least there were always airline change fees, so these were useful for getting some of those reimbursed. With many major US airlines having now eliminated change fees, that's not even a practical use anymore.
This perk needs to be rethought, in my opinion. Now look, we have to be realistic — this isn't going to be replaced with a flat $200 travel fee that can be used towards anything. I get that the economics here for Amex assume significant breakage, and the airline isn't budgeting $200 per cardmember per year here.
There has to be some alternative, though, that's useful without having so many restrictions.
Bottom Line
While I hate when the year "resets" in terms of elite status, I do love picking up new annual airline fee credits thanks to the Amex cards I have. If you have any of the above Amex cards, you can go ahead and designate your airline of choice, and then start taking advantage of your 2021 credits… if you can figure out uses.
I do hope that Amex considers refreshing this benefit, given how the airline and credit card industry have evolved in the past decade.
How do you plan on using your 2021 Amex airline fee credits?
The following links will direct you to the rates and fees for mentioned American Express Cards. These include: American Express® Gold Card (Rates & Fees), The Business Platinum® Card from American Express (Rates & Fees), The Platinum Card® from American Express (Rates & Fees), and Hilton Honors American Express Aspire Card (Rates & Fees).