I'm a total airline nerd. I'm mildly OCD. And I'm a minimalist (well, I live in hotels full time, so don't have much of a choice). But long time readers probably already knew all three of those things about me.
Combine those three factors and you get my love of collecting totally random things. I'm addicted to collecting Rimowa amenity kits, airline branded teddy bears, and Lufthansa ducks.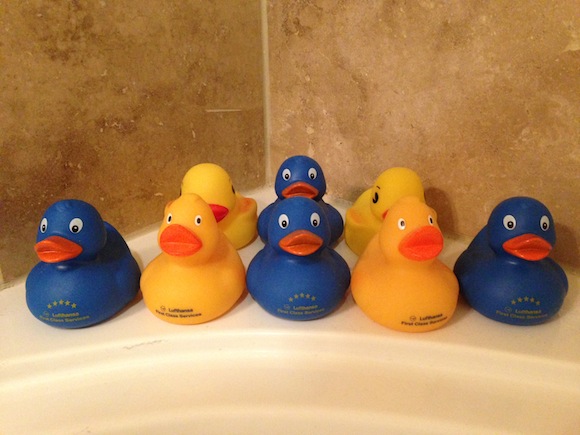 Well, it looks like I'll be collecting something else soon as well.
As of this month, American will be offering premium cabin passengers limited edition amenity kits from the nine airlines that laid the foundation for the "new American." These include:
American Airlines
AirCal
Allegheny
America West
Piedmont
PSA
Reno Air
Trans World Airways
US Airways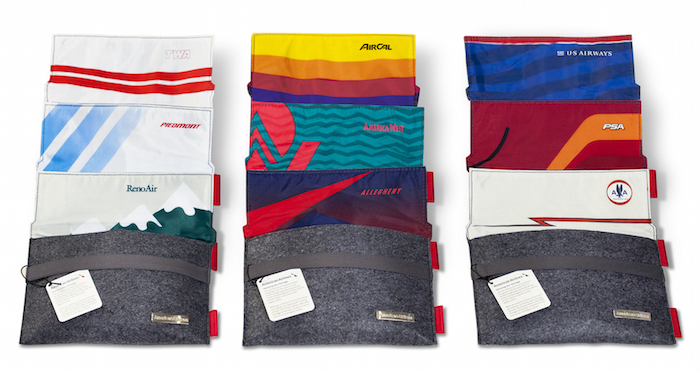 The kits will be rolled out in batches, for three to four months each:
Customers can experience the retro-themed heritage amenity kits through January 2016 when they travel in international Business Class or transcontinental First Class. They are contained in a stylish, felt case inspired by designer bags, sized specifically to be re-used as a mini-tablet computer case. The legacy themes will debut in batches of three every four months.
I'm hoping they have a couple of different types on each flight so you can potentially swap them to get the "missing" one.
Here's what the new international first class kit looks like:
And here's what the contents of the new business class kit look like:
For the first time ever, American is also rolling out amenity kits in business class on their premium transcontinental routes:
In addition, for the first time, American is rolling out amenity kits in Business Class on its transcontinental service between New York and Los Angeles and San Francisco, as well as Miami and Los Angeles. These kits contain a pair of socks and eye mask, a toothbrush and toothpaste, earplugs, and the trio of red flower products.
While this ultimately isn't a differentiator for the average traveler, I'm really excited about the opportunity to start yet another arbitrary collection!
These are a nice improvement over American's old kits. Here's their old first class kit, which was actually an iPad case:
And then here's their old business class kit:
Anyone else thinking of using these new collector's kits as an adult replacement to Pokemon?