In this particular instance I'm not sure if my frustration should be more with American's stinginess with last minute award space lately, or the fact that they're cross-fleeting.
As frequent American and US Airways flyers may have noticed, the two airlines have been cross-fleeting since early last month. For those of you not familiar with the term, in this instance it's when American planes operate select US Airways routes, and US Airways planes operate select American routes. American has primarily begun flying US Airways routes out of Phoenix, while US Airways has begun flying American routes out of Miami.
For example, US Airways is now operating select frequencies from Miami to Detroit, New Orleans, Tampa, etc.
American and US Airways have started offering reciprocal elite benefits, but due to the scope of the merger, it's going to be a while before we see true metal "neutrality" in terms of benefits.
For example, American and US Airways now offer reciprocal elite upgrades, but only day of departure. While they offer reciprocal priority seating, boarding, etc., you can't standby for travel on the other airline.
Which brings me to the problem I faced for travel today. Last night I was trying to book a ticket from Tampa to Miami using British Airways Avios. Nowadays there are seven flights per day — three on US Airways and four on American.
For the most part the flights appear to be wide open, as I find to be the norm on the route.
Unfortunately even though they seem to be wide open, US Airways has released award space on all of their flights, while American hasn't released award space on any of their flights.
If all seven flights were operated by American and only three had availability, that wouldn't be an issue since I could standby on a different flight. However, in this instance standby options are limited — if I book travel on US Airways, I can only standby on another US Airways flight.
While I understand why airlines cross-fleet and that it makes sense for them to "get their feet wet," in practice it's extremely frustrating as a passenger when there's not true metal neutrality or reciprocal status matching between airlines.
On the plus side, when I flew Miami to Tampa on US Airways last week, the first class cabin was almost completely empty — probably because American flyers didn't know to ask for their reciprocal upgrades.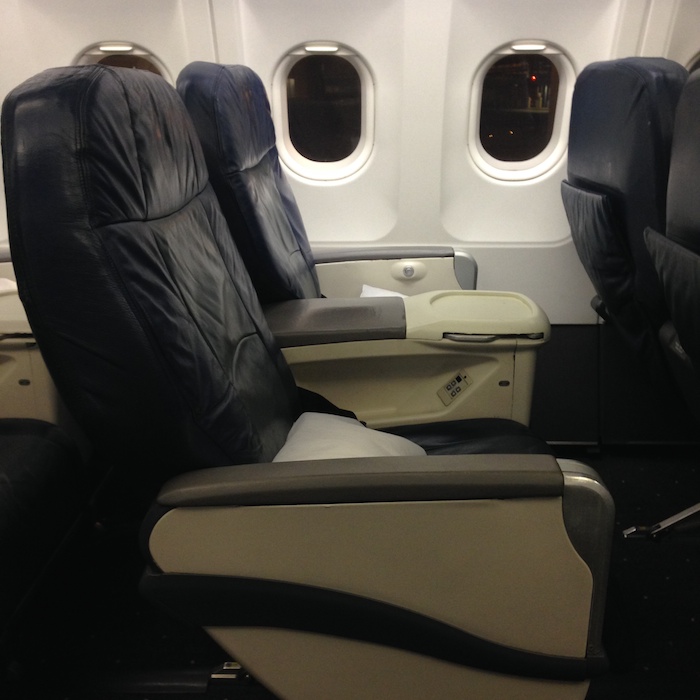 US Airways A319 first class cabin