In November 2016, the US Department of Transportation blocked the expanded joint transpacific joint venture that American and Qantas had requested. Interestingly the expanded joint venture was approved by Australian authorities, while the US thought that the proposed alliance would substantially reduce competition and consumer choice, without producing sufficient countervailing public benefits.
American and Qantas seemed pretty confident that their request would be approved. On the basis of the joint venture being approved, American launched flights from Los Angeles to both Sydney and Auckland.
So they were quite disappointed when it was rejected. However, rather than appealing the decision right away, they decided on a different strategy. They planned on refiling once Trump was in office, hoping that his administration would take a different approach — American First, if you will. 😉
In early 2017, American and Qantas scaled back the extent of their relationship:
Qantas no longer codeshares on American Airlines' services between Sydney and Los Angeles as of February 1, 2017
Qantas adjusted its Qantas Frequent Flyer policy with American Airlines to bring it in line with other oneworld carriers as of May 1, 2017
One of the reasons they made this change was so that when they refiled their application for a joint venture, they could show the public benefit of such a joint venture.
This shouldn't come as a surprise — I'm actually surprised it took so long — but American and Qantas have just refiled their application for a transpacific joint venture, for travel between the United States and Australia/New Zealand. Per American Airlines' press release:
The proposed joint business will significantly improve service, stimulate demand and unlock more than $300 million annually in consumer benefits that are not achievable through any other form of cooperation, including:

Up to $221 million in value from expanding codesharing between American and Qantas – opening more connections to more destinations.
Up to $89 million in value by offering a wider range of fare classes across each other's networks, including lower fares and discounts.

The joint business will also give American and Qantas the opportunity to launch additional routes between the U.S. and Australia and New Zealand, including new flights to city pairs currently not served by either carrier.

An expanded relationship will encourage significant improvements in the overall customer experience, including additional frequent flyer benefits and investments in lounges, baggage systems and other infrastructure designed to better serve the carriers' joint customers.

All these benefits will stimulate significant demand for new travel – generating up to 180,000 new trips between the U.S. and Australia and New Zealand every year.
The press release goes on to make warn of what could happen if the joint venture isn't approved:
Critically, if the joint business is not approved, American and Qantas will have no choice but to further reduce codesharing on their networks. This will jeopardize the number of services and routes each carrier flies between the U.S. and Australia and New Zealand.

For example, Qantas may be forced to reduce the frequency of, downgauge or potentially cancel its A380 service between Sydney and Dallas/Fort Worth, and American may further reduce its services between Los Angeles and Sydney and Auckland. These routes rely on codeshare support from each airline's feeder network via their respective hub cities to be economically viable.
Here's a "fact sheet" they have about the potential joint venture: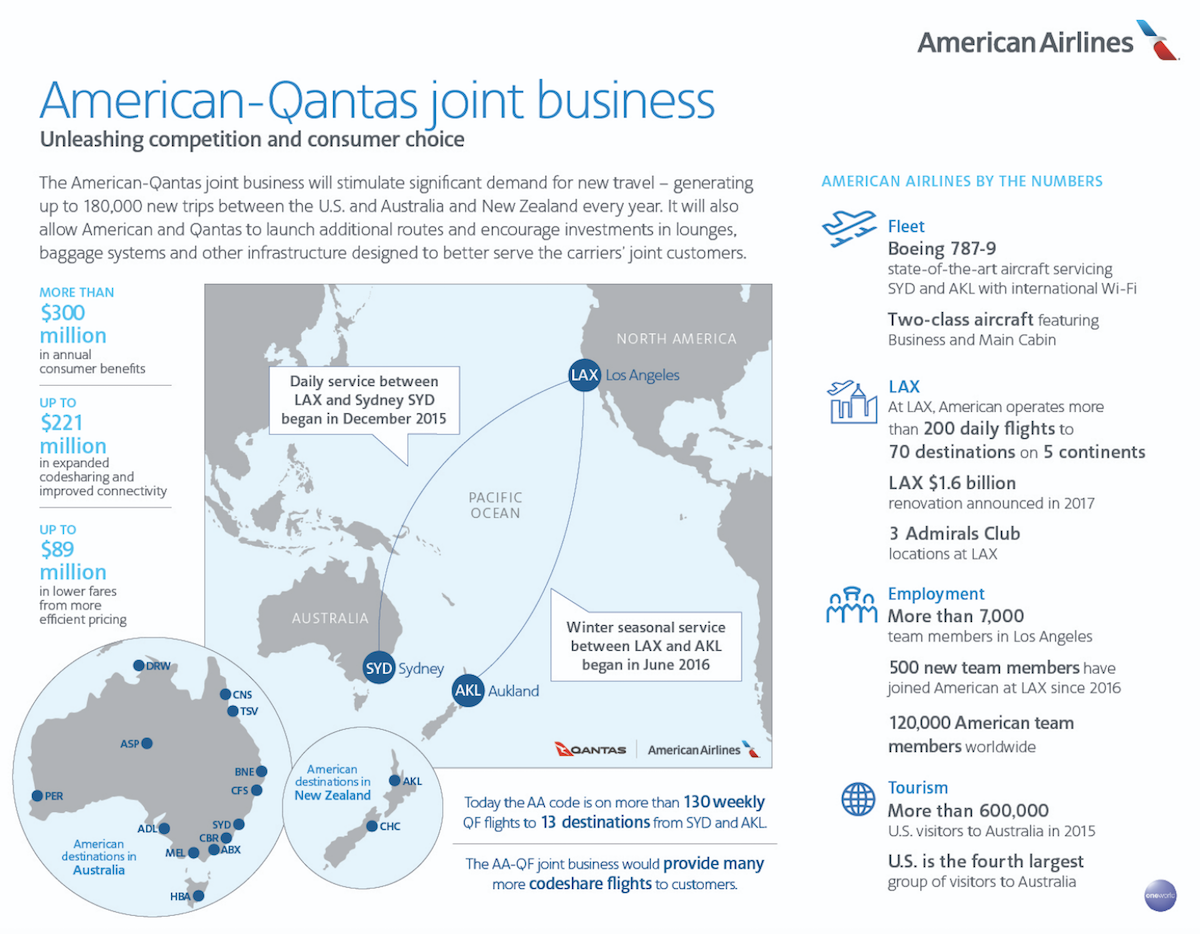 As I always say, a joint venture is often a double edged sword in terms of the consumer benefit. The positive aspects of joint ventures are that they create a more seamless travel experience, and lead to better schedule coordination, new routes, and more frequent flyer benefits.
On the the other hand, a joint venture is the equivalent of eliminating a competitor in the market, since it allows two airlines to essentially act as one, and fix pricing.
So some of the claims are true — a joint venture could be good in terms of the number of destinations that American and Qantas serve. However, there's simply no way to rationalize that this would lead to "up to $89 million in lower fares from more efficient pricing." Joint ventures in markets with limited competition (as is the case between the US and Australia/New Zealand) lead to higher pricing, and not lower pricing. American bases this argument on the following:
Joint pricing of connecting itineraries eliminates double marginalization and generates up to $89 million in annual consumer benefits
While that part of it is true, that's only one small part of the pricing equation. A much bigger part of the equation is that airlines price based on their competition, and with one less competitor, they won't have to be as aggressive with their pricing. That's not factored into their math.
Bottom line
I'm curious to see whether the joint venture gets approved under the Trump administration, after being shot down by the Obama administration. The airlines didn't seem to expect the result they got last time, so maybe they'll get luckier this time. On balance I do think there's probably a mild consumer benefit to the joint venture, as we could see expanded cooperation, which may lead to more routes. However, don't expect that this will lead to lower fares.
Do you think the American & Qantas joint venture will be approved this time around?