In September American Airlines rolled out new uniforms for their 70,000+ employees.
While uniforms in and of themselves won't change the customer experience, symbolically they represented the "new American" becoming one, since previously American and US Airways flight attendants wore different uniforms. Furthermore, the new uniforms seemed to be a real point of pride for many employees.
Well, unfortunately within a week of the uniforms being released, more than 400 American flight attendants complained to the airline and union about having broken out in hives and experiencing itching and headaches. During my flights with American over the past two months, I've probably seen a total of a dozen flight attendants wearing the old uniforms, presumably due to this issue.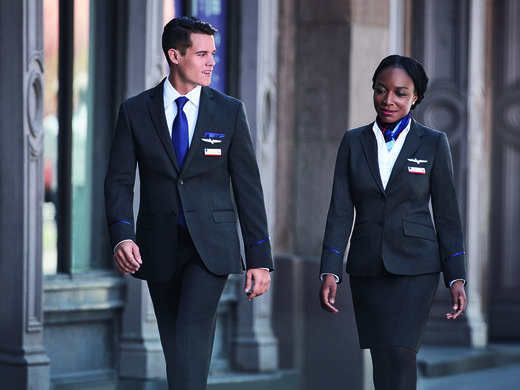 Well, it looks like the problem is only getting worse, and more than 1,600 flight attendants have reported suspected uniform reactions. Therefore American's flight attendant union is asking the airline to recall the uniforms until further joint testing has been done. While the airline is helping with further joint testing, they're not doing a full recall, which the union feels isn't "protecting [their] members."
So American's flight attendant union is encouraging all members to call the American Airlines uniform hotline and wear the old uniforms, regardless of whether or not they're experiencing a reaction.
Here's the full press release from the union yesterday:
APFA National Officers met with the Company this week to discuss the results from APFA's independent testing and to address the increasing number of Flight Attendants who are reporting adverse symptoms and reactions to the new uniform.

We were all excited when the Company announced in 2014 its plans to launch an updated uniform for all employees at the New American. After many years laboring in the "old blues," we were yearning for a fresh, contemporary new look as we moved forward in this merger. APFA is pleased that many of our members like the style of the uniform articles and the range of options afforded our members.

But the look of a uniform is of secondary importance to APFA. Our members should not only look good in the uniform, but also feel good in the uniform. Yet this feeling is not the case for a rapidly growing segment of our membership who has reported adverse reactions, including many Flight Attendants who are quite pleased with the look of the uniform.

Since August, we have received over 1,600 Flight Attendant reports of suspected uniform reactions that include headaches, rashes, hives, burning skin and eye irritation, itching, and respiratory problems—to name a few. The growing number of reports of suspected reactions, triggered by both direct and indirect contact with the uniform, has prompted APFA to ask that all uniforms be recalled until further joint testing with the Company can be completed.

While the Company has reaffirmed its commitment to continue joint testing with APFA to determine what is causing these conditions, it has stopped short of a full recall. We feel a remedy that excludes a full recall of the uniform fails to adequately protect our members.

To that end, APFA will continue to explore all legal options and consult with additional experts in the field to better understand the results of our ongoing independent testing as well as joint testing moving forward.

In the meantime, we encourage Flight Attendants to contact the AA Uniform Call Center now to return to their old uniform, regardless of whether they experienced a reaction.
I'll be curious to see how this plays out…