Yesterday I wrote about how American's Business Extra program is now issuing electronic rewards rather than paper rewards, as they did in the past. For those of you not familiar with Business Extra, it's American's small business rewards program, which is separate from the AAdvantage program. For more on the program, see this post.
Anyway, thanks to several readers for pointing out a promotion I wasn't aware of — American Business Extra members can earn 100 bonus points after their next flight.
Your company can earn 100 bonus Business Extra points when you:
Register for the promotion between February 22, 2018, and May 31, 2018, with the promotion code BXP1UP18
Complete one qualifying flight between February 22, 2018, and May 31, 2018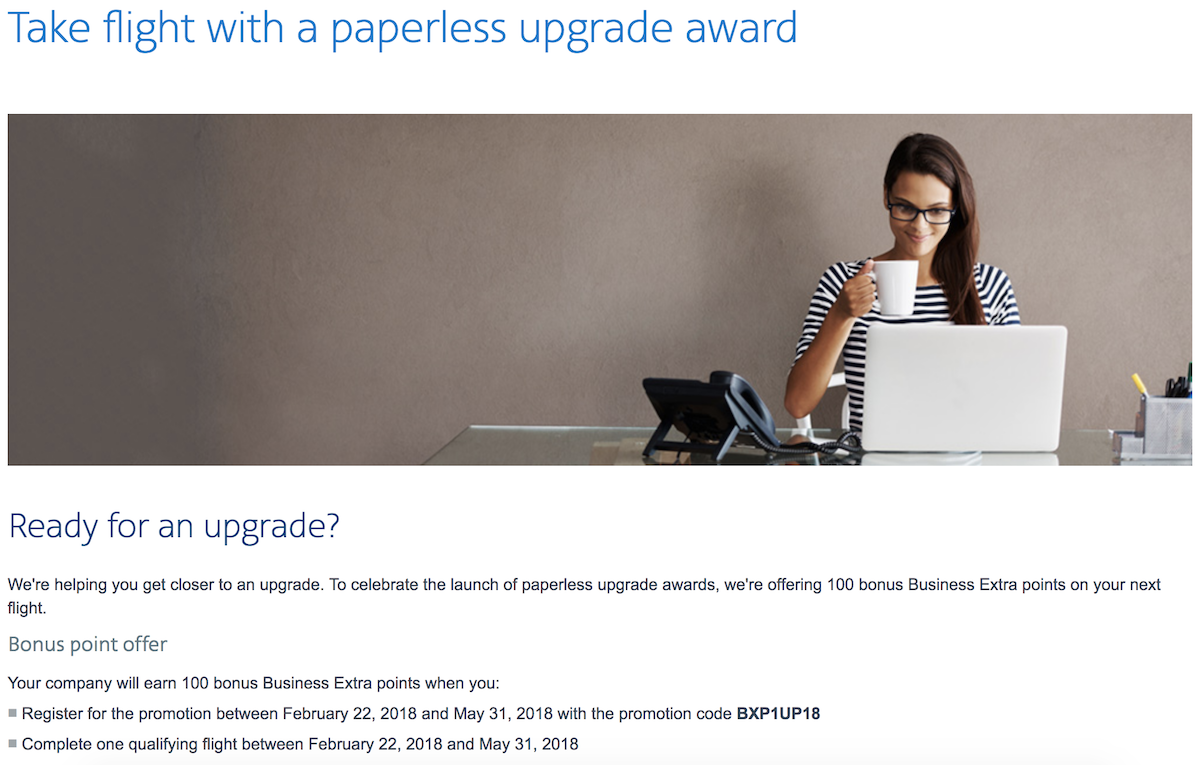 The terms & conditions of this promotion are as follows:
Promotion is valid for travel on purchased, eligible, published-fare tickets on eligible flights booked in eligible fare classes for travel on (1) American Airlines (2) British Airways and Iberia, ticketed on American Airlines (001), British Airways (125), and Iberia (075) ticket stock. Promotion is also valid on purchased, eligible, published-fare tickets on eligible codeshare flights operated by Finnair, Japan Airlines, and Qantas and ticketed on American Airlines (001) ticket stock.

To qualify for the bonus offer, the company must be enrolled in the Business Extra program and register for the promotion between February 22, 2018 and May 31, 2018 using promotion code BXP1UP18. Promotion registration must occur prior to travel.

Company must complete a minimum of one qualifying flight between February 22, 2018 and May 31, 2018 to be eligible for 100 bonus points. Companies qualifying for the bonus offer will earn a maximum of 100 bonus points through this promotion.

The company's Business Extra account number must be in the reservation to earn the bonus points. Tickets submitted for retro-credit processing do not qualify for promotional bonus points. Bonus points will be posted to the account within six to eight weeks after the offer ends.
100 points might not sound like a lot, though it is worth clarifying that 100 Business Extra points is worth a lot more than 100 AAdvantage miles. This isn't quite as generous as American's promotion last fall, where you could earn 650 bonus Business Extra points after one flight, though it's still pretty good, given that you can take advantage of this promotion even if you took advantage of the previous one.
You can redeem your Business Extra points for all kinds of things, ranging from free flights, to upgrades, to nominating someone for AAdvantage Gold status, to Admirals Club memberships.
The single most popular redemption is redeeming 650 points for a BXP1, which is the code for a one-way upgrade between North America and Hawaii or the Caribbean (or within North America). There are a few things to be aware of:
The upgrade is valid for one segment
Tickets booked in the following fare classes aren't eligible: B, N, O, Q or S
Upgrade availability should be the same confirmable space that's usually available if redeeming miles, systemwide upgrades, etc. (which isn't nearly as good as it used to be)
Anyway, if you're a Business Extra member then taking advantage of this is a no brainer. Ordinarily you earn one Business Extra point for every $5 spent, so 100 free points is the equivalent of the points you'd earn for $500 worth of airfare.
(Tip of the hat to Andrew & Nick)