One trend we've seen over the past several years is that airlines are discounting premium tickets more often. They'd rather sell first & business class tickets at a discount than upgrade people, as it will condition people to start paying for the cabin they want to fly.
While full fare business class tickets continue to be $5,000+ per person, we're seeing more discounted business class fares than ever before. For example, last November I flew British Airways business class from Los Angeles to London for ~$1,250 roundtrip. Furthermore, I just recently booked a ticket from Vancouver to Cape Town for ~$2,200 roundtrip in business class, with stops in Toronto, London, and Johannesburg. This is fantastic, because as airlines devalue award charts, there are more opportunities than ever before to just outright pay for business class for a reasonable premium.
Still, you have to book at the right time in order to take advantage of these deals, as they usually don't last long.
How to save money on American business class
Here's a fun trick which can save you a massive amount on the cost of American business class fares — often more than 50%. It's something which has been discussed on FlyerTalk for a long time, and which I've frequently thought of taking advantage of.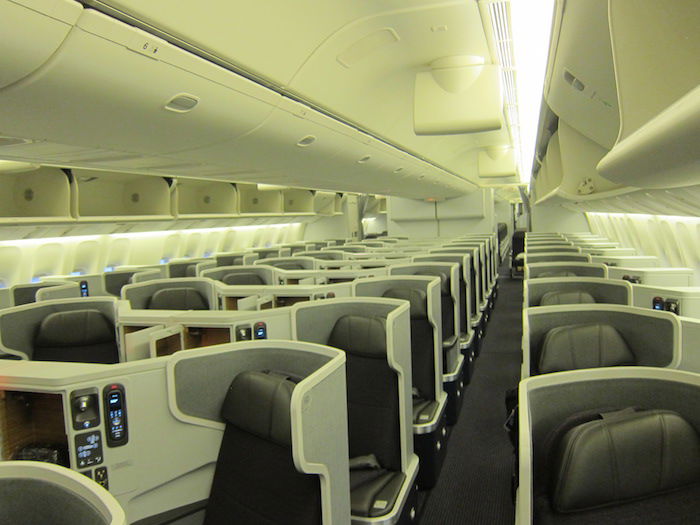 American's 777-300ER business class
You can save a huge amount of money on American business class fares by booking through American's AA Vacations website. This is American's bundled vacation package website, intended to compete with online travel agencies like Orbitz.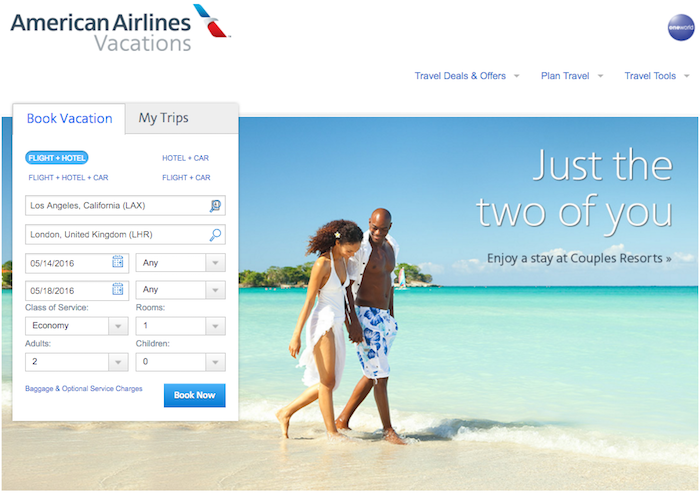 Why should you care? Because you can save a huge amount of cash by bundling the cost of a flight and hotel stay, even if you don't plan on actually using the hotel stay. Let me give an example.
Say a party of two wants to fly from Los Angeles to London in business class. The roundtrip fare on American is ~$7,600 per person, or ~$15,200 for two people. Absolutely, ridiculous, no?

But let's say you search the same flights through American Airlines Vacations.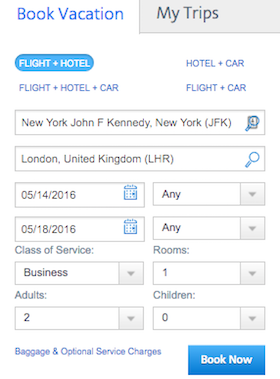 You can choose specifically which flights you want.

And then you can also choose from dozens of hotels. For giggles, let's choose the absolute cheapest hotel they have. Assume you don't actually want to stay at the hotel, but rather are just using it for the savings. In this case it puts us up at the Mercure London Heathrow.
The total cost for two people including the hotel? ~$5,944, which is under $3,000 per person. That's less than 40% of the cost of the business class fare alone.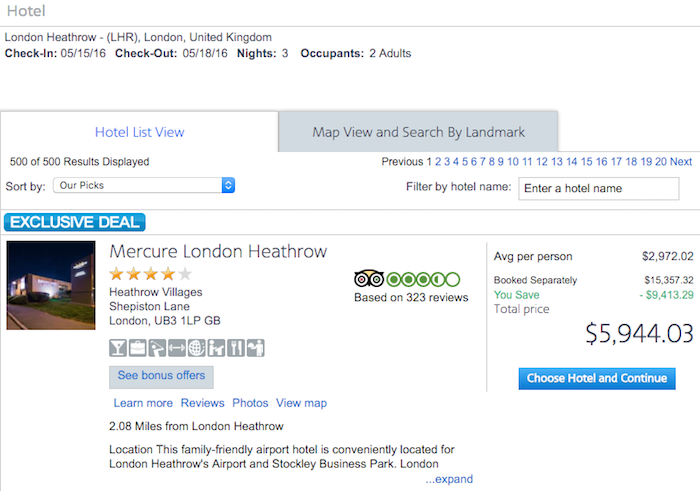 There are tons of even better savings which result in lower costs, but I figured I'd give a simple, practical example.
Can you book nicer hotels with AA Vacations?
For a bit extra you can book a significantly nicer hotel, if you'd like. However, since you're booking through a third party, you wouldn't be eligible for points accrual at your preferred chain, if that's a factor. Personally if I took advantage of this I probably wouldn't use the hotel, so would just book the cheapest option.

Do savings only work to Europe, or elsewhere as well?
The savings seem to be biggest for travel to Europe, though in many cases there are also significant savings for travel to Asia, Australia, South America, etc. So it's always worth looking at the fares, but Europe provides the biggest consistent savings.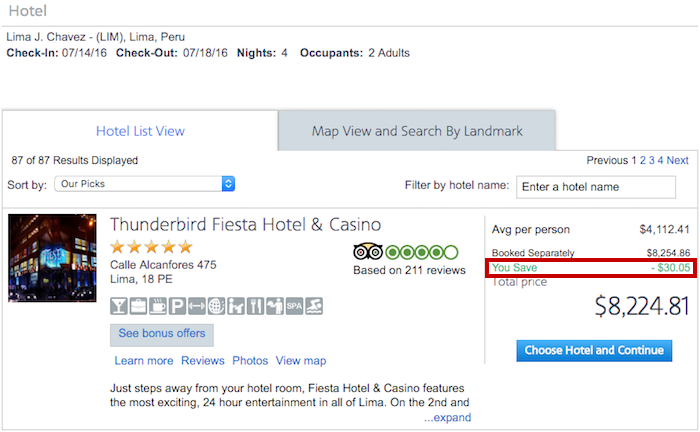 Not especially compelling savings!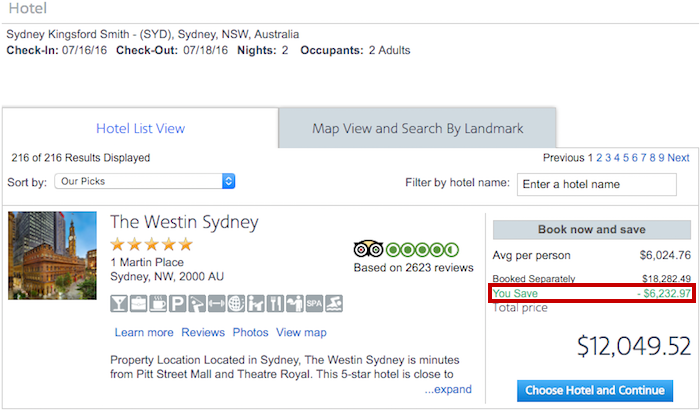 Huge savings, but still far from "cheap"
Do I have to book hotels for the entire length of my stay?
The minimum number of nights you can book with AA Vacations is three nights. However, say you want to go to Europe for two weeks, but don't want to book a hotel for the entire time. That's totally fine, as you'll just have to plan a minimum of a three night hotel stay. The catch is that if you want to book a hotel stay shorter than your total trip time, you'll need to book by phone. This shouldn't be too complicated, though, and can add to further savings.
American Airlines Vacations can be reached at 800-321-2121.
Can you book for just one person?
Absolutely. The price will just be slightly higher, given that the cost of the hotel isn't split among two people.
Do you still earn miles when booking through AA Vacations?
It's worth noting that flights booked through American Airlines Vacations are eligible for mileage accrual, upgrades, etc., as they usually would be. They're identical to booking the fare directly through American's website.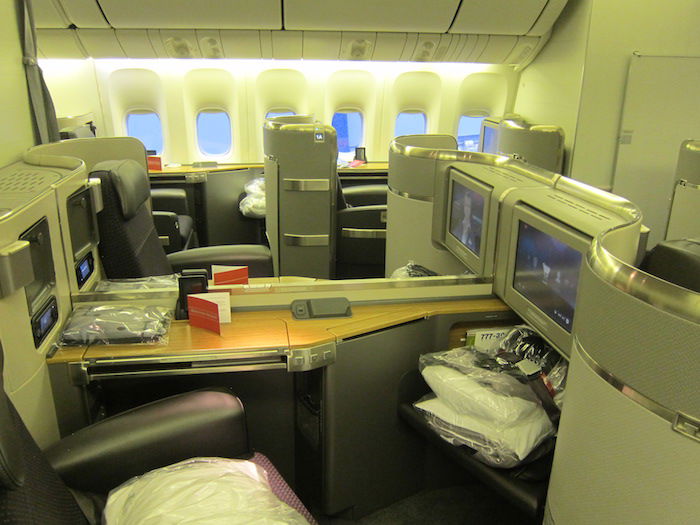 You can upgrade these fares to American's 777-300ER first class
Bottom line
The next time you're looking for an international business class ticket, be sure you check the American Airlines Vacations website to see how much money you can save there. The best deals tend to be in Europe, and the per person cost is lowered somewhat when you're booking for two people, since the cost of the hotel can be split between two people.
Given that these fares earn miles, this is a fantastic opportunity to save big on transatlantic business class tickets.