As I wrote about back in February, American has been considering dumping Gogo inflight Wi-Fi. This came after American filed a lawsuit against Gogo, saying they found a faster internet service. American's contract with Gogo allowed them to renegotiate terms if another company offered better service, which seems to be what happened.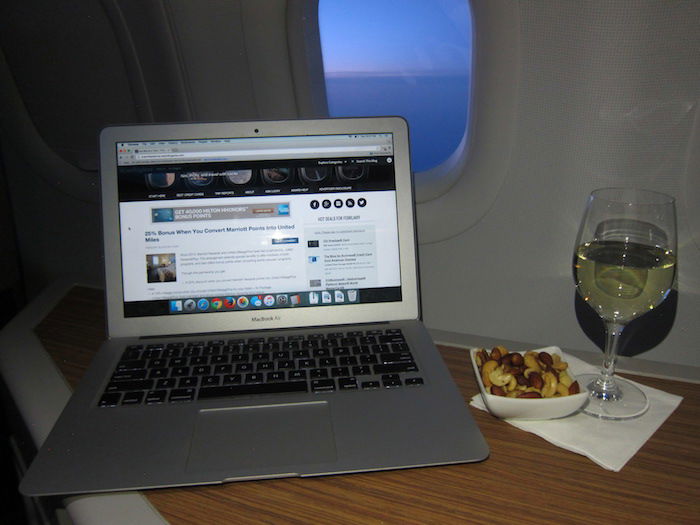 An office with a view!
American said they were considering ViaSat as their new provider, which American claimed "materially improves on Gogo's air-to-ground system."
Gogo responded to the claim by saying that they believe that the 2Ku technology they are offering is the best in the market, and wanted to discuss installing it on American. For what it's worth, this is the upgraded Wi-Fi option which Delta has selected.
Well, it looks like we now have an update on the Gogo & American situation. American will be dumping Gogo and replacing it with ViaSat inflight Wi-Fi starting with American's Boeing 737 MAX fleet, which will be delivered starting in September 2017. Per the press release:
American Airlines has selected ViaSat Inc., a global broadband services and technology company, to outfit its new Boeing 737 MAX fleet with ViaSat's in-flight internet service. The ViaSat in-flight internet service has been recognized with multiple industry awards for delivering the best performing, highest-quality and fastest in-flight internet experience. The service encourages higher passenger engagement per plane by offering an 'at home' internet experience when in-flight – with the ability to stream movies, videos, television and music, as well as surf the web, upload pictures to social media, email large files and more.

"We are delighted and honored to have the opportunity to work with American Airlines and help fulfill their goal of delivering the best in-flight Wi-Fi experience throughout their fleet. We believe we are now approaching the end of an era where passengers have paid very high prices for very slow connections. Our agreement highlights a significant initial step for American to deliver an onboard Wi-Fi experience every passenger will want to use."
This solution will provide higher speed internet, hopefully at lower costs. What's not known is whether existing planes will be refitted with ViaSat, and if so, at what pace that will occur. However, we do know it will be over a year until the first plane features ViaSat Wi-Fi.
Why am I unhappy about American installing an objectively better product? Because it means even more inconsistency in the onboard experience. I presently have a Gogo monthly pass, which means all my flights with Gogo Wi-Fi are covered.
Even if you don't have a monthly Gogo pass, at the moment your best option is to purchase a 24 hour Gogo pass in advance, as it's cheaper than what you can buy aboard.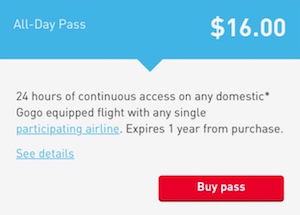 But this is part of the overall issue I have with many airlines, and in particular American. I wish they'd realize that the best passenger experience isn't just about always trying to have the best, but even more so about having something consistent. I want to know what to expect when I get on a plane, rather than just have a gamble at something decent.
We've just been through a merger, which as a passenger has been frustrating, as it has lead to so much inconsistency and unpredictability. Even several years into the merger, that's still the case, as many planes don't have Main Cabin Extra, and there are now six types of business class seats in the fleet.
Eventually those of us who have monthly Gogo passes or even buy a 24 hour Gogo pass won't know which flights are covered, and will end up having to pay for ViaSat Wi-Fi on certain flights. With installation of ViaSat only starting late next year, who knows how many years it will be before the entire fleet has ViaSat Wi-Fi, or if the entire fleet will even get it.
How can I justify a monthly Wi-Fi membership when I have no clue how many planes will actually have Gogo that month?
This doesn't even address the fact that American already uses a different Wi-Fi provider for their international flights (including their 777s and 787s). I'm generally a fan of that as I find the speeds to be good and appreciate that they charge flat rates (typically less than you'll pay on a domestic flight), but it's already frustrating for there to be two providers. Now American is adding a third.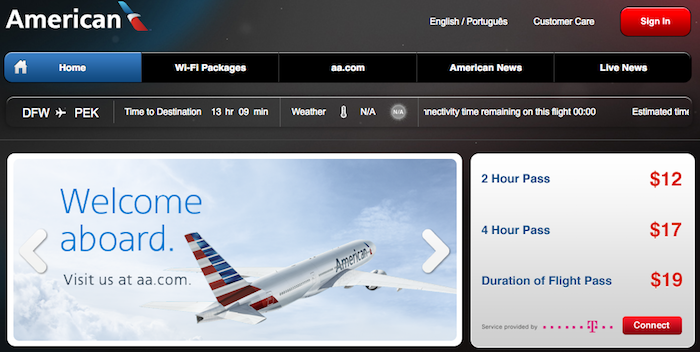 Is a bit of consistency too much to ask for?
Update: @AirlineFlyer points out that during the transition American could offer free ViaSat Wi-Fi to passengers, as JetBlue does, or could offer Gogo members free access, as Virgin America does. Only time will tell.
How do you guys feel — are you happy because a higher speed and hopefully cheaper Wi-Fi option will be selectively installed, or are you frustrated by the lack of consistency, and having to pay separately for two types of Wi-Fi?
(Tip of the hat to View from the Wing)