American Airlines keeps setting records… with how low their stock price can go!
Yesterday American Airlines' stock closed at $24.45, which best I can tell, seems to be the lowest since somewhere around December 2013. So we'll call it a five year low, but really it's pretty close to a six year low.
This comes after American's stock hit a three year low in late May 2019, when it closed at around $28. A week later several American Airlines executives bought a bunch of stock. The company's CEO, for example, bought about $1.4 million worth of stock at $28.09 per share.
Clearly this was intended to drive up the stock price and signal that positive things were coming, and it kind of worked, at least short term — on July 24 American's stock hit $34.59, so it did go up about 23%.
Unfortunately since then, in the past five weeks, the stock has dropped sharply, by around 30%, to its current price of $24.45.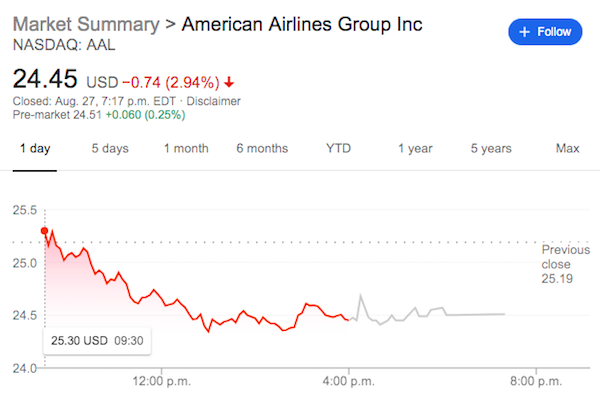 One has to wonder at what point shareholders (and customers… and employees…) will get fed up with the current management team's lack of strategy.
To be clear, I fully recognize that stock price isn't entirely indicative of how an airline is doing. However, right or wrong, that is how executives are largely judged, given their duty to return shareholder value.
But it's not like American management is disappointing Wall Street while delighting customers and employees.
I'm sure I'm not the only one who feels like the below is me waiting for management at American to do something — anything — to indicate that things will change.
Not to beat a dead horse, but given the new five year low on the stock price, it's worth reminding everyone that in October 2017 Doug Parker bet that American's stock price would reach $60 by November 2018. Not only did that not happen, but it's now worth less than half of that.
Fun times…
American's board, are you there? Bueller? Bueller? Bueller?