Last week American announced some exciting new transatlantic flights, like Dallas to Tel Aviv, Philadelphia to Casablanca, Chicago to Krakow, Chicago to Budapest, and Chicago to Prague.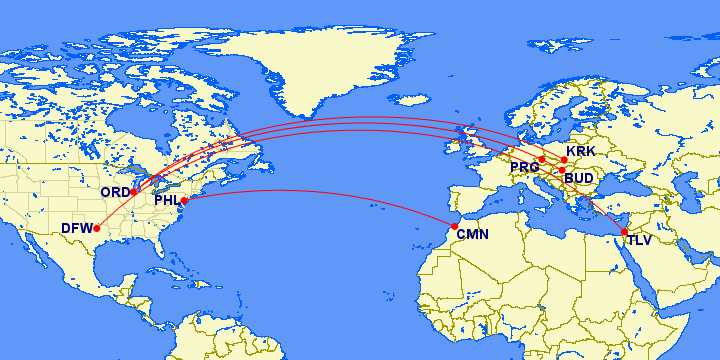 American's return to Israel, as well as their first-ever flight to Africa, is a pretty cool development, even if the initial 3x weekly frequencies are a bit disappointing.
There are some other interesting route shifts for next summer, including American shifting their one route to Iceland. Since last summer, American has operated a seasonal flight between Dallas and Reykjavik.
This announcement came shortly after both Icelandair and WOW Air announced they'd also fly to Dallas. So as you'd expect, when a route goes from zero to two flights, the logical response is to add a third one. 😉
Now with WOW Air out of business and Icelandair not operating the route, American will be shifting the route in summer 2020.
As of June 4, 2020, American will offer daily seasonal flights between Philadelphia and Keflavik, replacing their flight out of Dallas.
The new flight will operate with the following schedule using a Boeing 757-200:
AA232 Philadelphia to Reykjavik departing 10:15PM arriving 8:00AM (+1 day)
AA231 Reykjavik to Philadelphia departing 11:00AM arriving 1:30PM
The flight will cover a distance of just 2,680 miles in each direction (about the same distance as a US transcon flight), and is blocked at 5hr45min eastbound and 6hr30min westbound.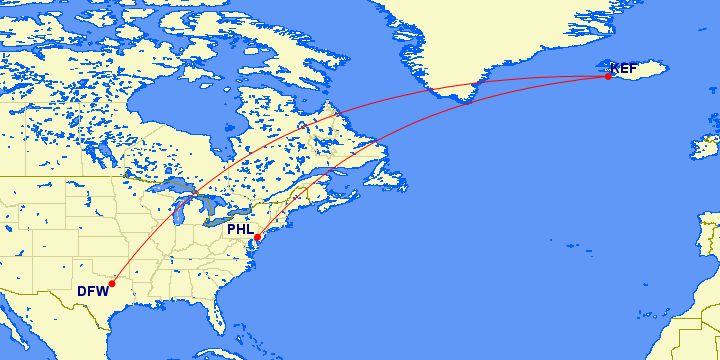 So, what's American's motivation for this route change? I would guess:
The route is over 1,000 miles shorter, so will be cheaper to operate
With this being their only flight to Iceland, they'll be able to efficiently capture traffic from most of the country by using the Philadelphia hub rather than the Dallas hub, which excludes many people on the East Coast
Icelandair operates a seasonal flight to Philadelphia, so American will have some competition in the market. Then again, Iceland is a big seasonal market, and with American's feed to Philadelphia, I'm sure the route will do fine.
What do you make of American transferring their Iceland flight from Dallas to Philadelphia?
(Tip of the hat to View from the Wing)