Longtime reader Sam F. offered to share his wisdom about American's Business Extra program, which isn't especially well known. It's American's small business loyalty program, and is essentially a way to double-dip the points you earn for American flights you'd take anyway. Thanks to Sam for sharing his knowledge about the program in the below guest post!
---
The recent downward spiral of the AAdvantage program (revenue-based mileage earning, award chart devaluation, upgrade priority tied to rolling EQD, cut in Executive Platinum benefits) has led many members to seek out greener pastures. As an Executive Platinum member and frequent business and leisure traveler, these changes have hit me hard. However, I'm not quite ready to jump ship. And the reason is that I derive significant benefits from American's Business Extra program, which helps cushion the blow of the negative AAdvantage changes.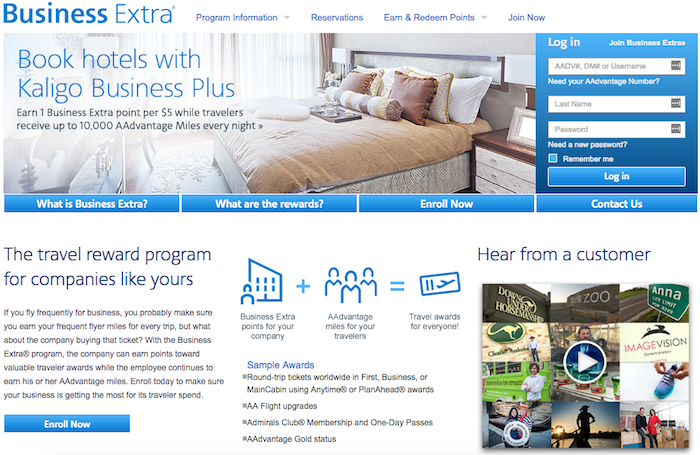 The Basics
Business Extra is a "complimentary business travel rewards and incentive program designed to help small and mid-sized companies to reduce their travel costs." Member companies do not need a tax ID (EIN) to register. For companies based outside the US and Canada, there is a minimum spend requirement.
Points are earned at a rate of 2 points per $10 spent on eligible flights, and there are regular car rental and hotel promotions that allow you to earn additional points.
The program is interesting because it allows you to "double dip." When I travel, I earn AAdvantage miles for myself and Business Extra points for my company. What makes it even more interesting is that I also earn Business Extra points when my employees travel by registering them as "Travelers" on my company's Business Extra profile, and having them enter the number when they book flights.


Who can join?
While the program is intended for "small and mid-sized" companies, there are no meaningful barriers preventing individuals from signing up as well.
Redemptions
Business Extra points can be redeemed for a wide range of awards including flights, upgrades, Admirals Club passes and memberships, and even AAdvantange Gold Status.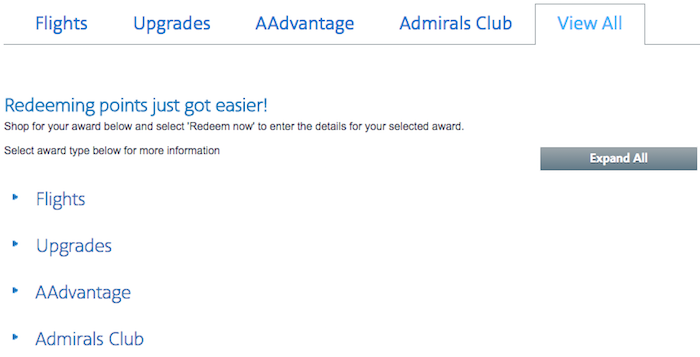 Redemptions range from 300 points (Admirals Club day pass) to 25,000 points ("anytime" roundtrip first class award between the US and South America/Europe/Asia/South Pacific). However, between those two bookends are several award sweet spots.
One-segment upgrades within North America or between North America and Hawaii/Caribbean – 650 points (BXP1)
BXP1s are good for one-segment, one-class upgrades when booked in G class or higher (N, Q, O, S, B fares are not eligible), and there must be A class inventory to upgrade. A BXP1 allows me to upgrade at time of booking from coach to first class a 5.5 hour Boston/Miami-Los Angeles or 7.5 hour Dallas-Honolulu flight without having to play the upgrade lottery.
BXP1s can also be used on American's 3-class transcon flights between New York JFK and Los Angeles/San Francisco. Transcon upgrades from coach to business class require C class inventory, which is usually only released within 24 hours of departure (if there are 2+ seats available). BXP1s can also be used to upgrade from business class to flagship first on transcon flights (A class inventory required).
For Executive Platinum members, BXP1 upgrades can supplement your Systemwide Upgrades (which were slashed from 8 to 4 for the 2017 program year) for travel within North America and to Hawaii. This allows you to save those Systemwides for the long overseas flights where they matter most.
Upgrades can be waitlisted if there isn't availability at time of booking, however I don't put much confidence in the Business Extra waitlist. I always set an ExpertFlyer alert and call to confirm once upgrade inventory is released.
I redeem most of my Business Extra points for BXP1 certificates (yes, they still use paper upgrade certificates but we'll get to that later). Based on my travel patterns, I find they offer the best value, and I can gift them to employees and family members.
One-segment upgrades between North America and South America/Europe/Asia/South Pacific – 3100 points (BXP3)
BXP3 certificates are good for one-class upgrades on overseas flights and can supplement Systemwides with a few caveats:
BXP3 can only be used to upgrade a single flight (e.g. MIA-GRU), while Systemwides can be used for up to three consecutive flights (e.g. LHR-JFK-MIA-GRU)
N, Q, O, S and B fares are not eligible for BXP3 upgrades, while all coach fares are eligible for Systemwide upgrades
Coach to business class upgrades require C class inventory and like Systemwides, BXP3 can be used to upgrade from business to first class (A class inventory required) on 3-cabin flights.
While I prefer five BXP1 upgrades to use on 4-5 hour transcons, BXP3 upgrades on ultra long-haul flights like DFW/LAX-HKG and LAX-SYD/AKL also provide good value. The fare class restrictions raise the cost of buying an eligible fare, so I try to book flights that have C class availability (allowing me to confirm the upgrade immediately), or flights where I'm confident C class inventory will be released.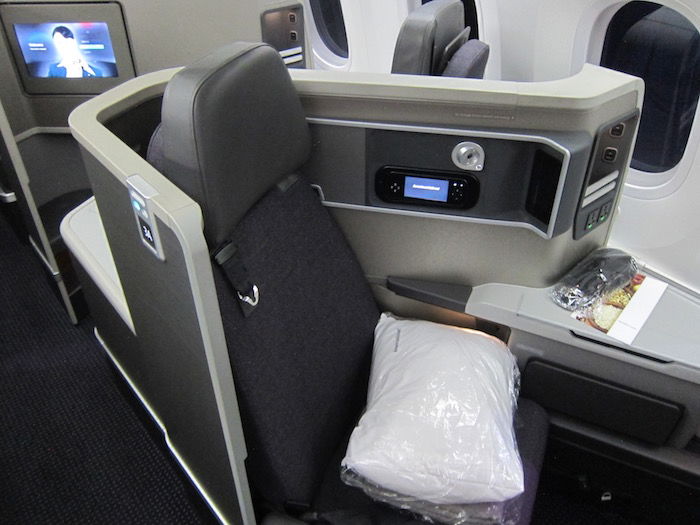 AAdvantage Gold Status – 2,400 points (BXP5)
While AAdvantage Gold is hardly the gold standard, access to complimentary Main Cabin Extra within 24 hours of departure, the occasional upgrade, and waitlist priority in the event of IRROPS can certainly come in handy. Best of all, it can be gifted to a family member or employee.
Admirals Club Membership – 3,000 points (BXP8)
Valid for one year, the BXP8 is a great cash-free way to get Admirals Club Membership for those who don't have lounge access through a credit card. It also allows access to immediate family members or two guests when accompanying the member.
Similarly, BXP7 awards (300 points) are good for Admirals Club day passes, plus can also be gifted.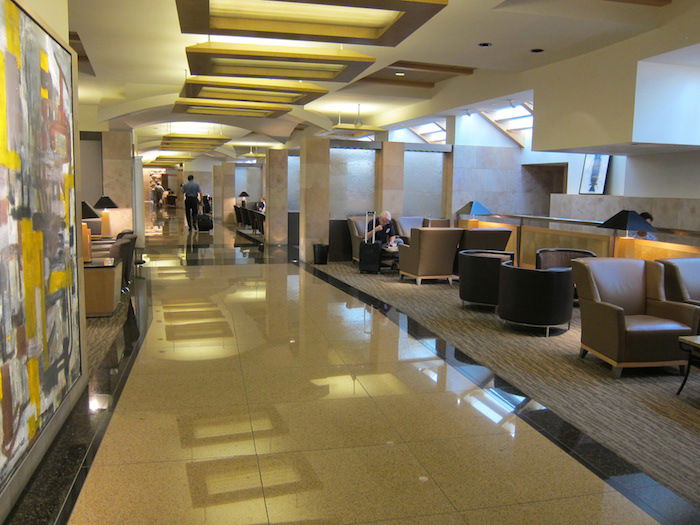 Flight Awards
Business Extra points can be redeemed for American Airlines flights. Award availability comes out of the regular AAdvantage inventory (T-coach, U-business, Z-first), making it easy to search for using aa.com.
I rarely redeem Business Extra points for flights because I have plenty of AAdvantage miles that I prefer to use. However, with mileage earning set to decrease for most of us on August 1 with the introduction of a revenue-based system, these redemptions will get more attractive.





Earning points
The obvious way to earn Business Extra points is by flying American. Points are earned at a rate of 2 points per $10 spent on flights (excluding taxes). Business Extra is also the small business program for British Airways and Iberia, allowing you to earn points for tickets booked on those airlines. Simply enter your Business Extra number in the designated box when booking and points should post the following month.
You can also request retro-credit for flights where you forgot to enter your number or that simply didn't post properly. Requesting credit is easy to do through the site, however, in some circumstances, it can take months for these requests to process.
Business Extra points can be earned on RocketMiles hotel bookings, which is the easiest and quickest way to accumulate a lot points. Lucky has written about the pros and cons of booking through sites like RocketsMiles. I believe that when you can earn up to 500 Business Extra points (or 10,000 AAdvantage/Alaska miles) per night, the value of the Business Extra points can easily outweigh the value of the hotel points and benefits that would be earned. Points earned on RocketMiles bookings usually post 2 weeks after the stay.
Through July 31, Business Extra has a promotion for Transatlantic travel: 200 bonus points per one-way in coach and 800 bonus points per one-way in business or first class on American, British Airways, Iberia, and Finnair. These are what I like to think of as easy points, especially with the near-constant premium class fare sales across the Atlantic and because they can be earned for multiple travelers.



Business Extra also offers occasional promotions on car rentals. The most recent was in 2015 with Budget. It offered 300 points on your first rental and 75 points for each subsequent rental, regardless of length. Needless to say, I had a lot of Budget rentals in Q4 of 2015 and am glad that promo is over because Budget is lousy. The special offers page is the best place to check for the latest promotions.
Cumbersome Customer Service & Personal Experience
The Business Extra program provides a great "double-dip" opportunity to earn additional awards on American. However, the IT and customer service can be very convoluted (think 2010 Dividend Miles award routings to Asia).
The first rule of Business Extra is that everything takes time.
Points from eligible flights usually post in the middle of the next month. Fly Laguardia to Miami on June 30 and the points should post around July 15. Return Miami to Laguardia on July 1 and the points should post August 15.
Business Extra numbers have been known to "fall off" reservations, resulting in points not posting through the normal process. In order to retro-claim those points, complete the online Flight Credit Request. Processing time can take anywhere from a few weeks to a few months (4 months is my personal best).
Requesting Upgrades
Some of you may have noticed that earlier I referred to BXP1 and BXP3 certificates. That's because Business Extra still mails out paper certificates that are supposed to be collected at check-in. Upgrade certificates must be requested online and are mailed out twice per week. Be sure to request them well in advance of your planned travel.
In order to upgrade flights using an upgrade certificate, call AAdvantage and ask to speak to "Meeting Services." This is the department that handles Business Extra requests. Once connected with a Meeting Services agent tell them:
The flight you want to upgrade
The type of award certificate you are using
The expiry date on the certificate
If there's availability in the required fare class, they'll be able to confirm your upgrade immediately.
Many front line airport agents (especially legacy US) have never heard of Business Extra so they don't know what to do. This usually leads to extra time spent at the check-in counter and occasionally agents who don't collect the certificates.
Requesting Flight Awards
In order to book an award flight using Business Extra points you must:
Request a flight award certificate through the website. These are delivered by email with an "Electronic Authorization Number"
Call Meeting Services and provide your Electronic Authorization Number, and the flights you want to book
It is always advisable to check for award availability using aa.com or ExpertFlyer before calling.
Closing Thoughts
I've upgraded several flights using BXP1 certificates that have posted to my AAdvantage account as paid first-class flights rather than paid economy flights. I've even had random points post to my account for flights taken by people I don't know and who aren't listed as travelers in my profile. How this happens on the back end is a mystery, but I share this because I find it to be emblematic of the program in general: very worthwhile, well-intentioned, and completely disorganized.
There are two Business Extra threads on FT that are worth reading, one archived and one active. If you're considering taking the plunge into the Business Extra program (which I highly encourage), take the time to read through the threads.