This is a post I've been meaning to write for a while, as this is a trend that has emerged over time.
The trend of airlines eliminating award charts
There's a trend among airlines to move towards dynamic award pricing. Among the "big three" US carriers, Delta SkyMiles has no doubt led the way here, as they introduced dynamic award pricing (and eliminated award charts) years ago.
United MileagePlus followed their lead in late 2019, as they also eliminated award charts and introduced dynamic award pricing for United flights (and to some extent for partner flights when booking last minute).
Will American eliminate award charts?
The logical follow-up question is if American AAdvantage will eventually follow Delta SkyMiles and United MileagePlus in eliminating award charts. There have been no strong indications of this happening imminently, so what gives?
Well, the reality is that American has already introduced widespread dynamic award pricing, and for all practical purposes the award charts no longer reflect reality, at least for travel on American Airlines.
The reality of American's award pricing
With dynamic award pricing, we see greater variance in the cost of awards, with award pricing tied more closely to the cost of a ticket if paying cash.
When you look at what has been going on at American lately, that's very much the case. First of all, American recently eliminated close-in ticketing fees, which is fantastic news, independent of everything else. They were following the lead of both Delta and United in that regard, though.
It's the award pricing above and below what appears on the award chart that is most indicative of dynamic award pricing, though.
American's web special awards
American Airlines has started offering "web special" awards, which includes first and business class awards that are prices significantly lower than what the award chart shows.
For example, we've seen 73,000 mile first class award tickets from Dallas to Hong Kong, when the published price is 110,000 miles.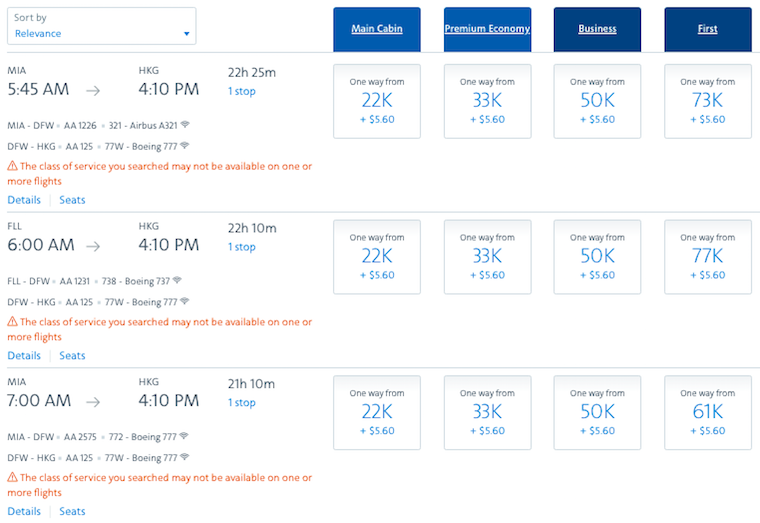 This has become pretty widespread for travel in all cabins, with substantial discounts in many cases. What makes this most interesting is that in many cases flights bookable with these web special awards don't even have saver award availability.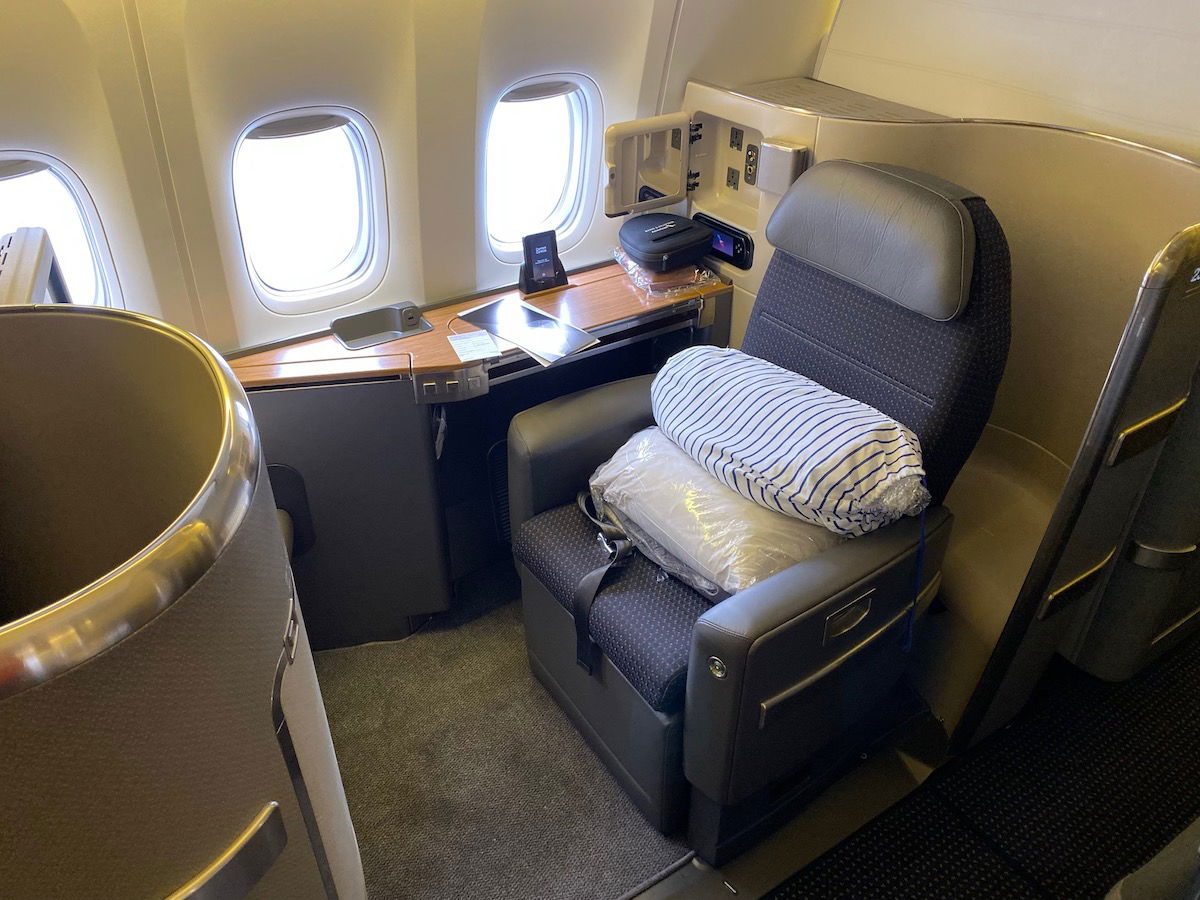 American has priced first class awards below published levels
American's off-the-charts "standard" award pricing
It's the pricing on the other end of the spectrum that's more concerning, though. For example, here's the AAdvantage award chart for travel on American: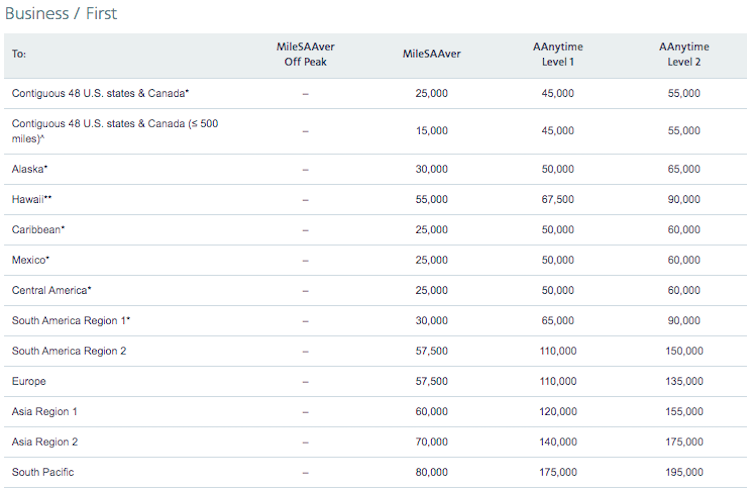 As you can see, there's the MileSAAver pricing (saver awards), and then there's AAnytime Level 1 and AAnytime Level 2 pricing (standard awards). The award chart does specifically note:
AAnytime award levels vary by date and region. There are select dates that require a higher number of miles (in addition to Level 1 and 2 awards). When you search for awards while booking, you'll see the applicable award level.
On some level this has been going on for years, with some flights pricing higher than the published rates. However, historically this was for periods of exceptionally high demand, like right around Christmas when flying to Australia.
We've seen the higher pricing become so widespread at this point that one couldn't even guess by looking at the award calendar what the price "should" be.
For example, 960,000 mile roundtrip business class award tickets are out there, and aren't even that rare…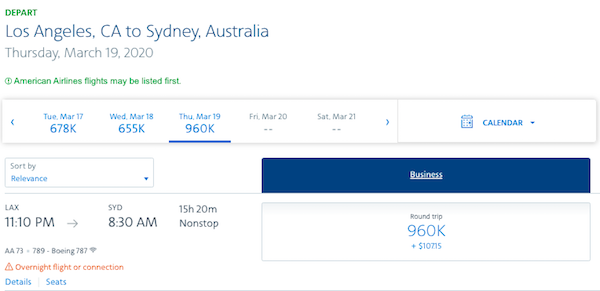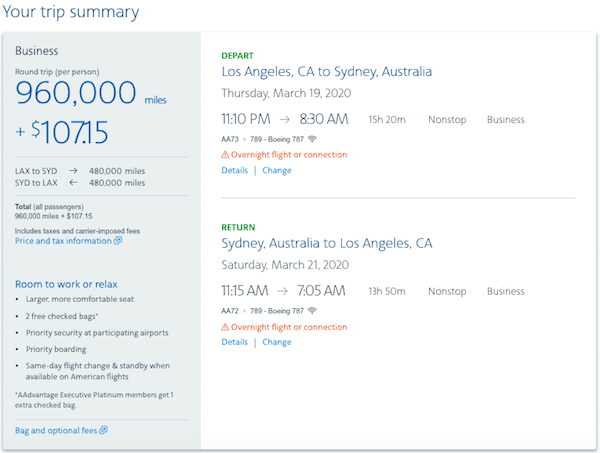 But more than that, we're seeing an increasing number of dates with one-way business class awards pricing at 300K+ miles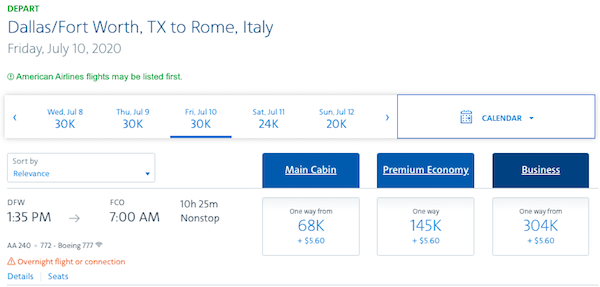 Of course it's tough to quantify exactly how much this off-the-charts pricing has increased.
My biggest takeaway is just how all-over-the-place award pricing is. Completely randomly I chose to look at the calendar for Dallas to Auckland in business class, and over the course of a month we're seeing one-way business class pricing of 175K miles, 195K miles, 218K miles, 250K miles, 274K miles, 339K miles, 349K miles, 353K miles, 358K miles, 360K miles, 375K miles, 449K miles, 456K miles, 472K miles, and 480K miles.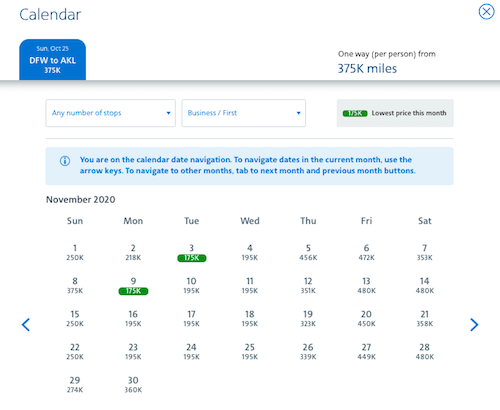 And heck, I'm probably missing some variance, but after 15 different prices I got kind of bored.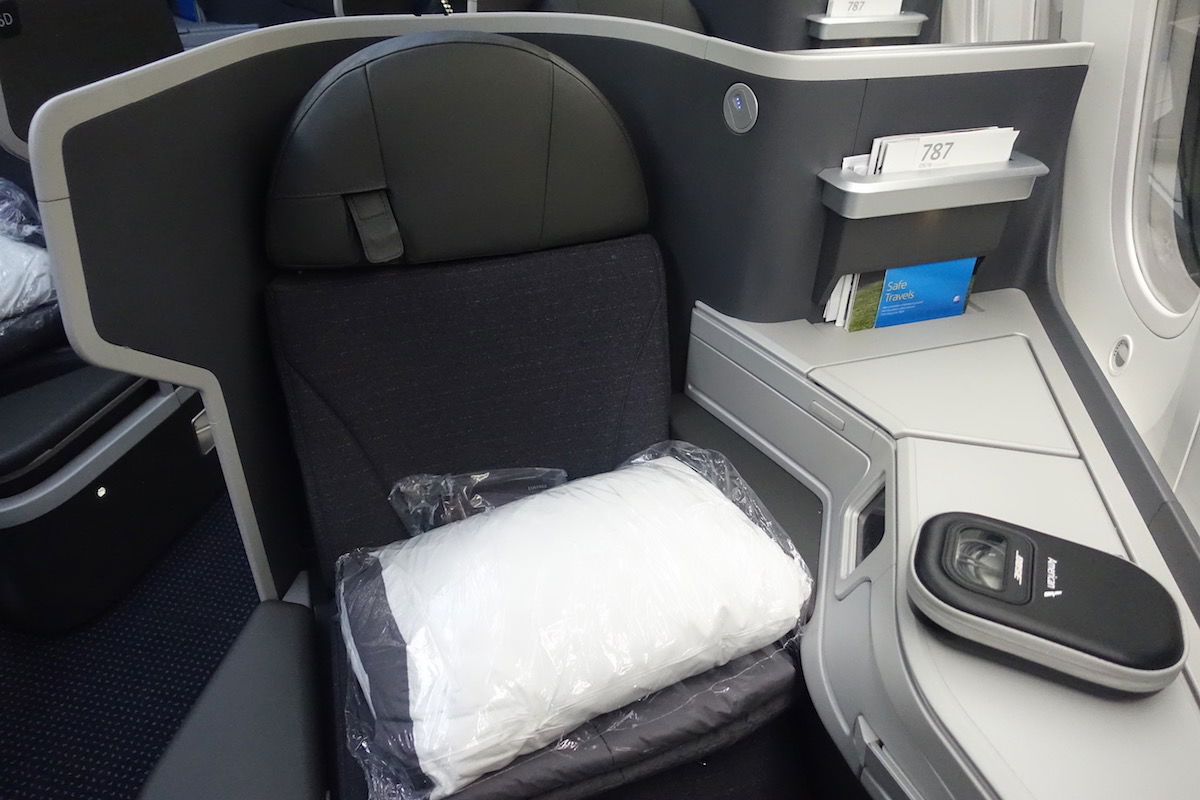 American charges 480K miles for some one-way awards
What about partner award tickets?
The good news is that American is still pricing partner awards consistently, per the published award chart.
At the same time, Delta and United aren't that different in that regard, since neither airline has truly dynamic award pricing on partner airlines. While neither airline publishes an award chart:
United still has consistent partner award pricing, except when booking last minute, when they charge a premium of up to 3,500 miles one-way
Delta has some "tiers" of award pricing based on how far in advance you're booking, but the patterns they follow can still be figured out, so I wouldn't consider it to be truly dynamic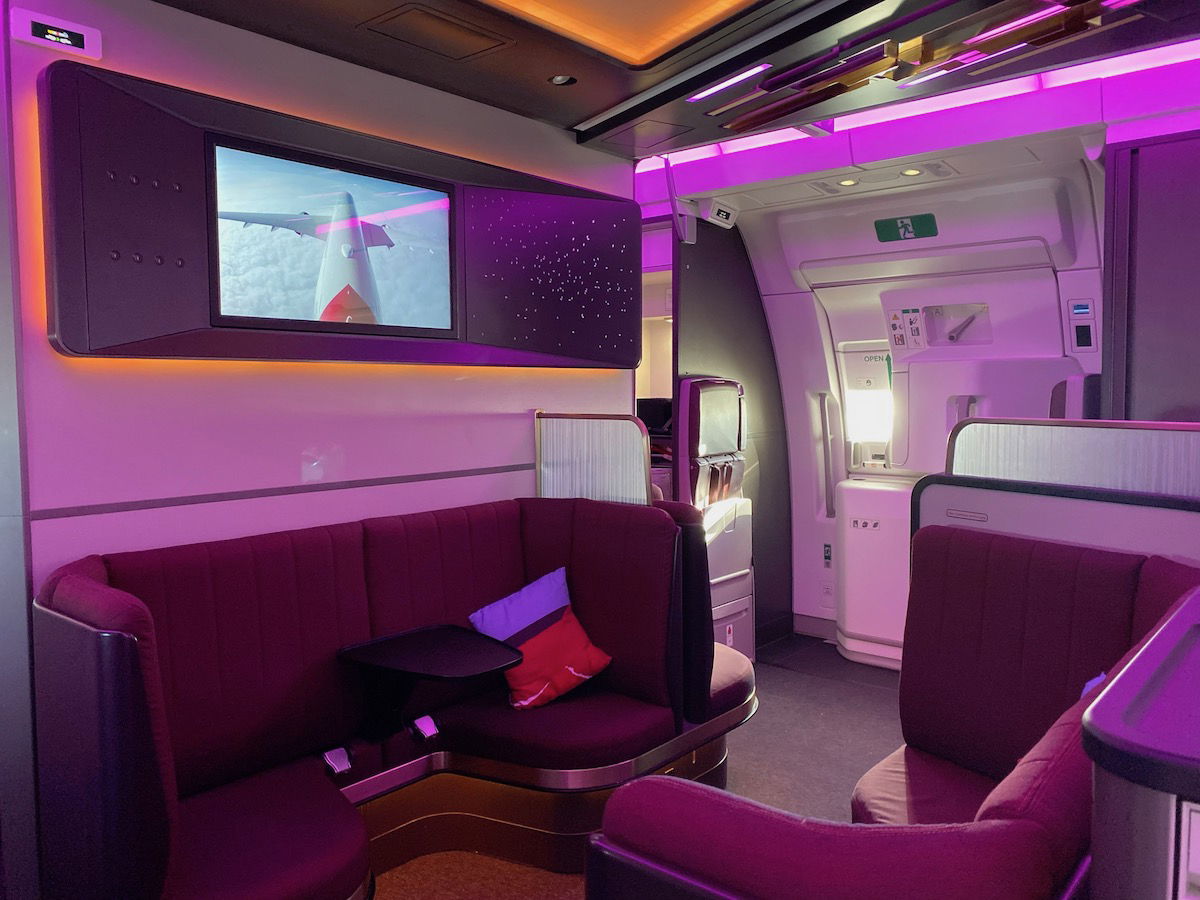 Delta has somewhat variable pricing for Virgin Atlantic awards
Bottom line
I'm very much pro-award chart, and on the surface I appreciate that American still publishes an award chart, both for their own flights and for partner flights.
However, at this point their award chart for travel on American in no way reflects reality. I'd go so far as to say that American's award pricing is just about as variable as the pricing from Delta and United.
I do appreciate that they're still consistent about partner award pricing, though, which can't be said about Delta and United.
Frankly I don't necessarily mind American's type of dynamic award pricing. Personally I don't ever book "standard" awards, while I could benefit from the "web special" pricing that we're seeing. That's just me, though, and I realize those used to booking the rule-buster awards are much worse off.
The moral of the story is for those of you wondering when American will finally eliminate awards charts, they might not be doing so anytime soon… because they've already done so, without actually doing so.
What do you make of the state of American's award pricing?