The Centre For Aviation has an interesting article about American's growth strategy in Asia, entitled "American Airlines' triple play in greater China is part of long-haul rejuvenation, with more to come." It's well worth a read.
There's nothing terribly shocking in the article, though there are some interesting tidbits. I guess I find this especially interesting because American is the US carrier I'm most loyal to and Asia is my favorite place to fly to, though unfortunately American and Asia have long been "incompatible."
They're finally slowly changing that, between the Dallas to Hong Kong/Shanghai routes that launched earlier in the year, in addition to the Dallas to Beijing route that is launching next year.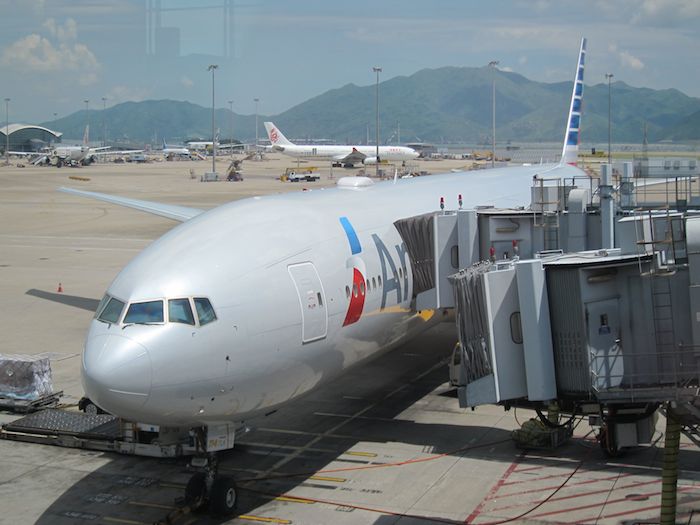 American Airlines 777-300ER in Hong Kong
So what does the article say?
First, it looks like American's routes to Asia are for the most part loss-making and investments in the long term:
The growth is dampened by financial performance, with American CEO Doug Parker remarking American's Asia services are loss-making and "investments for the long term".
It's worth remembering that the reason American was restricted on the most lucrative Asia routes for so long was because of their pilot contracts which prohibited such long flights, along with inefficient aircraft and an all around unsustainable cost structure. Most of these problems have been solved post-bankruptcy:
American considered a Dallas-Beijing route for new US-China route authorities in 2006, but the route was longer than American's pilot union contract allowed.

Negotiations to operate the longer service did not produce a favorable outcome, with the union requesting conditions that affected the commercial viability of the service. However, bankruptcy restructuring allowed American to change its contracts in ways that now permit longer flights without the commercial restraints American previously experienced. This was also a factor delaying American's entry into Hong Kong.
While I in theory understand why American's Hong Kong flight originates in Dallas, it's extremely difficult to turn a profit on ultra longhaul flights. Add in the fact that the plane sits on the ground in Hong Kong for 20 hours, and the prospects of profitability look even more grim. I'm told the primary reason for the flight timings is to facilitate connections to Latin America, though those are made more difficult by the requirement for visas in order to transit the US:
The US' reluctance to offer transit visas does disadvantage American (and other US carriers) in the Asia-Latin America market. US carriers can offer more Latin American destinations than the Gulf carriers and shorter connections than European carriers, and they are often competitively priced.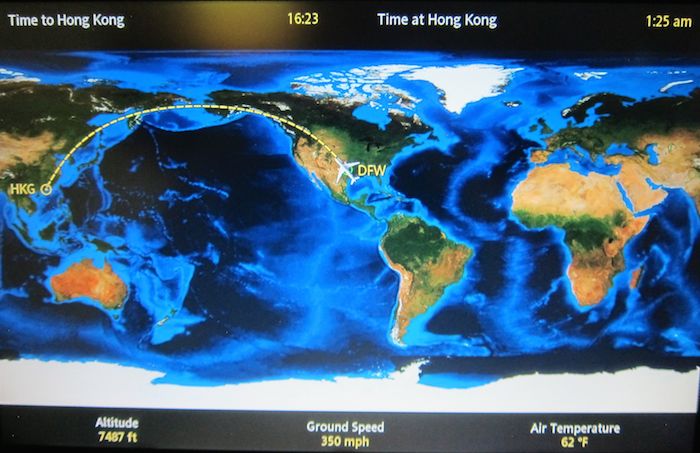 Dallas to Hong Kong airshow
So how does Cathay Pacific feel about American's new Dallas to Hong Kong route, given the added connecting traffic it's potentially offering, and the fact that they codeshare? Well, Cathay's website doesn't show the American codeshare flight if searching flights just between Dallas and Hong Kong, while it does show it if searching with a connection. Add in the limited mileage earning, and the relationship is almost starting to look like the one between Delta and Korean Air:
Cathay's website does not show its codeshare on American's Hong Kong-Dallas service when ticketed non-stop, but does show it when booked as a connection.

Frequent flyer arrangements are limited, whereas American is closer to Cathay via the oneworld alliance, although Cathay was the one which pushed for restrictions on economy fare classes that are mileage accruable.
Not surprisingly, long term American wants to continue to expand with both new destinations and more routes to existing destinations. Most interesting though is that they're eying another Hong Kong flight eventually, and for the time being aren't interested in a fifth freedom route out of Hong Kong:
American's growth in Asia is aimed around new cities (as seen with Hong Kong) and additional service to existing points (as seen with Dallas-Beijing/Shanghai). Hong Kong is likely to receive additional service at some point, with Mr Perhirin noting its initial 14 local staff, including 10 in sales, were not placed to support a single daily service indefinitely. But he cautions the short-term is focused around making the initial daily Dallas-Hong Kong service work, including building up ex-Hong Kong sales. United offers beyond flights from Hong Kong to Southeast Asia, but Mr Perhirin said it was pre-mature for American to consider fifth freedom services within Asia. (American's aircraft has a nearly 20-hour layover in Hong Kong, but this is done for scheduling and for maintenance work in Hong Kong.)
Hoping for a new route to Australia/New Zealand? It looks like it's not totally out of the question, though American's agreement with Qantas is specifically based around them not operating their own flights to Australia and New Zealand. So something would need to change for that to happen:
American's growth in Asia-Pacific is not necessarily confined to Asia. Although there are no immediate plans, service to Australia/New Zealand could be on the cards for American, although this could require changing American's agreement with Qantas that was built (and approved by regulators) on the basis of American not serving Australia/New Zealand. Mr Perhirin does not offer much detail other than to say "You'll see us be able to evaluate and implement ultra-long-haul growth in a manner we couldn't" before.
Lastly, American is actually better positioned for expansion in the Middle East than the other two US legacy carriers, though we'll see if it actually materializes:
With Asia addressed, there should be a strategic move on a Middle East hub. Where American fell behind in Asia, it has an opportunity to take the lead in the Middle East. American is growing its relationship with Etihad and Qatar while, Emirates, the world's largest international airline, has made obvious overtures.

The three Gulf carriers see American's position as having the largest domestic network, key for beyond gateway access. Another factor is that American has not set fire to bridges with Gulf carriers, unlike Delta and United – although CEO Doug Parker recently joined the other two CEOs in lobbying Washington to wind back the US open skies policies, with a specific goal of slowing the expansion of the Gulf carriers. American has otherwise intentionally been conservative, rather than dismissive, with the Middle East operators. It has more to gain by allying with (one or more of) them than opposing their entry.
That seems like a huge potential growth area for them, especially since they cut service to India a few years back.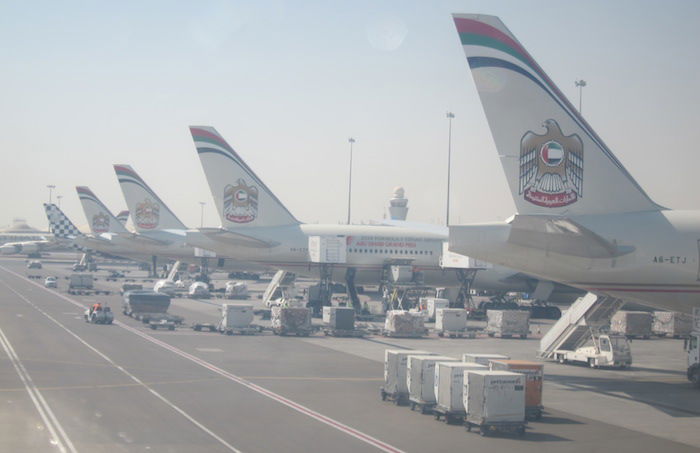 Etihad planes at Abu Dhabi Airport
Bottom line
There's nothing terribly shocking here. It's nice to see American finally in a position to grow in Asia. Between the pilot contract restrictions being eliminated, a better cost structure, and the delivery of Boeing 787 and Airbus A350 aircraft coming up, I think we'll be seeing quite a few new routes to Asia over the coming years.