If there's one area American has always been weak, it's with their Asia route network. Their focus has always been on Latin America, where they're hands down the strongest global airline. Of course weakness in Asia is relative, since US Airways has never operated any service to Asia.
American has certainly tried to increase their presence in Asia, though. Last year American launched service between Dallas and Seoul Incheon, and a few months ago they launched service between Dallas and Hong Kong/Shanghai.

American's route network to Asia
The new Dallas to Hong Kong flight was especially exciting for me, given that:
It's operated by a Boeing 777-300ER, which features American's new first and business class products, making it the only route to Asia so far where that's the case
I love being an Executive Platinum with American since I get eight systemwide upgrades just for achieving the status, and there's no better use of those than American's longest route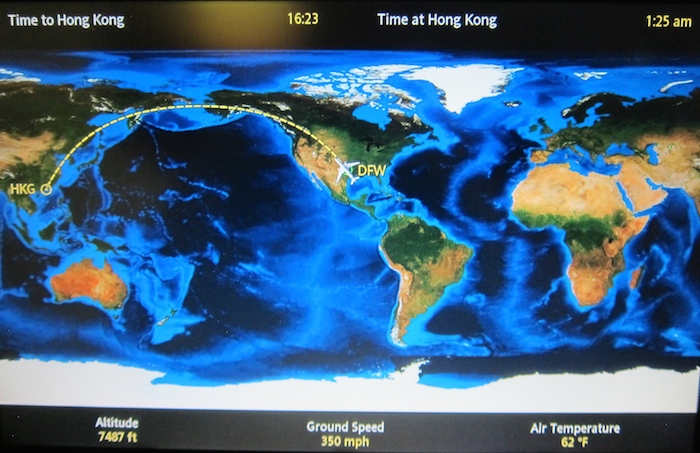 Airshow from Dallas to Hong Kong
But as much as I love the route, I have a hard time imagining it will survive. As I explained in my post about the service:
Ultra longhaul flying is incredibly difficult to turn a profit on to begin with
The plane sits in Hong Kong for nearly 18 hours — Hong Kong is one of the most expensive airports in the world to park a plane, and that doesn't even account for the lack of utilization of the plane
American already codeshares with Cathay Pacific on their well over a dozen flights a day from the US, and most passengers in any given class of service would choose Cathay Pacific over American — the only passengers that would prefer American are those looking to upgrade, and those aren't exactly the most profitable customers
While Dallas to Hong Kong is in many ways strategic since it's their only hub from which Cathay Pacific doesn't have service, they're really isolating west coast flyers, who are forced to backtrack
So I'm quite surprised that American announced a new flight between Dallas and Beijing starting next summer. While it's still pending government approval and no exact dates have been announced, this is certainly an interesting move. The route will be operated by one of American's 777-200 aircraft, featuring their new business class product.

American 777-200 new business class seat
Ultimately I'm thrilled to see new service to Asia, though at the same time I wish we'd see more destinations rather than just more frequencies. American is building a fairly "deep" network to Asia now, with flights from three cities to Shanghai and Tokyo, flights from two cities to Beijing, and flights from one city to Seoul and Hong Kong. Rather than more flights to these cities, I wish we'd see new destinations.
Regardless, I'm happy to see all this new service, especially on reconfigured aircraft. Based on what I've heard, American isn't doing too well on their new routes from Dallas to Asia, given that the load factors are underwhelming and the routes are ultra longhauls, which are difficult to turn a profit on without amazing yields and close to 100% load factors. So I'm curious what American's play here is — are they investing in the future because they see potential, or…?
What's your take on American's new Asia expansion out of Dallas?