Unrelated to my never-ending quest to earn miles & points, I was about to sign up for a subscription to Motley Fool… then I realized that some people may want to sign up even if they have no interest in what Motley Fool offers, just for the AAdvantage miles and Loyalty Points.
Sign up for Motley Fool through AAdvantage eShopping
Most US airlines have shopping portal bonuses, allowing you to earn bonus miles for purchases you'd make anyway. At the moment, the AAdvantage eShopping Portal is offering 6,200 AAdvantage bonus miles when you sign up for a subscription to Motley Fool. Currently that subscription costs just $79.
So that means for $79 you could earn 6,200 AAdvantage miles, and those also qualify as Loyalty Points, helping you earn elite status. I'm not sure how much longer this offer will be available (both the $79 first year pricing, plus the current elevated bonus miles), though it seems like this has also been offered several times in the past.
Regardless, you're earning AAdvantage miles that also qualify as Loyalty Points for 1.27 cents each, which is pretty good.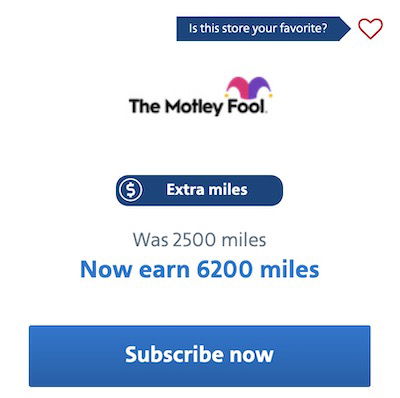 Note that subscriptions to Motley Fool renew at $199 per year (the $79 pricing is for the first year only), so if you don't want to keep your membership, you'll have to be sure to cancel (but only after your subscription is active for at least 60 days).
Furthermore, note the following terms:
Monthly subscriptions, Auto-renewals, Free products, trials, services, memberships, subscriptions, Purchases made with a gift card, Gift cards, Gift certificates, Cash equivalents and Purchases made with coupon or discount codes not found on this site. Limits: Eligible on one (1) subscription per loyalty account number per year. Special terms: Only eligible on paid 1 year subscription to The Motley Fool. Offers cannot be combined/stacked with any other offer. Subscription must be active for at least 60 days.
Why I'm interested in Motley Fool
For those not familiar, Motley Fool is essentially a company that provides expert stock tips that theoretically outperform the market. When you do research online, you'll often see references to top Motley Fool picks, yet you have to subscribe to see what they are.
I'm trying to figure out some investment strategy that's somewhere between just investing in an S&P 500 ETF, and randomly picking stocks that I think make sense, even though I know very little (though I've had good luck with that). So at a minimum, I'll gladly spend $79 to see what Motley Fool recommends (whether or not I take the advice is a different story), and the 6,200 AAdvantage bonus miles and Loyalty Points are the icing on the cake.
If anyone has any thoughts on Motley Fool in general, I'd also love to hear them!
Bottom line
If you're looking for an easy way to earn AAdvantage miles and Loyalty Points, sign up for a Motley Fool subscription, as you can earn 6,200 miles for $79. If you don't get value out of it, just be sure you cancel within a year (but not earlier than 60 days), so that you're not auto-renewed at $199.
Anyone plan on earning some AAdvantage miles with Motley Fool?