I've written in the past about some of the frustrating aspects of American's AAdvantage award routing rules:
While American is generous in that they'll let you exceed the maximum permitted mileage (MPM) for a city pair by up to 25%, the frustrating parts of their award routing rules boil down to the following:
The transoceanic airline has to publish a fare for the city pair you're flying. For example, say you want to redeem AAdvantage miles to fly from Tampa to the Maldives, using Etihad Airways for the overwater segments. You can't, because, Etihad doesn't publish a fare between Tampa and the Maldives.
With few exceptions, you can't transit a third region. With very few exceptions, American won't let you transit a third region when traveling between two regions on an award ticket. This means you can't route from the US to Asia via Europe, or from the US to Australia via Asia, for example. Heck, it means you can't even route from the US to Southern South America via Lima, even though that's the most direct routing.
One example of not being able to transit a third region involves travel from the US to Africa.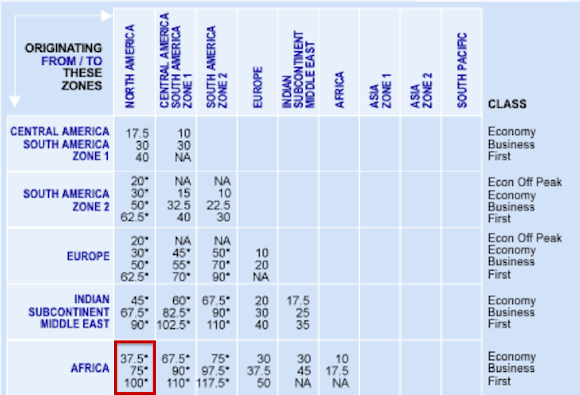 In the list of exceptions to transiting a third region, the only one listed for travel between the US and Africa is as follows:
Connection in Europe allowed when traveling between North America and Africa.
This sucks, since:
There's no direct oneworld service between the US and Africa
A majority of the routing options through Europe involve fuel surcharges
However, it's interesting to note that in practice American AAdvantage is now letting you route from the US to Africa via the Middle East. This should have been the rule all along, though when the rules were written American wasn't partnering with any airlines in the Middle East, so I guess adding that exception didn't cross their mind.
But I just put on hold an itinerary for travel from the US to Africa in Qatar Airways business class, and it priced at 75,000 AAdvantage miles.
So while this type of award has already been bookable using US Airways Dividend Miles, it's nice to see American adopt a similar policy.
I assume the same will price for travel on Etihad Airways, though don't have a way of checking since Etihad awards temporarily aren't available using American AAdvantage miles.
I haven't noticed any other changes in routing rules, though, so wouldn't expect to be able to fly between the US and Africa via Asia, for example.
(Tip of the hat to Wandering Aramean)