As US Airways has finally joined the OneWorld alliance, a lot of the "pieces" are finally falling into place. Up until a couple of weeks ago we had no clue whatsoever what award redemptions on US Airways would look like once they joined OneWorld.
A little over a week ago we learned that US Airways would be maintaining their award chart for OneWorld travel for the foreseeable future. This was exciting news, since US Airways has some real "sweet spots" on their award chart, like being able to fly from the US to North Asia via Europe for just 90,000 miles in business class.
However, we still didn't know which routing rules US Airways would have for Dividend Miles award tickets.
There were two ways routing rules could have played out:
US Airways could have maintained their routing rules…
…or lack thereof.
Not only does US Airways have a ridiculously lucrative award chart, but US Airways agents also manually price awards. This means that there are often no computer "checks" in place, and it's often possible to get away with more creative routings than you'd be able to book with other carriers.
Even the award routing rules that US does publish are in many cases more generous than American's. So even if you're not trying to be creative, the US Airways rules are often more liberal, allowing international stopovers, the transit of multiple regions, and so forth.
Or US Airways could have adopted American's routing rules…
American simultaneously has extremely stingy and extremely generous routing rules. On one hand they let you exceed the maximum permitted mileage for a city pair by up to 25%, which is ridiculously generous. Well, at least they let you exceed it by up to 25% as long as that's not your intention.
On the other hand, American has archaic routing rules for AAdvantage award travel:
The transoceanic airline has to publish a fare for the city pair you're flying. For example, say you want to redeem AAdvantage miles to fly from Tampa to the Maldives, using Etihad Airways for the overwater segments. You can't, because, Etihad doesn't publish a fare between Tampa and the Maldives.
With few exceptions, you can't transit a third region. With very few exceptions, American won't let you transit a third region when traveling between two regions on an award ticket. This means you can't route from the US to Asia via Europe, or from the US to Australia via Asia, for example. Heck, it means you can't even route from the US to Southern South America via Lima, even though that's the most direct routing.
So what are the US Airways rules for OneWorld travel?
I've spent nearly as much time on the phone with US Airways this morning as Martin Savidge has spent in a 777 simulator on CNN the past two weeks.
I've priced awards to North Asia, Australia, Africa, South America, and all points in-between.
Given the typical geographic knowledge of most US Airways agents, this was more difficult than it sounds. 😉
So I figured I should share a few of my findings in pricing a variety of awards:
It's business as usual — US Airways routing rules prevail!
I'm sure this will make lots of people do the happy dance.
I've held several awards now, and in all cases US Airways routing rules prevailed.
I had no problem routing from the US to Asia via Europe, US to Australia via Asia, or US to North Asia via the Middle East. Woohoo!
Be patient — award taxes have to be manually priced by the rates desk
OneWorld award bookings literally went live just a few hours ago, so I suspect this will change soon.
But for all the awards I tried to price, the rates desk had to manually calculate the taxes, which can take anywhere from five to twenty minutes.
This can also mean that the rates agent may veto a more creative routing, so that's something to consider if you're planning on booking OneWorld travel to "The China."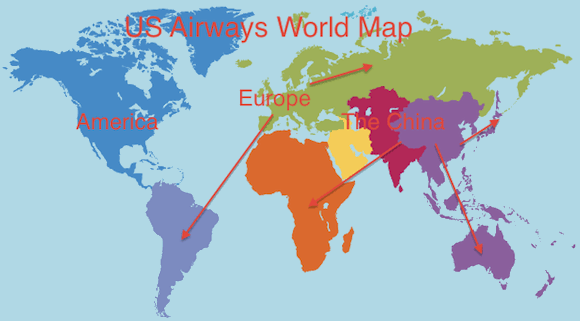 Have a drink before you start calling
This is typically a good rule for booking complex award travel in general, and calling US Airways has always been an opportunity for a drinking game anyways.
US Airways agents were barely starting to get the hang of Star Alliance carriers and destinations, and now they have to learn a new set of airlines and hub cities overnight.
"I'd like to book an award reservation for travel on Qatar Airways?"
"You mean Thai? We don't partner with them no more."
"No, Qatar Airways, the airline based in Doha, Qatar."
"Oh, you mean Qantas?"
"No, Qatar, it's in the Middle East."
"I never heard of them before. But if you want to travel to the Middle East I can check if we still partner with EgyptAir."
And maybe I'm just a horrible human being, but I couldn't help but call and ask about award space on S7 airlines between Novosibirsk and Urumqi.
Because, well, sometimes in life, you just gotta have a little fun… you feeling me?
Outside of my impromptu geography bee, I also held and priced the following awards:
US to Australia via North Asia in business class — 110,000 Dividend Miles + $170 taxes
Cathay Pacific 897 Los Angeles to Hong Kong 8:25AM-4:05PM (+1 day)
Qantas 30 Hong Kong to Melbourne 7:30PM-7:55AM (+1 day)
Qantas 29 Melbourne to Hong Kong 10:50AM-5:15PM
Cathay Pacific 898 Hong Kong to Los Angeles 10:05AM-6:40AM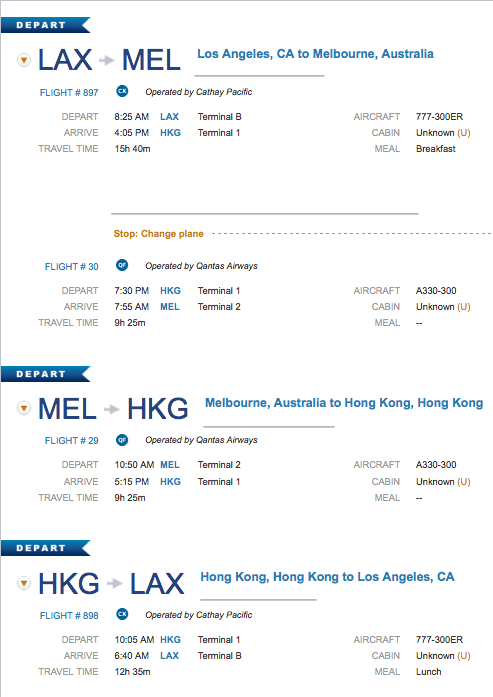 LAX > HKG > MEL > HKG > LAX prices at 110,000 Dividend Miles on CX and QF with a stopover in Hong Kong
US to North Asia via the Middle East in business class — 90,000 Dividend Miles + $85 taxes
Qatar 708 Washington Dulles to Doha 9:40PM-6:20PM (+1 day)
Qatar 888 Doha to Shanghai 1:15AM-2:15PM
Qatar 889 Shanghai to Doha 12:10AM-5:55AM
Qatar 707 Doha to Washington Dulles 8:45AM-3:10PM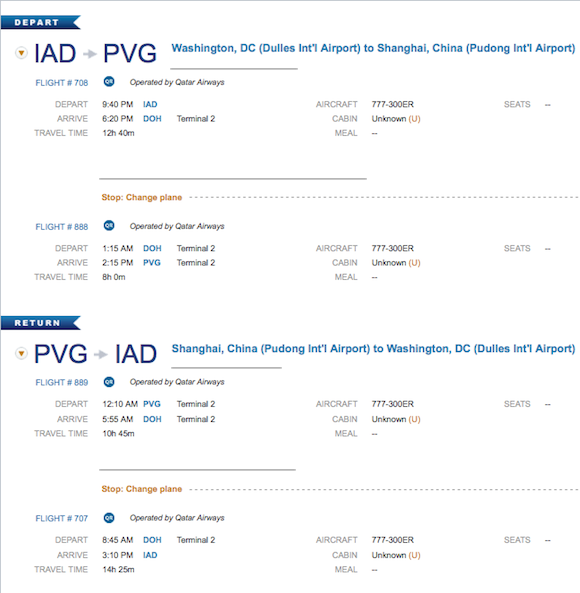 IAD > DOH > PVG > DOH > IAH prices at 90,000 Dividend Miles on QR with a stopover in Doha
US to North Asia via Europe in first class — 120,000 Dividend Miles + $1,613 taxes/fuel surcharges
As expected, US Airways will be imposing fuel surcharges for travel on British Airways, so I wouldn't recommend this as a terrific value, by any means. I still couldn't help but hold a ticket for travel between the US and North Asia on British Airways the whole way:
British Airways 114 New York to London 9:50PM-9:55AM (+1 day)
British Airways 25 London to Hong Kong 6:35PM-1:15PM (+1 day)
British Airways 26 Hong Kong to London 11:15PM-4:55AM (+1 day)
British Airways 113 London to New York 3:55PM-6:45PM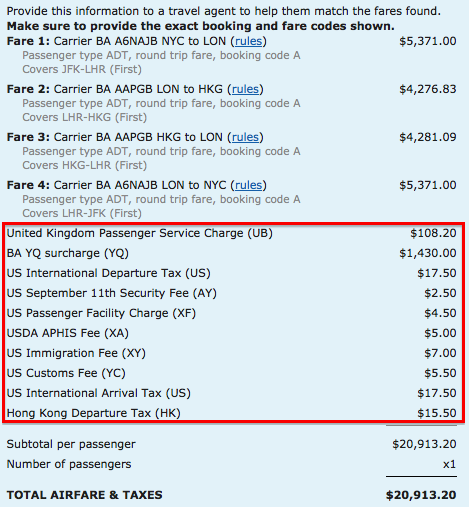 NYC > LHR > HKG > LHR > NYC prices at 120,000 Dividend Miles, and very high fees on BA
Bottom line
This is really everything we could have asked for, as far as I'm concerned. You don't even know how badly I want to just keep calling and pricing awards for OneWorld travel, just to see what airlines and countries they come up with. Stay tuned for my take on OneWorld geography a bit later!
Have you booked a OneWorld award using US Airways miles yet? If so, what was your experience?