Earlier I shared my initial thoughts on Amangalla, which is one of the two Aman properties in Sri Lanka. In this post I wanted to share my initial thoughts on Amanwella, which is the other property.
We did the "Fort & Beach Journey," with Amangalla representing the "fort," and Amanwella representing the "beach." For what it's worth, the rate at Amanwella was $900 per night, but that included half board, two massages, and a couple of other activities.
So, here are my initial thoughts:
Amanwella location
Amanwella is located in the town of Tangalle, which is along the Southern coast of Sri Lanka. It's about a four hour drive from Colombo Airport, and about a two hour drive from Amangalla, so Amangalla is basically right on the way. For the most part the roads are very good, so aside from randomly being pulled over by the police (which happened to us twice), it's an easy enough ride.
By the way, on our last day I realized that Amanwella is only about 90 minutes from Sri Lanka's deserted $200 million airport, so I'm really sad I didn't go to check that out.
The town of Tangalle as such isn't nearly as charming as Galle, in my opinion. Visiting this area is really all about the beautiful beaches.
Amanwella rooms
Amanwella has 27 villas, each of which features a plunge pool. I believe all the villas are the same inside, with the only difference being the views they have of the ocean.
For a base room I'd say this is insanely nice.
I also loved the dual outdoor area, as there was a plunge pool in the front and then a big patio in the back.
Amanwella amenities & public areas
This hotel really is gorgeous.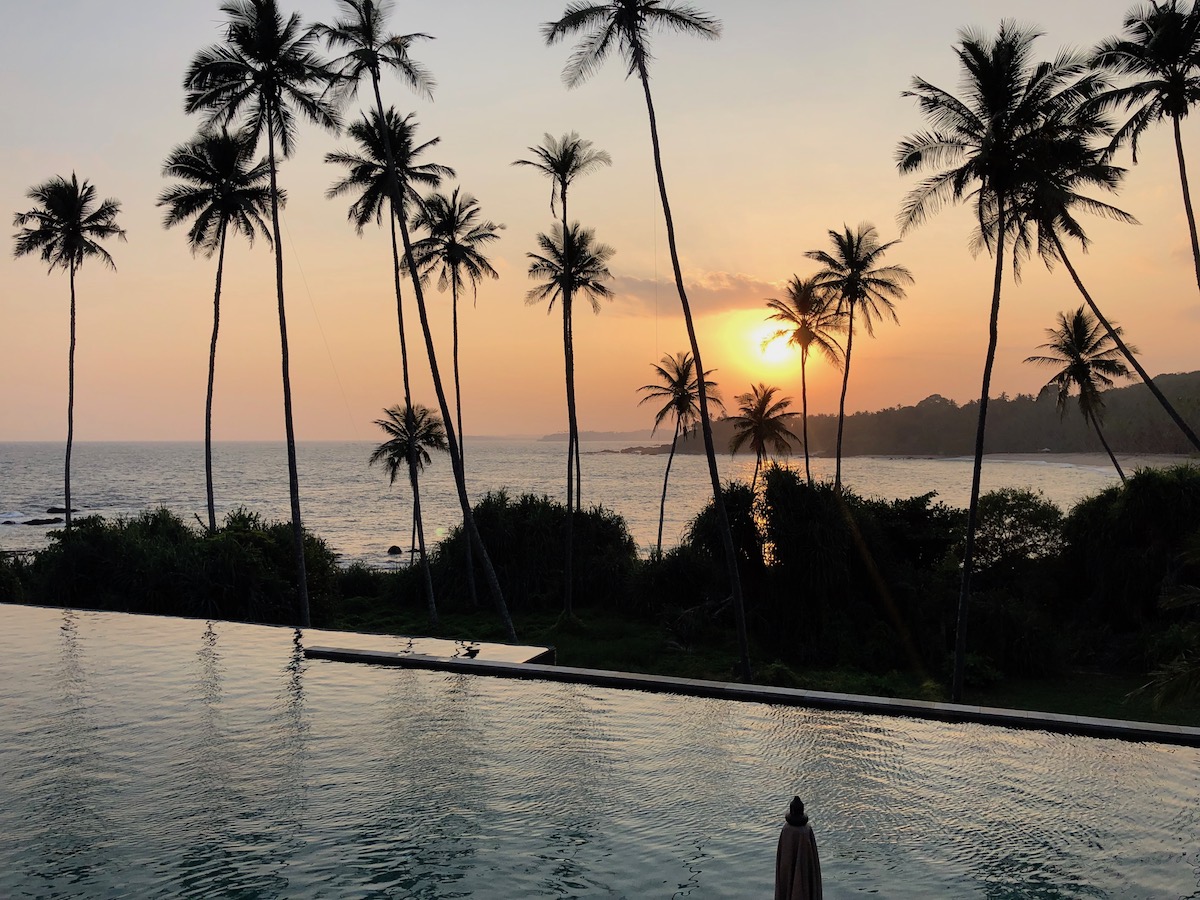 The centerpiece of the hotel is the stunning infinity pool, located right beneath the restaurant and bar.
The hotel is also on a lovely stretch of beach. The one catch is that the water here is really rough, so it's not ideal for swimming (though I'll admit that in the below picture it looks quite calm).
The hotel has private lounge chairs down by the beach, and pretty attentive service there as well.
The hotel has two restaurants — the main restaurant is on top of the pool, and has very nice seating options.
Next to the main restaurant is a bar, which was almost always completely empty.
Then down by the beach the hotel has yet another restaurant, just open for lunch and dinner.
The hotel also has a library area.
Two big oversights
Not to nitpick, but…
First of all, Amangalla didn't have a gym, and neither did Amanwella. I just don't get that. I was surprised when Amangalla didn't have one, but figured "oh, it's in an old colonial building, and space is limited."
The property for Amangalla is huge, so I don't know what made them decide to not build a gym, especially when you consider that many people stay at these hotels back-to-back, and may want to work out over the course of a week. We brought this to the attention of management, and they said "it wasn't in the plans" when the hotel was built, but they appreciated the feedback.
On the plus side, they were able to arrange gym access at the nearby Anantara hotel. Unfortunately this was at the cost of 45USD per person per visit, which is outrageous. This is just a standard hotel gym, we didn't even have access to anything else, not that we would have wanted it. But having to pay 100USD for two people to go to a hotel (including a tuk tuk) is obscene, especially given how much we were paying to stay at the Aman.
You'd think they'd be able to come up with a better arrangement.
The second point is more strange than problematic, but the hotel doesn't have a real spa. Instead they converted a guest room into a spa. That means there's no spa reception, no additional amenities, and you fill out your spa consultation form while sitting on a small bench intended for luggage.
This hotel is soooo beautifully designed in so many ways, but I don't get those two issues.
Amanwella service
Service at Amanwella was similar to the service at Amangalla. That's to say that service was good, but not quite to the standard I've come to expect at some other Amans. I will say that housekeeping was on top of things, management was very active, and people were all very friendly and well intentioned.
But a lot of aspects of service were still a production. For example, it often took 10+ minutes to get coffee in the mornings, and then an equal amount of time to get sweetener or milk, for example.
Amanwella food
The food at Amanwella was spectacular, both in terms of the selection and the quality. We loved the food here so much, so I'll let the pictures speak mostly for themselves.
Prices at Amanwella
Much like at Amangalla, the prices were quite reasonable once you were actually on property. Hour-long massages were $85 including taxes and service charges, appetizers were $10-15, mains were $15-25, etc.
Bottom line
We had a great time at Amanwella, and really found it to be incredibly relaxing. The villas here are beautiful, and the hotel has a picturesque setting, in particular thanks to all the palm trees. The food was top notch as well.
In terms of this service this also wasn't one of the best Amans, though I'd still highly recommend this. If you've never stayed at an Aman and want to visit just one beach resort, it probably wouldn't be my first choice (I'd probably do Amanpulo or Amankila), but for those who want to visit Sri Lanka and/or for Amanjunkies who have visited those, I definitely think Amanwella is worth a visit.