It's normal for there to be contention between airline pilots and management. I don't remember the last time pilots actually got a contract they were happy with for more than a brief period of time. Allegiant is in a situation where their pilots are trying to negotiate for a better contract, so sometimes it's tough to figure out the difference between a legitimate concern and a bargaining tactic.
A satisfaction survey was just conducted of Allegiant Air pilots. The survey polled over 500 pilots, ranging from new hires to veteran pilots. While I wouldn't take everything here at face value, on the surface some of these results seem shocking. Per ABC15 Arizona:
"Almost half of the pilots said they will not allow their own families to fly on the aircraft. That is a stunning repudiation of the operations at Allegiant. I have never heard that before at a carrier. And that is not sour grapes. That is not to make publicity. That is a real fear that these pilots have. And the reason is because they're on the front lines and observe day in and day out the way Allegiant skimps on maintenance, pushes their aircraft."
When nearly half of pilots say they won't let their own families fly on Allegiant's planes, that's saying something.
This survey was released days after an Allegiant plane had an engine failure during a go around in Phoenix (engine failures happen, but they're extremely rare during a go around):
"They had what was ostensibly a new airplane, an Airbus, have a catastrophic engine failure in the process of a go-around in Phoenix," Wells says. "Extraordinarily rare event. Something that as a professional crew member you hope you never come across in the entirety of your career."

The plane landed safely a short time later, but Wells says it's part of a culture of cutting corners on maintenance that makes pilots afraid.
Let's look at a few of the survey results.
Of the 500+ pilots surveyed, two thought morale at the airline is high: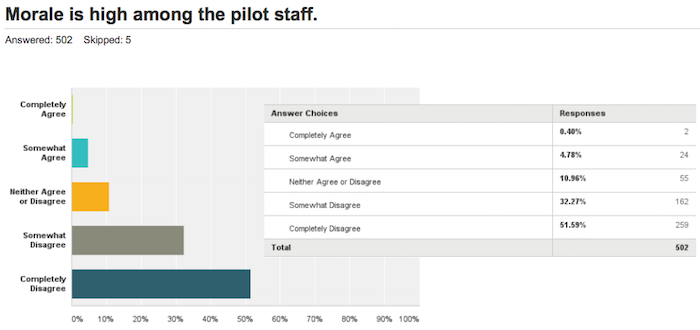 A vast majority of pilots think the current scheduling system leads to fatigue: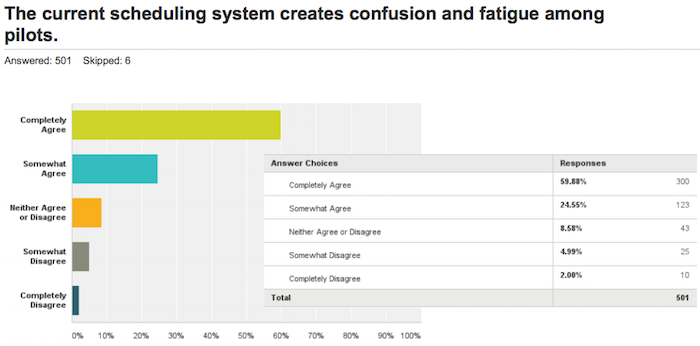 And very few pilots are satisfied with working at Allegiant Air: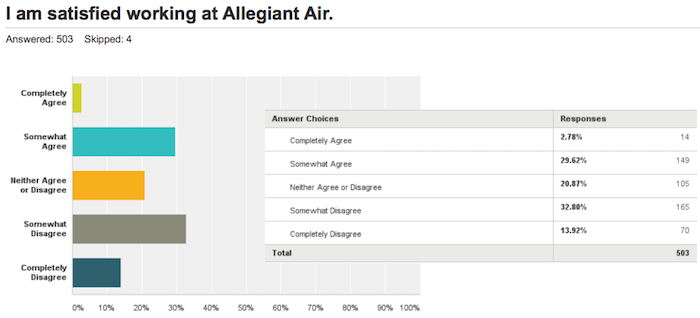 Still, most shocking is that nearly half of pilots won't fly their family on Allegiant, which has to be the most bizarre claim.
For anyone curious about Allegiant Air payscales, airlinepilotcentral.com has that information. Yes, Allegiant pilots are paid considerably less than those at legacy airlines, but they're also paid considerably more than those at regional airlines.
It'll be interesting to see what comes of their contract negotiations. While I'm not surprised by the low morale and that the pilots feel they're not compensated enough, their safety concerns about the airline are most alarming.
While there's a lot of unhappiness among staff at many airlines, these must be the worst survey results I've ever seen from a US carrier.
What do you make of this survey — is it just a bargaining technique, reflective of the state of Allegiant, or a bit of both?