A recent Allegiant flight had to return to its origin shortly after takeoff, after a flight attendant was injured. However, it's not for the reason you might assume.
Allegiant pilots take "evasive action" to avoid collision
This incident happened on Sunday, July 23, 2023, and involves Allegiant Air flight G4485, scheduled to fly from Fort Lauderdale (FLL) to Lexington (LEX). The flight was operated by a 26-year-old Airbus A320 with the registration code N229NV.
Anyway, the aircraft departed on the 865-mile flight as planned, and initially climbed up to 23,000 feet. Air traffic controllers had instructed the plane to turn eastbound right near Port Canaveral, Florida, though at that point the plane was put directly in the path of a northbound Gulfstream jet that was at the same altitude.
The pilots of the Allegiant flight received an automated alert about close proximity to another aircraft, so the pilots took "evasive action" (as the FAA describes it) to avoid collision. This incident is now being investigated, and suffice it to say that this was a really close call, as you'll see in the below animation.
The flight tracking animation doesn't show any drastic turns, but rather shows the aircraft briefly climbing steeply to avoid a collision.
Allegiant flight attendant gets injured, causing diversion
While all the passengers were still seated when this incident happened, the flight attendants were starting their inflight service. Unfortunately this unexpected maneuver caused a flight attendant to be seriously injured.
NBC conducted an interview with a 21-year-old woman who was onboard the flight. Here's how she described the flight attendant injuries:
"Two of the flight attendants that were handing out drinks at the time, they both fell to the ground. One of them was completely fine. But the other one did hit her head on her hand row, and it also turns out that she snapped her wrist."

"She was crying. She laid on the ground for at least five minutes before they picked her up and moved her toward the back of the plane, and about five more minutes after that, they asked if there was any medically trained person on the airplane, when they finally got a woman and brought her back with them."
This same passenger reported that she initially wasn't too alarmed, and had assumed it was turbulence, which they were warned about before the flight:
"In the pre-flight announcement, they let us know that there was going to be some turbulence because there was a storm up north, so we were kind of expecting a rough flight. About 20 minutes into the flight, the stewardesses were beginning to take orders and hands out drinks, when, all of a sudden, it felt like we were going down."

"I felt the plane actually make its turn to go back toward Fort Lauderdale. About 15 minutes later, the pilot comes back on the intercom, and he says, 'Unfortunately, we have turned back toward Fort Lauderdale. I had to make an abrupt maneuver to avoid another aircraft.'"
With a flight attendant injured, the decision was made to return to Fort Lauderdale. The flight ended up spending a total of around 65 minutes in the air prior to its return.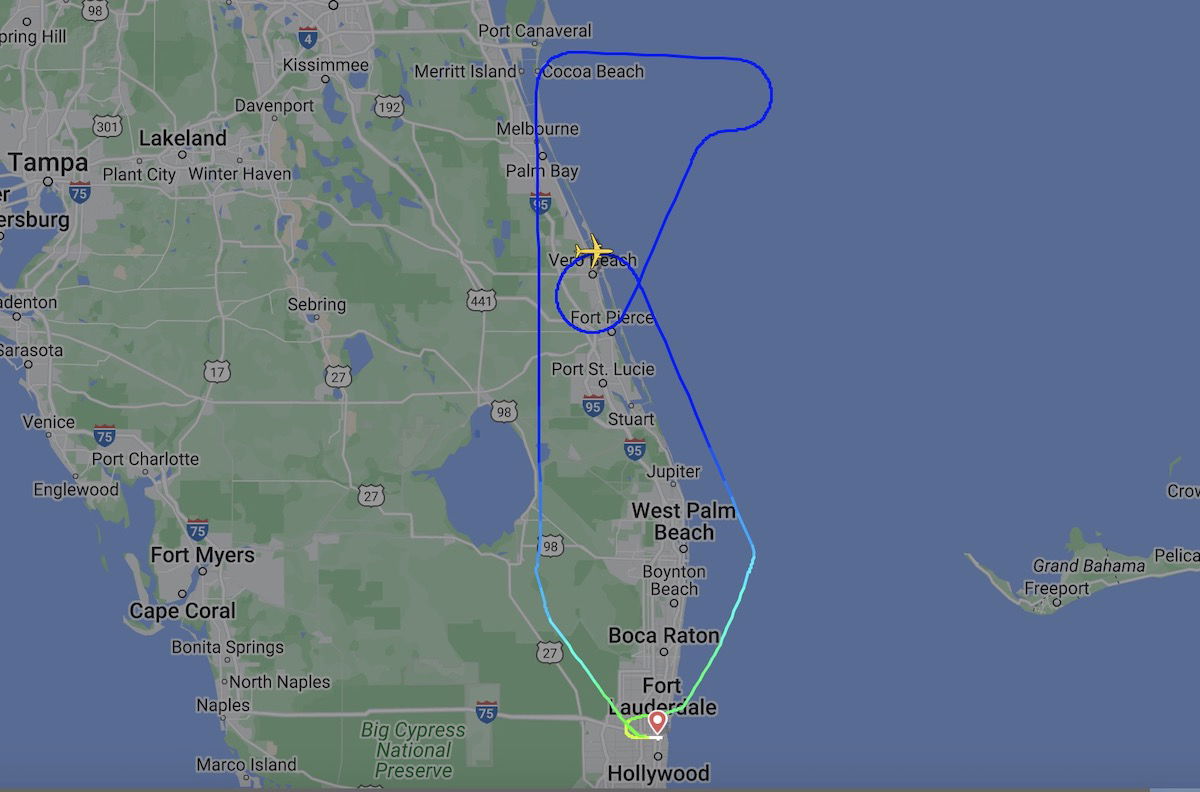 Bottom line
An Allegiant Air A320 had to return to Fort Lauderdale after a flight attendant sustained injuries. For once it wasn't due to severe turbulence or due to passenger aggression, but rather was due to a maneuver that pilots performed after their traffic alert system went off.
This is an important reminder to always keep your seatbelt fastened when seated, because it can help prevent serious injuries. I'm curious to see what comes of the FAA investigation, regarding which party messed up here to cause such a close call.
What do you make of this Allegiant A320 incident?