All Nippon Airways has announced a business restructuring. In addition to retiring 22 Boeing 777s, the airline will also be forming a new low cost carrier.
ANA's new low cost carrier details
Currently the airline group has two airlines:
There's All Nippon Airways, which is the full service airline operating both long haul and short haul flights
There's Peach, which is the low cost carrier operating short haul flights with one class Airbus A320-family aircraft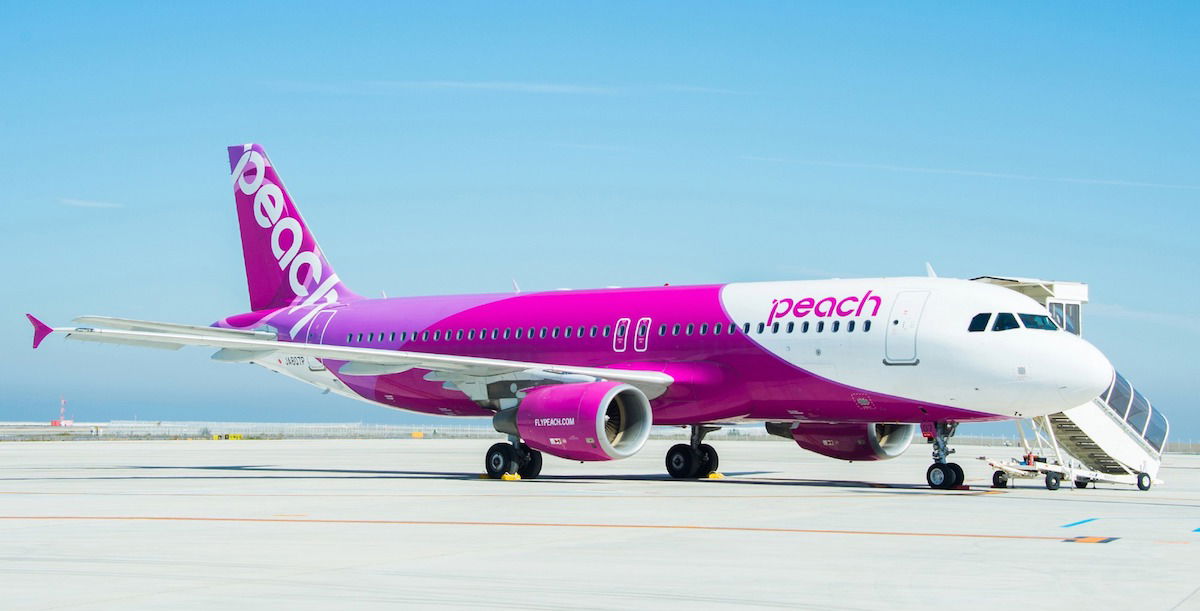 Peach is ANA's short haul low cost carrier
Now All Nippon Airways will be introducing a third airline brand, which will also be a low cost carrier. The airline will:
Target demand for low-cost, medium-distance flights to destinations in Southeast Asia and Oceania
Be established in the 2022 fiscal year (which starts on April 1, 2022)
Use two class Boeing 787 aircraft with 300+ seats
Use Air Japan's foundation in order to begin operations quickly; Air Japan is a subsidiary that operates flights on behalf of All Nippon Airways, though when you're on an Air Japan flight you probably don't even realize it
Here's a diagram ANA shows to illustrate the new airline structure: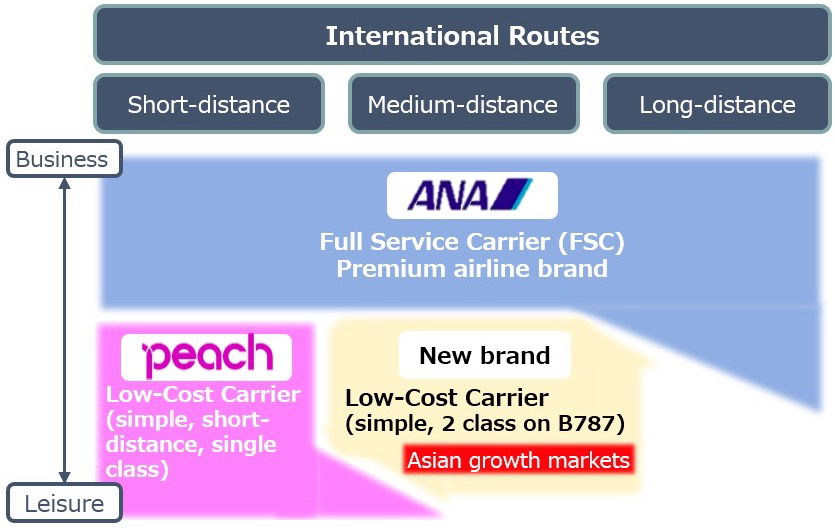 As of now that's just about all the information we have. It's remains to be seen:
What routes the airline will operate
What we should expect from the onboard product
If the airline is taking over 787s from ANA, or acquiring them in other ways
Will the airline acquire 787s from ANA?
Why is ANA launching a new low cost carrier at this point? As the airline describes it:
Demand for business travel will decrease and likely "not fully return to previous levels due to changes to the nature of work, such as the widespread popularity of online conferences and meetings"
Demand for leisure travel will likely continue to remain robust
The airline sees potential for demand in untapped markets, with preference for "greater hygiene during travel, airlines with ESG policies, adoption of contactless and automated options, simplistic services, and more customization options"
This sounds a whole lot like ZIPAIR Tokyo
If the concept of a Japanese airline starting a low cost subsidiary with 787s that are in a two class configuration sounds familiar, well… that's for good reason.
ZIPAIR Tokyo has just launched operations. This is Japan Airlines' low cost airline that operates 787s that were acquired from JAL. The airline has just launched service between Tokyo Narita and Seoul Incheon, and plans to soon expand to Bangkok, Honolulu, and beyond.
ZIPAIR Tokyo's 787s don't feature personal televisions onboard, but rather have streaming entertainment. In economy seats are in a 3-3-3 configuration, while in business class there are reverse herringbone seats. ZIPAIR Tokyo also has the world's most basic business class.
So yeah, ANA's concept here isn't exactly novel, as it sounds awfully similar to JAL's low cost carrier concept.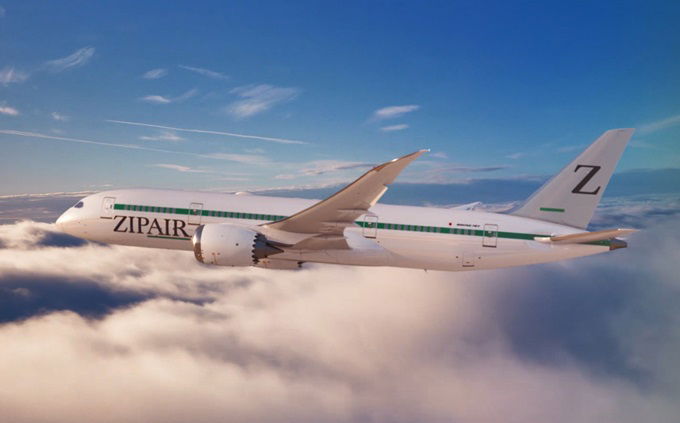 ZIPAIR Tokyo 787
Varied success with low cost airlines
Over the years we've seen a countless number of full service airlines around the world launch low cost subsidiaries, though with mixed success. From Delta's Song, to Air France's Joon, to IAG's LEVEL, to Lufthansa Group's Eurowings, these ventures generally haven't been all smooth sailing:
We've seen quite a few low cost carrier subsidiaries discontinued altogether
Those that are still around have largely seen so many business model changes, suggesting the business models need lots of tweaking
In most cases low cost carriers that are subsidiaries of major airlines haven't performed as well as independent ones, since they often can't compete with the cost structures
In general long haul, low cost airlines haven't proven very successful, whether independent (like Norwegian) or a subsidiary of a major airline
Admittedly Japan is a unique market. The country's major airports are slot restricted, so Japan doesn't have nearly as much low cost carrier competition as many other countries. That being said:
How much demand is actually being generated with these wholly owned low cost carriers, rather than demand just being cannibalized?
Does it make sense to launch yet another new brand, rather than just expanding the Peach subsidiary?
I don't know the answer, and it'll be interesting to see how it plays out…
Bottom line
All Nippon Airways will be launching a new low cost carrier with 787s. While Peach is ANA's short haul low cost carrier with A320 aircraft in one class configurations, the new airline will operate medium haul flights with 787s in two class configurations.
What do you make of ANA's new low cost carrier concept?