A few days ago I wrote about how one of my favorite points hotels in the US had a major policy change. I was worried about the implications of this when redeeming points, but as it turns out, this is actually phenomenal news.
First a bit of background…
Why I love Alila Ventana Big Sur
Several months ago I stayed at Alila Ventana Big Sur. This property is a fairly new addition to World of Hyatt, and came as the Alila brand joined World of Hyatt in 2019. This is a Category 7 property, so I redeemed 30,000 points per night here.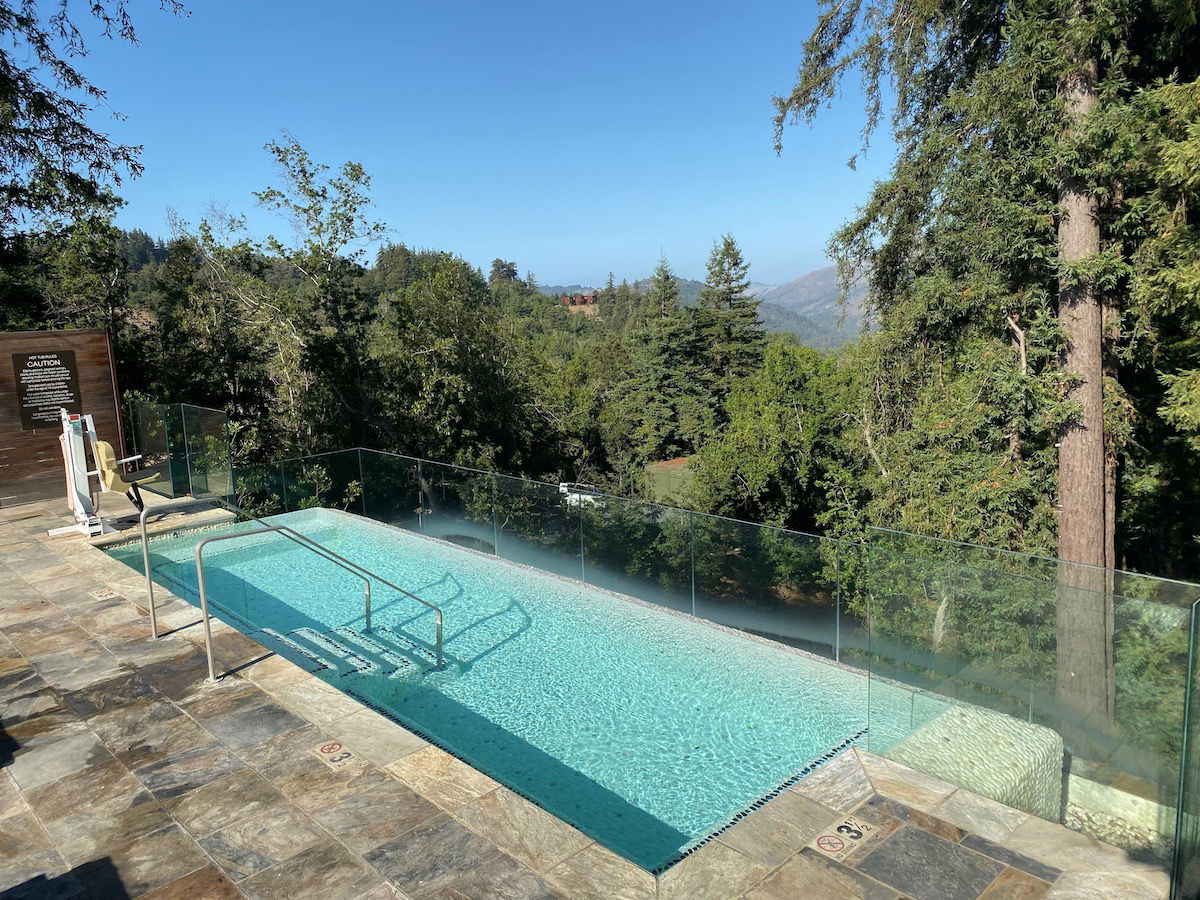 Hot tub at Ventana Big Sur
I can't even begin to say how much I enjoyed Big Sur. The hotel as such is nice, but what really blew me away was how gorgeous Big Sur is. It's one of the most picturesque places I've ever been, and it's hard to believe it's so close to some major cities.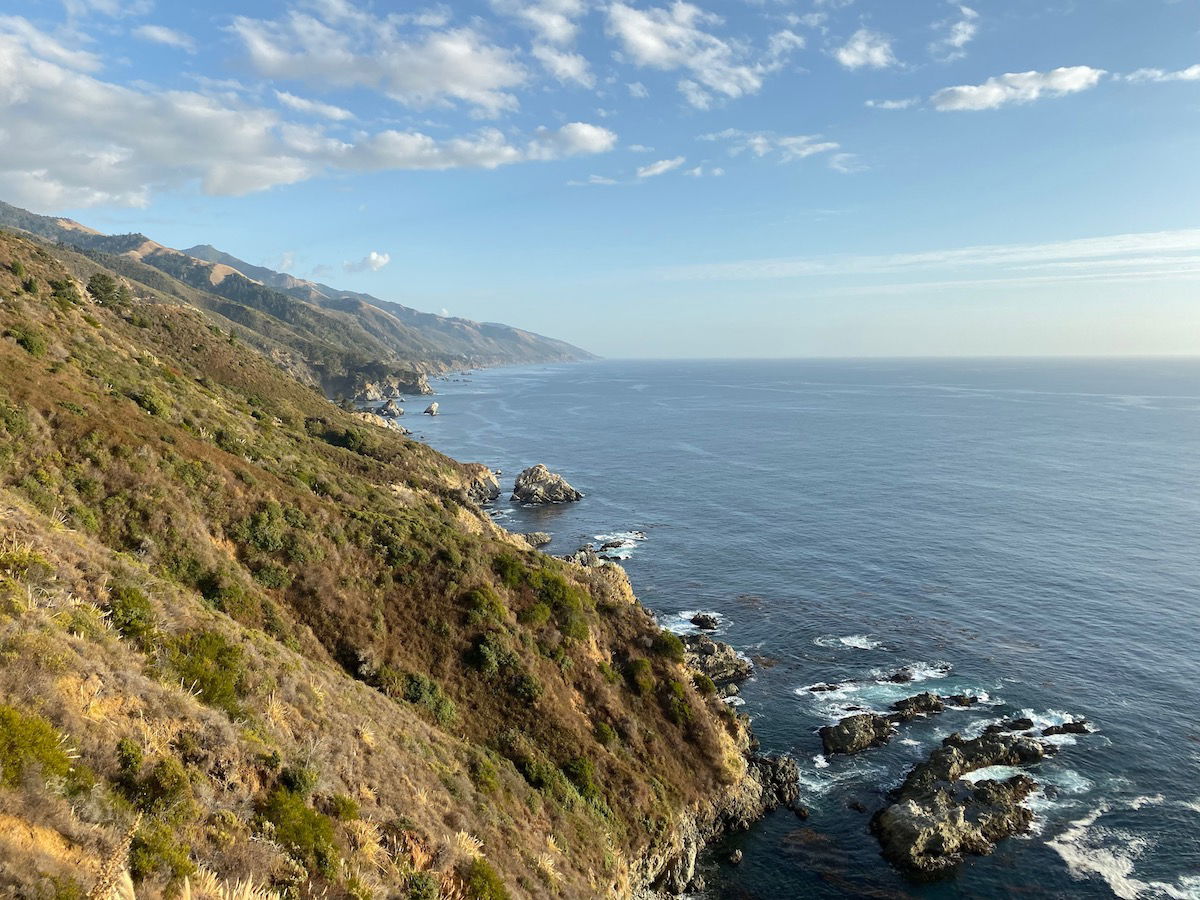 Big Sur, California
I'll take it a step further — I think Big Sur is a fantastic place to go once you're comfortable traveling again. It's all about the outdoors — you do a lot of driving and a lot of hiking, the hotel's restaurant has outdoor seating, etc. You could easily travel here while being fairly responsible, especially when you consider that it's driving distance from many places on the West Coast.
Alila Ventana Big Sur stays now include meals
Alila Ventana Big Sur recently had a policy change, as rates at the hotel now include three meals per day, and more. You'll see this mentioned when you go through the booking process.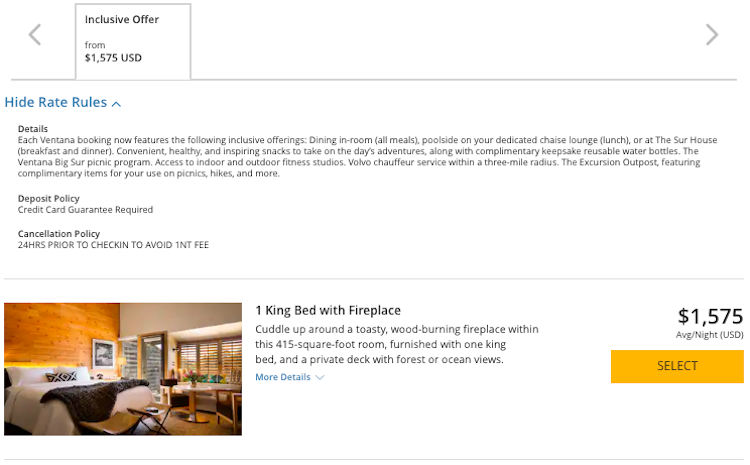 Here's how the hotel has described this policy change:
In an effort to make each Ventana Big Sur visit as seamless as possible, we have introduced a new inclusive experience – an enhanced, highly customizable approach that includes meals, signature activities and more, while still providing guests with the exclusivity, privacy and World-class service they've come to expect from the resort. The resort's Leisure Concierge will help plan every aspect of the guest stay to create a highly personalized itinerary, which includes all of the following for two guests as part of the nightly rate:

All meals, whether in-room, poolside on a reserved chaise lounge for lunch, or at The Sur House—the resort's award-winning restaurant which now features a spacious new seating plan and is reserved exclusively for resort guests during breakfast and dinner. (Note: Alcoholic beverages and additional upgraded experiences are available for separate purchase.)
The Ventana Big Sur picnic program, including a menu of options for casual al fresco meals.
Ventana's Signature Experiences, such as yoga and meditation surrounded by majestic hundred-year-old trees in the Redwood Circle of Life, Tai Chi, and daily hikes.
The Excursion Outpost—the resort's new equipment library featuring complimentary items for use on picnics, outdoor adventures, and hikes through the trails, fields, and forests.
Access to private, reservation-only indoor and outdoor wellness studios.
Deliciously healthful snacks and complimentary reusable water bottles.
Customized minibar offerings.
New outdoor lounging nooks across the grounds, perfect for couples.
As you can see, the most significant development here is that stays now include three meals per day, which wasn't the case before (not even all guests received breakfast for free before — that was reserved for those who booked it as part of the rate, or guests who were Globalist).
The hotel will start offering all inclusive rates as soon as it reopens in mid-July.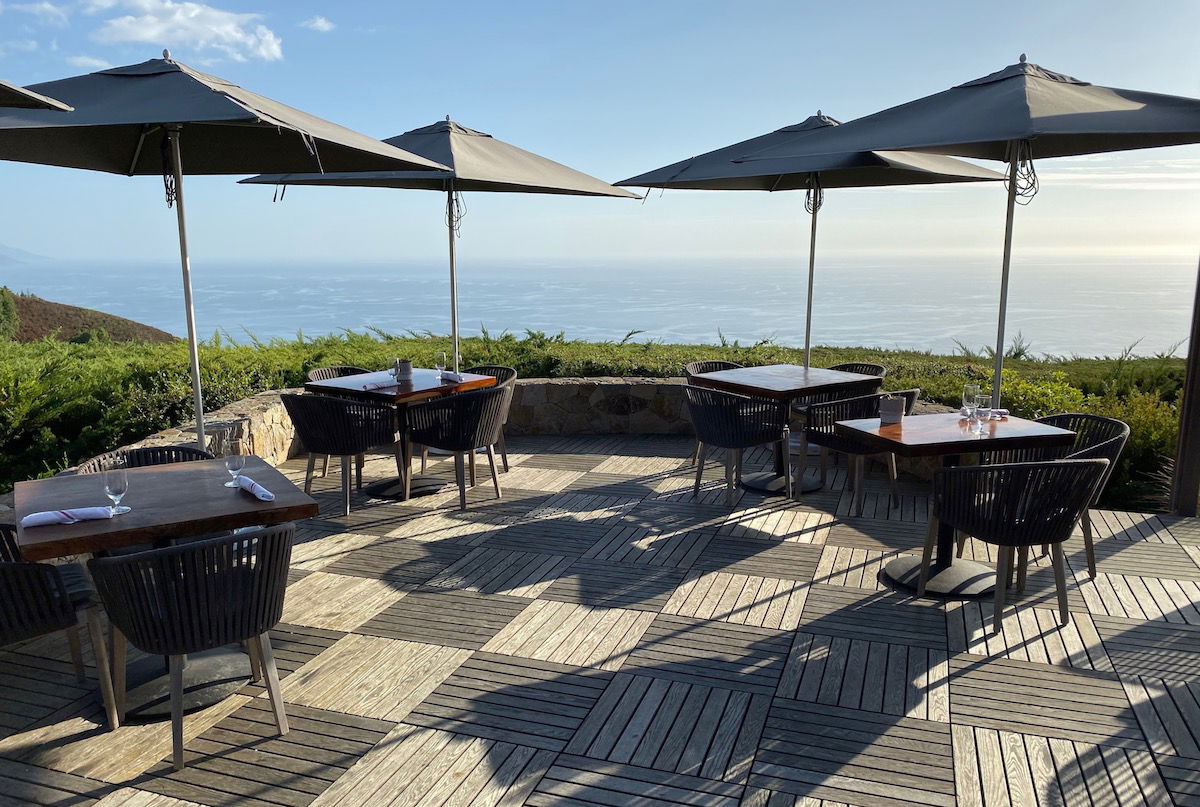 Dining at Ventana Big Sur
What happens to points redemptions?
I was concerned about this policy change as it pertains to points redemptions. Awards (whether in standard rooms or suites) suddenly weren't showing up, so I wondered if the hotel might stop offering award redemptions, or might introduce higher award pricing.
As it turns out, neither of those things is the case, and this is actually incredible news.
Ventana Big Sur will continue to cost 30,000 World of Hyatt points per night for a standard room redemption
Points redemptions will be all inclusive, just like paid rates (this includes points redemptions made in the past)
The reason award availability briefly didn't show up was because they were updating their system to reflect the new all inclusive pricing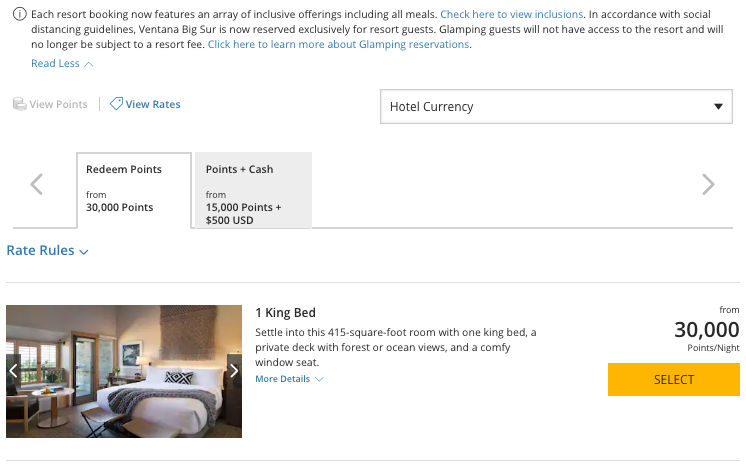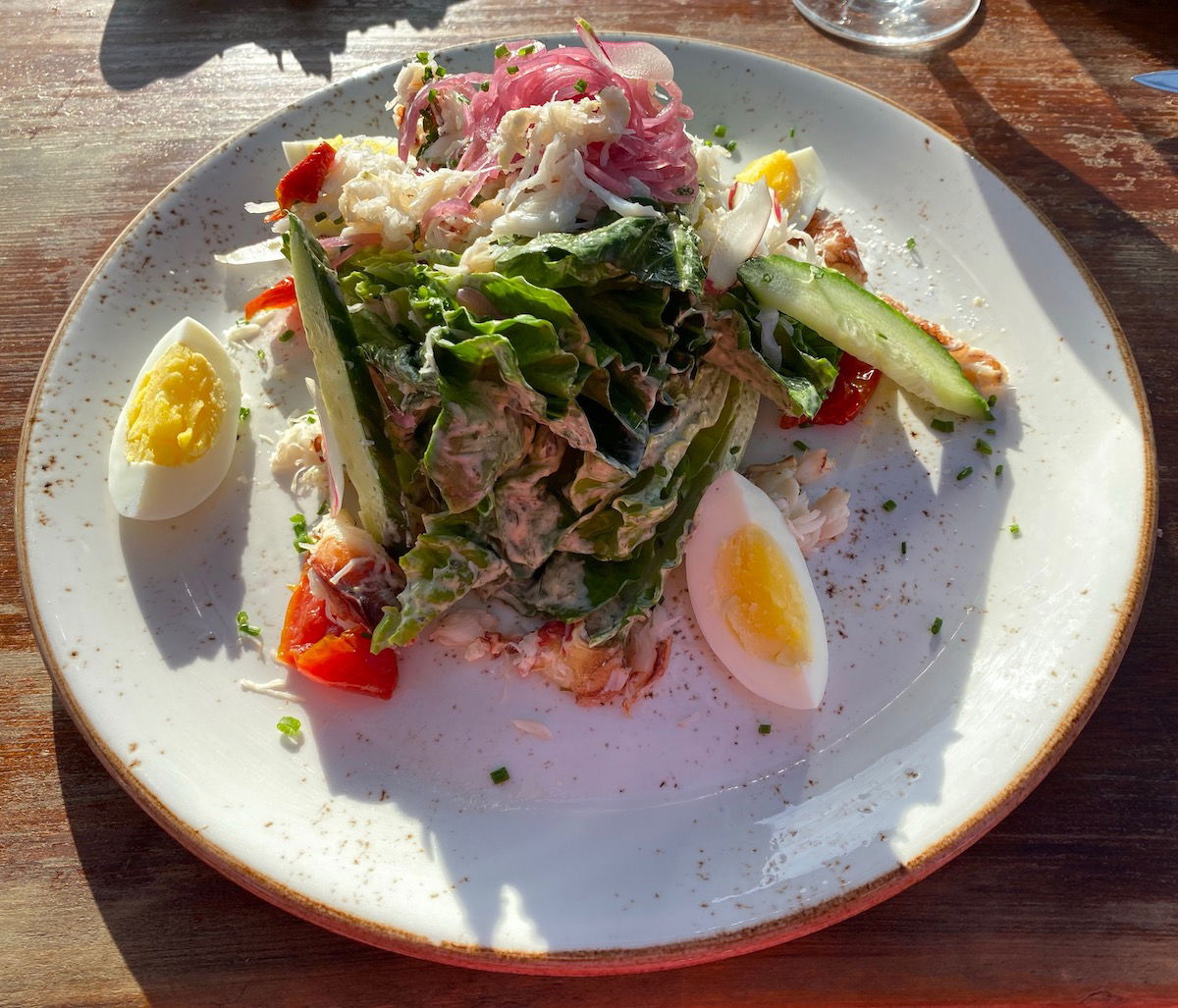 Stays at Ventana Big Sur now include three meals per day
Bottom line
Alila Ventana Big Sur is now all inclusive, so all stays include three meals per day. On paid rates that could be good or bad news, depending on how you look at it. Personally when I stayed here I enjoyed having at least one meal per day outside the hotel, as there are some super adorable restaurants in the area.
The absolutely amazing news is that points redemptions won't be going up in price, and will be all inclusive. Talk about getting the best of both worlds. This was one of my favorite points redemptions before this policy change, and now it's even better…
One of my favorite points redemptions in the world has just become even better…
What do you make of Alila Ventana Big Sur going all inclusive?
(Tip of the hat to @DamoBurns4)