In mid-June I wrote about how Alaska Mileage Plan was having issues accessing Emirates premium cabin award availability. This problem persisted regardless of whether you booked by phone or online. While not all premium cabin space was blocked, a good percentage of it was. The most frustrating part is that Alaska's website showed availability, and it didn't state there was an error until you got to the booking page. So people would buy miles based on availability they saw online, only to later be told it wasn't available.

It actually looks like Alaska even added a disclaimer onto the award booking page, which wasn't there at first.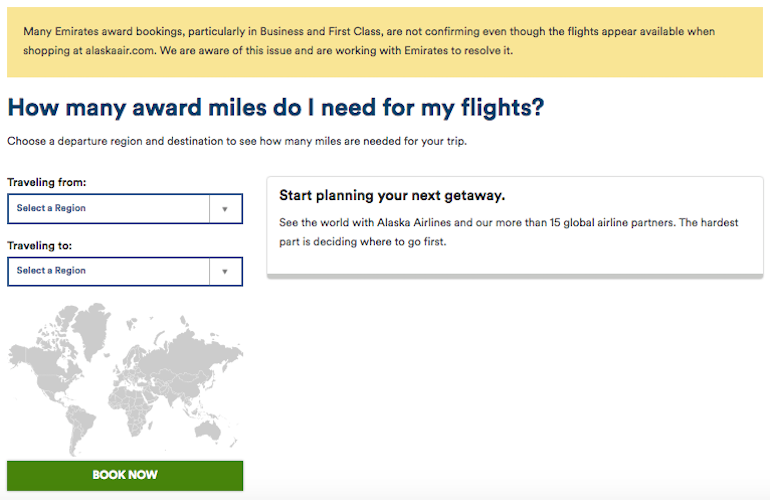 We don't exactly know whether this glitch was on Alaska's end or Emirates' end, though this wasn't the first time that Alaska has had issues with accessing availability.
Well, the good news is that it looks like this issue has now been resolved — Alaska once again has access to their standard allotment of Emirates first & business class award tickets. It looks like Emirates Mileage Plan awards that show availability online are actually ticketing once again. It's about time, given that this glitch persisted for over a month. There might still be a few glitches out there, but it seems like a majority of the problems have been resolved.
Do keep in mind that Mileage Plan awards on Emirates aren't the value that they once were, given their award chart devaluation early last year. Their one-way award pricing for travel originating in the US is now as follows:
Africa — 120,000 miles in business class, 200,000 miles in first class
Asia — 105,000 miles in business class, 180,000 miles in first class
Australia — 120,000 miles in business class, 205,000 miles in first class
Europe — 105,000 miles in business class, 180,000 miles in first class
Middle East/India — 82,500 miles in business class, 150,000 miles in first class
In many cases redeeming Japan Airlines Mileage Bank miles on Emirates is a better value. The catch is that Japan Airlines miles are tougher to come by — they're transfer partners with Starwood, but there are no other easy ways to accrue them.
Was anyone waiting to make a Mileage Plan booking on Emirates, and if so, was it successful?
(Tip of the hat to Anthony & Jung)