Airline food tends to be the punchline of many jokes, and the average traveler would probably compare it more closely to dog food than anything else. That's if you even get food for free on your flight, which is a luxury nowadays.
Of course it's a different story for premium travelers, as many airlines are trying to differentiate their premium cabin products through food & wine. This brings us to the question that Matt78 asked in the Ask Lucky forum:
I do most of my flying in economy and am looking forward to trying premium cabin flying and was wondering how the quality and taste of their meals compare with medium to high priced restaurants on the ground?
This is an interesting topic, as I've sometimes used the term "restaurant quality" to refer to especially good airline food. Admittedly "restaurant quality" is a bit of a fluff term, since it doesn't actually describe what you should expect. Applebee's and The Capital Grille are both restaurants, so which establishment does "restaurant quality" describe? Beyond that, there are all kinds of independent restaurants which put The Capital Grille to shame.
The problem is that we'll never be able to objectively compare airplane food to food on the ground. That's because most people either love or hate flying, and that rubs off on everything they experience on planes. For example, I think all of us aviation geeks can agree that an ice cream sundae simply tastes better on a plane than on the ground. You could buy all the ingredients on the ground, but there's something special about enjoying a sundae at 38,000 feet while traveling somewhere fun.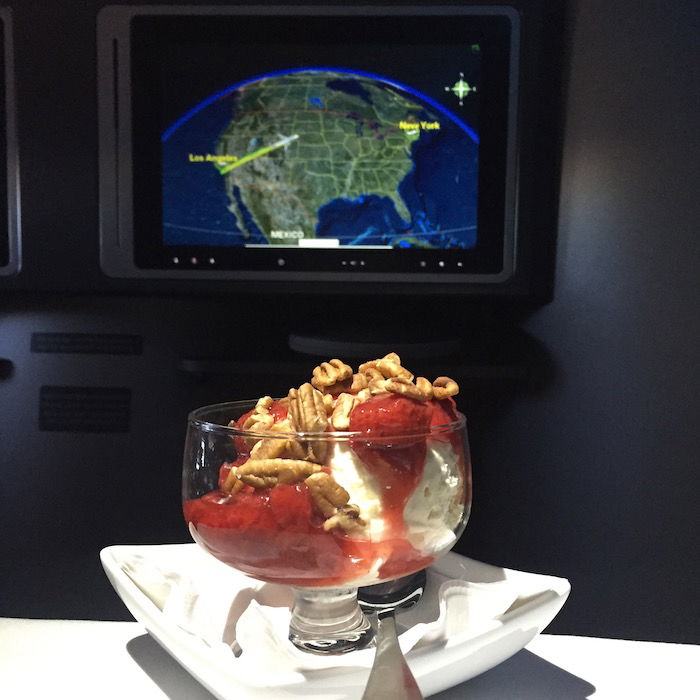 As far as the food quality itself goes, I'd say first & business class airline food falls into three general categories:
There's food which you eat simply because you're hungry, but you'd never pay for on the ground — this includes things like many business class meals on US carriers
There's food which is actually excellent, which you'd pay for on the ground — this includes food in international first class on some carriers
There's food which is a treat on a plane which you might not be willing to pay for and/or wouldn't order on the ground, but enjoy immensely — this might include caviar, warm chocolate chip cookies, warm mixed nuts, ice cream sundaes, etc.
To give a few examples, flying American business class from Dallas to Beijing last week I selected the cashew nut chicken main course, which was perfectly edible though also completely unmemorable. I wouldn't have been happy if I ordered that as my main course at a proper Chinese restaurant, though I may have been happy with the quality if I were eating at Applebee's, for example.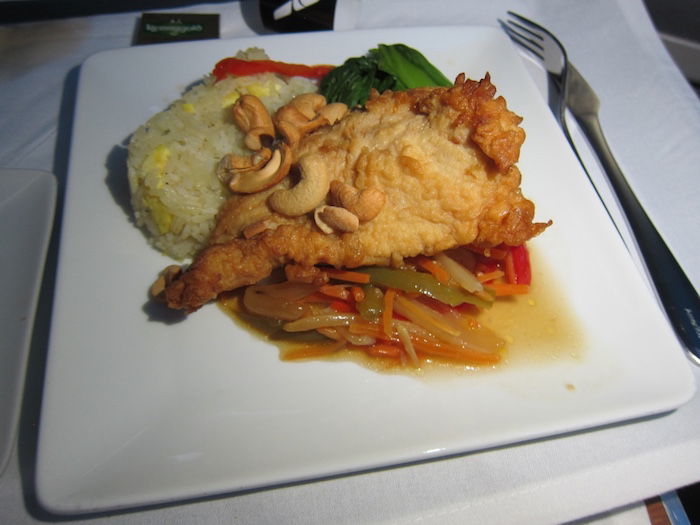 In the next category there's food which I'd actually order in a restaurant and be thrilled with. For example, Etihad has an onboard chef, including a "from the grill" menu, where you can customize your order however you want. You can choose your type of meat and accompaniments.
The salmon biryani I had from Abu Dhabi to New York in first class was spectacular, and I would have been thrilled if I had ordered such a meal in a high end restaurant.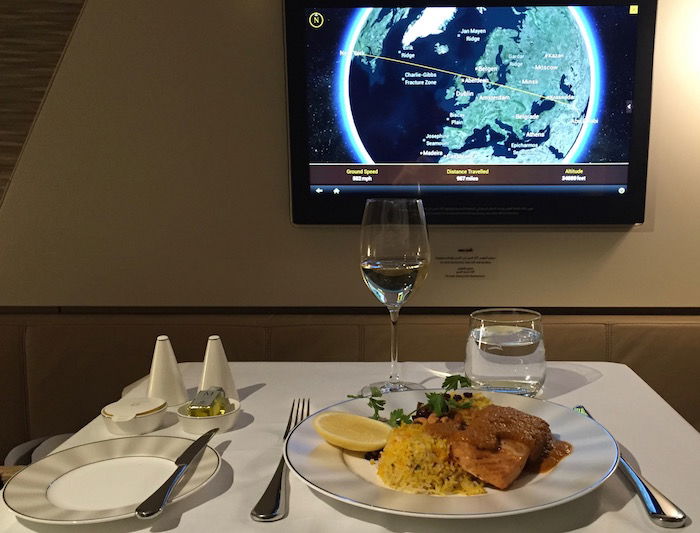 The same is true of the vanilla cream profiteroles I had in Oman Air business class, which were as good as any I've had on the ground.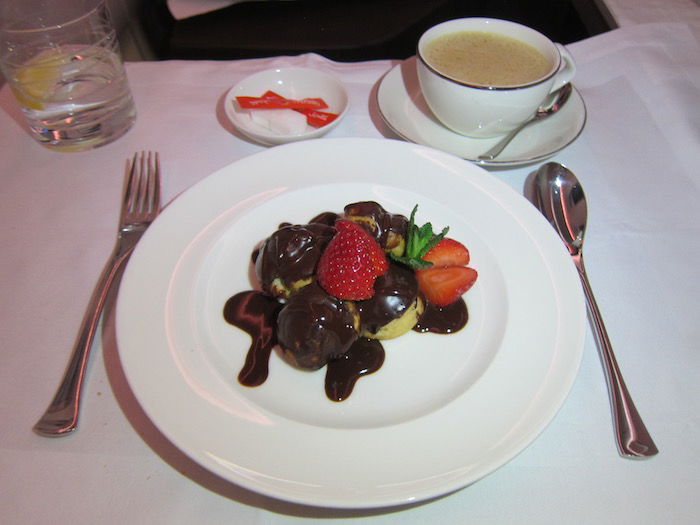 And then you have some real special treats, which many of us will gladly enjoy on planes but would never pay for on the ground. For example, the caviar and Krug service in Cathay Pacific first class. Each passenger gets a tin of Calvisius caviar, which is excellent quality.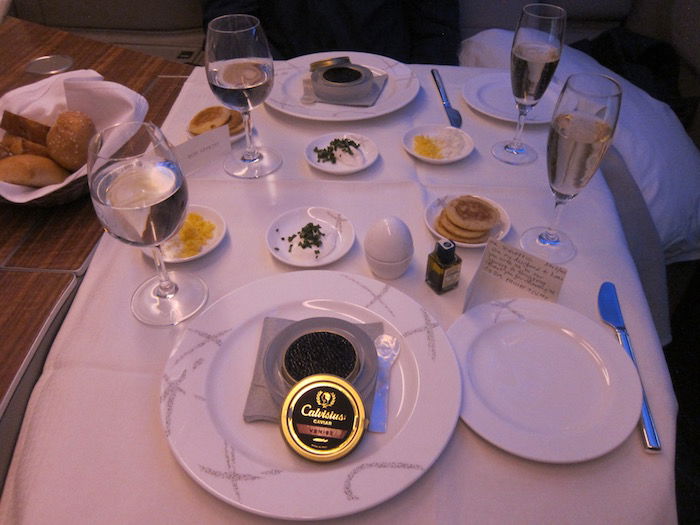 Now, it's proven that your taste buds aren't quite as alert at altitude as on the ground, so some would argue you can't enjoy it as much in the air. That being said, for me dining is largely about ambiance, and that's something you can't beat when you're flying across an ocean having a face-to-face dinner with someone special in your life.
Bottom line
Airline food is a controversial topic which elicits strong opinions. You have some people who think airplane food can be as good as anything served on the ground, while you have others who compare even international first class dining to dog food.
I think there are some fantastic dining experiences to be had in the air. While business class food on many airlines might not be something you're willing to pay for in a restaurant, there are certainly exceptions. I've had plenty of meals on planes which I would have paid for in restaurants.
What it comes down to for me is that a large part of my perception and enjoyment of restaurants is based around the ambiance. In other words, I'll almost always pick a restaurant with an awesome ambiance and good food over one with marginally better food without a good ambiance.
As an aviation geek, there's no better ambiance in the world than on a plane on one of my favorite airlines. So yes, some of my favorite dining experiences have been in Cathay Pacific first class, Emirates first class, Etihad first class, etc.
Where do you stand on airplane food?