The Airbus A220 (formerly known as the Bombardier CSeries, though in the meantime Bombardier has sold their whole stake) has proven to be incredibly popular with both airlines and passengers. Airlines have already ordered 530 of these planes, and Airbus hopes the order book will increase significantly over time.
Why the A220 is so popular with airlines and passengers
There's a lot to love about the A220, regardless of whether you're an airline or a passenger.
From the perspective of airlines:
The plane fills a gap that isn't otherwise being served, as the two variants of the A220 have between 100 and 150 seats, give or take; this makes the plane larger than regional jets, but smaller than the A320 and 737
The A220 is incredibly fuel efficient, at least 20% more fuel efficient than previous planes serving that market
The plane has incredible range, and can fly 3,000+ miles nonstop, making it versatile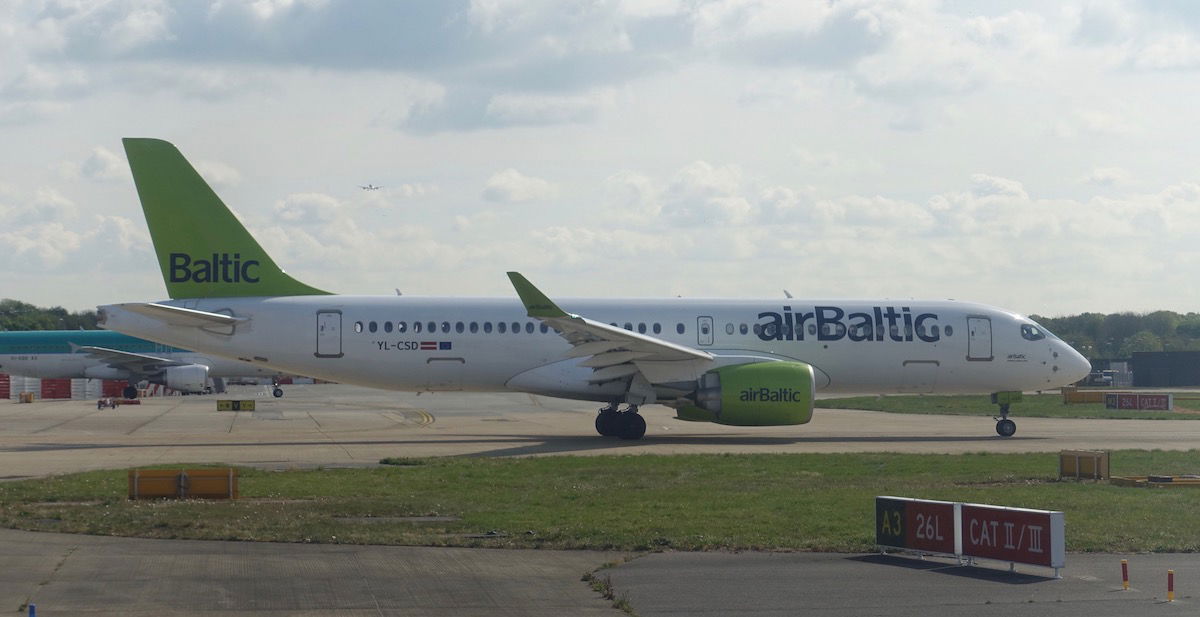 airBaltic A220-300
From a passenger's perspective there's also a lot to love about the plane:
The plane has many of the comforts you'll find on an A350 or 787, while still being a narrow body
The A220 is in a 2-3 configuration, so there's only one middle seat in each row
The A220 has a quiet and modern cabin
Here's my experience flying Delta's A220 first class, to give you a sense of what it's like to fly on the plane.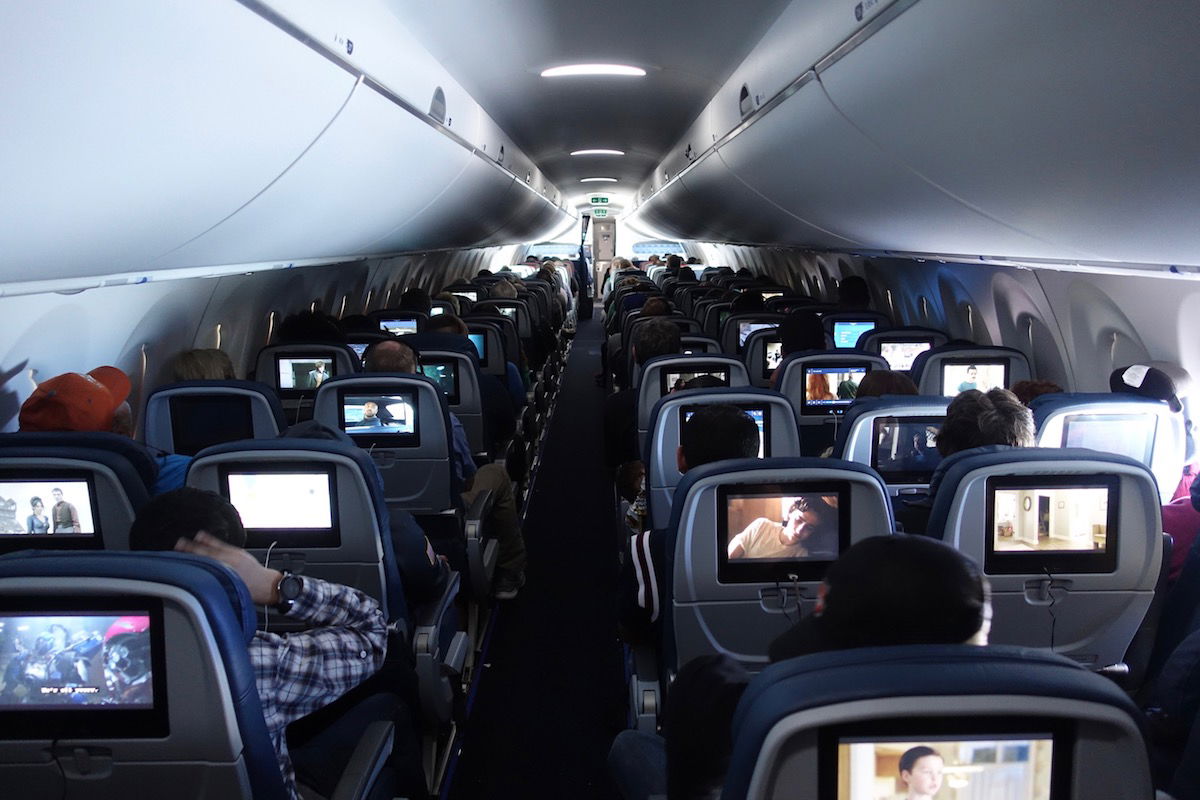 Delta A220-100 cabin
Airbus announces A220 range improvement
Airbus is making big improvements to this plane without even technically relaunching it. Airbus has announced that the A220 will be offering increased range starting in the second half of 2020.
Essentially Airbus is able to increase the maximum takeoff weight (MTOW) of the A220 by 2,268kg. This is being achieved by taking advantage of existing structural and systems margins, and increasing existing fuel volume capacity.
With this change:
The A220-100 will have a maximum range of 3,400nm
The A220-300 will have a maximum range of 3,350nm
For both the A220-100 and A220-300, the maximum range of the plane is being increased by about 450nm.
As Airbus' Chief Commercial Officer describes it:
"In true Airbus tradition we improve our products constantly. This new MTOW will allow operators to reach markets which today cannot be served by other small single-aisle aircraft types."
What routes does the A220's increased range open up?
Obviously Airbus hopes that this increased range will result in more orders for the plane. Airbus points out that this increased range will allow airlines to operate new routes from Western Europe to the Middle East, or from Southeast Asia to Australia.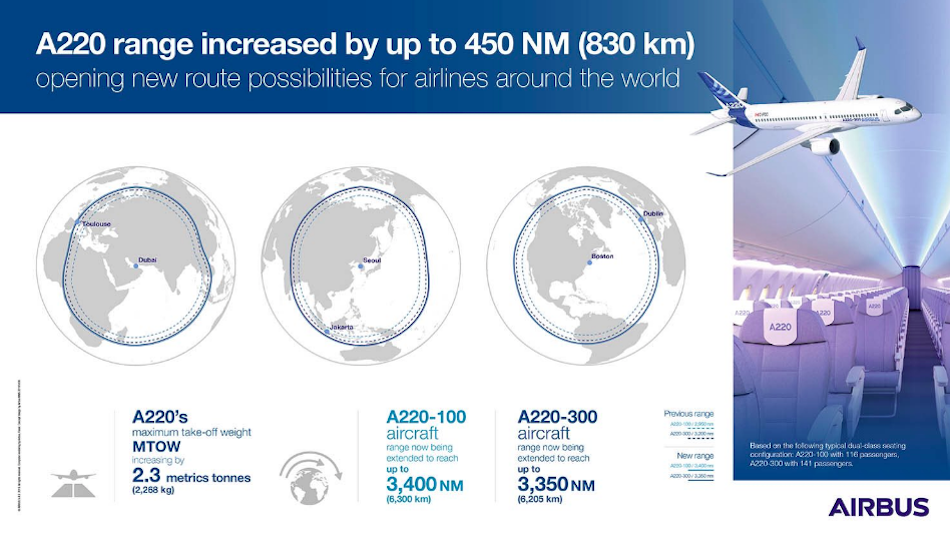 We've also heard quite a bit about the possibility of airlines using the A220 for transatlantic operations. With the previous range of the plane, operating transatlantic flights was right at the margins, while now it could easily be done.
For example, take the 3,350nm range on the A220-300 (which is the shorter range of the two planes). With that increased range all kinds of routes are easily possible from the US East Coast to Western Europe (this map shows a 3,350nm range from Boston).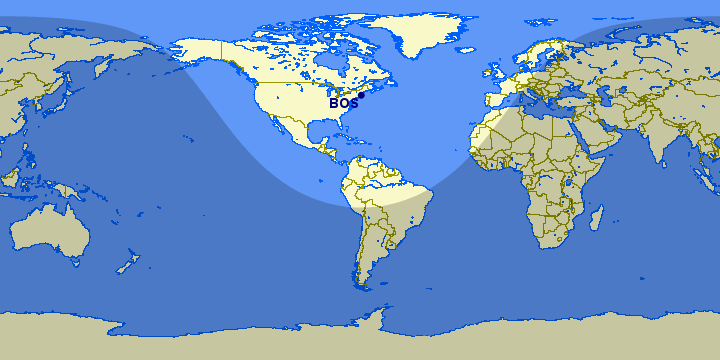 Yet interestingly in Airbus' press release they talk about the potential to fly from Southeast Asia to Australia, and the potential to fly from Western Europe to the Middle East.
Why aren't transatlantic flights mentioned? Because it seems the demand just isn't there. Airlines are already using planes like the A321 and 737 for transatlantic flights, and those are considered to be low capacity planes for transatlantic flights. So I guess operating even smaller planes has limited appeal.
Bottom line
Airbus improving the range on the A220 even further is quite impressive. In fairness, though, the plane already offered really good range.
While the A220 is a fantastic plane, and while there are a lot of "long and thin" routes out there, I do think demand for operating these planes on 3,500+ mile flights is fairly limited.
I'll be curious to see just how many airlines take advantage of the A220's incredible new range.
What do you think — is there demand for airlines to operate 3,500+ mile flights with 100-150 seat planes, or do the A320/737 family aircraft have that covered?