Well here's an interesting new route that's surprising on the surface, but also quite logical…
Air Seychelles launching flights to Israel
Air Seychelles has announced that they plan to launch a once weekly flight between the Seychelles and Israel as of November 27, 2019. The flight will operate on Wednesdays with the following schedule:
HM22 Mahe to Tel Aviv departing 5:30PM arriving 9:50PM
HM21 Tel Aviv to Mahe departing 11:55PM arriving 8:15AM (+1 day)
The flight will cover a distance of over 2,850 miles in each direction, and is blocked at 6hr20min. This will be Air Seychelles' new longest route.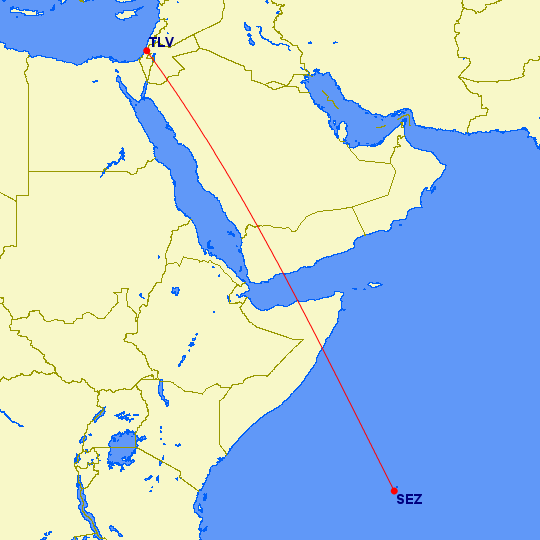 The flight will be operated by an Airbus A320neo featuring a total of 168 seats, including 12 business class seats and 156 economy seats. Air Seychelles has two of these on order, the first of which will be delivered this month.
The logic for this route
A once weekly flight isn't exactly earth-shattering, but there are a couple of reasons I find this route to be interesting.
First of all, for some background, Air Seychelles is 40% owned by Etihad Airways, and as is the case with many of Etihad's investments, this one hasn't worked out too great, and Air Seychelles was forced to restructure. The airline used to have a couple of A330s, and they flew to Paris, though they cut those flights as of 2018.
At this point Air Seychelles has just seven planes, five of which are props (they're getting two more A320neos). At this point Air Seychelles doesn't even fly to Abu Dhabi anymore.
That brings me to the two reasons I find this noteworthy.
Israel/UAE relations
With this development, Air Seychelles will fly to Israel but not to the UAE. On some level that's interesting, given that the UAE doesn't even recognize Israel as a country, yet this will be the new longest route for an airline they have such a big stake in.
Ultimately that's not too surprising, as we often see a disconnect when it comes to strong political stances like this. For example, Qatar Airways owns a 49% stake in Air Italy, and Air Italy has made a point of talking about how pro-gay they are.
Why this route makes sense
How is a once weekly route to Israel supposed to make sense? As explained by Air Seychelles' CFO:
"We have taken a very cautious approach by partnering with tour operators in Tel Aviv to secure the majority of seats to be sold from Tel Aviv as one or two weeks packaged holidays in the Seychelles and Mauritius to ensure we guarantee the profitability of the year round business.

Seychelles is considered as a safe and secure destination for Israeli's hence the once per week service will enable us to open up the Seychelles market, evaluate and develop the destination further in addition to exploring the possibility of even introducing the second Airbus A320neo on the route if need be as Tel Aviv has a high GPD per capita."
Wow, a well thought our route!
On top of that, Air Seychelles is establishing an interline agreement with EL AL, which will enable passengers to connect from 20 destinations in Europe to the Seychelles via Tel Aviv.
Essentially Air Seychelles will be routing people on EL AL to Europe, rather than on Etihad, given that they don't fly to Abu Dhabi anymore.
One other interesting potential thing here is that historically Israel's Tourism Ministry grants airlines 250,000EUR if they launch a new route, even if it's only once weekly. So I'm sure that will go a long way towards covering the operating costs of this flight.
Bottom line
This is a really creative route for Air Seychelles to launch, though it makes perfect sense. Assuming they actually think they can get significant tour business this route could do quite well, especially when you factor in the grant that Israel gives airlines launching new routes.
And like I said above, there is an irony to the 250,000EUR payment from Israel indirectly going into the UAE's pockets, though such oddities exist in many area.
Congrats to Air Seychelles for thinking outside the box.