Last September, Air India announced that they would launch 3x weekly flights between Delhi and San Francisco as of December 2, 2015. This would represent Air India's longest route, at 7,706 miles in each direction.
While Air India's other US flights (to Chicago, New York JFK, and Newark) are operated by 777-300ERs, the San Francisco flight is operated by a 777-200LR. This is a fairly sparsely configured aircraft, with just 238 seats, including:
8 first class seats
35 business class seats
195 economy class seats
This plane features double the first class capacity of the larger 777-300ER, which has just four first class seats. I don't think there's actually a great reason that Air India has double as many first class seats on the smaller version of the 777. I assume it's just because Air India is state run and fairly disorganized, and there were probably different people in charge of the decision making process when the configurations were decided on for the two plane types.
Well, Air India has now announced that they're cutting first class on their three 777-200LR aircraft altogether, which they use primarily for the San Francisco route (Air India used to have more 777-200LRs, but they sold them to Etihad).
Via The Economic Times:
State-run Air India has decided to do away with the First Class cabin on its Delhi-San Francisco flight in view of "low occupancy," barely a month after the carrier launched the services operated by a three- Class B777-200LR aircraft.

"We have seen just about 25 per cent occupancy in the First class cabin while the same for business class has picked by 30-35 per cent since the launch. Therefore, we have decided to operate the flight in two class configuration removing first class seats and adding more in the economy cabin," airline sources said.

As part of the plan, the economy seats after the reconfiguration will go up to 298, they said.
That means they've seen an average of two of the eight first class seats occupied per flight, and my guess is that this is even an exaggeration.
But what's pretty remarkable is just how many economy seats they're adding. They're supposedly going from 195 economy seats to 298 economy seats — that's an increase of 103 economy class seats on Air India's 777-200LRs.
Right now Air India's 777-200LRs have among the most spacious economy cabins, with just nine seats per row and 34″ of pitch. I'm guessing that they'll be reducing the seat pitch and also going to the now-industry standard ten seats per row. And frankly given that very few people voluntarily fly Air India, I can't blame them — it's not like people are paying a premium for the added space on Air India, as their economy seats are significantly more spacious than on Emirates, Etihad, etc.
The reconfiguration process shouldn't cause any service interruptions on the San Francisco route. Air India has three 777-200s, so by reconfiguring them one at a time, they can still operate the route without any downtime:
The sources, however, said that the airline will not have to deploy any more planes on the San Francisco route during the reconfiguration period, which requires grounding of an aircraft as the entire exercise will be completed on rotation.

"We have three B777-200LR and all these will not be reconfigured together, but by turn," they said, adding that the airline was expected to incur upto USD 2 million on reconfiguration of each aircraft.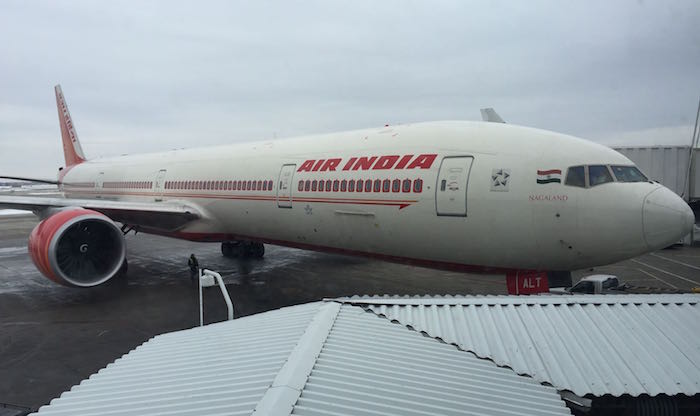 Bottom line
I guess I'll be flying Air India first class on this route just in time, and can't wait to review it. While I'm sad to see first class eliminated, I also commend Air India for running the airline like a business, for once. Adding another 103 economy seats to the flight greatly increases their odds of turning a profit on the route, or perhaps at least not bleeding money.
What do you make of Air India eliminating first class on their 777-200LRs?
(Tip of the hat to James)