It's not uncommon to see airlines paint planes in special liveries, particularly retro liveries that commemorate the carrier's past. A few weeks ago I posted about Air Canada's beautiful new plane in a retro livery, and the airline has today officially unveiled it.
Air Canada's special livery Airbus A220
Air Canada has just taken delivery of a brand new Airbus A220-300 that's quite special. The A220 is the sharpest looking narrow body plane to begin with, and I think it looks especially sharp in Air Canada's standard new livery, thanks to the A350-style cockpit finishes.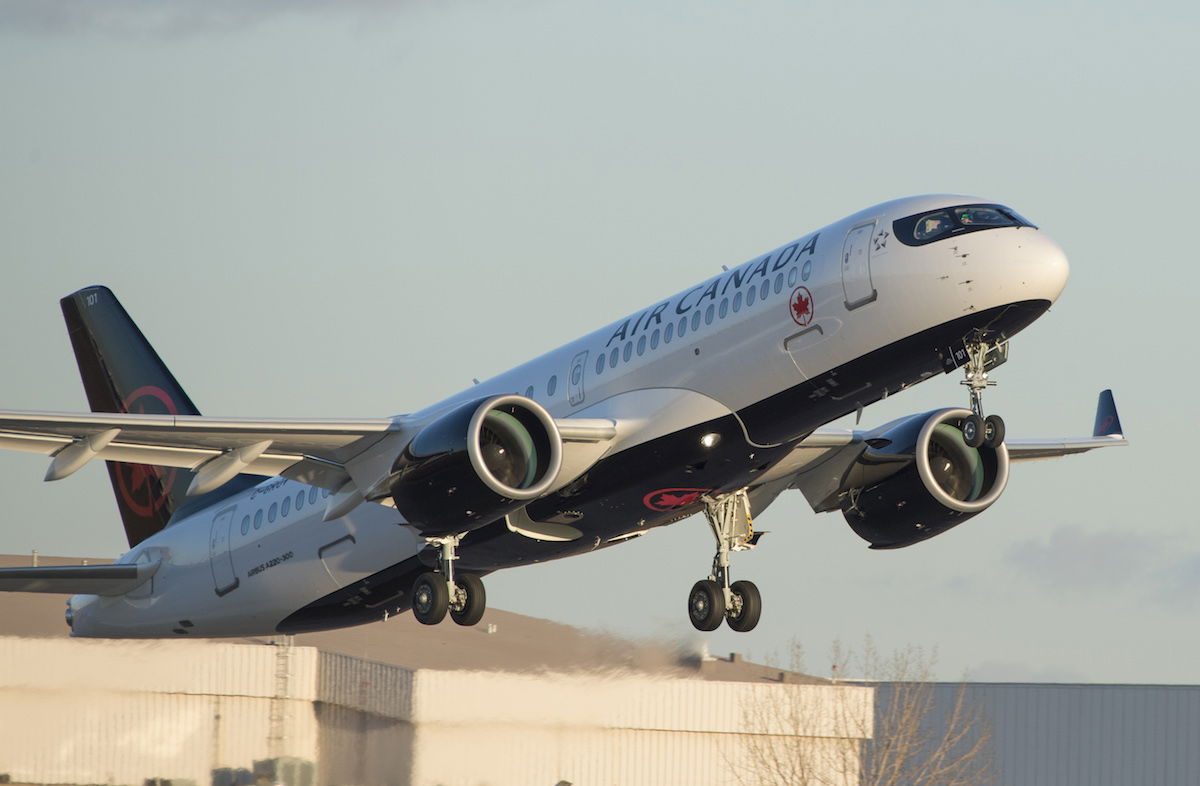 Well, Air Canada's newest A220 (with the registration code C-GNBN) commemorates Trans-Canada Air Lines, the predecessor to Air Canada. Seriously, how cool-looking is this plane?!
People often don't realize just how much work goes into painting an aircraft, so here are some fun facts:
It took nine days to paint this A220
75 Airbus Canada employees from a variety of teams were involved in painting
Four colors were used for the livery
350 liters of paint were used
Here's an awesome video of the plane being painted:
What was Trans-Canada Air Lines?
For those of you who don't know the history, Trans-Canada Air Lines was founded in 1937, and in 1965 it was renamed Air Canada. So this isn't even the case of commemorating a takeover, or anything, but rather just a rebranding.
This isn't the first time Air Canada painted a plane in the Trans-Canada Air Lines retro livery. The airline had painted an Airbus A319 (with the registration code C-FZUH) in the livery back in 1997, to celebrate its 60th anniversary. That plane was finally retired in January 2021 after 24 years of service, so it's cool that just a couple of months later a new plane is emerging in this livery.
Photo credit: NEKskier
For context, since the Trans-Canada Air Lines brand ceased to exist over 55 years ago, below is what a DC-8 looked like at the airline back in 1964, shortly before the rebranding.
Photo credit: Ralf Manteufel
I'm not sure if it comes down to picture quality so many years ago or what, but the livery does look a bit different, and specifically the base paint coat seems to be white rather than silver. Frankly the modern interpretation looks much sharper, in my opinion.
Bottom line
Air Canada's newest A220-300 will be in a retro livery to commemorate Trans-Canada Air Lines, which is what Air Canada was known as until 1965. I love the look of this jet — when you combine the sleekness of the A220 with this livery, it's just one-of-a-kind.
Do you love this Air Canada A220 in the Trans-Canada Air Lines livery as much as I do?