Expo 2020 is about to kick off in Dubai (just a wee bit behind schedule), and Emirates is celebrating with one of the boldest special liveries I've ever seen.
Emirates' head-turning Expo 2020 A380 livery
Emirates has today revealed a special Airbus A380 livery, intended to promote Expo 2020 around the world. The plane that features this special livery has the registration code A6-EEU, and it's a roughly eight year old Airbus A380. This will be the first of three Airbus A380s to feature this livery.
The A380 will be operating its very first flight in the new livery from Dubai to Los Angeles, tomorrow, September 29, 2021 (this could be a good opportunity for plane spotting!). You can track the plane here, should you want to see future movements.
The special livery is a major departure from Emirates' traditional white and gold paint scheme. This one instead features a bright blue livery with large-scale graphics in green, orange, pink, purple, and red, running all the way across the fuselage, and even all the way up the tail.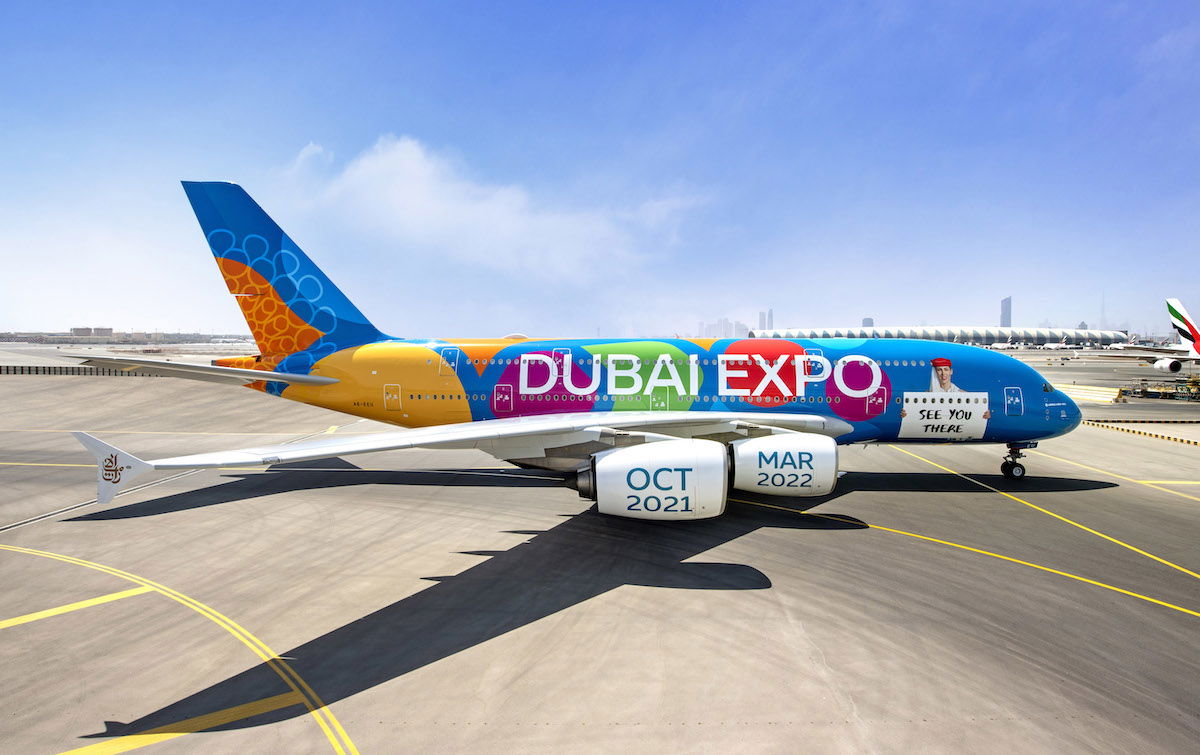 Special "Dubai Expo" and "Be Part of the Magic" messages run across both sides of the fuselage. The engine cowls also carry the Expo 2020 Dubai messages and dates of the event.
Another cool feature is that the awesome stuntwoman who climbed the Burj Khalifa and appeared in a recent viral Emirates ad is depicted on the plane, carrying a sign that says "See you there" and "Dubai Expo Oct-Mar 2022."
The work that went into this special livery
Over the years Emirates has had all kinds of special liveries. In the last five years alone, the Dubai-based carrier's A380s and 777s have featured close to 50 unique designs. This isn't even the first Expo 2020 special livery — Emirates has had 40 other special livery aircraft dedicated to Expo 2020, though all the other paint schemes are a bit more subtle.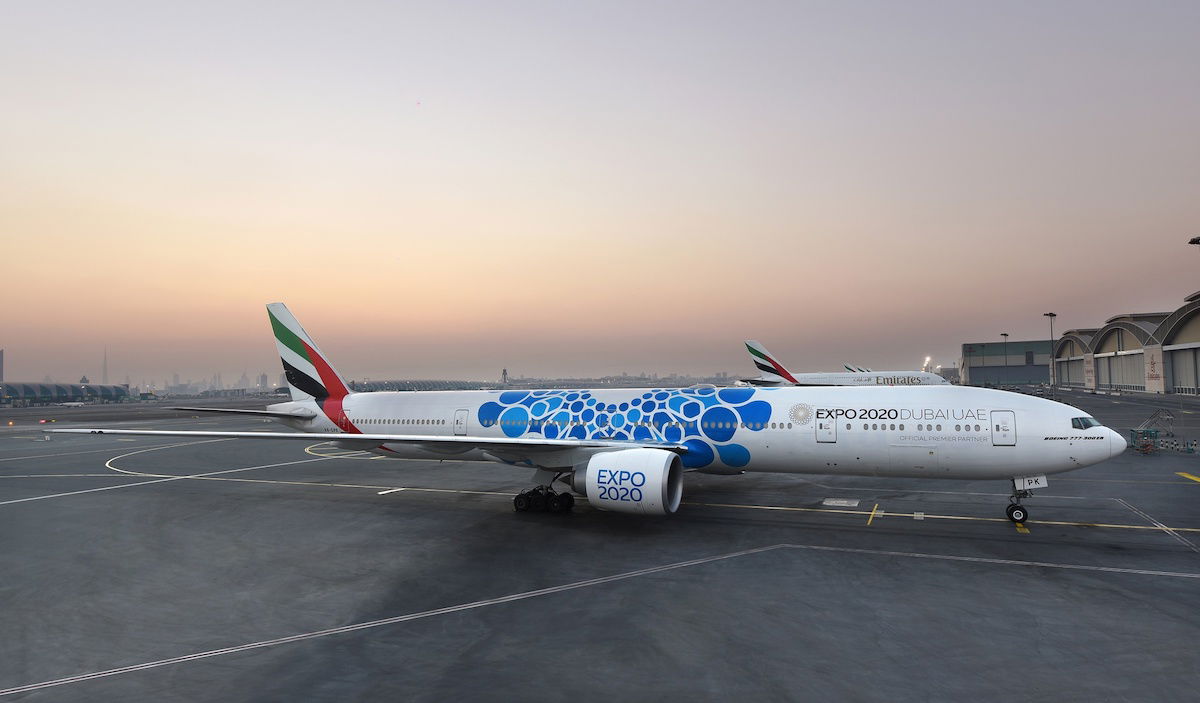 So while Emirates is no stranger to special liveries, this is the biggest such project that the airline has ever embarked on. The project took 16 days and 4,379 man-hours to complete.
A nose-to-tail paint job had to be done to get the plane to this point — everything is real paint, except the engine cowls and the image of the Emirates cabin crew holding message boards, which are decals. This process started with stripping the plane of its paint, and then applying 11 colors through a combination of electrostatic spray guns and conventional cup guns.
Bottom line
Emirates has revealed its boldest Expo 2020 special livery to date. It's already on one Airbus A380, and two more A380s should be getting this special paint job soon.
Personally I'm not sure how to feel about the livery — it definitely stands out and will make everyone look, and that seems to be the goal. However, I wouldn't describe this as being particularly elegant or on-brand for Emirates. I hope to see this A380 "in the flesh" at some point!
What do you make of Emirates' latest special livery?