The US Attorney's Office of the Eastern District of New York has filed charges in what it calls a "$50 million Russian smuggling scheme."
An indictment and complaint were unsealed on Monday in federal court after an extensive investigation by the Federal Bureau of Investigation (FBI), Customs and Border Protection (CBP), and the New York City Police Department (NYPD).
10 individuals have been charged with transporting $50 million in electronics from the US to Russia. The electronics were mostly Apple products, and many were even stolen.
All of the electronics were transported on Aeroflot flights, and most of the smugglers were Aeroflot employees. As a result, the Department of State has revoked visas for 113 Aeroflot employees, for their participation in the scheme.
The smugglers generally fit into one of two categories:
Aeroflot employees who were traveling as passengers, presumably using their travel privileges
Aeroflot employees who worked New York flights (perhaps specifically bidding for them), and would then transport electronics back to Russia
In all cases, smugglers received instructions from the person at the center of this operation, who would coordinate handoffs in New York.
Searches of luggage of Aeroflot crew members and employees revealed millions of dollars worth of electronic devices. For example:
Between August and December of 2019, one man took four trips from the United States to Russia, transporting over 1,000 Apple products valued at over $1 million
On October 9, 2019, he carried nine suitcases containing 235 Apple products, with an estimated value of $250,000; one has to wonder if customs staff in Russia were in on this, because I feel like typically traveling with nine suitcases would be a guaranteed way to get pulled over when going through customs
When a search warrant was executed on the residence of the guy in the center of all this, over $600,000 in cash plus a large number of Apple products were discovered.
Of course no announcement of a bust like this is complete without some bad attempt at humor. As the FBI Assistant Director-in-Charge said:
"If you believe it is acceptable to exploit positions with a foreign airline to smuggle millions of dollars in illegal goods back to Russia as we allege, the answer is Nyet."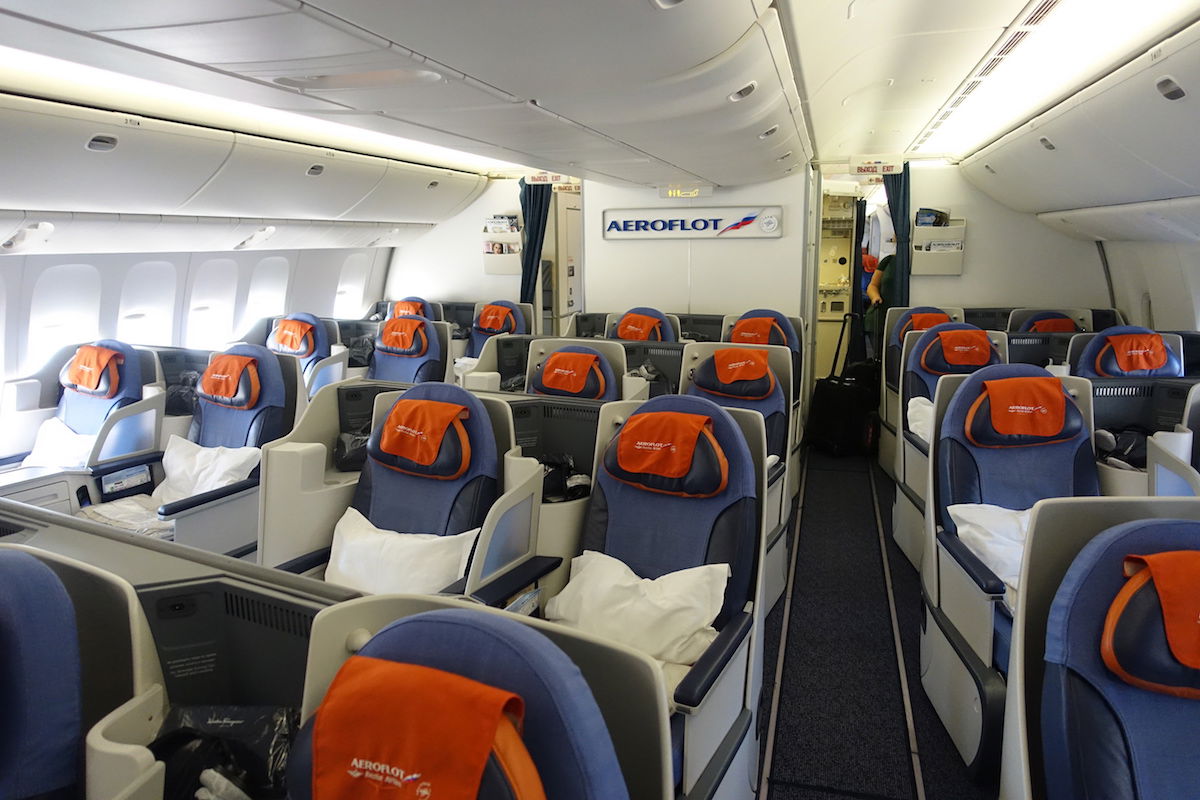 Aeroflot's 777 business class
Bottom line
10 people have been charged in a scheme that involved smuggling tens of millions of dollars worth of electronics on Aeroflot flights from the US to Russia. These were mostly Aeroflot employees, with many working trips to New York, and presumably just making some extra money along the way.
This is far from the first time that we've seen a story of airline employees involved in some sort of a smuggling scheme, though this certainly seems like one of the larger scale and more coordinated efforts that has been uncovered.
In the US we've sometimes seen flight attendants act as drug smugglers, which is easy enough for them to do when they can bypass security thanks to their "Known Crewmember" status.
This Aeroflot scheme seems gutsy, especially when you have one person traveling with nine suitcases that have 235 Apple products…