Earlier this year I wrote about how a five person Canadian airline crew had been trapped in the Dominican Republic since April (including being jailed), after reporting that they found suspicious packages on their plane. There's a positive update to this story, so let's recap everything that has happened.
200kg of cocaine found on Pivot Airlines jet
On April 5, 2022, Canadian charter operator Pivot Airlines was supposed to operate a flight from Punta Cana, Dominican Republic (PUJ), to Toronto, Canada (YYZ), using the carrier's sole CRJ-100ER. During pre-flight checks, a maintenance engineer (who was part of the carrier's crew) found black duffel bags in the maintenance bay, which typically wouldn't hold luggage.
The crew immediately reported this to authorities in both the Dominican Republic and Canada, since they didn't know if it was drugs, a bomb, or something else. Sniffer dogs were brought out, and it was determined that the bags contained 200kg of cocaine, valued at around $25 million.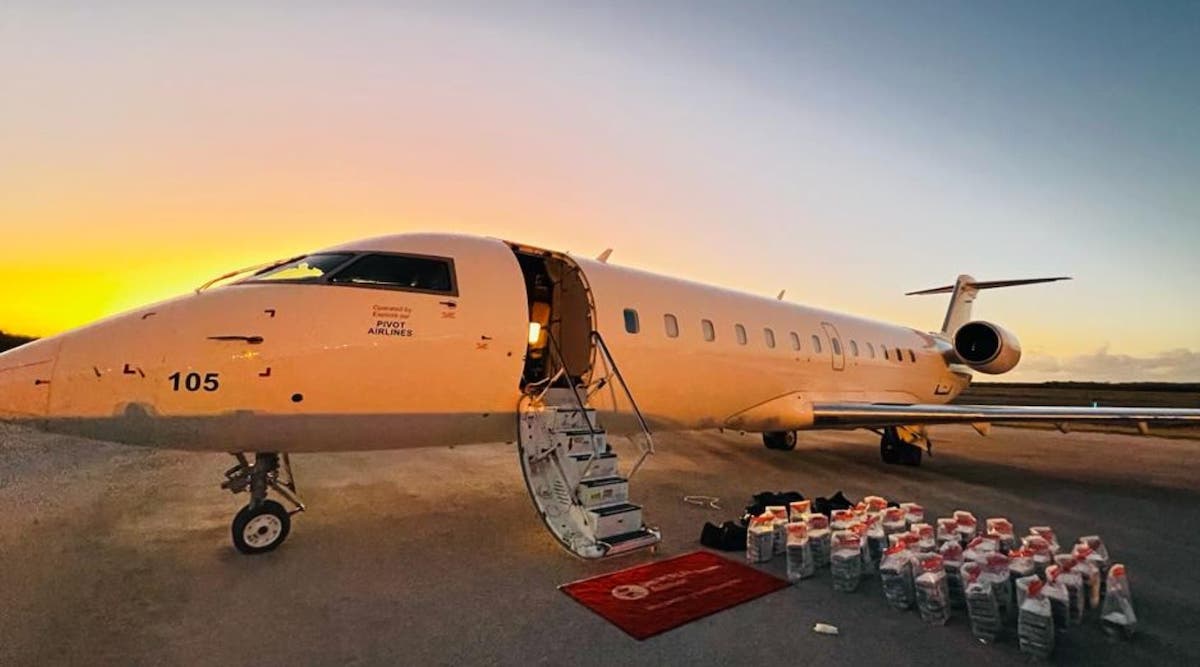 The crew assumed officers would thank them for reporting these findings, but instead the crew faced a very different fate, and would be stuck in the Dominican Republic for months. For that matter, Pivot Airlines' only plane (a 26-year-old jet with the registration code C-FWRR) is still in the Dominican Republic nearly eight months later.
Crew was jailed & detained in Dominican Republic
Following the incident, the entire five person crew was thrown in jail. They stayed there for a period of nine days, and described absolutely horrendous conditions, including being extorted and threatened, having to sleep standing up or next to a hole in the floor that acted as a toilet, and having dead bodies stacked up outside their cells.
After nine days, the crew was released from jail, and put in a safe house in the Dominican Republic that was paid for by the airline, with 24-hour surveillance. The crew wasn't actually charged with anything, and for that matter wasn't even questioned by authorities. Laws in the Dominican Republic allow the country to detain people for up to a year without bringing charges against them.
They were just left in the house and weren't allowed to leave, because obviously the government considered the crew members to be people of interest in this complex drug trafficking case.
The crew members of course maintained their innocence. From the beginning I was inclined to believe that at least most crew members (and most likely all crew members) had no clue about this and were completely innocent, given that they were the ones to report the incident.
Furthermore, as one of the pilots later stated, the location of the drugs would have put them in danger, had they flown:
"There is no doubt in my mind that had we got airborne or attempted to get airborne, we would have been in trouble. They are not aviation professionals who did this. They're jamming bags up there with control cables and threats of fire. It would have been a literal disaster."
Back in June, the crew even made a video with a plea directly to Canadian Prime Minister Justin Trudeau.
Months later, there's finally a positive update…
Crew finally returns home to Canada
On November 11, 2022, authorities in the Dominican Republic announced that the five Canadians would be allowed to return home, as the case finally got dropped.
It still took some time for them to actually return home, though — on the evening of December 1, 2022, the Pivot Airlines crew flew back to Toronto. After being away from their families for eight months, they were thrilled to be reunited, and had quite an emotional reception at the airport.
A documentary is currently being made about their story, which is expected to be released in roughly a week. It's believed that this played a role in them being released at last.
Bottom line
A five person crew of a Canadian charter airline was scheduled to operate a flight from Punta Cana to Toronto in early April, and 200kg of cocaine was found in the maintenance bay during pre-flight checks. The crew reported this to authorities, but rather than being commended for that, the crew was thrown in jail for nine days.
After the crew was released from jail, they spent nearly eight months under house arrest in the Dominican Republic, without once being interviewed or questioned. While I can appreciate the need for an investigation to be performed, holding people for this long without charging them with a crime is pretty awful, especially when they were the ones to report the findings.
These five Canadians have finally been allowed to return home, and have been reunited with their families. It's nice that this story finally has a positive ending, though it's sad to think that eight months of their lives were lost.
What do you make of this story?