Over the summer I wrote about Aer Lingus' new business class, which they're installing throughout their Airbus A330 fleet.
This new product represents a huge improvement over their old angled business class seats. The new cabin will consist of fully flat Thompson Vantage seats, whereby 90% of the seats will feature direct aisle access.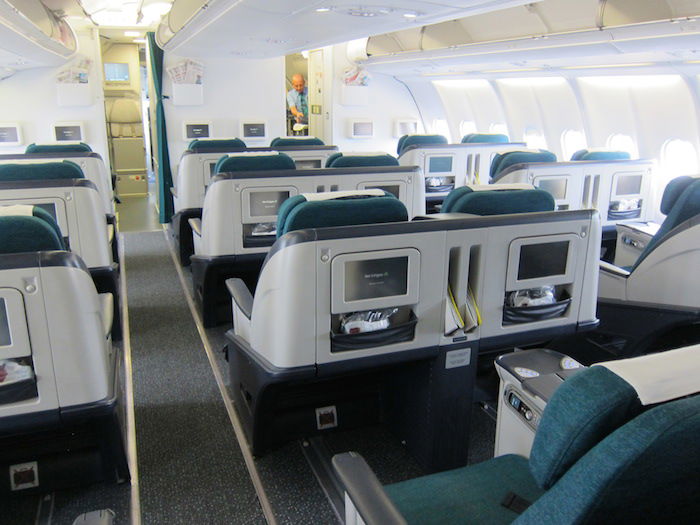 Aer Lingus' old A330 business class
The new business class cabins will have 32 seats, which actually represents an increase in premium cabin capacity.
Anyway, Aer Lingus officially unveiled their new business class product yesterday at a press event in Dublin, and it looks like a really solid product (and I'm totally jealous of the guy who's being poured the biggest glass of champagne ever):
While staggered business class seats aren't my favorite in the world, most of Aer Lingus' flights aren't that long, so the seats are more than sufficient for most of the routes they're operating.
Aer Lingus is also improving their soft product
Beyond the hard product, I'm just so impressed by the ways in which Aer Lingus is improving their soft product.
For example, Aer Lingus will:
Have Wi-Fi throughout their Airbus A330 fleet, with complimentary Wi-Fi for business class passengers
Offer pre-flight dining at their lounges in Boston and New York
Open a new lounge at New York JFK Airport
Offer on-demand dining aboard, so you can eat what you want when you want
Add an arrivals lounge in Terminal 2 at Dublin Airport, for passengers getting off transatlantic flights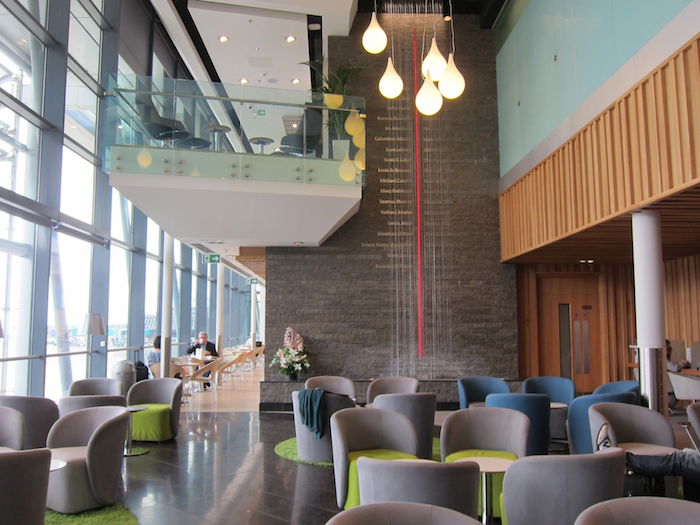 Aer Lingus Lounge Dublin
New Aer Lingus routes coming soon?
I was expecting Aer Lingus to announce some new routes with the press conference, though that didn't end up happening. Rumor has it they'll be announcing some new US routes in the coming weeks, in particular to Dallas.
Which Aer Lingus routes will have the new business class?
I was also hoping they'd publish a timeline for when routes would get the new business class product. The first reconfigured A330 should be flying by March 2015, though no seatmaps have been updated to reflect the new product yet. Apparently San Francisco is supposed to be among the first routes to get the new product (which makes sense since it's their longest route, and therefore a flat bed would make the biggest difference), though it hasn't been officially confirmed.
This product will be accessible for many of us
In our circles, one of the greatest things about Aer Lingus is what a great value it can be to redeem miles on them. Aer Lingus is one of the best values for transatlantic business class travel, given British Airways' distance based award chart.
And keep in mind British Airways doesn't impose fuel surcharges for travel on Aer Lingus, which makes it an even better value.
British Airways Executive Club is transfer partners with American Express Membership Rewards & Chase Ultimate Rewards, so there are lots of ways to rack up those points:
Bottom line
I certainly enjoyed my flights on them a couple of years back in their old business class, so can't wait to try their new business class.
For more on my Aer Lingus experience a couple of years back, check out the trip report:
Are you excited to try Aer Lingus' new business class?