Aer Lingus will soon be taking delivery of their first Airbus A321LR, which will represent an exciting new phase for the airline. Aer Lingus has eight of these planes on order, and intends to use them to expand transatlantic service, and also to get rid of their leased 757s.
Aer Lingus' A321LR plans
Aer Lingus will begin flying the A321LR to Hartford as of July 1, 2019, and to Montreal as of August 8, 2019.
These planes will feature a total of 186 seats, including 16 fully flat business class seats and 170 economy seats.

Aer Lingus bringing back short-haul business class
An interesting side effect of this new plane is that Aer Lingus will also be introducing business class on some short-haul flights. The airline axed intra-Europe business class in 2002, so for the past 15+ years has only offered economy on these flights.
The airline will do this by simply flying A321LRs on some short routes. Most flights from the US to Ireland arrive in the early morning, and most flights from Ireland to the US leave in the afternoon, so most A321LRs would be on the ground in Dublin for 6-8 hours, or even more.
So Aer Lingus is going to better utilize these planes by flying them to some key cities. However, Aer Lingus is taking a different approach than most airlines when it comes to business class:
In Europe most airlines offer an economy seat with a blocked middle and better food and drinks in business class
Aer Lingus will offer a fully flat business class seat, but won't offer a dedicated food and drink program; rather all the food and drinks from economy will simply be free in business class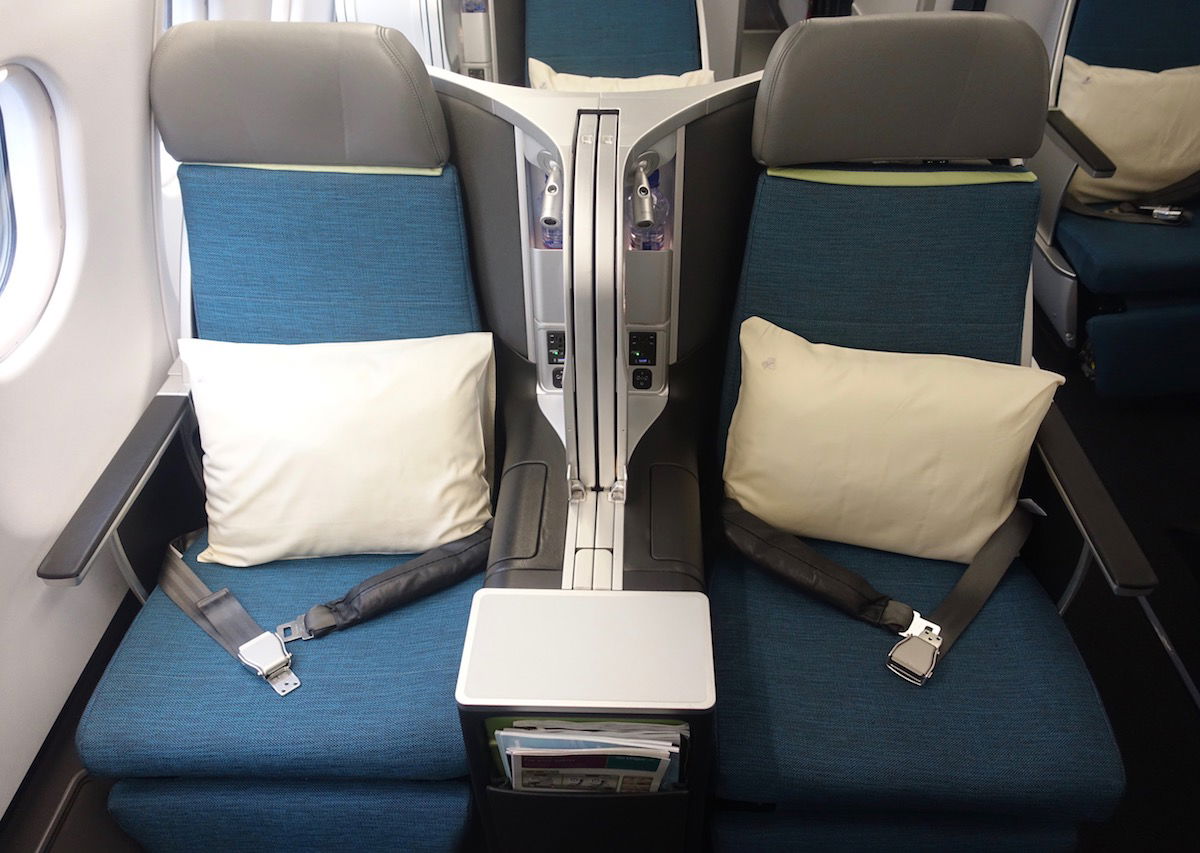 Aer Lingus' fully flat business class
Anyway, many of us have been wondering what the pricing will look like for Aer Lingus' intra-Europe business class, and it looks like we now know.
How Aer Lingus will price intra-Europe business class
Some Dublin to Paris flights now show as being operated by an A321LR as of October 27, 2019.
If you book a business class ticket from the US to Paris you'll see that you're automatically given the option of selecting one of the business class seats on the Dublin to Paris flight at no additional cost.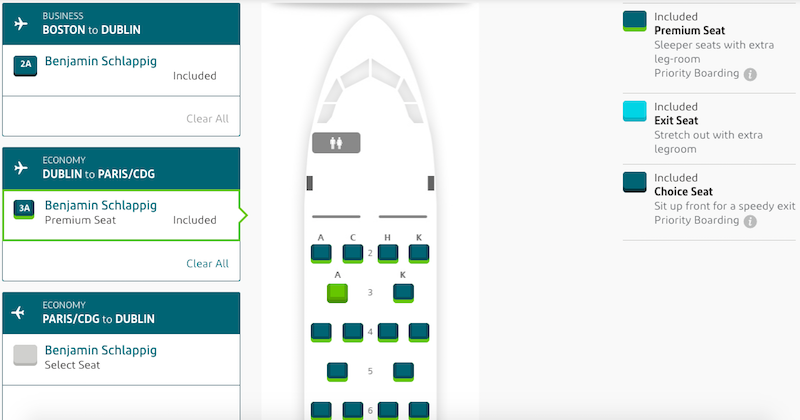 What's interesting is if you're just booking a Dublin to Paris ticket. As of now they're not actually adding a business class search feature for short-haul flights. This might just be because they haven't fully rolled out the functionality, or it could be because so few flights will offer it, and they want to manage expectations.
So you'll still only see the economy option.

Then you can select the type of fare you want — Saver, Plus, or Advantage. Saver fares don't offer free seat assignments, Plus fares allow you to assign standard seats for free, and Advantage fares allow you to assign any seats for free, including business class seats.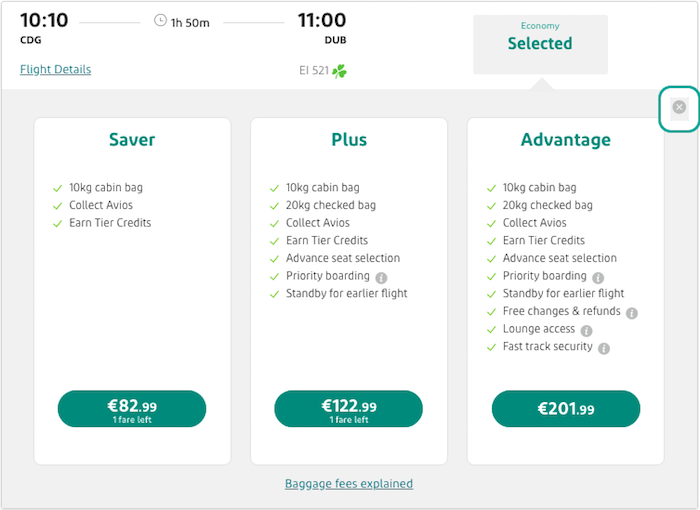 When you get to the seat selection page will you have the option of "upgrading" to business class if you bought a Saver or Plus fare. Pricing for a premium seat is 16.99EUR for a Choice Seat (towards the front of the plane with speedy boarding), 15.99EUR for an Exit Seat, and 74.99EUR for a Premium Seat, which is their business class seating. This is the same whether you're on a Saver or Plus fare.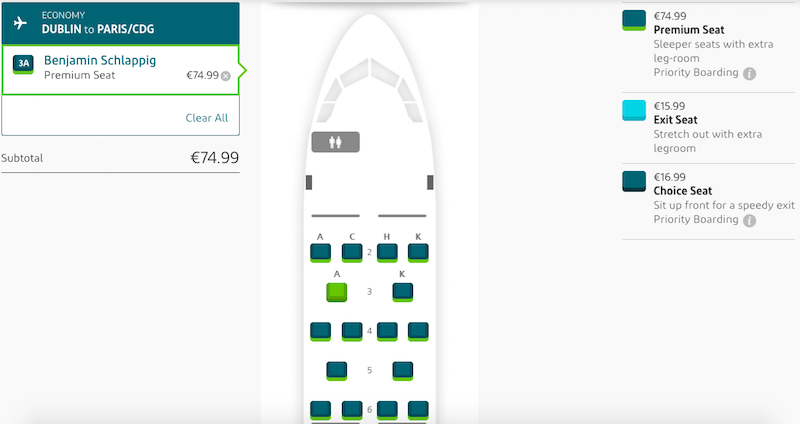 That pricing is much more attractive than I was expecting. Sure, business class doesn't make that huge of a difference on a fairly short flight, but that seems like a reasonable cost to pay for all the extra space, as well as free food and drinks.
Bottom line
Aer Lingus is taking a different strategy to selling intra-Europe business class than other airlines. Instead of selling it as a different class of service, they're essentially offering it as an upsell option during the seat selection process.
I'll be curious to see if this is their permanent strategy, given that they won't have business class on that many short-haul flights, or if this is just something they're doing until they have more planes with business class.
Would you pay 74.99EUR to upgrade a Dublin to Paris flight to a flat bed?
(Tip of the hat to The Flight Detective)