Late last year United introduced their new Polaris international premium cabin experience, which includes new seats, new service, new lounges, etc. I've been fascinated by the new product (largely from a marketing standpoint more than anything else), and have been wondering if the product lives up to the hype.
However, I haven't been sure about the best way to review the product, given that United is already offering the Polaris soft product across the board, yet only a few planes have their new seats so far. It will be at least five years until all planes are reconfigured with the new Polaris seats (and we recently learned about delays with the seat manufacturer, so it could be even longer).
While United is advertising the heck out of the new product, a vast majority of people will only experience the new soft product anytime soon. To me this seems like premature marketing, since it inevitably leads to disappointment when you advertise a product even before it's available on any planes.
However, I may be wrong on that, because it seems to work in a way, and it even convinces some people that their old seats are the new seats. I can't tell you how many people have told me "I flew the new Polaris seat on the 787, it was amazing." None of the 787s have the new seats yet…
With that in mind, I've been trying to think of what the best way to review Polaris product would be:
Should I fly the brand new 777-300ER, which represents the best Polaris has to offer, but is only available on a few planes?
Should I fly one of the old United 777-200s with eight business class seats per row, to see what many people will actually be experiencing for the next several years?
Should I make an effort to fly into/out of Chicago, since that's the only airport with a Polaris lounge so far (which Travis has reviewed)?
Well, in the end I figured I might as well review the best that United has to offer, so I can review what United's future looks like at its best in terms of the hard and soft product. So I'm headed to Hong Kong briefly, in United's brand new 777-300ER business class product. I'll be taking the flight later this week, and am really looking forward to it. United seems to make some last minute saver level business class awards available on the route, so it seemed like a good opportunity.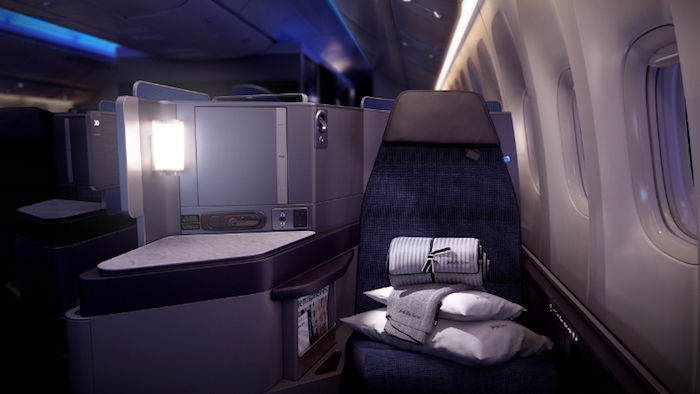 From a review perspective I'm especially excited about this. The airline is clearly very excited about the product, and I've heard service has been improving as a result, as employees take more pride in the product. Furthermore, on ultra-longhaul flights, United even offers pajamas in business class.
Stay tuned, as I should have some thoughts on the product in the coming days. I can't wait to see how much substance there is to Polaris.
Has anyone flown United's new 777-300ER business class? If so, what did you think — is the hard product better than reverse herringbone seats, Apex Suites, etc.?