Through June 1, 2014, Hyatt Gold Passport is offering up to a 20% bonus on the purchase of points. The bonuses are tiered, as follows:
Purchase 1,000 to 19,000 points and receive a 10% bonus
Purchase 20,000 to 29,000 points and receive a 15% bonus
Purchase 30,000 to 40,000 points and receive a 20% bonus
If you max out the promotion and purchase 40,000 points you'd receive a total of 48,000 points at a cost of $960, which is 2.0 cents per point. As a reminder, you can purchase a maximum of 40,000 Gold Passport points per account per calendar year.
While a bonus on purchased points is nice, we have definitely seen bigger bonuses in the past. For example, last November Hyatt offered up to a 30% bonus on the purchase of points, which was an opportunity to purchase points for ~1.85 cents each.
Regardless of whether the bonus is 20% or 30%, that's not a rate at which I'd speculatively purchase Hyatt points. But with a specific redemption in mind, this is still a rate that can definitely make sense.
Hyatt did make some changes earlier this year to their program. First they devalued their award chart by adding new Category 7 hotels, but then they also simultaneously introduced Points+ Cash redemptions.
As a Gold Passport Diamond member, Points + Cash redemptions are my new favorite use of Hyatt points, because:
Confirmed Diamond suite upgrades can be applied on Points + Cash reservations
Points + Cash reservations are eligible for elite stay & night accrual, as well as points accrual
Points + Cash reservations count as qualifying nights for the purposes of promotions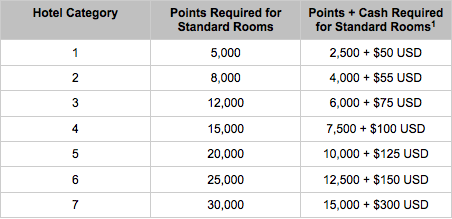 So take a Category 6 property, for example. You could potentially redeem 12,500 points (which you can purchase here for as little as $250) plus $150 for a night at the Park Hyatt Maldives. That's $400 for a property that would cost upwards of $1,000 per night, and you're still getting your elite stay and night credits.
Conversely, it can also make sense to purchase points for some lower category hotels. For example, I've stayed at the Grand Hyatt Santiago, which is a Category 2 property going for just 8,000 points per night, which you could purchase for as little as $160 through this promotion. However, paid rates at this hotel are often $250+ per night, so you can potentially save quite a bit of money by purchasing points in a scenario like this.
So as is always the case in this hobby, you should crunch the numbers and see if this promotion works for you.
As a reminder, Hyatt points purchases are processed by points.com, so wouldn't count as hotel spend for the purposes of credit cards.