I think there's no denying that over the past few years the quality of service at US airlines has declined even further (if that's even possible). Having gone from six legacy airlines down to just three, there's not really that much of an incentive for them to differentiate on service, given that business travelers will for the most part choose the airline with the route network most convenient for them.
One of the biggest perks of having lounge access isn't the unlimited pretzels and soft drinks, but rather the better service you get in the case of irregular operations. The agents there are typically more competent and friendlier than what you'd get in the terminal, and there's not as long of a queue.
Going back several years Admirals Club agents were spectacular, and often referred to as "angels." They'd be able to do things that other agents couldn't — sometimes they'd even make some calls to get upgrades cleared.
I haven't really found that to be the case lately. I'm not sure if that's because I just haven't had many operational issues so haven't needed their help, but in general I just haven't found them as "over the top" friendly.
Today I had my first experience in a while where I was reminded of how awesome some Admirals Club agents are, and how valuable a club membership can be.
I was booked from Newark to Dallas to Las Vegas, and my flight from Newark to Dallas was scheduled to boarding at 12:30PM.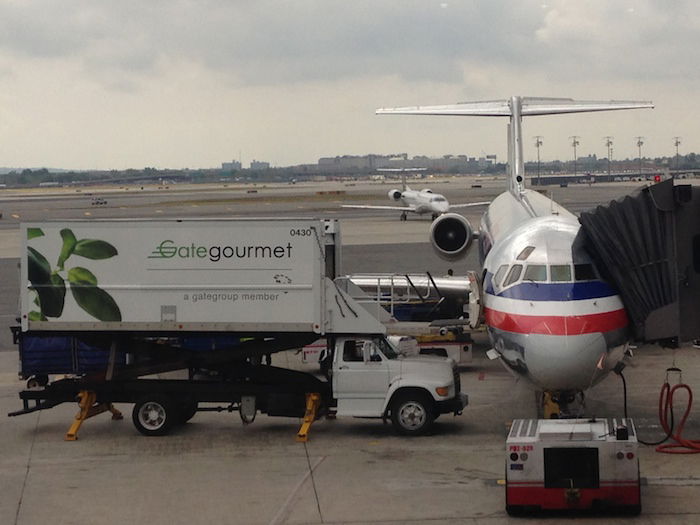 At exactly 12:30PM the gate agent announced that the flight would be delayed until at least 2:40PM, as a flight attendant called in sick so they were waiting on a reserve (as it turned out the delay lasted even longer than that).

A massive queue quickly formed at the gate, though I ran for the Admirals Club.
I gave the guy at the desk my boarding pass, and within a minute of looking at my reservation he found me an alternative through Chicago. Now that in and of itself isn't impressive. What impressed me most were the other things he looked at.
"If I rebook you on this, for your Newark to Chicago flight there's no one else on the upgrade list so you should clear. I can call the gate and see if they'll let me confirm you in first class. Then from Chicago to Las Vegas you'd be on the top of the upgrade waitlist with two seats remaining, and I can snag you a good aisle seat in Main Cabin Extra for now."
I agreed, and he sent me on my way, and said "thanks for your loyalty, Mr. Schlappig."
I know it sounds minor, but it really means a lot. I'm used to being told what I can be rebooked on, but then feeling like I'm massively inconveniencing the agent when I ask about "particulars," like upgrades, available seats, etc.
For example, the new routing would get me in an hour earlier, but if it meant two flights in middle seats in economy I'd rather stick to the (way) delayed routing I had.
The fact that he proactively took care of that really impressed me. Back in the day it might not have impressed me as much, but based on my recent experiences – both with Admirals Club agents and agents at the Executive Platinum desk – this guy was awesome and made my travel day.
While I do share my fair share of negative stories, I like sharing positive ones even more.
Thanks to those of you that work hard to make the travel experience better for all of us!