WOW Air has been growing their route network significantly the past several years. Arguably too fast, given their financial performance. Their first US destination was Boston in March 2015, and since then they've added service to over a dozen other US cities.
WOW Air has now announced their next US destination. As of December 18, 2018, WOW Air will offer 3x weekly seasonal flights to Orlando. This new route will launch as of December 18, 2018, and will operate on Sundays, Tuesdays, and Thursdays eastbound, and on Mondays, Wednesdays, and Fridays westbound.
The plan is for the route to operate through April, so it's clear that this route is intended primarily for Europeans to travel to Orlando, rather than the other way around.
The schedule will be as follows:
WW187 Reykjavik to Orlando departing 4:40PM arriving 8:05PM
WW188 Orlando to Reykjavik departing 4:20PM arriving 4:45AM
The flight is blocked at 8hr25min westbound and 7hr25min eastbound.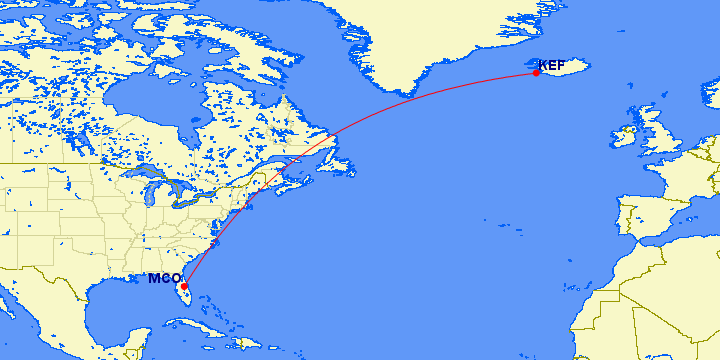 This route will be operated by one of WOW Air's Airbus A321neos. At ~3,534 miles, this will be one of the longer A321neo routes. Also keep in mind that WOW Air has an especially dense configuration, which increases the weight of the plane and reduces range. Given the strong headwinds when flying westbound in winter, I can't help but wonder if they'll have to add weight restrictions on the flight some days, or if this just barely cuts it.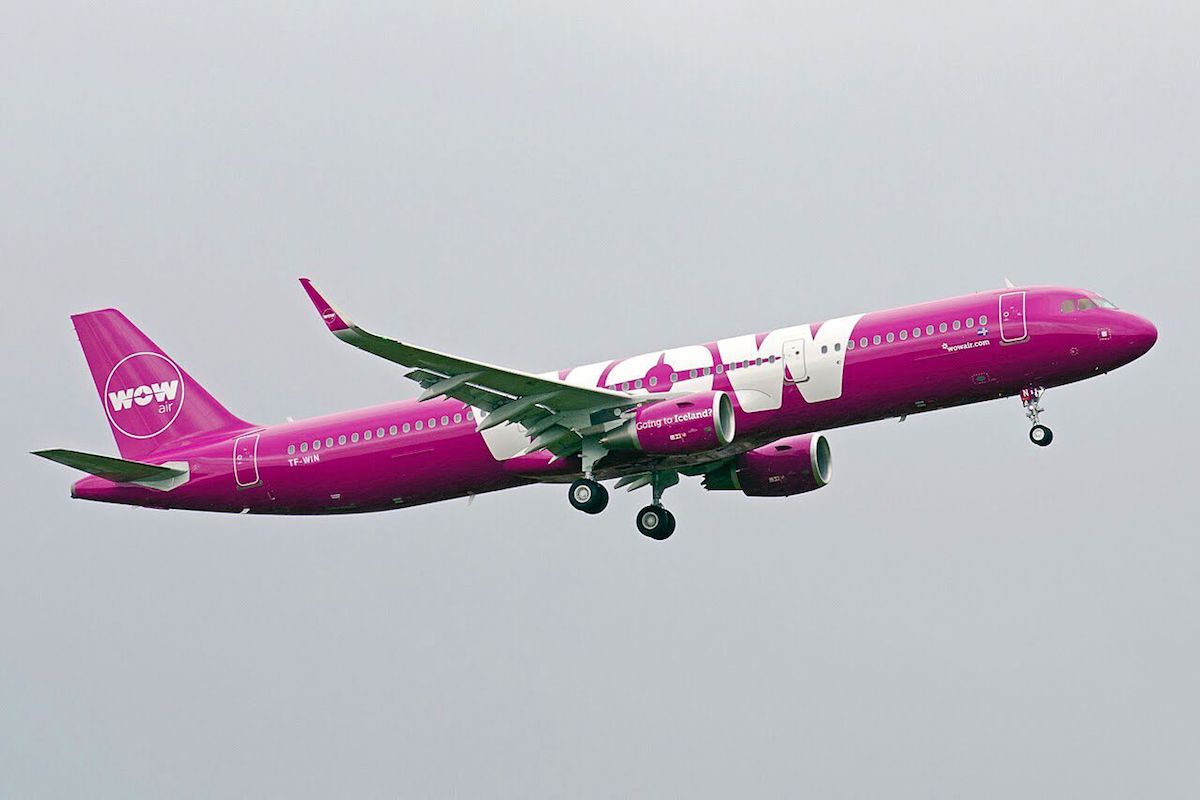 As you can see, WOW Air's aircraft utilization on this route is horrible, as the plane will be on the ground in Orlando for about 20 hours.
That's simply because WOW Air's route network is based around optimizing connections between the US and Europe, so the priority is that all flights arrive and depart Iceland around the same time, rather than having the priority be quick turnarounds at their outstations.
As a result, WOW Air isn't just useful if your final destination is Iceland, but is also useful if you're traveling to Western Europe. They offer connections to over a dozen destinations in Europe, so they're a cheap way to fly from the US to Western Europe with a stop.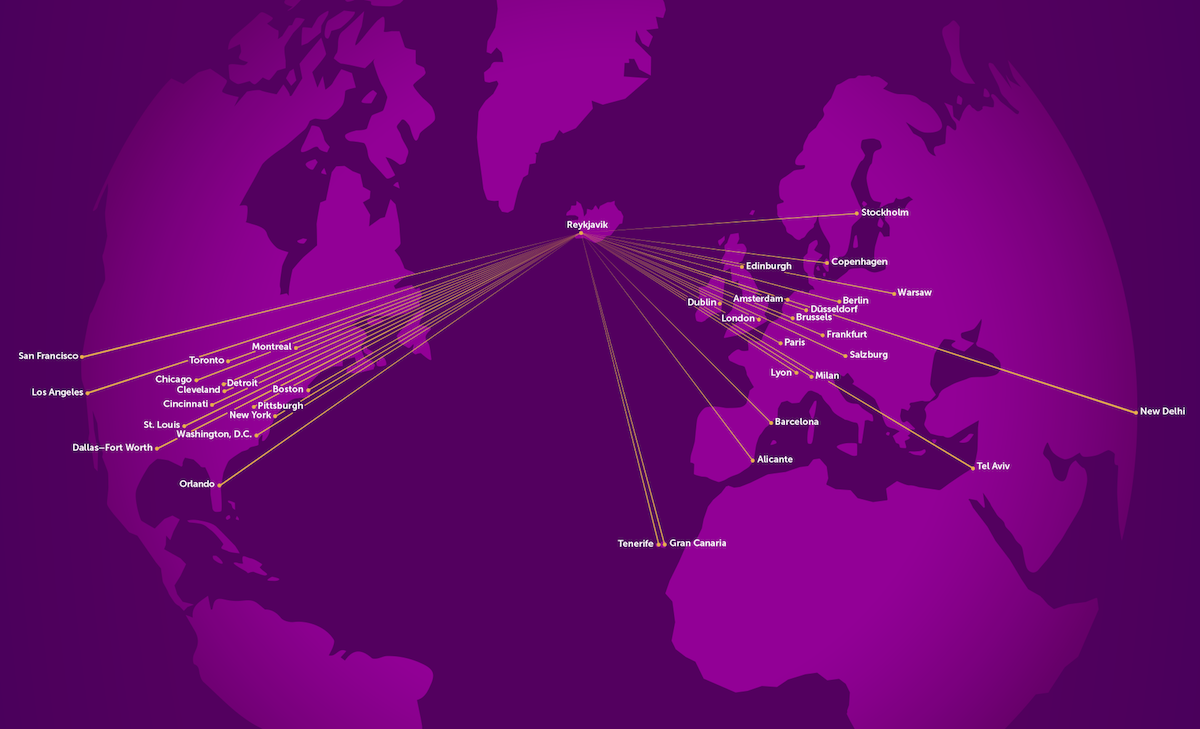 This new flight is now bookable on WOW Air's website, and fares start at just $99 one-way, based on a roundtrip purchase.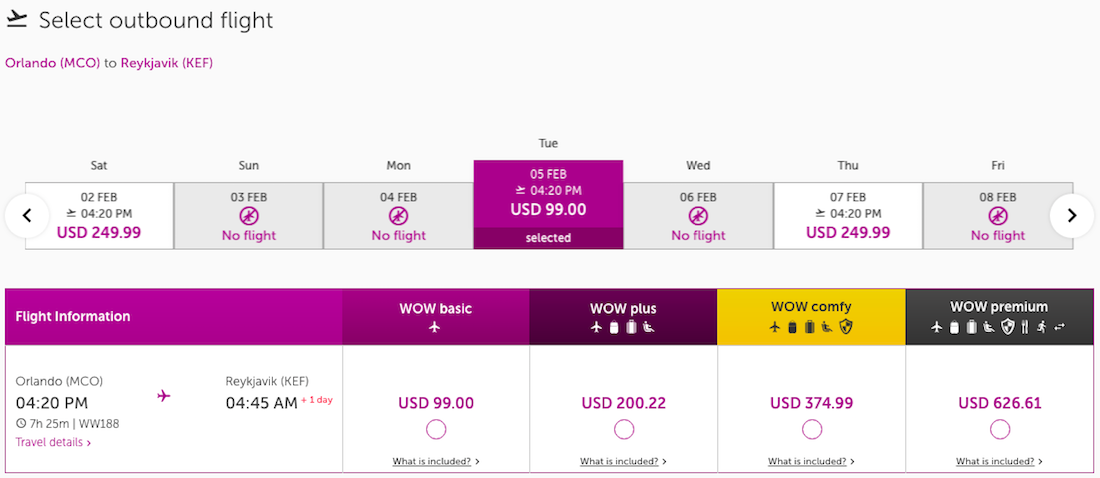 While that has the potential to be a great deal, keep in mind that WOW Air is as "no frills" as they get, as they charge for everything, including bags, seat assignments, food, etc. They even adjusted their carry-on policy earlier this year. So be sure you crunch the numbers before booking, so you can figure out if you're actually getting a good deal. Nowadays transatlantic flights are often also inexpensive on "full service" airlines, so the savings might not be that big in all cases.
When WOW Air first launched US service a few years ago, Gaurav was kind enough to share his experience flying WOW Air between Boston and Iceland, and had positive things to say overall. If you come in with the right mindset, they're a solid option.
Bottom line
WOW Air has been going through some growing pains, as they've been adding and also some canceling routes, and they're not doing great financially. I'm skeptical about their new Orlando route:
Do the economics really add up when a plane has to sit on the ground for 20 hours in order to make the route work? Operating a single rotation takes over 35 hours of one airframe. They did something similar with Miami, but ended up having to cancel the flight.
Orlando is a big vacation destination for families, so how popular will WOW Air be for families when they have to pay for everything (including bags), given how cheap transatlantic flights often are on other airlines in winter?
Will this densely configured A321neo even be able to carry a full load from Reykjavik to Orlando with strong headwinds, or will the flight be weight restricted some days?
What do you make of WOW Air's new route from Iceland to Orlando?