Icelandic low cost carrier WOW Air is known for their cheap transatlantic fares and expensive fees.
While those fees can already be pretty tough to keep up with, it seems like they've quietly made changes to their carry-on policy, for tickets booked as of a couple of weeks ago. Forgetting about the policy for a moment, it's unfortunate that they decided not to communicate this, and don't even acknowledge the policy change on their website.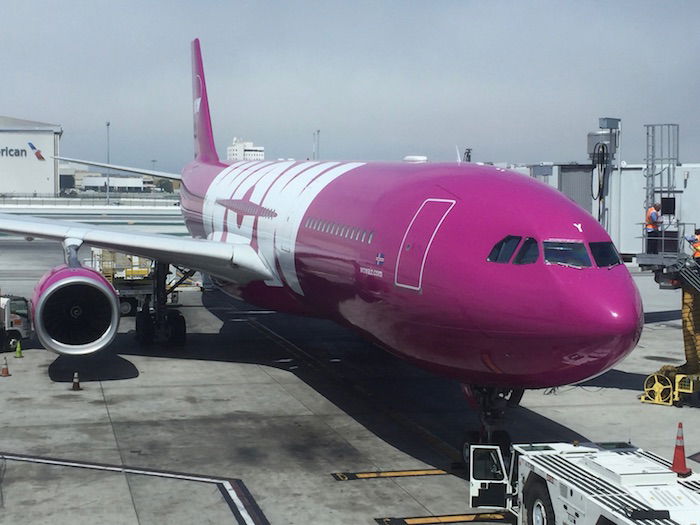 WOW Air's new carry-on policy
Passengers are allowed to carry-on one small personal item for free, with dimensions not exceeding 17x13x10 inches (this is described as a purse, backpack, laptop, or camera bag)
Passengers can pay to take on an additional carry-on item, with dimensions not exceeding 22x18x10 inches
The cost for the additional carry-on item is as follows: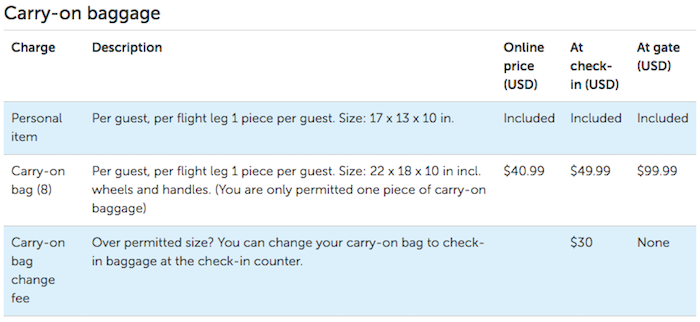 WOW Air's old carry-on policy
Looking at the Wayback Machine, WOW Air's previous carry-on policy was as follows:
Passengers are allowed to bring one small carry-on for free, with dimensions not exceeding 17x13x10 inches OR guests can purchase an allowance for a larger carry-on of up to 22x18x10 inches and not weighing more than 26 pounds, though you're still only allowed one carry-on total (meaning you'd essentially be paying to upgrade your carry-on, rather than get an additional carry-on).
Passengers can also bring on a personal item for free with dimensions not exceeding 17x8x8 inches
The cost for taking on a large carry-on was as follows: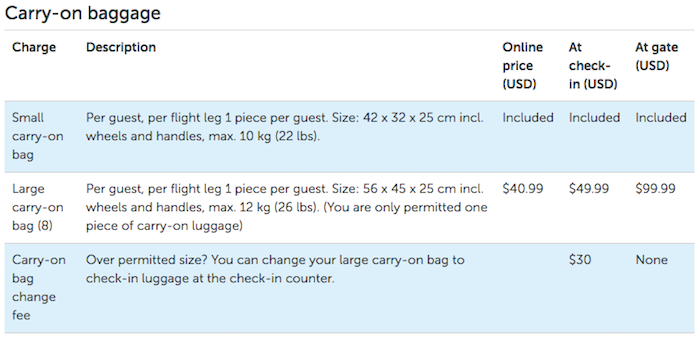 What changed about WOW Air's carry-on policy?
This change is a bit confusing, and it's not actually negative for everyone. Essentially passengers could previously carry-on two small personal items for free, and they'd have to pay if they wanted to bring a large carry-on.
With the new system, passengers have to pay if they want to bring on a large carry-on, though the price is the same as before. If they would have paid for it anyway, they come out ahead, as the second personal item can be larger (17x13x10 inches rather than 17x8x8 inches). Furthermore, it seems that they've eliminated the weight limit on carry-ons, which is good news.
However, if you relied on WOW Air's free carry-on allowance you certainly come out behind, as you can't carry-on as much for free.
If you booked your ticket before this change (which happened sometime in January), the old policy still applies.
My biggest issue here is that they're not even acknowledging the change publicly, so we don't even know on what dates the rules changed.
WOW Air is the second low cost carrier to adjust their carry-on policy in the past few days — Spirit Airlines had a similar policy change a few days ago.
(Tip of the hat to Travel Codex)