I first wrote about WOW Air late last year, which is the Iceland-based low cost carrier which operates out of their Keflavik hub. They recently started service to the US (specifically to Boston and Baltimore), and have had super low introductory fares. Reader Gaurav just completed trip to Iceland on WOW Air, and offered to share his thoughts — thanks very much Gaurav!
---
Flights:
WW126 BOS-KEF April 24, 2015
WW125 KEF-BOS May 5, 2015
WOW Air: Background
We booked these tickets when I saw the deals posted on OMAAT last year about the cheap fares Wow was offering to go to Iceland. I've always wanted to go there to see the Northern Lights and Ice Caves. Those sights were a bust because there is already too much daylight in late April to do either of those things but we had a great time nonetheless.
WOW Air: Preflight
Before going on this trip, I had a hard time finding details about the seating arrangements on the new WOW A321 planes providing service between BWI and BOS and KEF so I took down some notes during the flights. Since my wife and I are both tall, big people, we wanted to make sure we had adequate leg space so we shelled out the extra $33 per person to book the XL seats in advance. We also shelled out $48 for one 20kg/44lbs checked bag between the two of us and took a 5kg/12lbs backpack each (free) on board with us. Adding the extra allowances online was a breeze. I didn't pay for seat assignments for the return because I wanted to see the seat plan in person before paying (turned out to be a good decision).
When I saw better seats after boarding the plane, I tried to do my seat selection for the return but the option to select seats had disappeared from my Manage Booking page. In this and with other general queries, I found the WOW Twitter team very responsive. I tweeted them as the plane was finishing boarding on the outbound and they direct messaged me for my confirmation number, asked if I wanted the same seat assignments for the return, and assigned the different seats I wanted. I then logged back into my booking in Reykjavik and paid for them.
WOW Air: Airport Experience
Since carry-ons and checked baggage are weighed for all passengers, there is no way to bypass manual check-in at the airport (there is no online or kiosk option). There was a decent sized line at the airport in BOS but it was well staffed and moved quickly. We were with an agent in about 10 minutes. Even though we weighed our bags before leaving home, they were a few hundred grams over the limit (maybe a pound and a half). The staff were fairly easy going and told us not worry. I'm not sure what the leeway is for them to start charging for extra weight but fortunately we were on right side. Carry-on bags were tagged with a purple paper strip after weigh in. You are allowed to board with one carry on (a ladies purse counts towards this limit!) and one bag of duty free shopping (we bought a bottle of whiskey since we had heard alcohol prices were very high in Iceland). On the return, the agent didn't weigh our carry-ons at all (maybe because she had a trainee badge on?).
Some suggestion to travelers new to ultra-low cost carriers (maybe superfluous for more experienced travelers):
My wife and I have our usual rituals for packing for our trip and we started packing our normal sized carry-ons before we realized they were not a good fit for the carry-on size and weight limits so we bought smaller carry-on packs and combined other stuff into one check in bag.
Weigh your bags before going to the airport. Pay for your baggage allowance online at least 24 hrs before your flight since rates at the airport are significantly higher and the option to pay online disappears 24 hrs out which penalizes last minute packers like me so it was an extra incentive to pack early.
If you forget to weigh before leaving home, find an empty check in counter, as they usually have readouts on the side of the agent desk where you can check your baggage weight before going to check in.
If you have inadvertently overpacked, try to wear your heaviest items to the check in counter (sweaters, heavy jackets etc. that you should be carrying to Iceland. You can put them back inside your bags after weigh in. I have a Scottevest that had my tablet, a novel, battery packs etc. all inside to reduce check in weight.
Since WOW does not participate in TSA pre-check we did not have the pre-check symbol on our boarding passes. However, we carried our physical Global Entry ID cards with us and were waved into the pre-check lane with no problems. WOW has a fairly simple boarding process. They called the back half of the plane first, then the front half. Given that everyone is allowed only one carry on, there is no stress and there was plenty of overhead space even though we were the last to board. By a rough estimate the flight was about 60% full which also seemed true on the return with plenty of people raising seat dividers and stretching out on flat beds of three seats in the rear. Both on the outbound and return flights the plane was parked at a remote stand instead of an aerobridge. Not sure if this is how usual operations are likely to be for future flights. On the plus side, it allowed us to walk out between a beautiful Swiss A340 and Air France 747, always a plus in my book. 🙂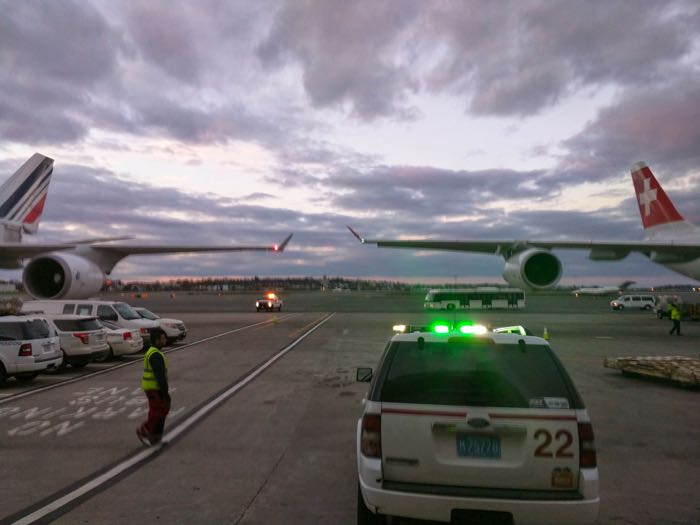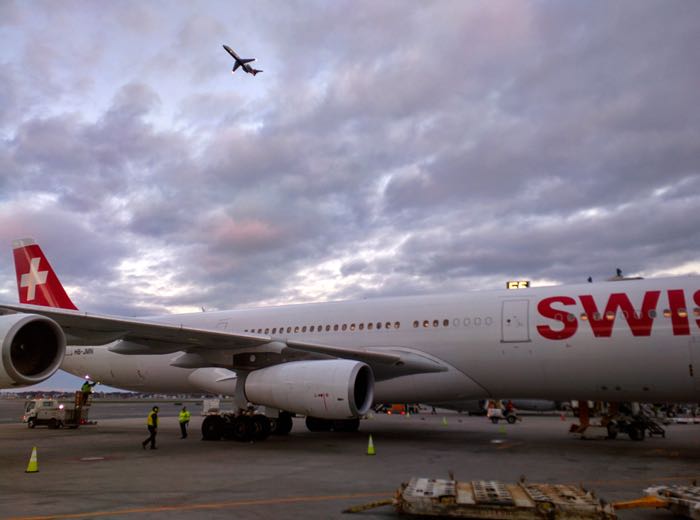 WOW Air: Flight
It is hard to see the best seats on the seat map online since the configuration is slightly staggered. We booked 1A and C on the left (facing the front) which were comfortable enough (I would compare them to the average exit row seats on domestic flights albeit with a bulkhead in front. The real prize (if you are willing to pay for it) however is row 2 on the right hand side of the plane (facing the front). This is the first row on right hand side and 2DEF have almost business class room to stretch out. Everyone was eyeing the young family of three seated there with envious looks. I was glad I was able to book them for our return.
Row 2 legroom (I'm 6'2", row 1 in the background):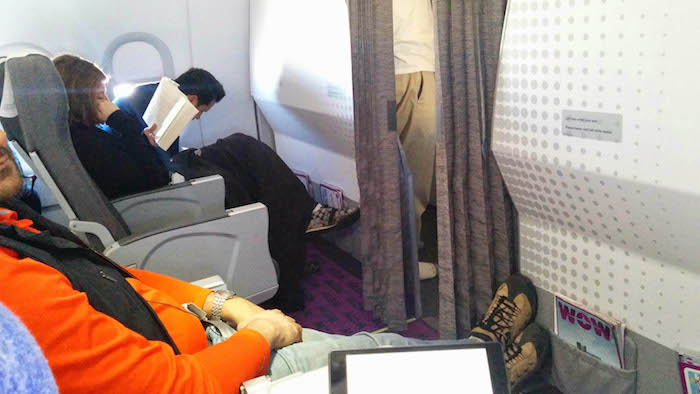 In order of legroom, I would book:
Seats 2DEF (bulkhead front right)

For single travelers or those traveling with shorter companions – 11A/F or 24A/F (window seats behind the exit rows with no seats in front of them)
Rows 10 or 23 (exit rows of 2 seats on each side)
Seats 1ABC (bulkhead front left)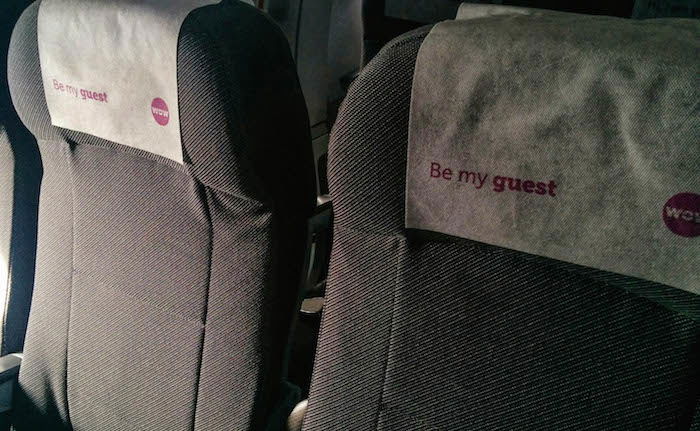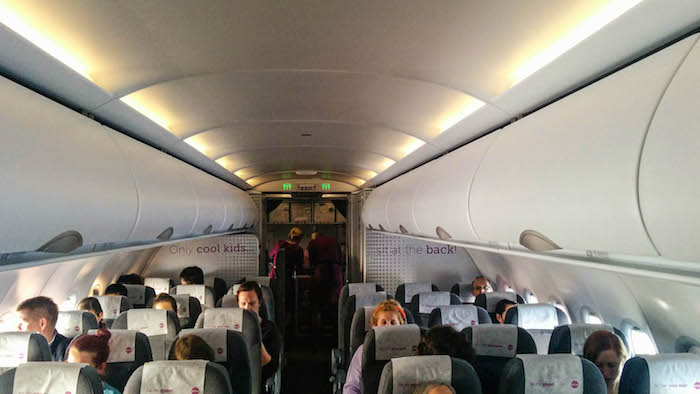 The other XL and L seats had varying amounts of room and the regular seats had about the same space as standard domestic seats.
WOW has a quirky style. Most every surface and uniform is purple. In terms of in-flight style I would compare them to Southwest. The lead attendant was cracking jokes on the PA including gently poking fun at herself. The engines ask if you're going to Iceland, cups say "Sip it… Sip it good", at the rear is a big sign saying "All the cool kids sit in the back," and there is a vomit-meter on the barf bags.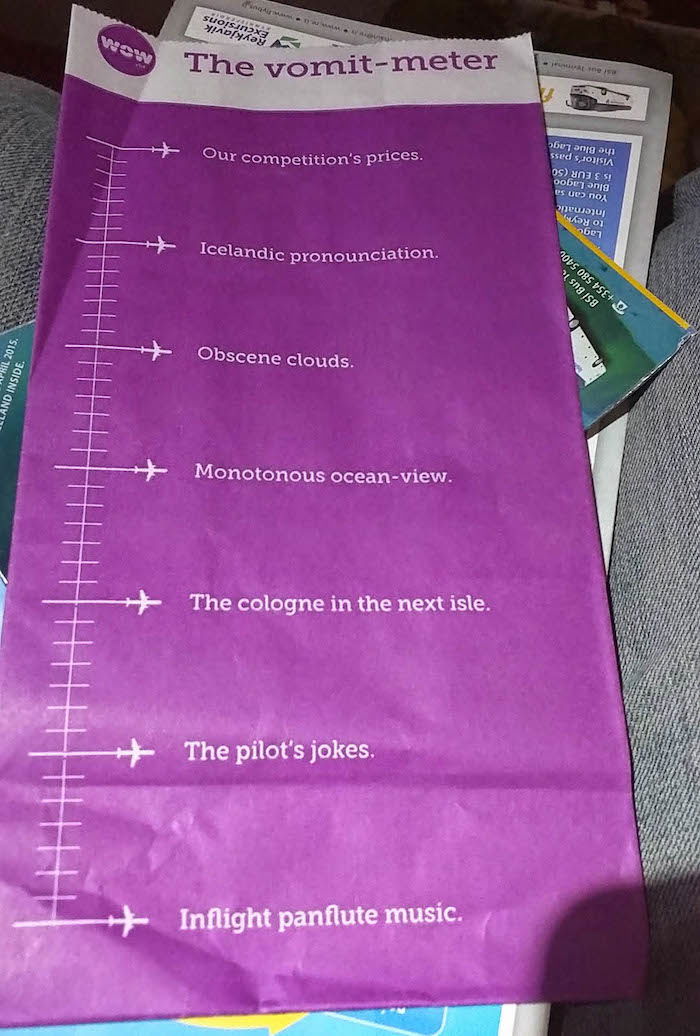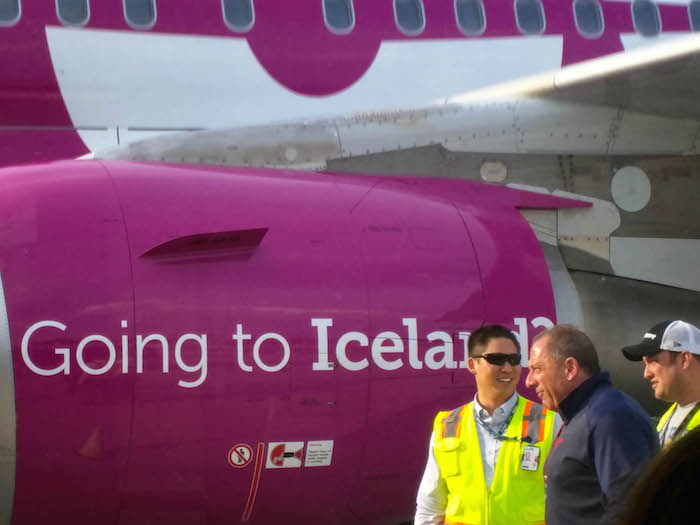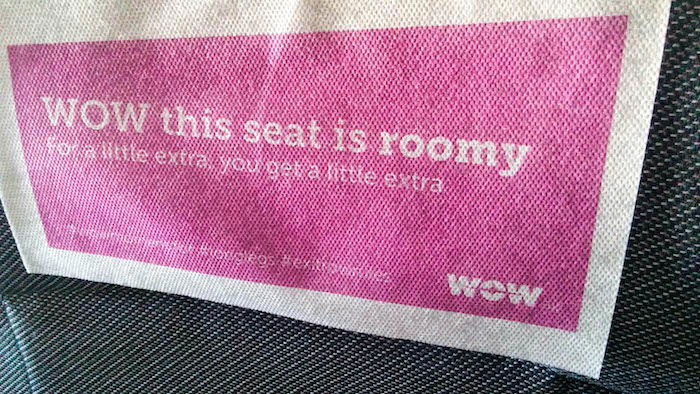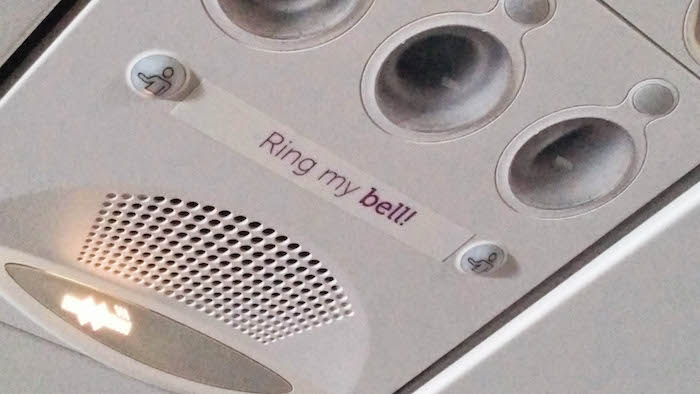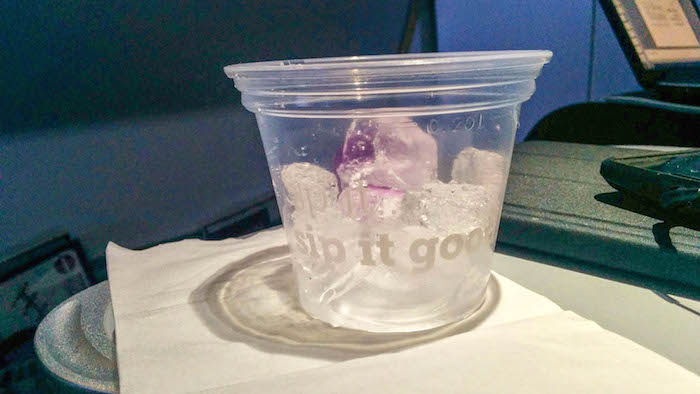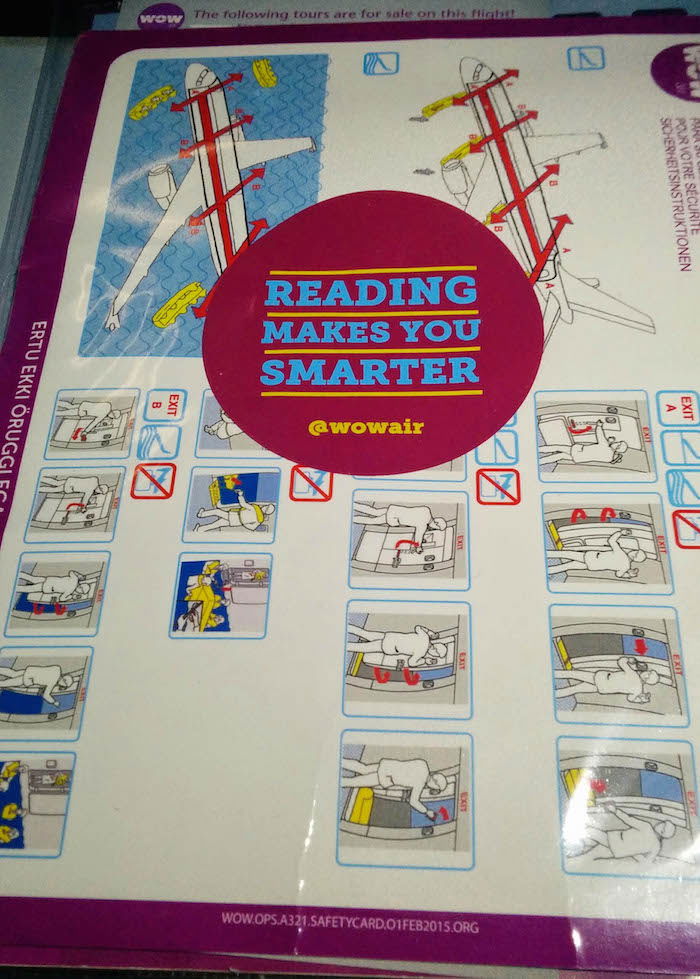 As a real low cost carrier, there is nothing free on board from the water to snacks. They take credit cards but not debit cards. I was looking forward to trying some Icelandic smoked lamb on flatbread and Skyr on the flight that I had read about on other reviews but they have a different menu for their flights departing the US. The attendant made some reference to the US not allowing Skyr. I'm not sure if this some regulatory issue or not. I had the ham panini from the selection which turned out to be surprisingly tasty and flavorful. The return flight had the usual menu and a lot more Icelandic options. We tried the lamb and flatbread and the turkey and bacon sandwiches which were both good. Both flights had one hot option, pizza on the outbound and a cheeseburger on the return. Service was friendly, cheerful, and quick.
BOS-KEF Menu: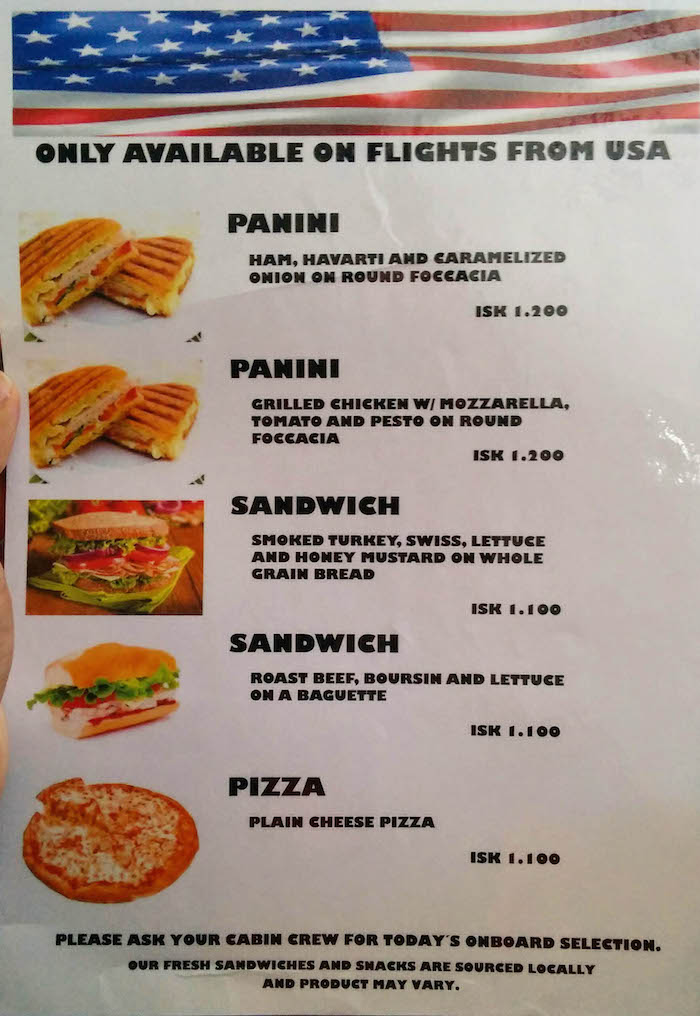 Panini: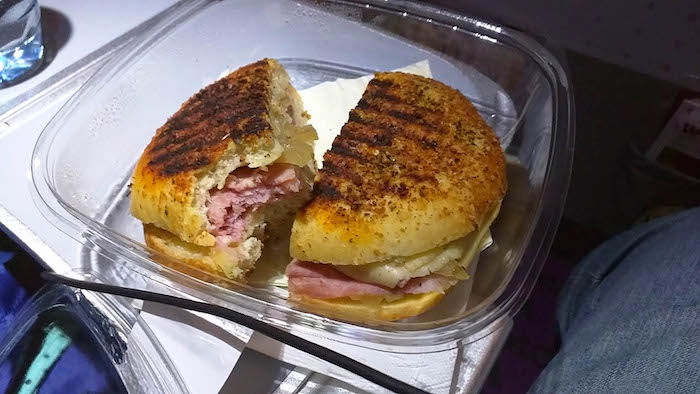 KEF-BOS Menu: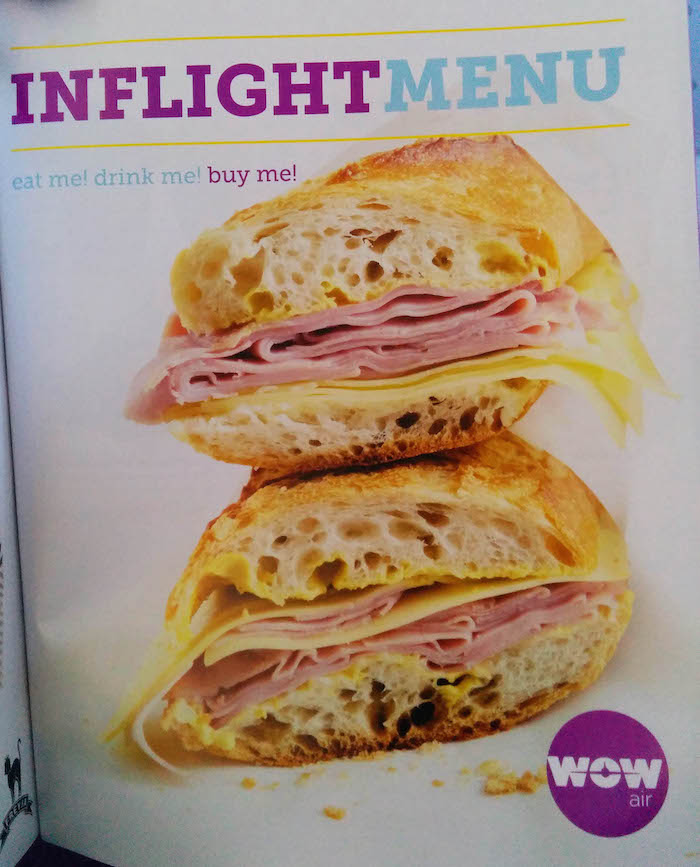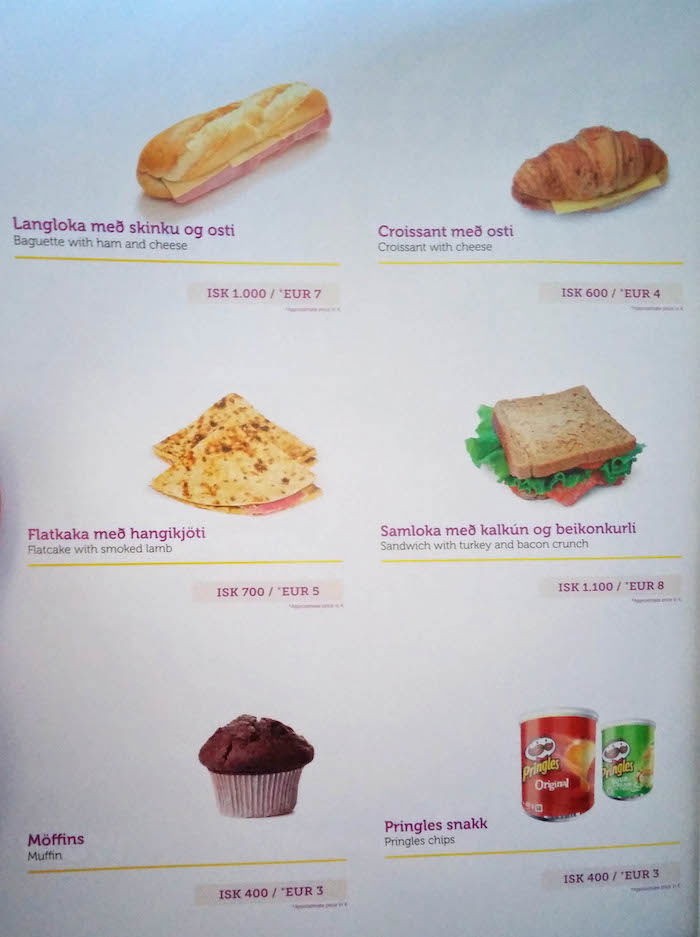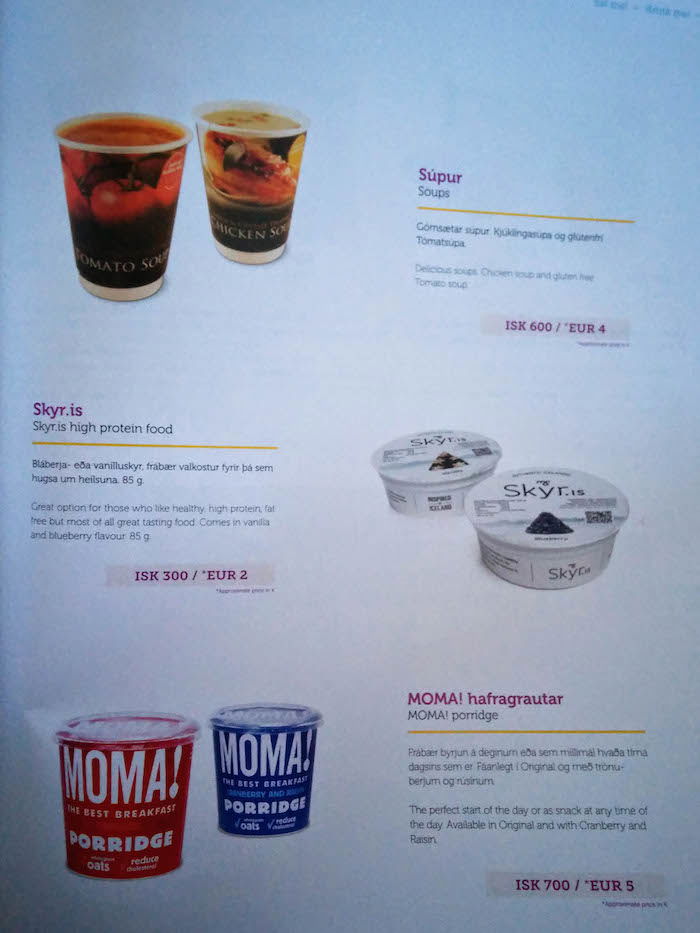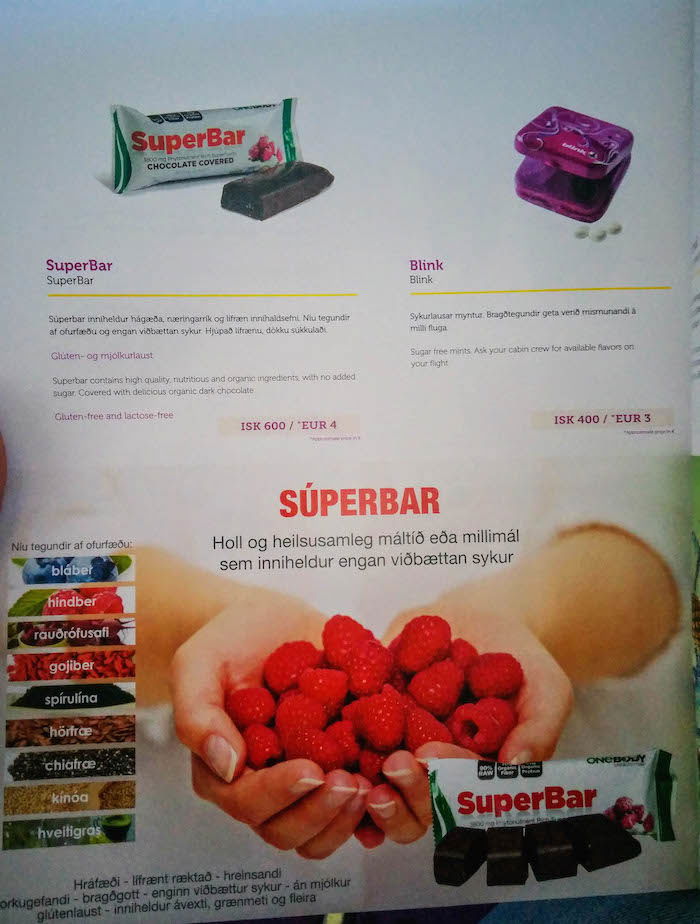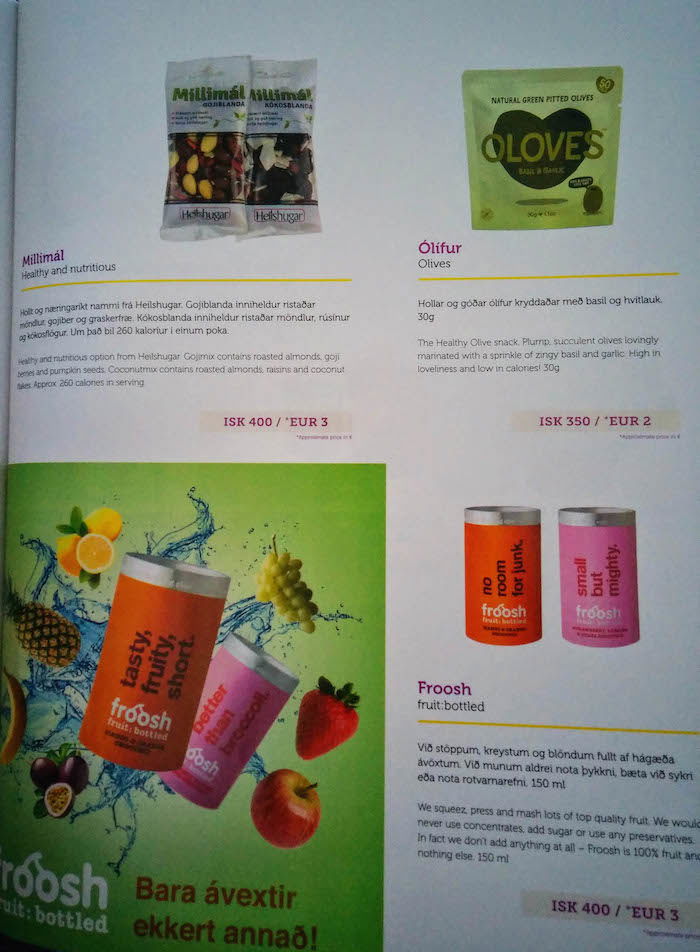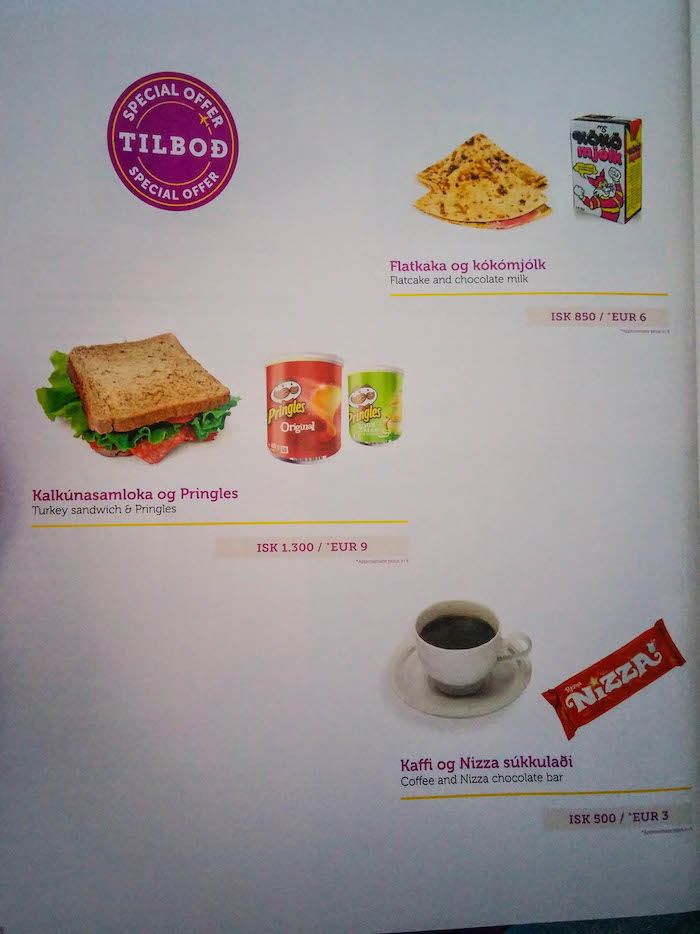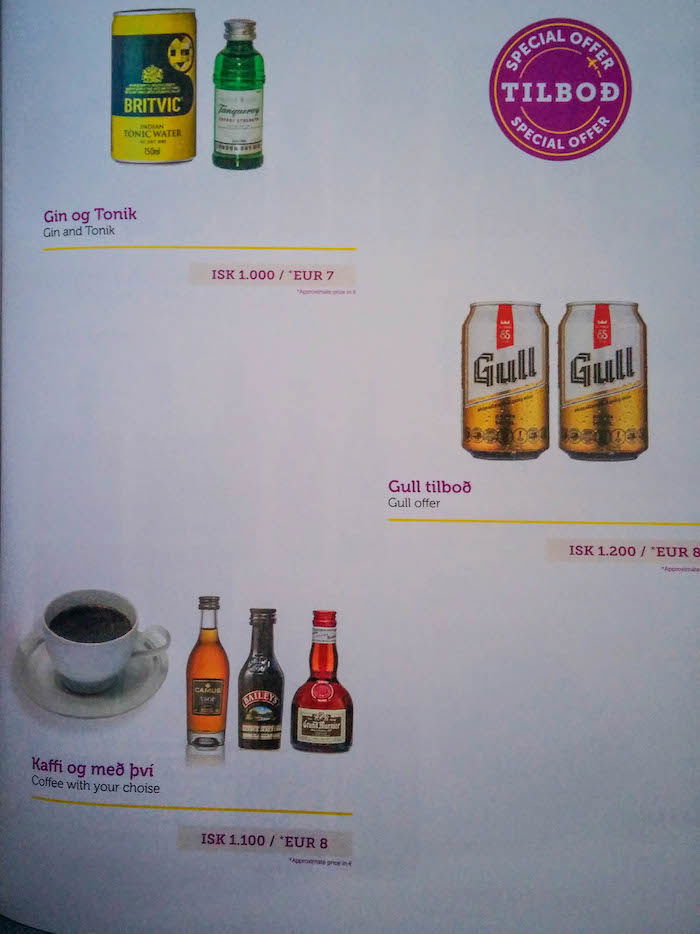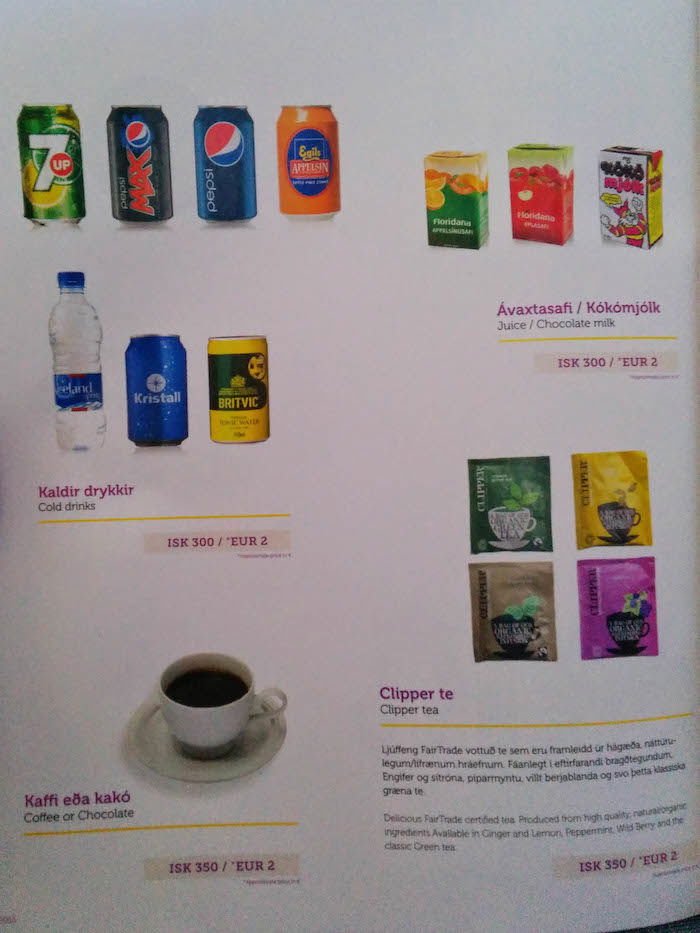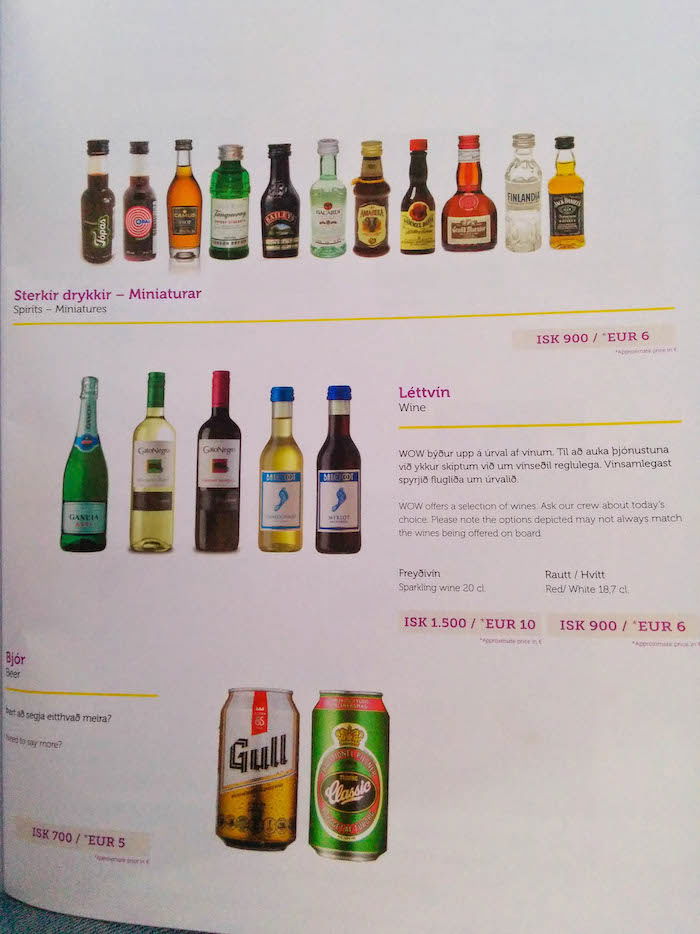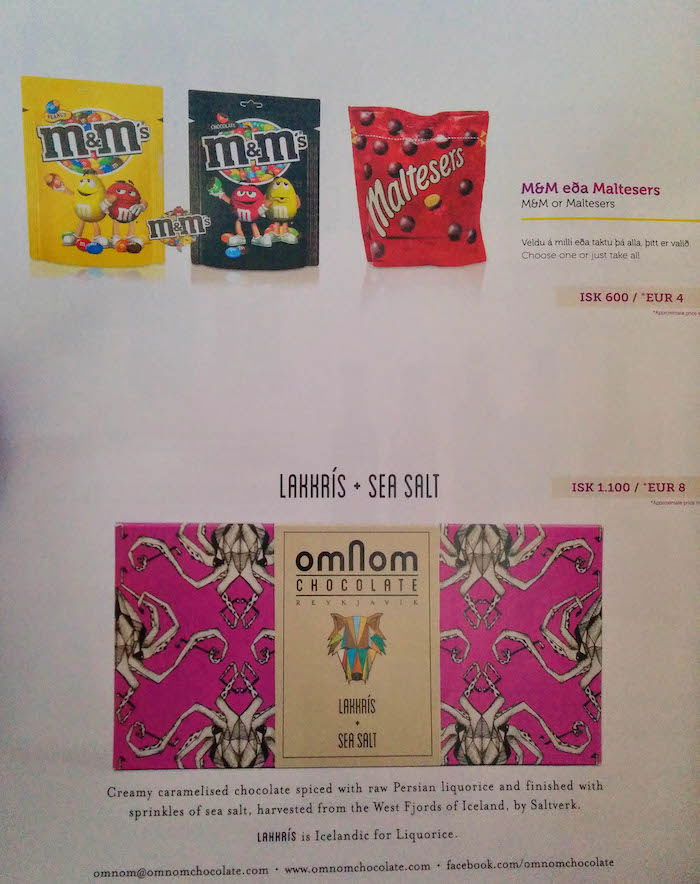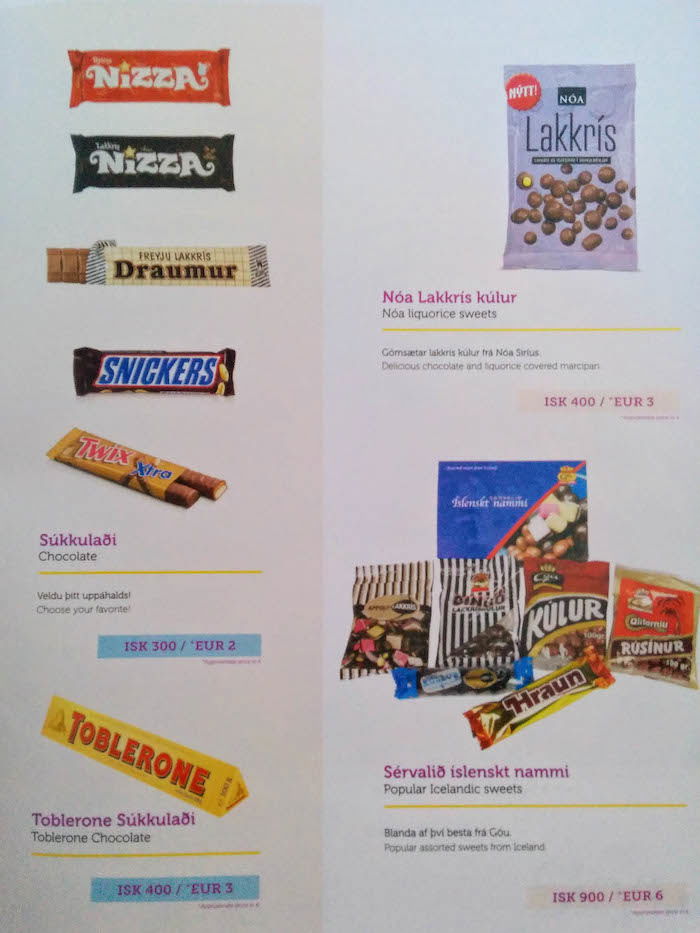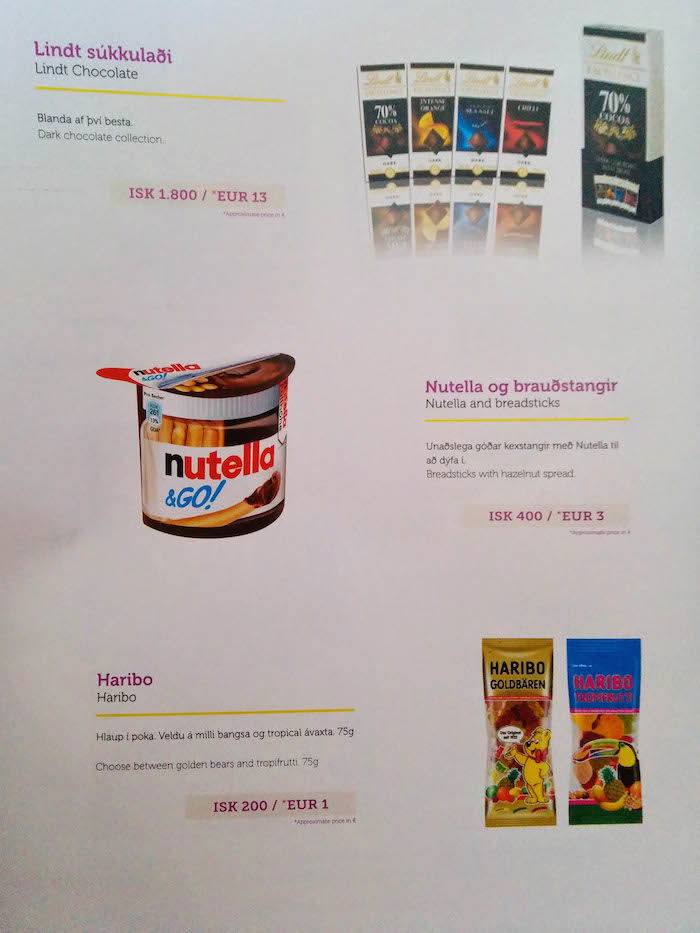 There is NO entertainment on board (other than the attractive flight crew who declared themselves the entertainment). 🙂 There are plug points between all the seats (two ports in each set of three seats) so bring plenty of preloaded content if you want on-board entertainment. The plug points are universal so they will take US style plugs. I took three melatonin and went straight to sleep on the red eye outbound and woke up right before landing. Spent the return writing this up so I was well occupied.
WOW also allows you to book airport-hotel transfers and tours around Iceland (e.g. the Golden Circle tour, Blue Lagoon etc) during the flight. The prices are the same as those in Reykjavik so you can choose this option if you are still planning your trip.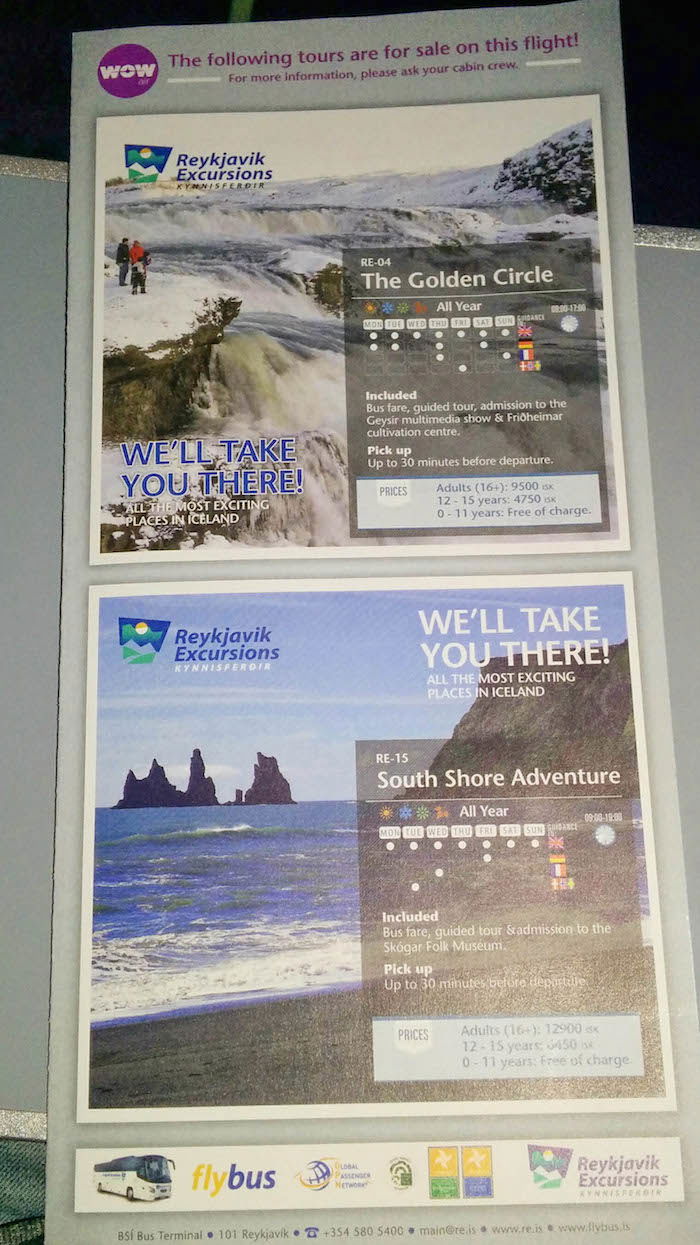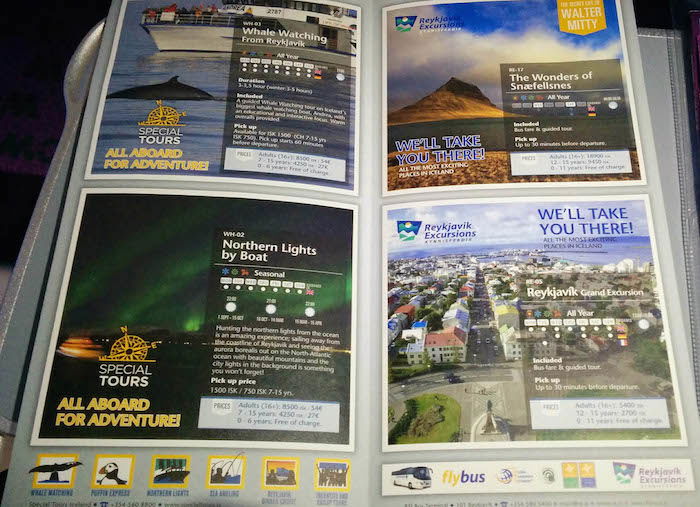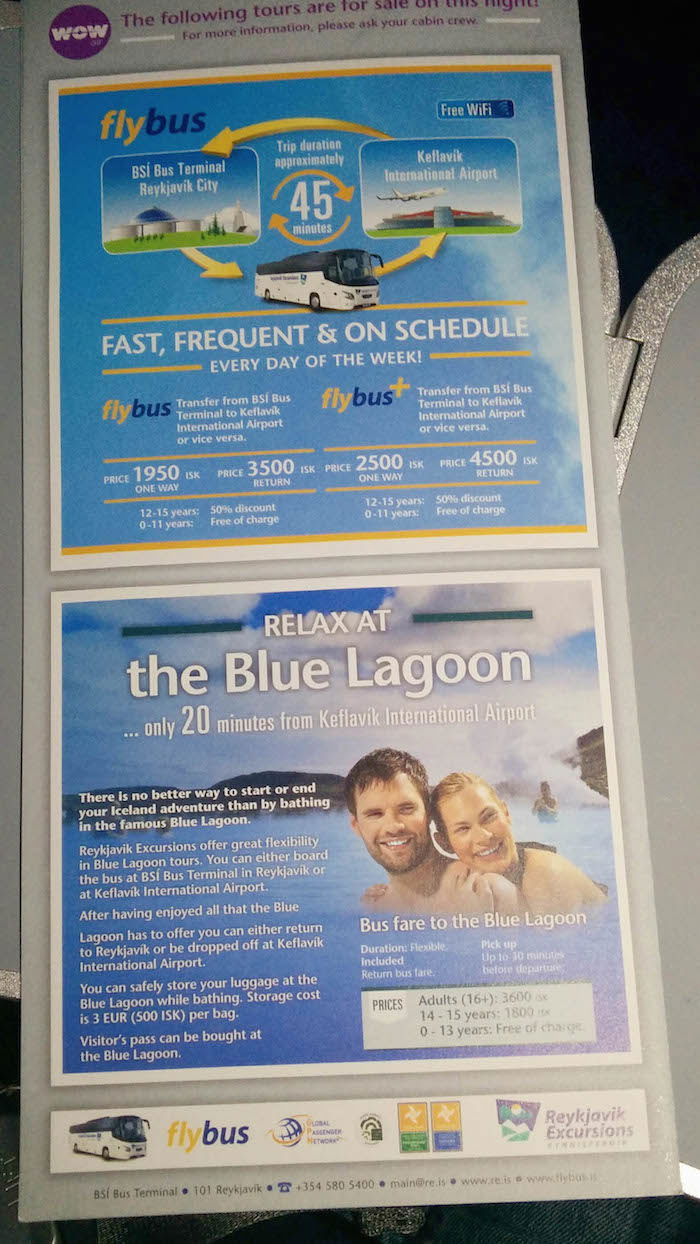 We landed a little behind schedule at a deserted KEF at 4:30 in the morning. Immigration and customs were a breeze.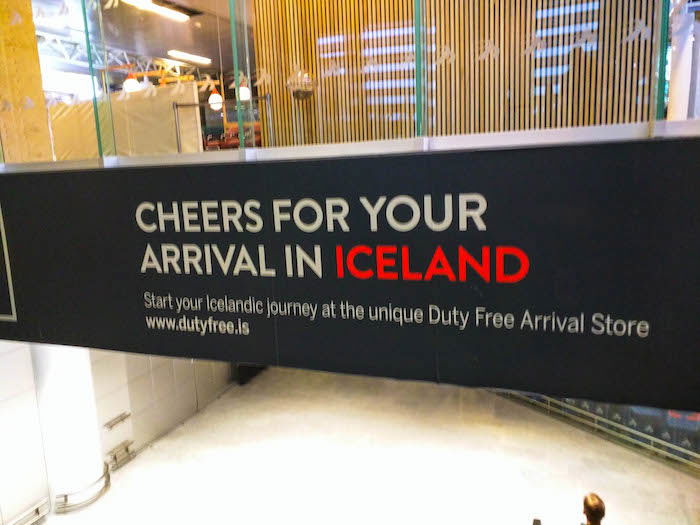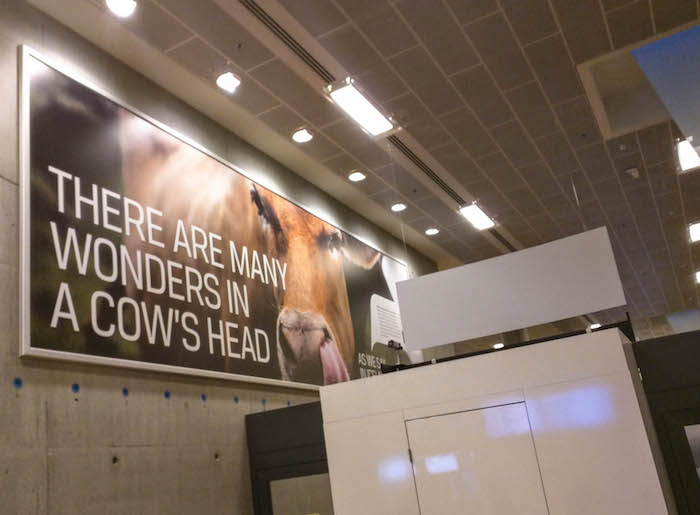 A couple of food outlets and a convenience style store were open past the secure area. We grabbed a quick coffee and checked into the price for a local Siminn sim card at the convenience store (too expensive, buy in Reykjavik). Jumped on to the free airport Wi-Fi and saved google maps for Reykjavik and surrounding areas and met up with our offsite car rental agency to take us to our car. All in all, a very easy trip and I would definitely fly WOW again at the right price after factoring in all the extras.