Today is a pretty exciting day for aviation geeks. Just a bit ago the world's new longest flight from Singapore to Newark took off.
This flight is operating with the flight number SQ22, and will cover a distance of 9,534 miles.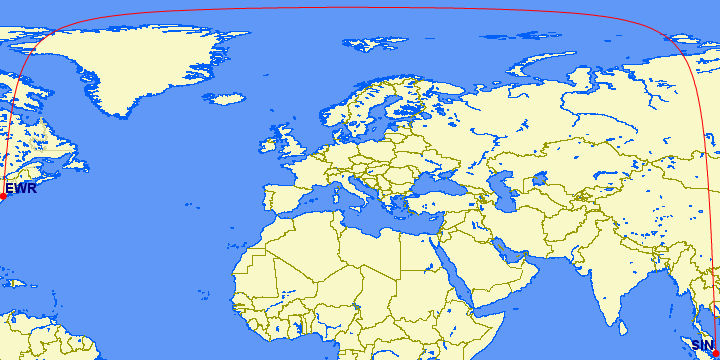 This flight is only made possible thanks to Singapore Airlines taking delivery of the A350-900ULR, an aircraft for which they're the launch customer. SQ22 was scheduled to leave Singapore at 11:35PM and is scheduled to arrive at Newark Airport at 6AM on Friday morning, so the flight is blocked at 18hr25min. That's quite a haul!
Ultimately this new route represents a resumption of the flight, as Singapore Airlines operated this flight until 2013, using Airbus A340-500 aircraft. The airline ended up getting rid of those planes, leaving them without an aircraft capable of operating the flight, which is why they're finally restoring service now.
Not only is the A350-900ULR the longest range aircraft there is, but Singapore Airlines put it in an especially spacious configuration, with a total of just 161 seats, including 67 business class seats and 94 premium economy seats. This further reduces the weight of the aircraft and increases the range.
At 9,534 miles, this flight is just over 500 miles longer than the world's current furthest route, operated by Qatar Airways between Doha and Auckland, which covers a distance of 9,032 miles. Then the third longest route is Qantas' new flight between Perth and London, which covers a distance of 9,009 miles, and is the first regularly scheduled nonstop flight between Australia and Europe.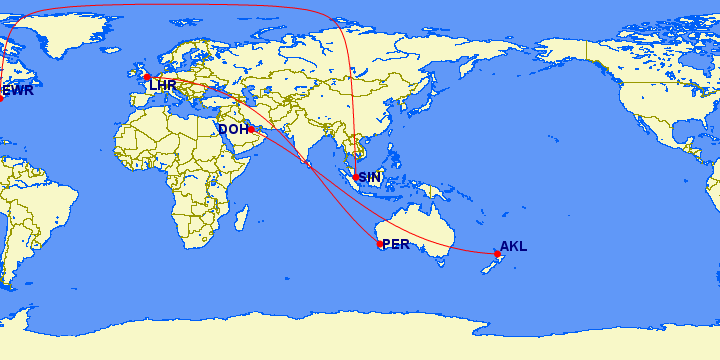 I'm looking forward to taking SQ22 later this month between Singapore and Newark, to see how the experience is. I'm not a huge fan of Singapore Airlines' business class seats, as I find them to be especially hard, and nearly 19 hours is a long time to spend in those seats.
To follow along with the world's new longest flight, check out this Flightradar24 link. It looks like the flight time tonight is scheduled for "only" 17hr33min. 😉
If you want to fly Singapores A350-900ULR but don't want to fly to Newark, the airline will also start flying that plane to Los Angeles as of November 2, 2018, and to San Francisco as of December 7, 2018 (though that complements the nonstop flights that the airline already operates between Singapore and San Francisco using a "standard" A350-900). Those are probably the only three destinations to which they'll fly the planes, given that they only have seven on order.
Lastly, if you want to redeem miles on any of these flights, Singapore KrisFlyer has been pretty good about making award seats available.