Singapore Airlines is the launch customer for the Airbus A350-900ULR (with the "ULR" standing for "ultra long range), of which they have seven on order. The airplane is already undergoing test flights, and is expected to be delivered to Singapore Airlines in the coming months.
These planes will help Singapore Airlines relaunch the world's longest flight, which they discontinued back in 2013, when they got rid of their A340-500 aircraft. Specifically, Singapore Airlines had used the A340-500 to fly from Singapore to New York and Los Angeles. The new A350 will allow them to operate these routes once again, and more efficiently than ever before (the airline also flies nonstop from Singapore to San Francisco, which they're able to operate with one of the non-ULR versions of the A350).
We've known that Singapore Airlines plans to resume their nonstop flight to New York later this year, and their nonstop flight to Los Angeles early next year (and also a mysterious third route), but up until now exact details haven't been revealed beyond that. We now know all the details of the first route.
Singapore Airlines resuming nonstop Newark flights in October
Singapore Airlines will be resuming nonstop flights between Singapore and Newark as of October 11, 2018. The flights will operate with the following schedule:
SQ22 Singapore to Newark departing 11:35PM arriving 6:00AM (+1 day)
SQ21 Newark to Singapore departing 10:45AM arriving 5:30PM (+1 day)
The schedule will change just slightly as of October 28, 2018, due to the Northern Winter:
SQ22 Singapore to Newark departing 12:40AM arriving 5:30AM
SQ21 Newark to Singapore departing 9:45AM arriving 5:15PM (+1 day)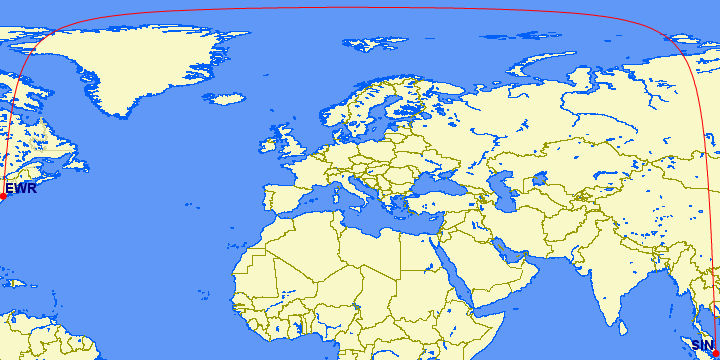 For the first week the flight will only operate 3x weekly, but starting October 18, 2018, the airline will operate the flight daily, as they take delivery of their second A350-900ULR.
This new flight will cover a distance of over 9,500 miles, and the flight time is blocked at up to 18hr45min, so this will be a really long flight. This will beat out the world's current longest route, between Auckland and Doha, by about 500 miles.
Configuration for Singapore Airlines' new A350-900ULR
Singapore Airlines' A350-900ULR will be in a very sparse configuration, as it will feature a total of just 161 seats, including 67 business class seats and 94 premium economy seats. This is for a couple of reasons, including to keep the overall weight of the plane down, and also because the only way to make money with a route like this is with high yield passengers who are paying high fares, and you'll get the most of those with big business class and premium economy cabins. This won't be a flight for those looking for the lowest fares.
Other random details
I think this new flight is exactly what we expected, given all the clues we were given up until this point. I was still wondering if they'd fly to New York JFK or Newark, and they chose Newark, which is the airport they used for the old nonstop flight. I figured they might finally consolidate their Singapore Airlines flights at JFK (since that's where the New York to Frankfurt to Singapore flight departs from), but I guess they decided against that.
The other good news is that this flight represents a net capacity increase, as Singapore Airlines hasn't announced plans to cut other routes to/from the US. They'll continue to operate their New York to Frankfurt to Singapore flight with the current schedule, and that journey will just take a few hours more in each direction (and will be good for anyone who wants to stretch their legs).
Redeeming miles for the world's longest flight?
We should know more about what award availability on this flight will look like tomorrow, as the new Singapore to Newark flight should be bookable starting tomorrow, Thursday, May 31, 2018.
I certainly hope to be able to redeem miles for this flight once it becomes bookable, even if it's not at the "saver" level. If they do make award seats available, expect it to cost the following number of miles one-way (this will only be bookable through Singapore's own KrisFlyer program, and not with miles of other airlines):
Business Class: 92,000 miles (Saver), 135,000 miles (Standard)
Premium Economy: 70,000 miles (Saver)
I'll be brave and will try to review one direction in business class and one direction in premium economy. 😉
Singapore Airlines KrisFlyer is transfer partners with Amex Membership Rewards, Chase Ultimate Rewards, Citi ThankYou, and Starwood Preferred Guest, so there are lots of easy ways to earn miles with them.
Transfer points to Singapore Airlines KrisFlyer with the following cards:
Anyone plan to take Singapore Airlines' new nonstop flight between Singapore and Newark? Do you like the concept of a nonstop flight this long, or would you rather make a stop somewhere?