Last October I wrote a post about the status of wifi on British Airways long haul aircraft, following my first British Airways flight equipped with wifi. It was a useful resource at the time, but almost a year later a lot of progress has been made, so I figured it was time to update the post.
How Many British Airways Planes Have Wifi?
British Airways initially announced that they'd install wifi in 2016, with a target completion date in 2019. While they were a bit delayed with getting started on activating wifi, the pace with which they've installed wifi has been impressive.
British Airways' wifi webpage used to list the status of wifi by aircraft type, though no longer does. Fortunately, there's an excellent wiki on FlyerTalk that has all the latest information.
So, which British Airways long haul aircraft feature wifi as of now? Let's break it down not only by aircraft type, but also by configuration:
Boeing 787-8 Wifi
As it stands, zero of eight British Airways 787-8s have wifi. These planes are expected to eventually get wifi, but it just hasn't happened yet.
Boeing 787-9 Wifi
Currently, eight of 18 British Airways 787-9s have wifi. They're currently in the process of installing wifi on the remaining aircraft.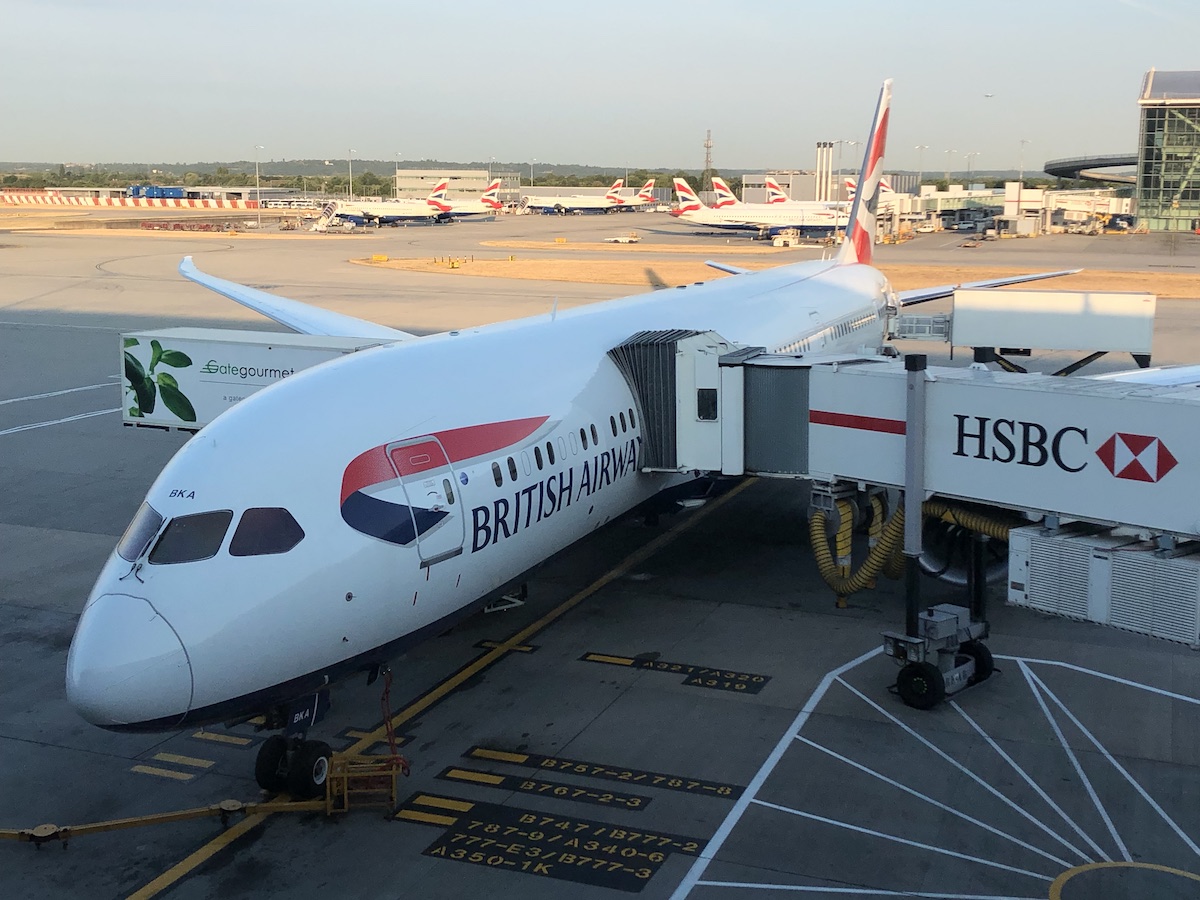 Boeing 777-200ER Wifi
Currently, 42 of 46 British Airways 777-200ERs have wifi. The way it's broken down:
27 of 30 Boeing 777-200ERs with four classes have wifi, and the last three aren't getting wifi; four class 777-200ERs have first class, business class, premium economy, and economy
15 of 16 Boeing 777-200ERs with three classes have wifi; three class 777-200ERs have business class, premium economy, and economy
Boeing 777-300ER Wifi
Currently, nine of 12 British Airways 777-300ERs have wifi. They're currently in the process of installing wifi on the remaining aircraft.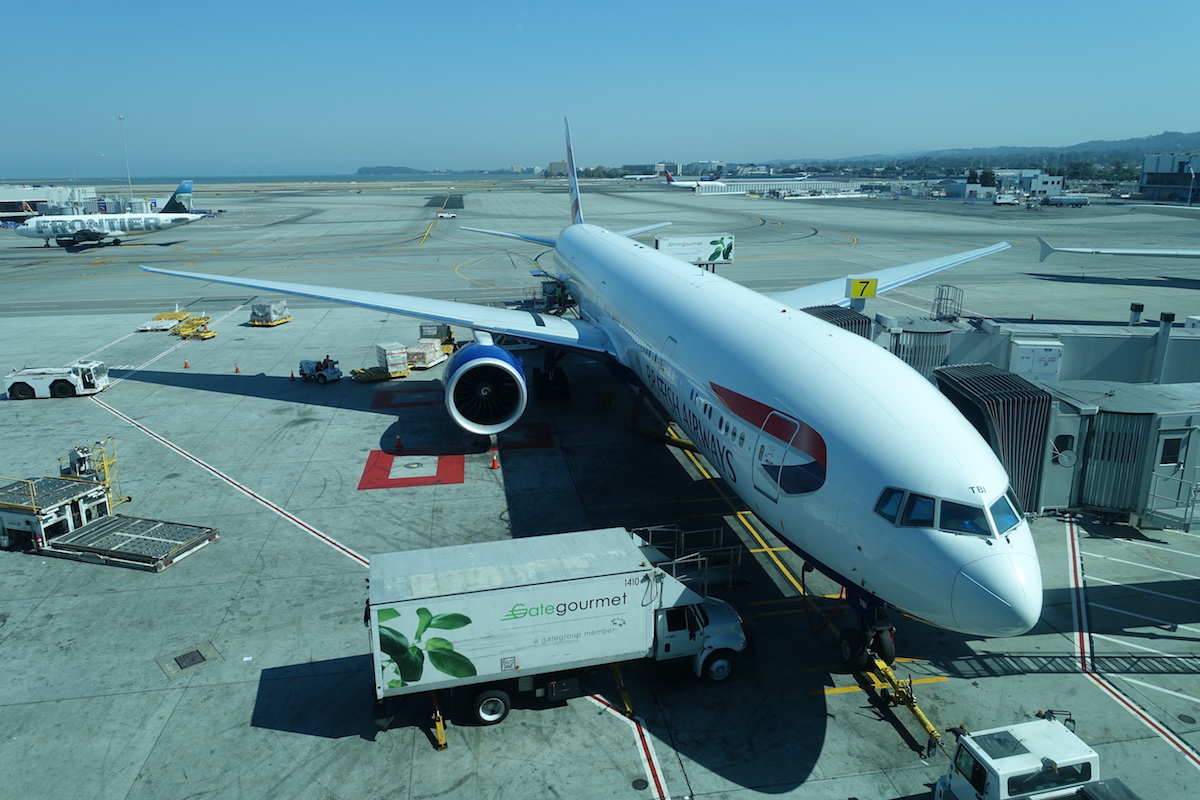 Boeing 747-400 Wifi
Currently, 17 of 33 British Airways 747-400s have wifi. The way it's broken down:
17 of 18 Boeing 747-400s with 86 business class seats have wifi; the last plane isn't getting wifi
0 of 15 Boeing 747-400s with 52-70 business class seats have wifi; these planes aren't getting wifi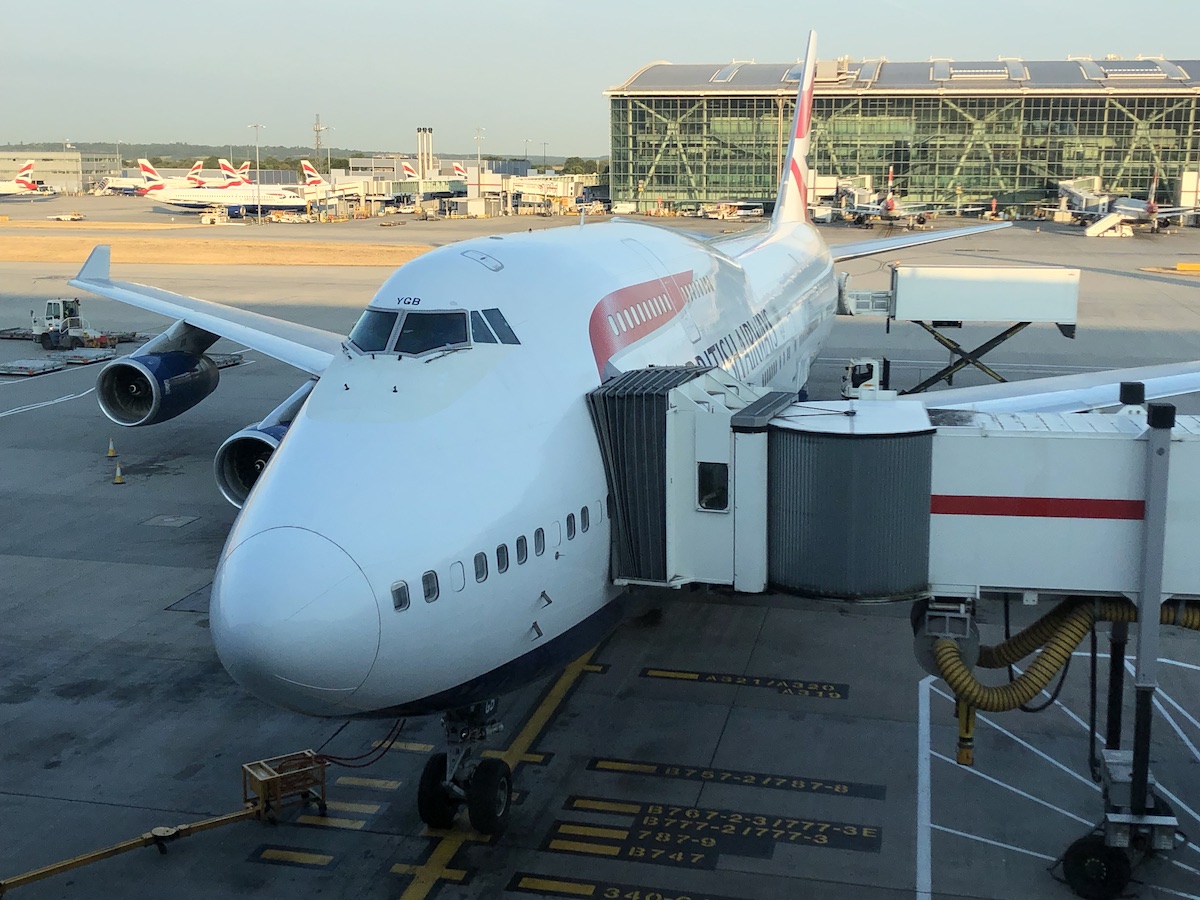 Airbus A350-1000 Wifi
Currently, British Airways' single A350-1000 has wifi, and the plan is for all newly delivered A350s to come with wifi.
Airbus A380 Wifi
Currently, eight of 12 British Airways A380s have wifi.
How To Tell If Your British Airways Flight Has Wifi?
There's no way to know for sure in advance if your flight will have wifi or not, assuming you're on an aircraft type where at least some of the fleet has wifi. For example, none of the 787-8s have wifi, so if you're on a 787-8 you know you won't have it. Meanwhile, if you're on a four-class 777-200ER or on a 747-400 with 86 business class seats, you have over 90% odds of getting wifi.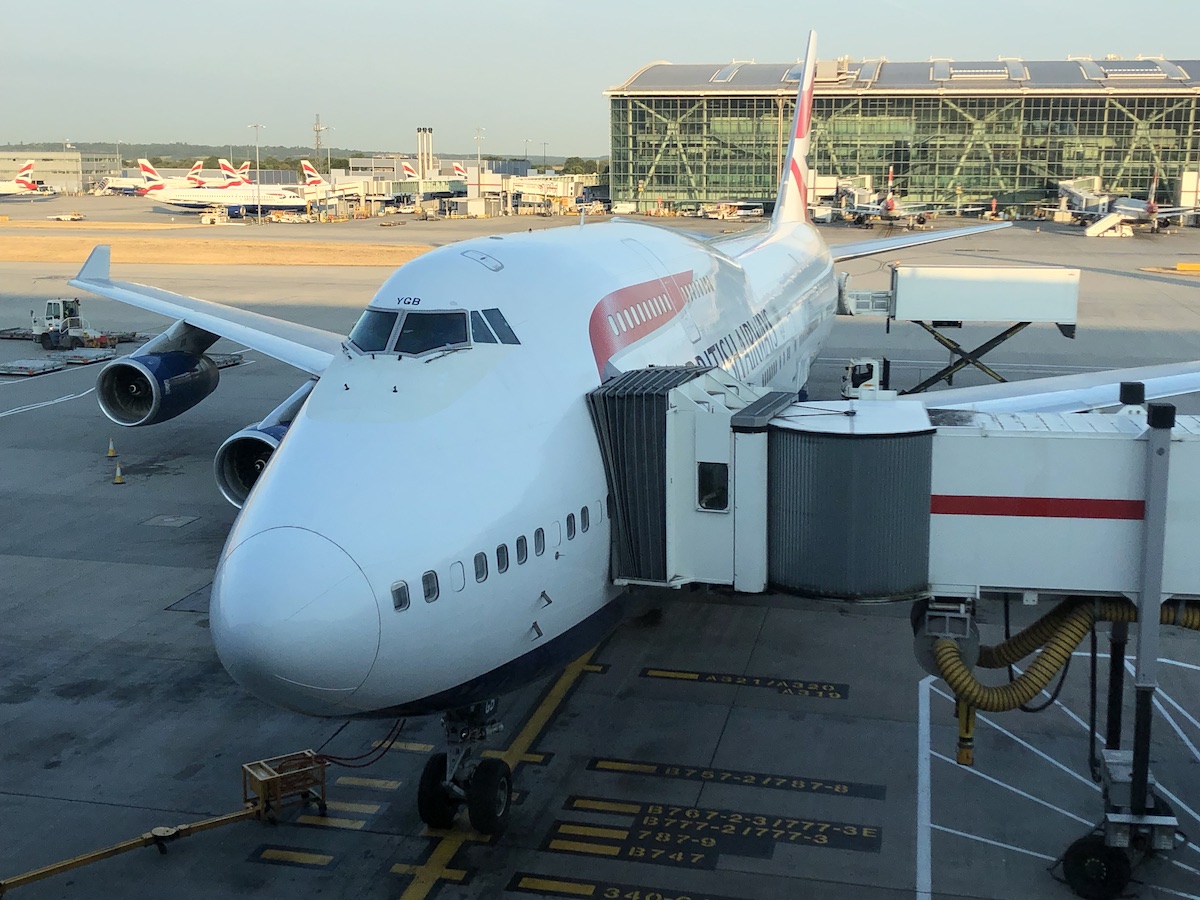 But there is potentially a way to tell within a couple of days of departure if your flight is likely to feature wifi. The FlyerTalk wifi lists the registration codes of all the planes that have wifi within each fleet.
While you won't know which registration code operates which flight way in advance, British Airways typically assigns a tail number a couple of days in advance.
So you can go to Flightradar24 and enter your flight number. Then within a day or so it's likely that they will show the registration code for your flight, and then you can cross-reference to determine if it should have wifi or not.
Keep in mind that plane assignments are always subject to change due to operational reasons.
How Much Does British Airways Charge For Wifi?
British Airways charges for wifi based on time rather than data usage, which I really appreciate, since the cost of the latter concept adds up.
You can purchase either a "Browse" or "Stream" package, and the pricing varies based on whether you want to buy a package for one hour, four hours, or the entire flight.
For the "Browse" package (described as being for basic web browsing), pricing is as follows:
1 hour: 4.99GBP
4 hours: 10.99GBP
Full flight: 14.99GBP
Then for the "Stream" package (described as being for high-speed web browsing and video streaming), pricing is as follows:
1 hour: 7.99GBP
4 hours: 17.99GBP
Full flight: 23.99GBP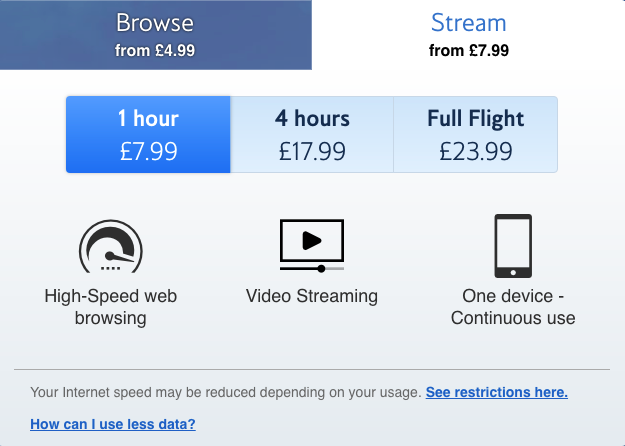 It's interesting that you can also elect to be billed in USD or EUR, and there might be a slight price difference if doing that. For example, a full flight "Stream" package costs 30USD or 23.99GBP, so depending on the conversion rate, one might be slightly cheaper than the other.
While this isn't among the cheapest inflight wifi out there (some airlines charge ~$20 for unlimited data on a flight), it's not unreasonable either, and is much better than any airline that charges based on data usage.
Lastly, while some other airlines offer first or business class passengers free wifi, British Airways charges all passengers for wifi.
What Are British Airways Wifi Speeds Like?
British Airways says that the "Browse" package should get you a minimum of 250kbps, while the "Stream" package should get you a minimum of 0.66Mbps (660kpbs). In my opinion, it's a bit of a stretch to call the latter "high-speed browsing," but…
So, how were speeds on my flight? On my first flight on British Airways with wifi the speeds weren't great. However, it was also a daytime flight from London to New York, which I would imagine has among the highest wifi utilization rate of any route.
Wifi speeds ranged from really, really, really awful…
…to just pretty bad (but then again, we're talking about using the internet while flying 600 miles per hour through the sky, so I'm forgiving there). 😉
I'd say the speeds felt on par with what you'd find on a domestic Gogo flight that's not 2Ku equipped.
Tips For Using British Airways Wifi
Some of this is probably obvious, and some of it less obvious:
British Airways wifi only works when flying above 10,000 feet, so it's not gate-to-gate
With most wifi systems, browsers will automatically redirect you to the portal homepage, though I had issues with that, and could only access it when specifically typing in the URL shop.ba.com
If you purchase internet, it's linked to one specific device, so you can't switch between devices on a single flight
You can choose to purchase wifi as a guest (meaning you just enter your name and credit card details), or you can register an account, and then it can save your info for a future flight
I had huge issues connecting to the internet at first because I kept submitting my payment info, but it never went through, but there was never an error message; it was only later in the flight that I realized the wifi purchase triggered a fraud alert on my credit card, so using a different credit card did the trick (interestingly when I called Chase they said this was caused from entering the wrong zip code, yet at no point in the process of purchasing wifi was I asked to enter an address or zip code, which makes me think this may be a common issue)
British Airways Wifi Summary
While British Airways' inflight wifi isn't the cheapest or fastest in the sky, I'm thrilled to see how many of their long-haul aircraft already feature it. $30 is a price I'm willing to pay for unlimited wifi on a long-haul flight, and to me, it greatly enhances the value of flying British Airways across the pond, since this was previously one of the things that largely kept me off of them, especially on daytime flights.
British Airways has made great progress with this, and at this point a large majority of their long haul fleet has wifi.
Have you used British Airways' inflight wifi? What was your experience like?