I'm incredibly fortunate to have incredible flexibility with my schedule. I can work from anywhere with an internet connection, whether it's a Lufthansa plane with Wi-Fi, a hotel in the middle of nowhere, or my mother's basement.
So when I'm presented with less-than-ideal flight choices I'm almost always able to adjust my schedule so that I can make those flights more enjoyable and/or economical.
However, I have an upcoming situation where I need to fly from London to Miami on a particular date, and I need to arrive reasonably well rested.
Now, usually I do what I can to avoid originating in the UK to begin with. That's because in addition to all of the taxes, fees, and surcharges, you're hit with the UK Air Passenger Duty right off the top, which is ~$232. There's no way to avoid that short of originating somewhere else. So under other circumstances I would have maybe visited Dublin and then originated there, but I'm somewhat crunched for time here.
I have a few options for this trip, and am trying to decide which to go with — I'm curious what you guys would choose: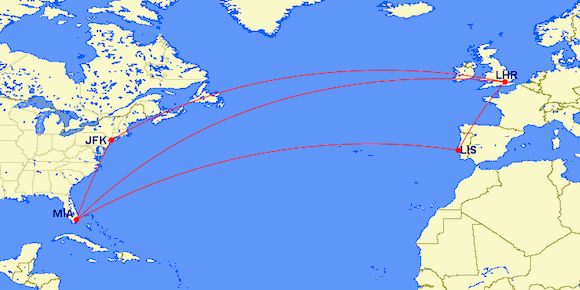 Option 1: British Airways first class London to Miami
Cost: 62,500 AAdvantage miles + $604 taxes/fees/fuel surcharges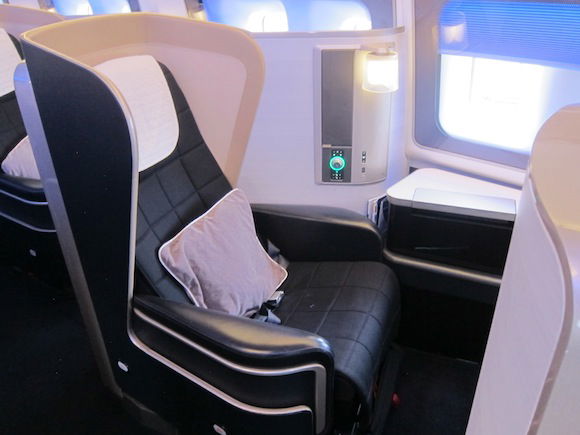 British Airways 747-400 first class
So in theory I should be thrilled that British Airways has nonstop first class award space available. I mean, does it really get better than that traveling between London and Miami?

The catch is that you're not only paying the UK Air Passenger Duty, but also paying fuel surcharges. So while I think 62,500 AAdvantage miles is a great rate for first class, paying over $600 out of pocket kind of stings.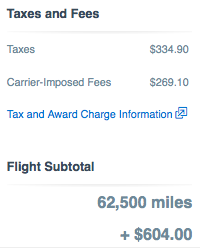 In terms of other considerations, on one hand I'd probably arrive well rested with this itinerary, and this is even a "mixed fleet" route (meaning chances are I'll be served champagne by flight attendants that aren't old enough to legally drink in the US). On the other hand, I've reviewed British Airways first class before:
I also have upcoming travel on British Airways, and I do what I can to review new products.
Option 2: Kuwait Airways business class London to New York
Cost: ~$1,200 paid ticket
I had — and for that matter still have — aspirations of flying Kuwait Airways business class. They're in the running for offering the least luxurious service between the UK and US (though they have tough competition, as Air India and Pakistan International Airlines also operate in the market). But at ~$1,200 I think it's not a totally horrible idea.

With American I would pay 62,500 miles plus $600. So basically I'm paying an extra $600 in place of 62,500 miles, though:
I'd have to book a separate ticket from New York to Miami, which isn't that expensive (whether paid in cash or with British Airways Avios)
At the end of the day Kuwait Airways business class isn't nearly as comfortable as British Airways first class
But it might be a more interesting trip report 😉
Option 3: TAP Portugal business class London to Lisbon to Miami
Cost: 52,500 LifeMiles miles + $353 taxes/fees

I suppose this is kind of a compromise between the other two options. I've reviewed most Star Alliance business class products, though have never flown TAP Portugal. They happen to have availability through Lisbon in business class for my date. If booking through Avianca LifeMiles the cost would be 52,500 LifeMiles plus $353 in taxes/fees (which accounts for the Air Passenger Duty and other taxes/fees, though there are no fuel surcharges).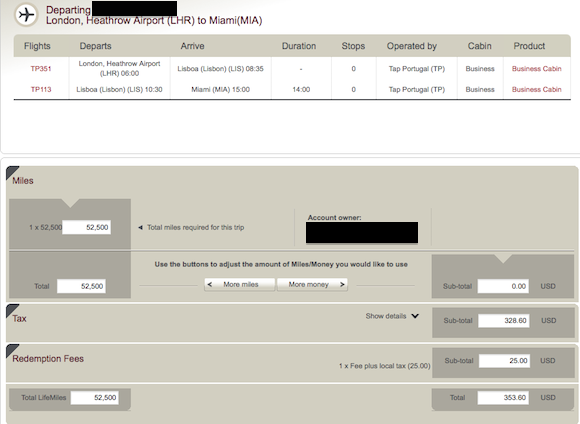 TAP's business class doesn't look great, though doesn't look horrible either. But it is a new product, and isn't quite as extreme as Kuwait Airways.
So if you were in this situation, what would you do? Or is there another option altogether you would consider?