As we learned last week, leveraging Delta's partners is the best way to not get screwed when redeeming SkyMiles, so when reader Nolan asked the following on the Ask Lucky forum recently I was excited to answer:

The improvement in partner products is a huge boon to the SkyMiles program. All of the programs listed have at least decent business class products, with some really solid options depending on the aircraft and configuration. So let's go through the four main transatlantic options when redeeming Delta miles.
Air France
I have a love/hate relationship with Air France.
On the one hand, their flight attendants are fabulously, nearly uncomfortably stylish. On the other, the ground experience at Charles de Gaulle is worse than dragging Ben to Disneyworld.
The biggest issue, however, is that the old Air France business class product is dated and uncomfortable. Seven-across business class seating is just embarrassing nowadays, particularly in an angled-flat seat.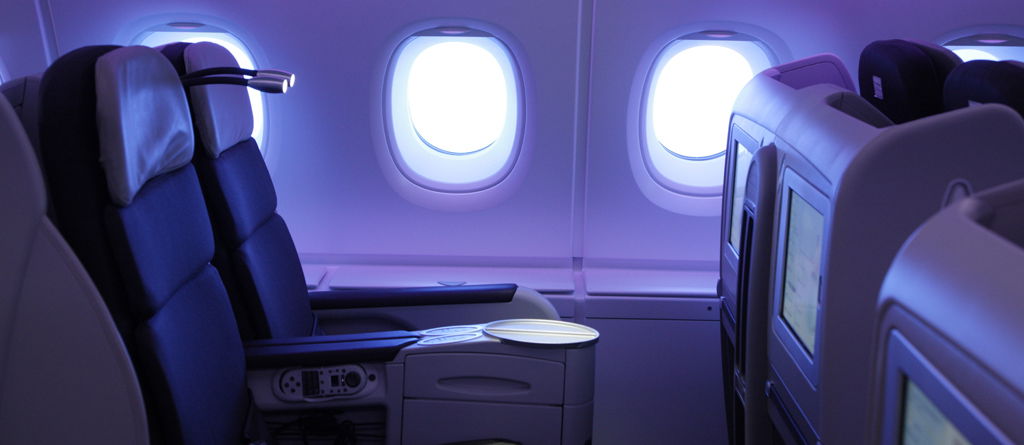 Nick's photo of Air France business, which makes it look much nicer than it actually is
Also, their blankets are scratchy, which might seem petty, but is a pretty-much a deal-breaker for me.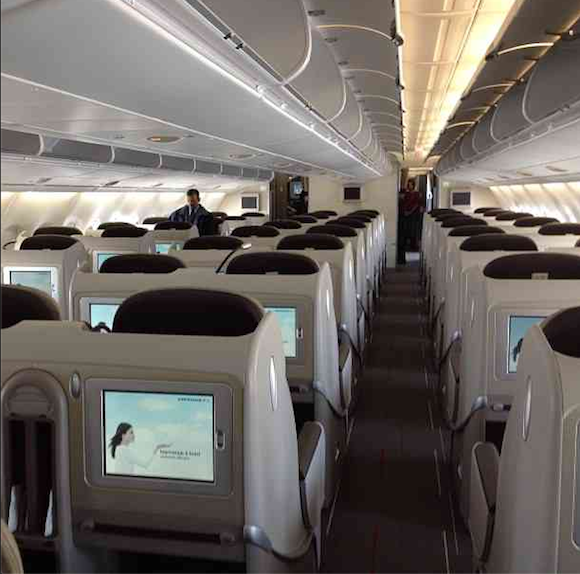 Air France A380 Business Class
However, Air France is in the process of reconfiguring their entire longhaul fleet, and the new business class looks lovely.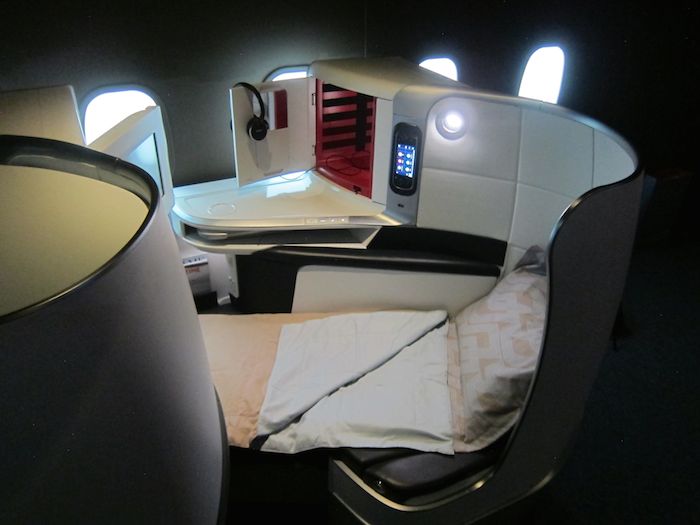 New Air France business class with reverse-herringbone lie-flat seats
All Air France planes are scheduled to have the new product by the summer of 2017. The reconfiguration is being done by aircraft type in the following order:
777 fleet
A330 fleet
A380 fleet
At present, the new business class is available between New York and Paris, along with flights AF72 and AF69 between Los Angeles and Paris. You can tell if your flight will have the new business class by looking at the seat map — if you see seven seats across (gag), that's the old product. The new product only has four seats across.
If you can find award space on one of the reconfigured aircraft I wouldn't hesitate to recommend Air France, but the old product is probably best avoided, at least for night flights.
Alitalia
As I've mentioned before, Alitalia is an Italian airline. The food, the wine, the crew — bellissimo. The operation as a whole? Perhaps not as impressive.
Alitalia has a great lie-flat business class, with a staggered seating configuration: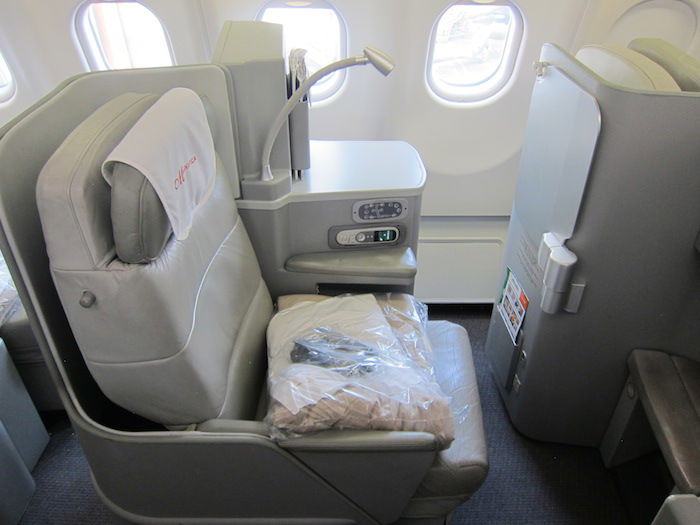 Alitalia business class seat — ugly, but comfy
Alitalia is poised to get some hand-me-downs a makeover from Etihad, which will result in a more stylish cabin, Wi-Fi, and some updates to the catering. Alitalia already has the best catering of any transatlantic SkyTeam carrier, in my opinion, so I'm excited to see the new concepts.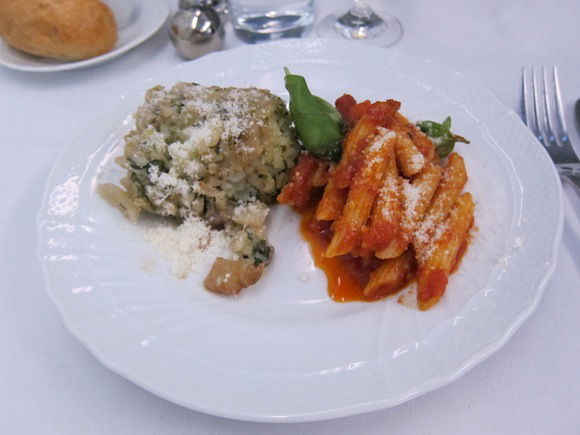 Alitalia Magnifica class catering
The major downside to Alitalia, of course, is the hub at Rome Fiumicino. The airport was already unpleasant, crowded, and prone to industrial action (again, Italian), and the recent terminal fire has only exacerbated that situation. However, Alitalia flies to dozens of destinations from Rome, including many of the smaller cities in Southern Europe, and award space is typically quite good.
Etihad has also committed to revamping the lounges and ground experience, so it will get better. In the meantime, Alitalia is probably my overall favorite option for redeeming SkyMiles to Europe.
KLM
KLM offers full-flat seats in their World Business Class, which is found on their 747 , 777, and 787 aircraft. I believe there are some lingering A330s with angled-flat seats, but those still aren't a terrible option as a worst-case (at least their angled flat seats are only six across, Air France). The seat is really comfortable, as are the pillow and duvet.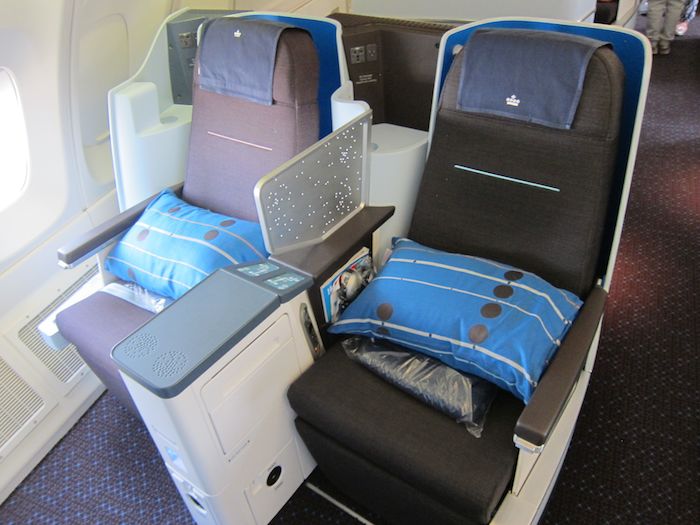 KLM 747 upper deck business class — other configurations have direct aisle access
In terms of the soft product, KLM has quality catering, and by far the best dinnerware. I mean, look at these bowls: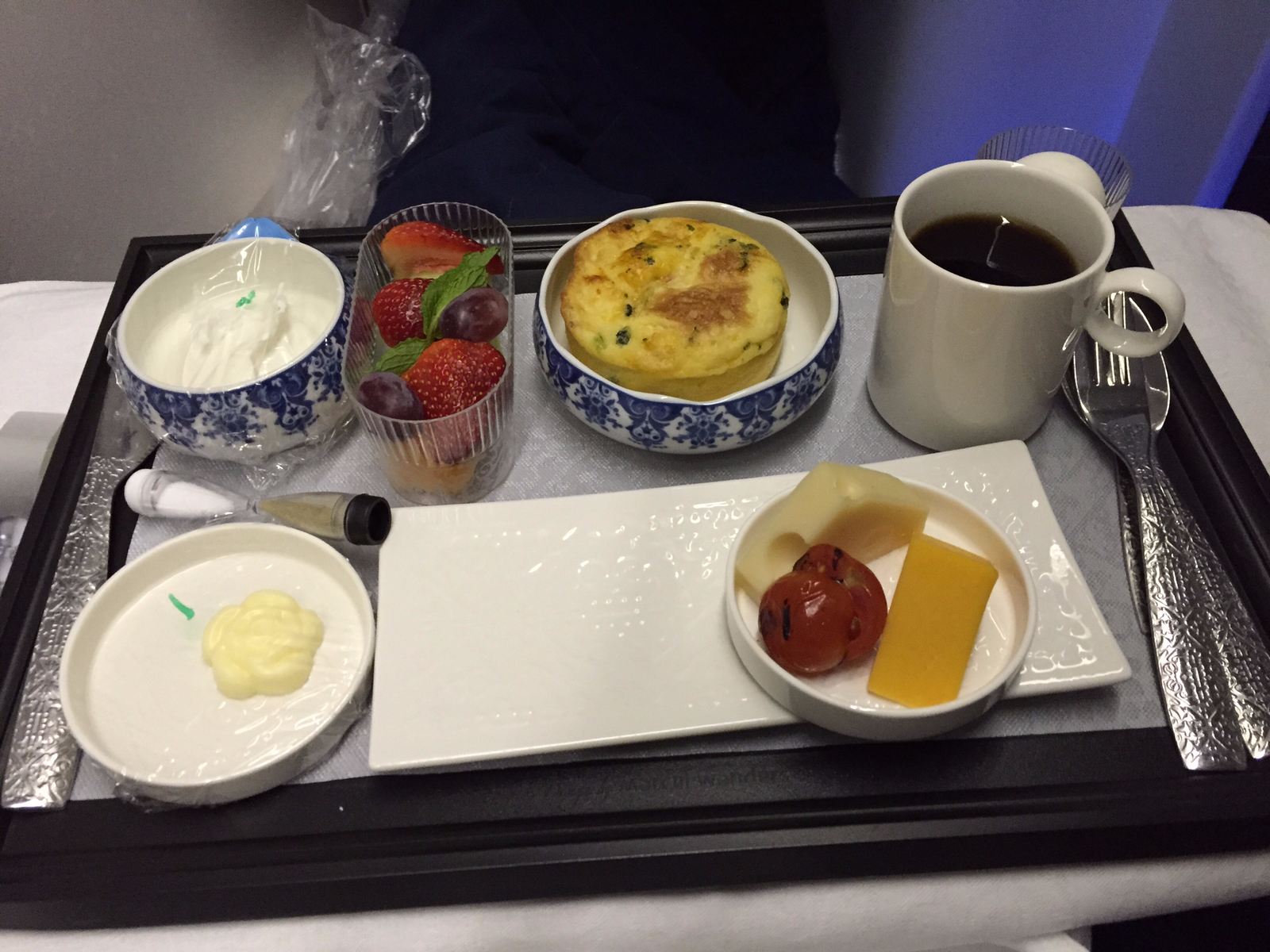 KLM business class breakfast bowls. Cute, or super cute?
While the service can be adorably Dutch at times, the overall experience is still great. The overall feeling is of cozy efficiency rather than being necessarily stylish or polished.
I also love how KLM has continued their pre-deregulation tradition of giving passengers a last drink "on the house." If you thought the dishes were fun…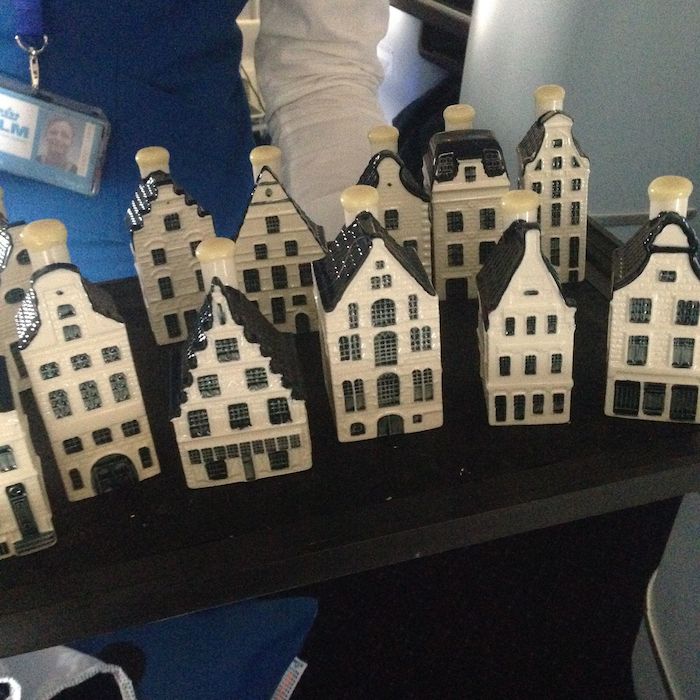 KLM business class Delft houses
Schipol is a comparatively easy airport (though they could really stand to invest in some moving sidewalks), so if that's a concern for you I'd consider choosing KLM over the other airlines on this list.
Virgin Atlantic
Virgin Atlantic is an unbelievably fun airline. Their crews are absolutely not as polished as some, but I don't think they care.
They are the only airline on this list to offer an onboard bar in business class, and they have the best selection of in-flight entertainment. Your companion can drink dine with you. If Air France is Fashion Week, Virgin Atlantic is Spring Break.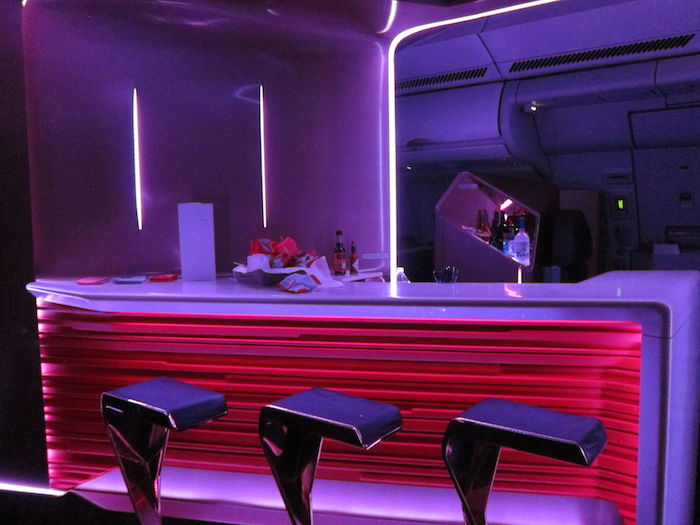 Virgin Atlantic onboard bar
If you don't like fun, this is not a good choice for you.
But the Virgin Atlantic seat is fully-flat, and they offer a legitimate turn-down service with pajamas, a mattress pad, etc.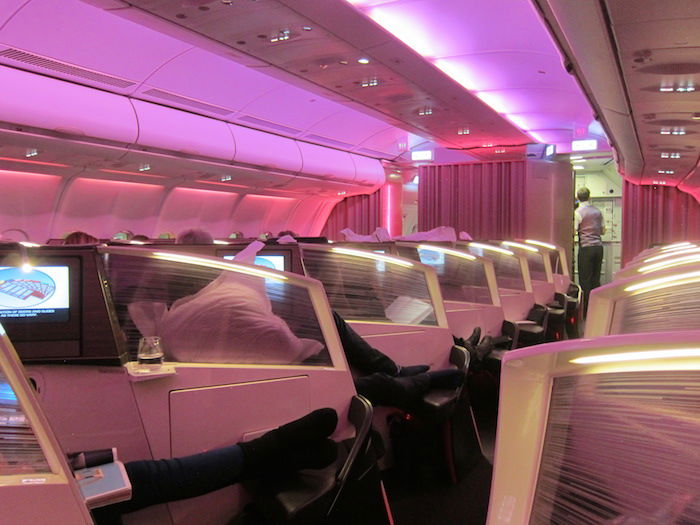 As a side-sleeper, I find the seats perfectly comfortable for sleeping, but they might feel narrow if you prefer to sleep on your back. The seating configuration is…unique, but if you can sit in the single aisle, and away from the bar, the seats are more private.
The Virgin Atlantic lounges are also phenomenal. If lounges are important to you, it's hard to do better in business class than the Virgin Clubhouses.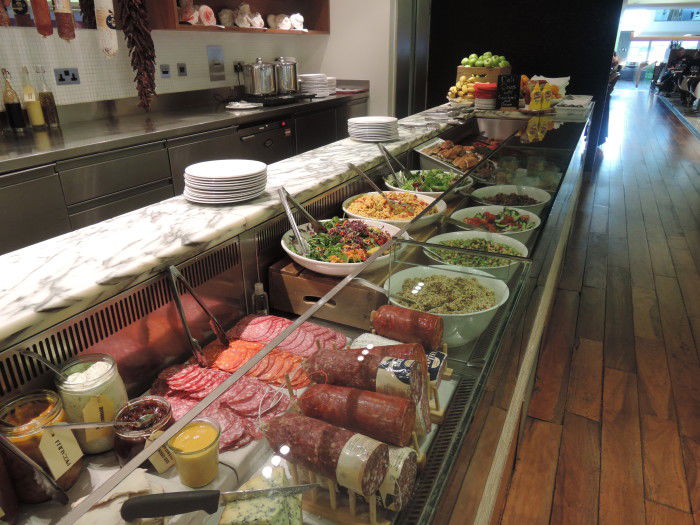 Deli spread at the Virgin Atlantic Clubhouse LHR
The major downside to Virgin Atlantic is London Heathrow. If you're actually going to London, then Virgin is a great choice (probably the best choice when redeeming Delta miles). But while Virgin Atlantic partners with Delta, they aren't a SkyTeam member. So connections from London are limited, and not terribly convenient.
If you're going to Paris I might still choose Virgin Atlantic and a connection over old Air France business class, but for smaller European cities you'll be looking at multiple flights. Definitely a consideration when looking at your overall routing.
Accruing SkyMiles
If you're looking at travel between North America and Europe, SkyMiles are still one of the best options once you factor in availability and overall cost. As maddening as the program is, we probably redeem more Delta miles for transatlantic trips than any of the other major programs, so SkyMiles can certainly come in handy.
We generally recommend a flexible points currency such as American Express Membership Rewards or Starwood Preferred Guest, as both programs allow you to transfer your points to Delta without being committed to SkyMiles. However, there is currently an increased sign-up bonus on the personal and business Delta Amex cards, which makes it relatively easy to pick up a bunch of SkyMiles quickly. If you know you'll be redeeming your miles soon, this is a great way to bolster your account balances.
Bottom line
Each of these SkyMiles partners are distinctive, and I do love how the character of each airline is reflected in the service and product.
As long as you avoid the oldest products on each carrier, you really can't go wrong with any of these options.
Which SkyMiles partners have you flown? Do you have a favorite?